Coloured Horses
FOR SALE - Colour Of Money - Coloured 2 Year Old Stallion - A promising stallion for the future with an excellent pedigree that includes Kannan, Action Breaker, Nabab de Reve, Samber, Heartbreaker and many others sired by 1.40m coloured jumping stallion High Offley Fernando. - Call 07811 329229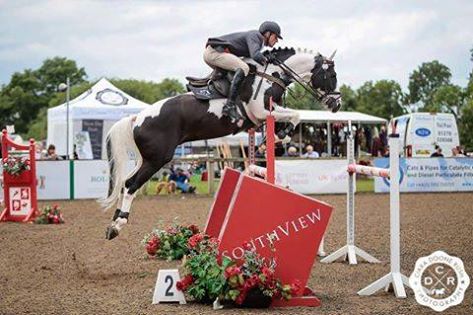 High Offley Fernando - Coloured Stallion At Stud
A coloured showjumping stallion with an excellent pedigree, sired by the great Kannan, he has a record jumping 1.40m and producing some exciting coloured sport horses for the future. : Contact -
07811 329229
> More Info <

Browse Stable Express Horse Classifieds
Stableexpress is a website with details on coloured horses from all around the world, find breeding information on coloured horses competing in the sport as well as browse our equestrian classifieds and find coloured horses for sale.
Coloured Stallion - High Offley Fernando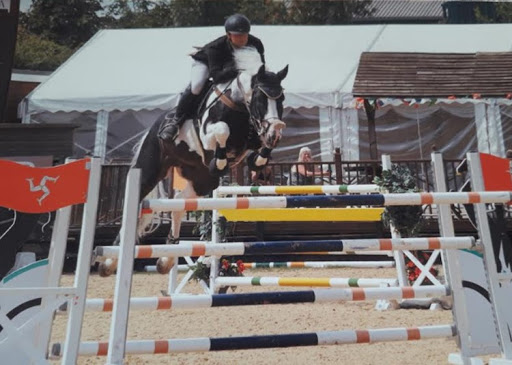 High Offley Fernando is a coloured jumping horse with an excellent pedigree, sired by the great Kannan out of a Samber mare. Based in staffordshire High Offley Fernando has a proven track record of breeding coloured horses with his progeny beginning to follow in his footsteps in the competition arena.
Coloured Horses For Sale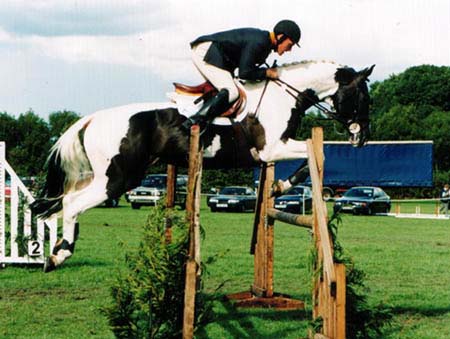 Browse through stableexpress equestrian classifieds and find coloured horses for sale from foals through to international sport horses. We are the worlds`s coloured horse and pony sales website. Visitors can simply scroll through the categories and check out the coloured horses and which are currently for sale. There is a photo show which everybody is allowed to take part in.There are friendly discussion forums where you may share tips, ideas and meet lots of other coloured horse enthusiasts.
Coloured Dressage Horses
-
Master Merlin - Graded and licensed Oldenburg coloured stallion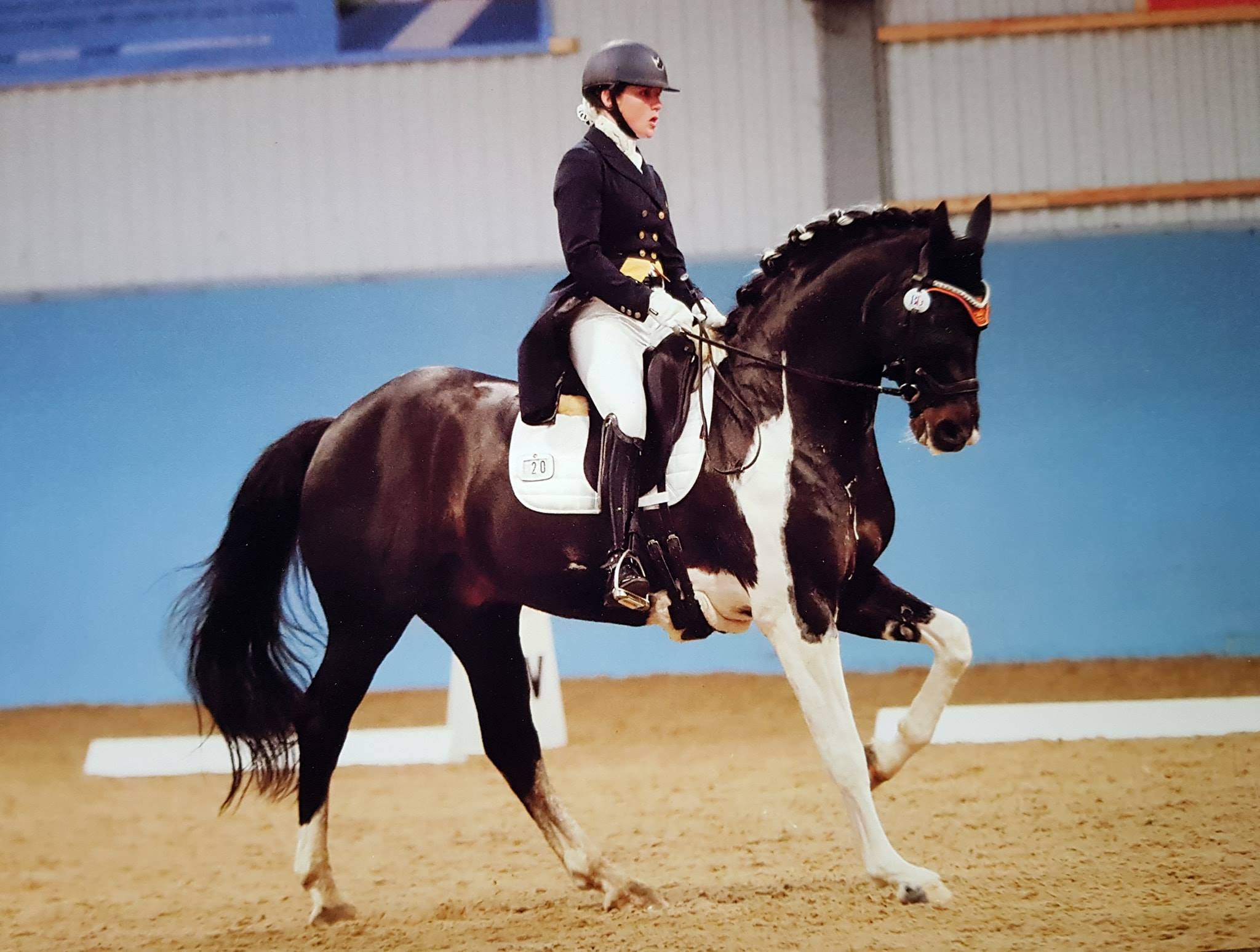 Classys Star Buck - Roslin Stud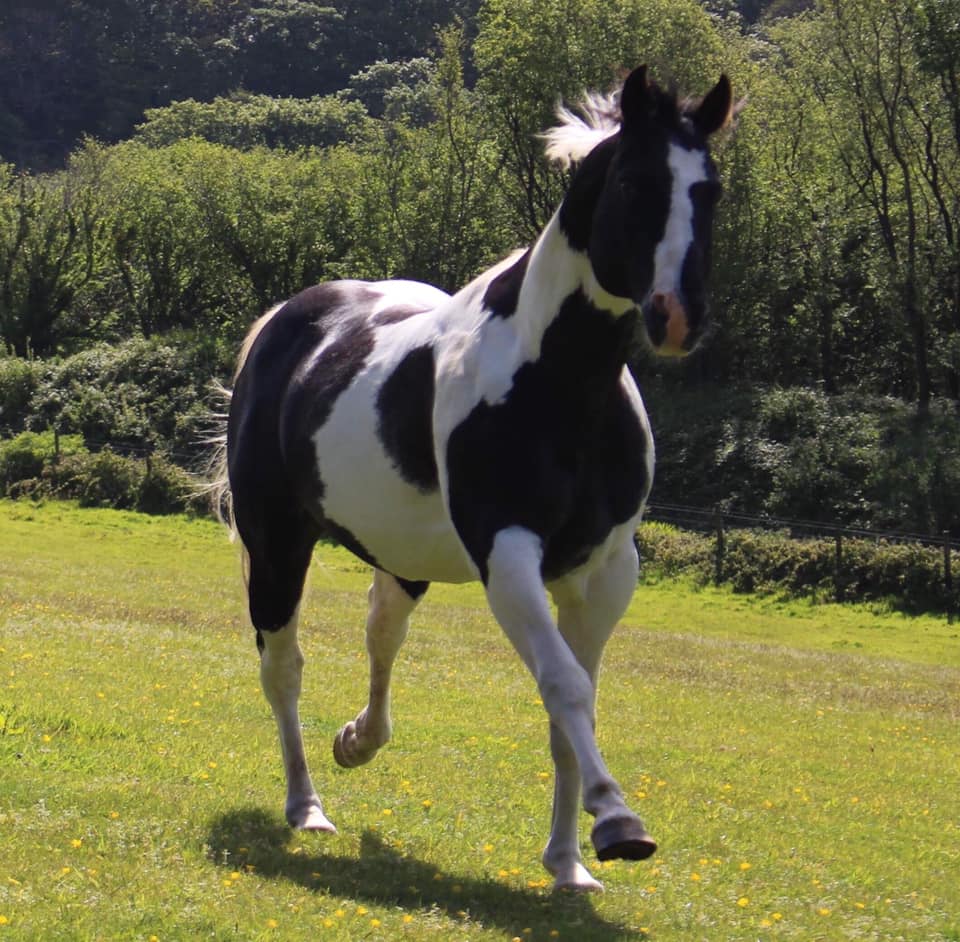 Classys Star Buck, American Paint Horse, 2000 Black and white tobiano stallion, homozygous for the black gene, ( No sorrel or chestnut foals)15hh. By Classy Katchina and out of Buck Lil Franky an all round pedigree with nearly every horse on his 4 generation pedigree being either an earner, producer or both. An exceptional young sire who`s babies are already proving to be very special, has crossed extremely well on all types of mares, his first foal to show RS Classy Freckles, owned by Lou Fryer won the AQHA.uk partbred class at the breed show, in an outstanding line up. He is available in 05 by Shipped semen only, £450 with a £150 booking fee included, the first shipment is free! please visit our website http://www.roslinstud.com or contact me on 01752 894511 for further details, on him or using AI. Standing to a limited book.
Contact Name: Joanne Boon (Roslin Stud), Email: lynn@roslinstud.fsnet.co.uk, Contact Number: 01752894511
Silhouette Dancer - 11.3hh part bred Welsh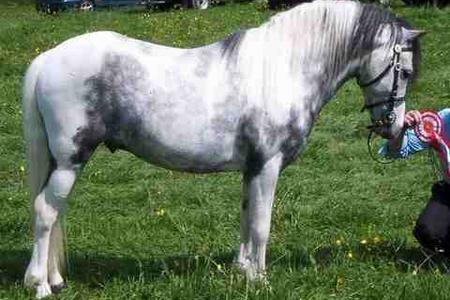 Breeding = By Cloud Dancer ( by Murphy out of Gypsy Queen) out of Cosford Silhouette (by Diamond of Spring out of Cusop Charity)
Extensive wins in hand. Including many firsts and championships. Fully licensed PBW, all foals eligible for PBW papers. Will cover in hand or fun with his mares. Very flashy pony who produces fabulous PC, SHP, show winning ponies. Some of his daughters can be seen. Felix has too many wins and championships to mention, he also has champion youngstock including the CHAPS (UK) 2010 Northern lead rein champion. Now 20 years old he still knows how to strut his stuff.
Contact Name = Sharan, Email = thechicksnranchstud@hotmail.co.uk, Contact Number = 0782 693497, Website = http://www.thechickenranchstud.co.uk, Location = Lincolnshire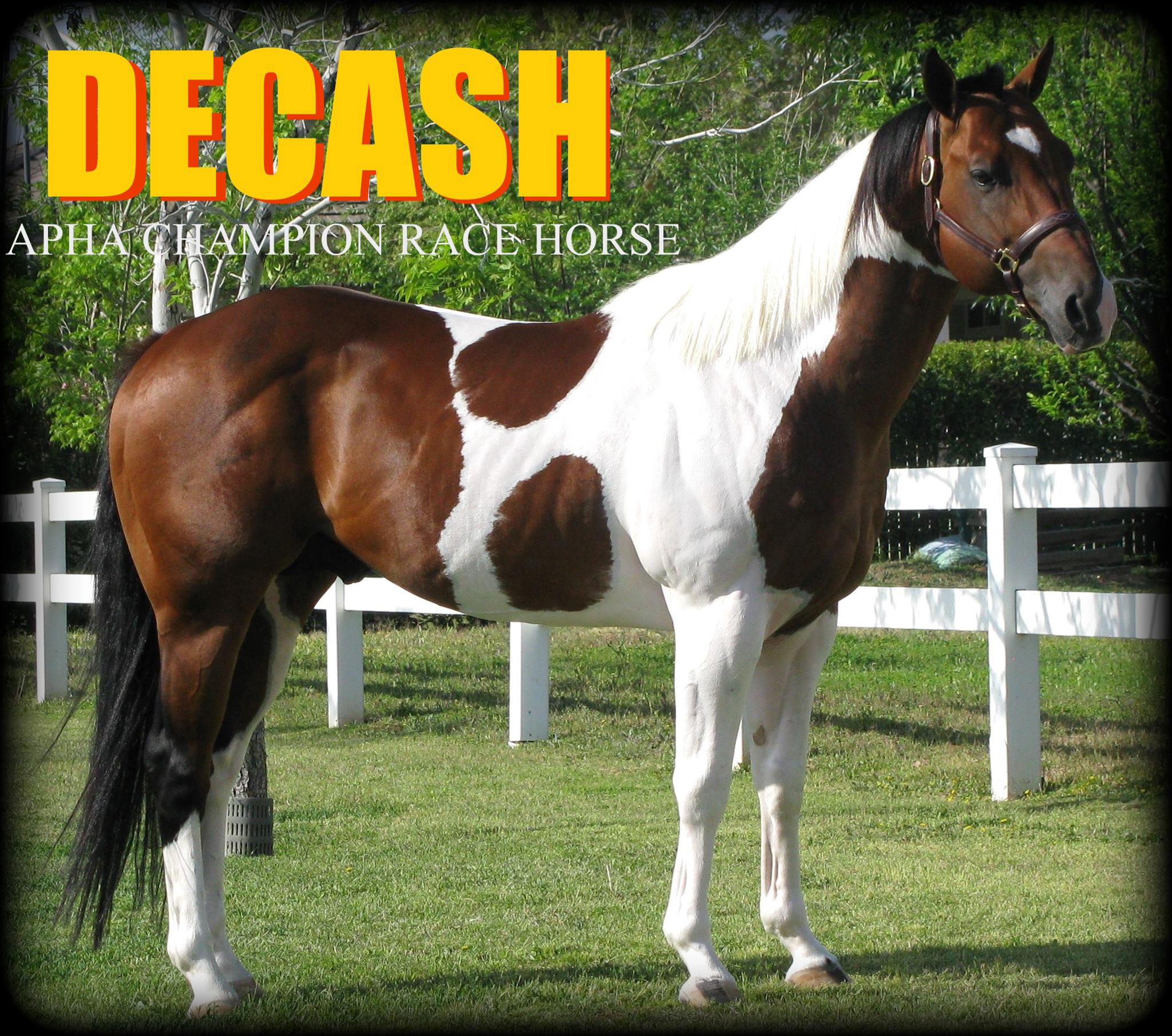 Decash Apha Champion Stallion Standing At Santa Rosa 4 Ranch Gilbert AZ. The best breed Tobiano Sire with a Proven sire and dam . He will provide the fastest horse in the Track or arena
Northern Kiss the Dancer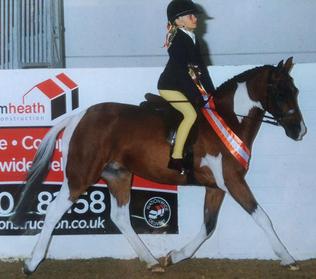 6 out of 6 1sts, 4 Championships and a Reserve won Cradle stakes then Mini Champion,
Won Show hunter ,1st Ridden then Mini Ridden Champion, Won 122hh Show Hunter then Open Show Hunter Champion. Won 133hh Open WH then Open WH Champion.
Aquilas Dancer - 12.2hh pba
- a super pony, champion in hand and very well placed under saddle the only time shown. Sire of champion stock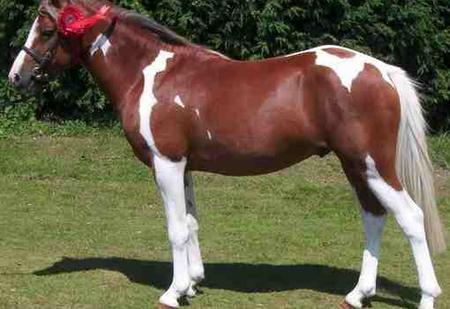 Tobiano Horses
Tobiano is a term widely used in america and is slowly starting to replace the terms "piebald" and "skewbald." Tobiano can be used to describe both piebald and skewbald horses, all you need to do is put your horses solid (patches) colour in front of the word tobiano, for example bay tobiano, chenstnut tobiano, black tobiano etc. Tobiano is a pinto pattern caused by the T gene. It`s a dominant gene; TT(homozygous) and Tt(hetrozygous) are tobiano, while tt(solid) is not. Tobiano can be distinguished from other pinto patterns because a tobiano horse has white that crosses its spine somewhere between the withers and the tail (topline), as if the white had been poured on from above. Tobianos also almost always have white stockings on all four legs; often the white socks blend into the white on the body. A solid-colored leg on a tobiano is almost unheard of.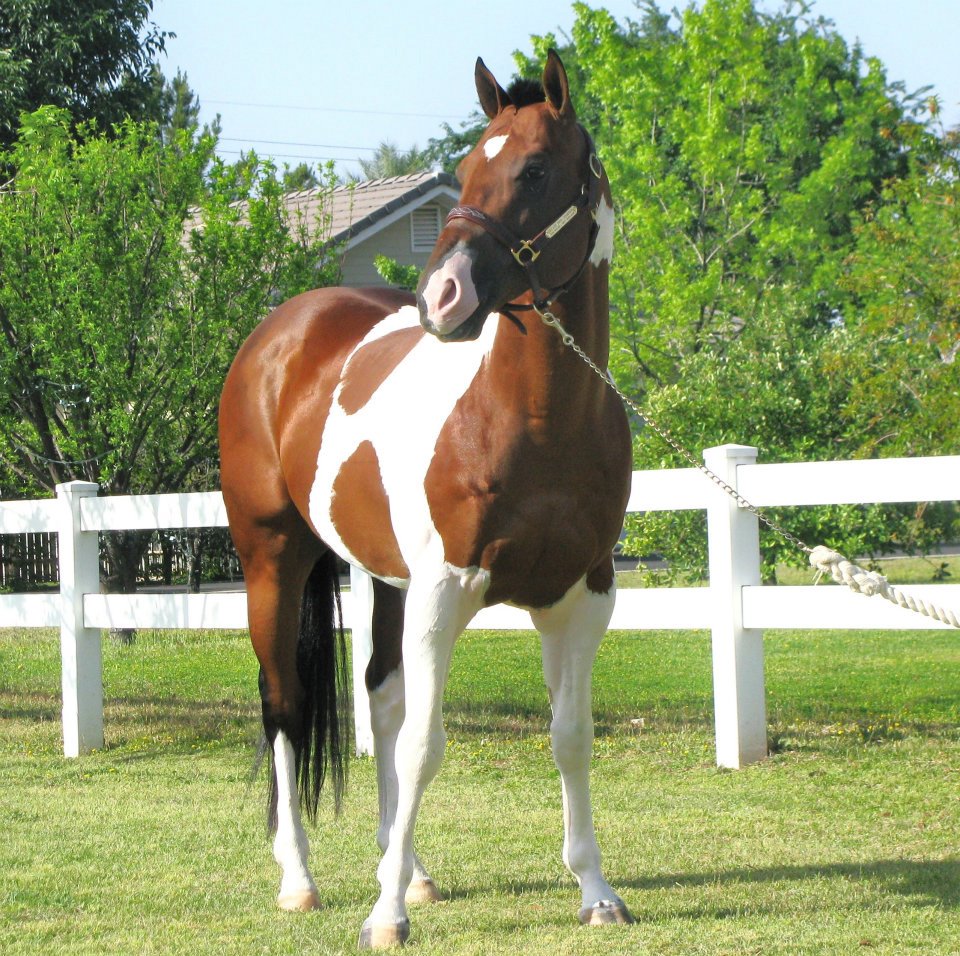 If a heterozygous tobiano is bred to a solid horse there is a 50/50 chance of the offspring being a hetrozygous tobiano or solid in colour, there is no chance of the offspring being homozygous.
There is a 75% chance of the offspring being tobiano and a 25% chance of the offspring being solid. There is also a 25% chance of the offspring being homozygous(TT) meaning that this horse can only pass on the tobiano gene. So if a homozygous tobiano is bred to a solid the offspring will be a hetrozygous tobiano.If a homozygous tobiano is bred to a hetrozygous Tobiano there is a 50% chance of the offspring being homozygous tobiano and 50% it will be hetrozygous tobiano.
Overo Horses
Overo is a pinto pattern caused by the dominant gene O. Overo was formerly thought to be recessive, but statistic analysis of the offspring of overo horses has proven it to be a dominant. Like roan, homozygous OO overo is a lethal; foals who inherit an O gene from each parent usually die in utero or shortly after birth. So almost all overos are heterozygous Oo, with oo horses being non-overo.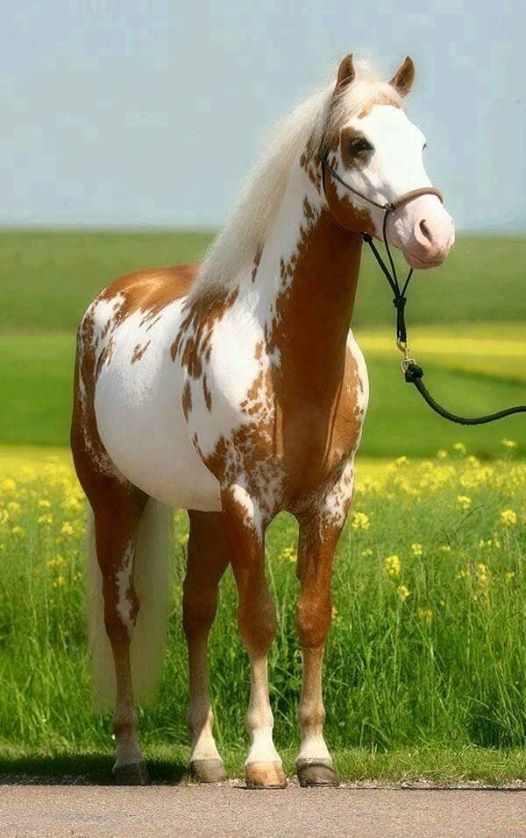 Overo is different from tobiano in that the white markings of an overo horse do not cross the topline. Instead, they appear to begin at the belly and spread upward. White legs are not as common in the overo as they are in the tobiano, and there is often a great deal of white on the face. The horse in the photo above is a dark chestnut overo. Note the lack of white crossing the topline, the one solid-colored leg, and the large amount of white on the face. These are all hallmarks of the overo.
Blue eyes are also common in overos, while tobianos usually have brown eyes.
Coloured Sport Horses
Ulyss Morinda and Rik Hemeryck, winners of the Grand Prix 1,60 m, Bolesworth (GBR)
Ulyss Morinda is a coloured jumping stallion sired by the coloured showjumper Utah Van Erpekom out of the mare Circee de l`Erdre who is a daughter of selle francais stallion Jalisco B. Together with Rik Hemeryck Ulyss Morinda has won numerous classes and competitions all around Europe, below you can watch this winning combination at Bolsworth castle.