Dressage Horses
Stable Express your dressage hub, watch video`s of top dressage horses in action past and present.

Watch Video Of Charlotte Dujardin & Gio at the Tokyo Olympics - Charlotte Dujardin is one of the worlds leading dressage riders, together with her dressage horses Valegro and Gio she became the most successful British female Olympian of all time winning six Olympic medals in three games.

Hardwick Hall Equestrian

- a dressage yard offering luxury accommodation for your horse. Located on the Shropshire/Cheshire boarder >>

More Info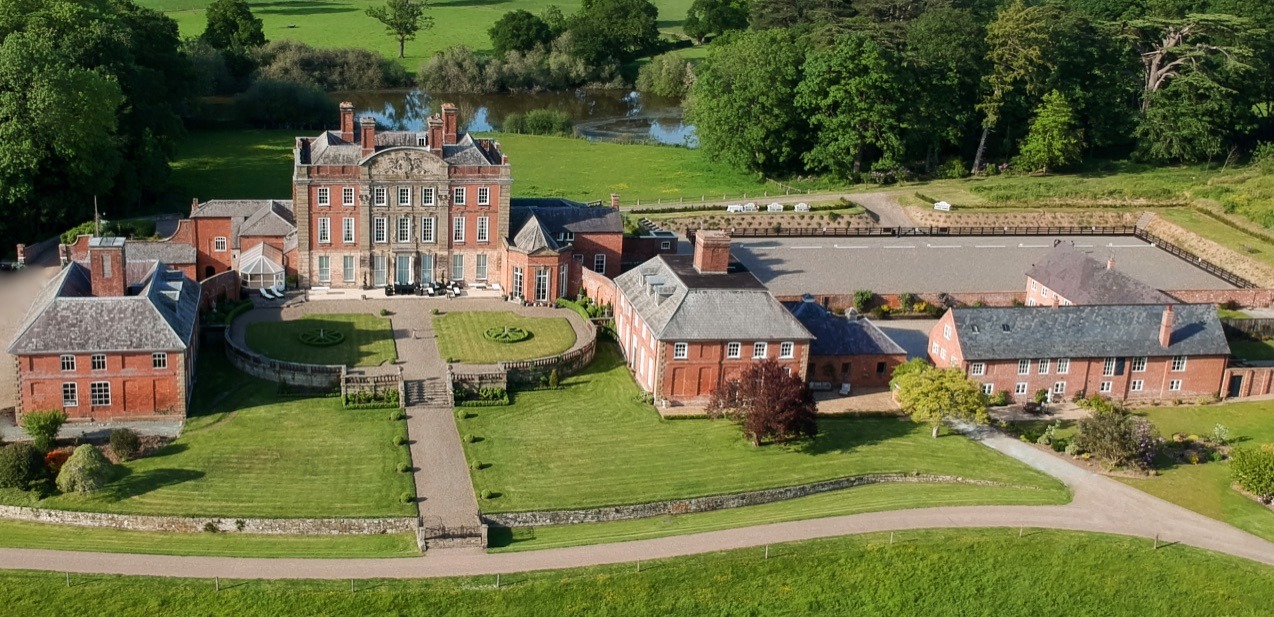 Dressage horses for sale, Stable Express Horse classifieds.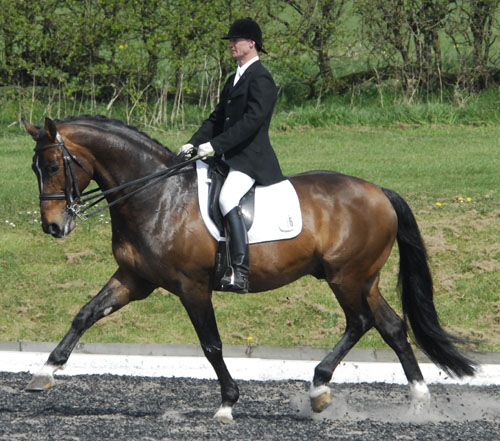 High Offley Stud - Dressage Horses
High Offley Stud is a breeder of warmblood horses ideal for the sport of dressage, selection of foals and young horses for sale ideal for dressage. Call
07811 329229
- Email:
highoffleystud@yahoo.co.uk

>> Dressage Foals For Sale
>> Dressage Stallions
>> Dressage Exercises For Young Horses
>> Dressage Riders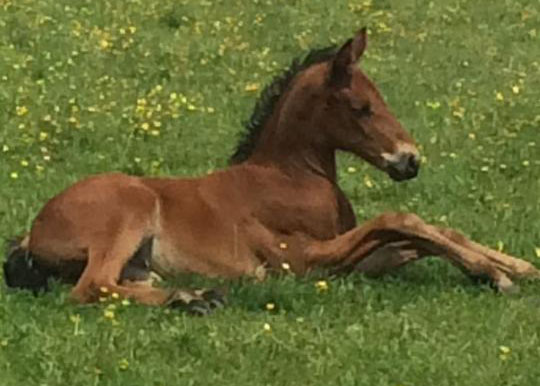 Dressage Foals For sale - Euro Sport Horse
Selection of foals and young horses for sale with excellent dressage bloodlines that include Flemmingh, Capitol I, Landgraf I and many others. Call
07968 161133
or email
h.vanheyningen@gmail.com.

Watch Reiner Klimke and Ahlerich (Angelo xx x Donar) Gold Medal Ride at the 1984 Olympics.

Stableexpress have information, pictures and video`s of dressage horses past and present, dressage greats such as bonfire, Rembrandt, Totilas and of course the great Valegro.
Valegro - Olympic Champion At Rio & London
Valegro is one of the most successful dressage horses of all time, along with Charlotte Dujardin, Valegro was part of the British dressage team at the London Olympics who won the team gold medal, together the pair also picked up the individual gold medal, four years later Charlotte and Valegro would again be standing on the top podium taking home another individual gold medal. The story of Valegro and Charlotte is a modern day fairy tale, sent to the yard of Carl Hester as a young horse Valegro was given to Charlotte to produce, together with the help of mentor Carl Hester, they grew and improved and become one of the best horse and rider combinations in the history of dressage. Valegro was retired in 2016 after winning his second olympic gold medal, in the following month`s Charlotte and Valegro went to numerous horse shows doing demonstrations to thousands of his fans around the world.
First Dressage Horse to Win Gold at the Olympics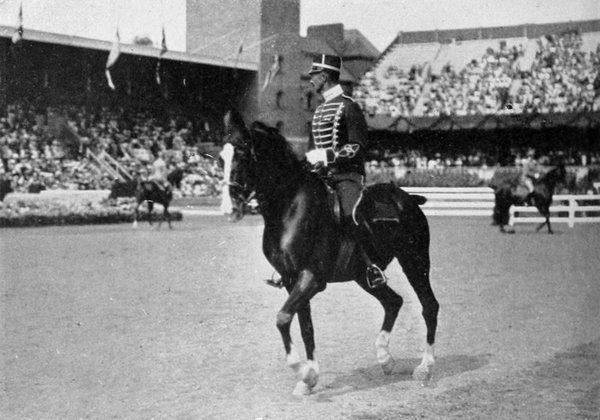 Dressage was first incorporated into the 1912 olympics in Stockholm, during this era many of the dressage horses were competed by military office`s as horses still featured heavily in the armies of the nations of the world. Emperor was the horse ridden by Swedish Army officer Carl Bonde together the pair made history winning the first Olympic gold medal in dressage.
Bonfire - Dutch National Dressage Champion
Bonfire was an Oldenburg dressage horse rider by Anky Van Grunsven from Holland, together the pair spent nearly 10 years at the top of the sport, together the pair competed at 3 olympic games, at the first games they finished 4th, at the second games they won individual silver medal and then four years later Anky and Bonfire won the gold medal. Bonfire was a son of the famous dressage stallion Welt As out of a Praefectus xx mare.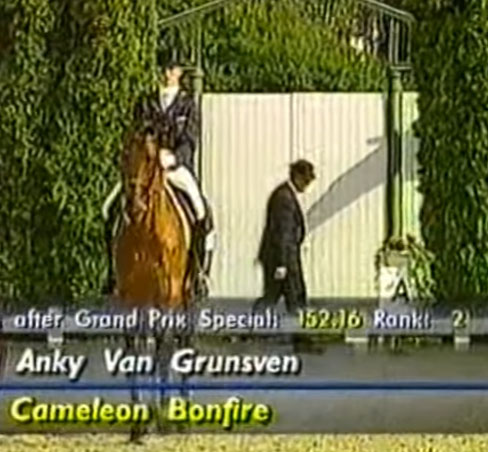 Rembrandt - Westphalian Dressage Horse
Foaled in 1977 Rembrandt represented Germany on many occasions, ridden by Nicole Uphoff, together the pair won medals at the world equestrian, olympics and numerous dressage grand prix`s. At the Seoul olympics in 1988 and the Barcelona olympics in 1992 Nicole Uphoff and Rembrandt won many of the world`s leading dressage horses to win gold medals at both games. Rembrandt always had a pedigree to be a great dressage horse, sire Romadour II was a stallion who influenced Westphalian breeding heavily, while his mother Adone was a sister to Ahlerich who also represented Germany at the Olympics with Reiner Klimke.
Totilas - Dressage Stallion
Totilas was regarded as one of the worlds top dressage stallions and broke many dressage records, including the highest score in Grand Prix Freestyle Dressage, ridden by Edward Gal. Although there has been criticism in how Totilas was trained, he is still widely regarded as one of the most talented dressage horses of all time. In 2010 Paul Schockemohle purchased Totilas, although the exact price is unknown rumours range between 9.5 million euros and 15 million euros, making him one of the most expensive sport horses of all time. Totilas is a son of Gribaldi a Trakehner stallion who was also competed by Edward Gal in grand prix competitions.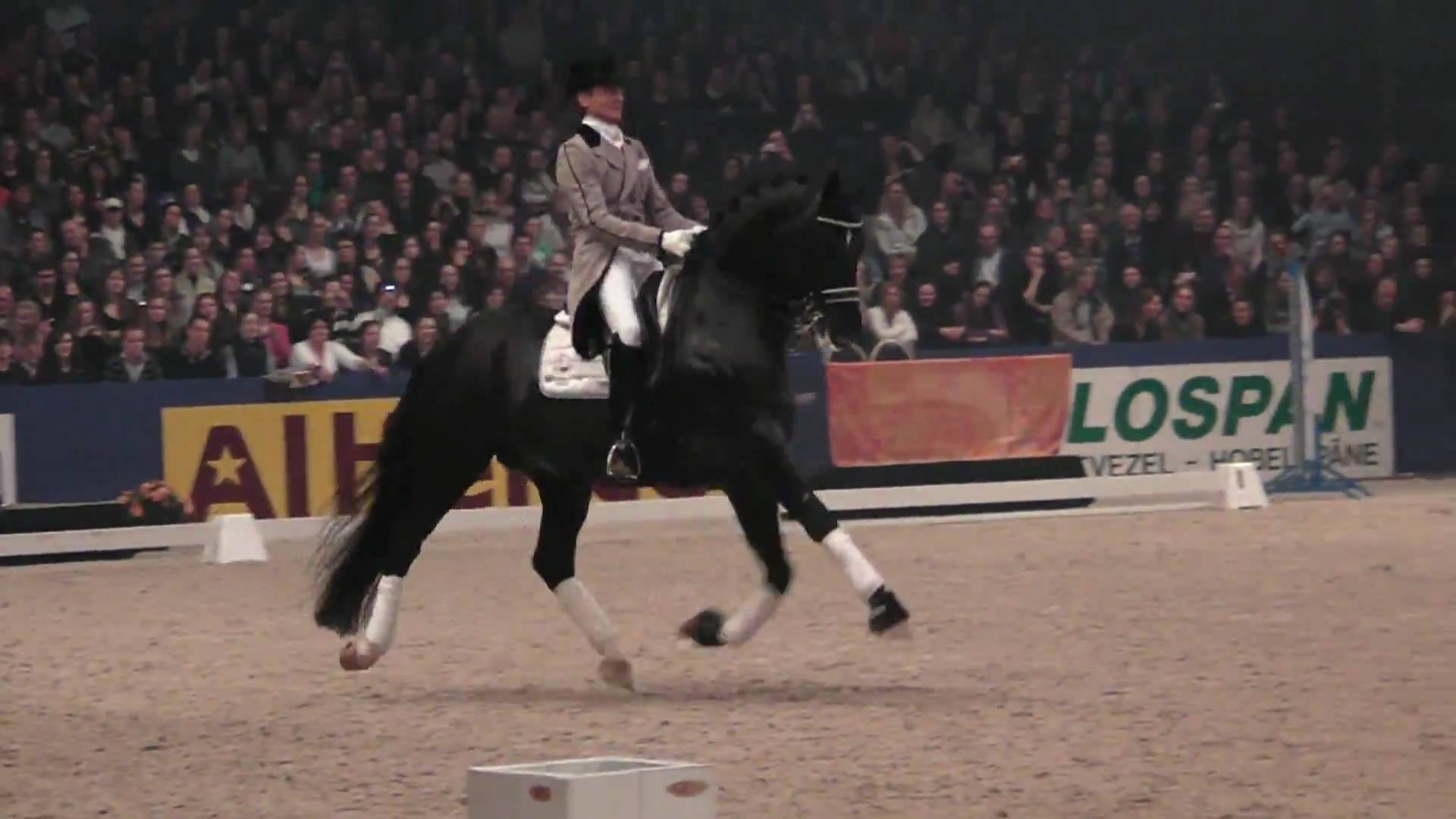 Share information on the leading dressage horses with your friends -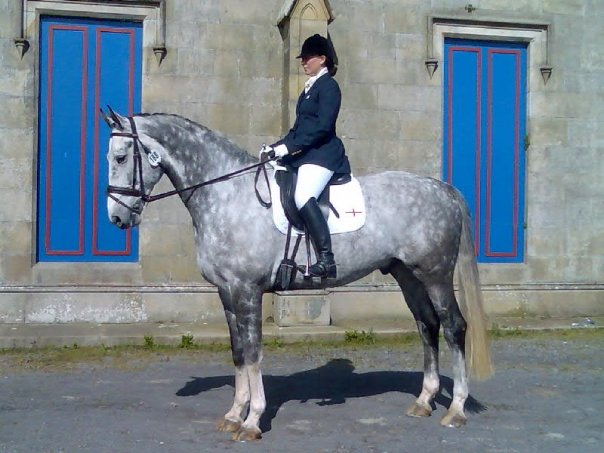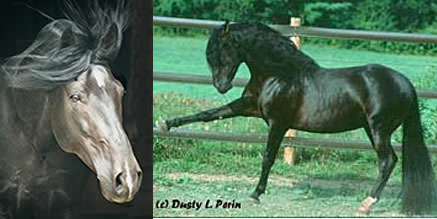 Axis/Ingrato x Samba 3, 1996 Pure Spanish homozygous black stallion / Sire of USDF and Breed Ring Champions! Pure Spanish Homozygous Black Stallion - REGALIZ…
Read More
Randon
Michael Rapcewicz and Randon
Davidoff
Advanced Dressage Horses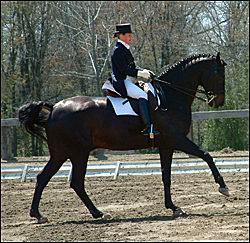 Emilo 107
Emilo 107 is a grand prix dressage horse ridden by Isabell Werth, together the pair have an impressive competition record. Emilo 107 is a son of the Westphalian stallion Ehrenpreis, out of a mare Celina who is a daughter of Cacir AA.
Super Jr/YR or Ammy Horse for the Upper Levels
Rich Girl is a 9-year-old, imported Hanoverian mare out of Rotspon/Weltmeyer. She is very safe, fun, trusting, and a comfortable horse to ride and learn on! She has all the quality and potential to develop into a top level horse. She is suitable for a Jr/Yr or any adult amateur wanting to move into the winner`s circle. In the barn she is low maintenance, has no vices, and has a very enjoyable character year round. She has no issues with loading, trailering, or being at new places. Current x-rays are available. For more information, contact Trae LaPorte at 229-947-0355 or traelaporte@yahoo.com. $65,000 16.0 located in Cordele, Georgia / Call - 2299470355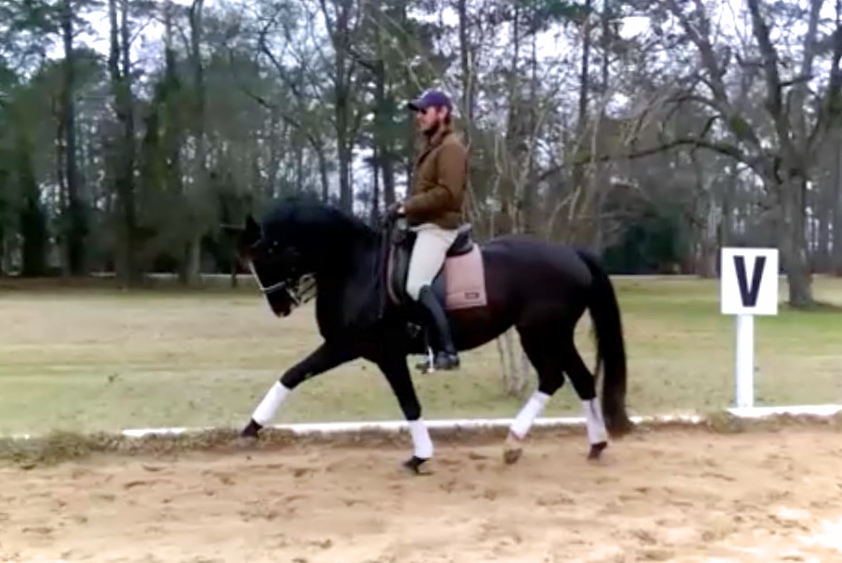 Foxwin Farm - Traditional Dressage For Every Rider
Guided by the time-honored traditions of careful, considered breeding and the classical education of both horse and rider, Foxwin Farm has been privileged to provide exceptional horses and quality training for over 40 years.
We are located on Wilawana Road in the town of Chemung, just outside Elmira, New York. Whether you are an advanced rider looking for your next great sport horse, or a newcomer of any age seeking to further your riding skills, we invite you to begin, or expand, your horse education with us.
Foxwin Farm was begun as a Morgan breeding partnership in Norwich, NY, in 1974 by David F. Fors, Sr., Ethel Fors, & Patricia Ross. Pat had purchased her first Morgan, Monarch`s Ladson, in 1962 as a 2 yr. old, and has had Morgans ever since. Her passion for Morgans was joined by yet another passion, Dressage, after seeing J. Cecil Ferguson`s stallions, Parade and Broadwall Drum Major, on tour with the Spanish Riding School in the USA. Dave & Ethel started in Morgans in 1973. We moved to our present location in the town of Chemung, near Elmira, NY in 1984.
In 2007 two events converged to determine the next generation of Foxwin Farm. In February, Trish Pierce joined the Foxwin family as a boarder, and in August, Dave became ill and lost his battle with cancer. During this challenging time, Trish and her husband, Marty, stepped forward to help keep the farm running as smoothly as possible. Eventually, it occurred to them that their passion for the farm, for the horses, and for the dream started by Pat, Dave, and Ethel was as deep as that held by the original founders. When Ethel decided to retire in early 2009, the Pierces were honored by the opportunity to join Pat as partners and represent the next generation of horsemen and stewards of the land. Foxwin Farm celebrated 25 years in business in Chemung County in 2009, just as Pat, Trish, and Marty joined forces to get started on the next 25.
The Horses
The foundation stock for the Foxwin prefix were the stallion, Delmaytion Gaylad (Corinth Renaissance x Gemini Centaurus), and the mares, Star Dee (Starfield x Dee Dee Chocolate), Echo`s Pixie (Homestake x Majoret P). & Catskill Gay Mia (Bald Mt. Gay Holiday x Meadowview`s Cha Cha), a combination of working western (open cutting & reining), government, Upwey Ben Don & Lippitt lines. All of our present stock are descended from these bloodlines, which were chosen for their true Morgan type and character, as well as the conformation, trainability, and movement to excel in the Sport Horse disciplines, especially Dressage.
It has always been our belief that although the Morgan Horse is a truly versatile breed, no one horse should be expected to excel at all the available disciplines or styles of riding. We chose to concentrate on those individuals and bloodlines that we felt can produce superior Morgans for the Sport disciplines, with no loss of all the characteristics of the Morgan breed. We are convinced that the Morgan Horse has that special "soul" that completes a truly wonderful animal.
Traditional Morgans for Any Discipline *** Traditional Dressage for Every Rider
Our goal is, and always has been, to produce carefully bred and trained Morgans for the Sport disciplines that are well suited to the serious adult amateur or junior rider, that will stay sound, sane, and a friend and partner with their riders. We believe the same conformation, trainability and movement that make a world champion Dressage horse are desireable in a horse of any breed or level, and constantly strive towards that goal. By the same token, we feel that traditional dressage, with its emphasis on balance and harmony between horse and rider, can be the foundation for every rider competing in any discipline, or just enjoying a hack through the woods. We practice and teach this balanced approach and enjoy sharing it!
Foxwin Jericho
- Foxwin Jericho 94456 (Joshua Allen x Catskill Gay Mia) foaled 4/15/1983. (4 generation pedigree). Shown to 3rd level in open dressage, "Tank" is also a great trail horse, sire of sport Morgans, and schoolmaster in our lesson program. He is truly an ambassador for the Morgan breed. Whether in competition or as a demo horse for USDF Instructor Certification Clinics & Testings, he always receives very positive comments from the judges, clinicians and testing officials. Standing to a limited number of outside mares.
Foxwin Sunrise
- FOXWIN SUNRISE 165399 (Foxwin Jericho x Bishopstone Virginia Sky). Foaled 2004. A "drop dead gorgeous" youngster with a truly wonderful temperament! Sonny is working fully on the longe and in the long lines, and is expected to be under saddle in the fall of 2008, with a career in dressage as our goal. He is expected to be standing at stud in 2009. Sonny was featured in the cover photo for the NYS
Foxwin Farm LLC, Pat Ross, Owner/Trainer, 2418 Wilawana Rd, Elmira, New York 14901
(607) 742-3332 / email: foxwinfarmllc@frontiernet.net
Dressage Prospect by Glocks Voice
J`adore is the only foal by dressage phenom "Glocks Voice" born in the U.S this year. This filly has an excellent hind leg and freedom of shoulder, three super gaits (awesome walk!) and uphill balance. She should mature quite tall as she is out of Voice (DeNiro/Rohdiamont) x St.Pr. Cherie (Contuer/ Weltmeyer) both being aprox. 17 hands. This filly is international quality and a definite big ring prospect. One of the nicest foals our farm has ever produced. If you are looking for a dressage star please look closely at J`adore. She will not disappoint! Update-Region 2 foal champion 2014!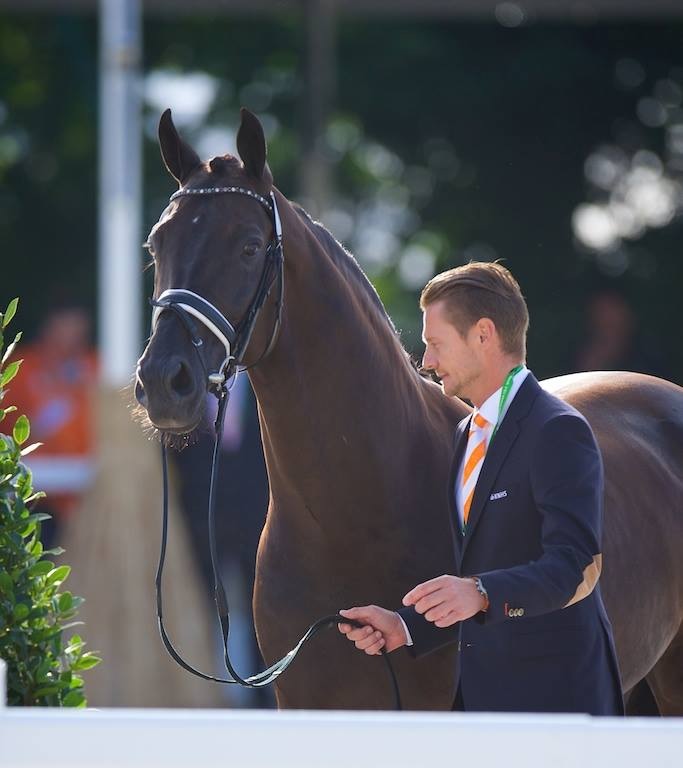 $22,500, 17hh Dutch Warmblood sired by Glocks Voice, Call 740-817-0652, Email Robin.strait@embarqmail.com, Finer Things Farmer, Sunbury, Ohio
Southern Saint, 11 Year Old Thoroughbred Gelding
Southern Saint, 11 year old thoroughbred gelding, 18.1 hands, bay, beautiful and very well trained for the equitation ring. He does not want to jump anymore but is very broke on the flat. Counter canter, leg yielding, lead changes, frames up, and willing to learn what you want him to do. This is a quality horse who`s price is greatly discounted from his Hunter/Equitation days. He needs a new career and well deserves it. He has been very positively evaluated by a TOP dressage rider. Very good manners and has a great personality. If interested, please email or call: Erica: emsparks@cazenovia.edu or 978-846-3760 Denise: 978-273-3295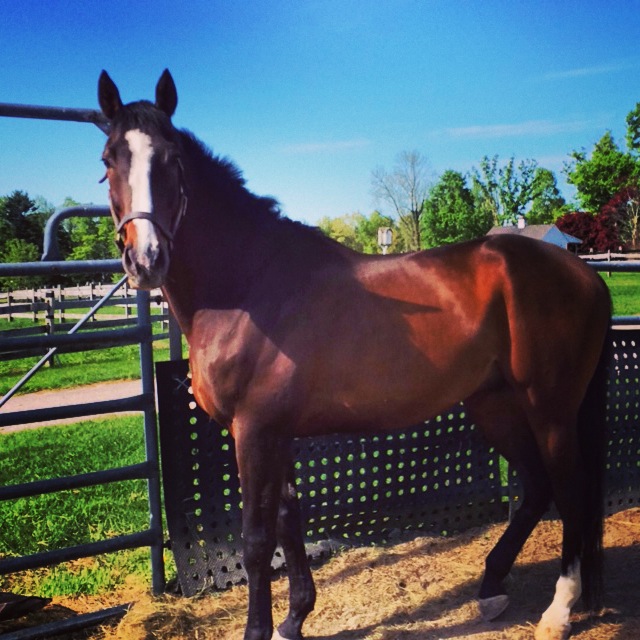 Odell Equestrian, Daniel Odell, Norfolk, Suffolk, Essex and Cambridgeshire
Daniel Odell is a professional dressage rider and trainer who resides in Suffolk with his wife Alice, son William and their menagerie of animals. Dan started riding at the age of five. He regularly competed for his local pony club the South Norfolk and Dan was successful in a variety of disciplines. However his talent and passion for Dressage shone through, and he was destined to make dressage his profession.
Dan began his career by achieving the four year Gold Star British Dressage Apprenticeship from 2000 to 2004. Gaining invaluable experience of both yard management alongside horse and rider training, under the expert guidance of German Grand Prix trainer Angela Niemeyer-Eastwood. Dan also began to develop his competition career taking part in regular BD competitions up to Advanced Medium, Area Festivals, Regional Championships, four talent spotting finals and National and International young horse championships.

During the following three years Dan went on to work and compete alongside some of the United Kingdoms top professional dressage trainers, including Michel & Mette Assouline and Andrew Gould. He also worked at the Half Moon Stud, Dorset, in the position of head rider. Whilst working at the stud and due to his success Dan was selected for the elite training programme with Half Moon Delicato and Half Moon Delphi.
In 2007 Dan moved back to Suffolk and decided to freelance, concentrating on teaching and building up a large client group, ranging from complete novices to advanced dressage riders and eventers. Dans` achievements led to the successful launch of the business 'Odell Equestrian` in 2009.
During 2011 and 2012, whilst continuing to freelance, Dan focused on competing to further his experience and increase his competition profile on the dressage circuit.
Dan`s undeniable talent and passion for dressage is driving him toward an amazing career. Currently training and competing some exciting local prospects, including his own Arcadius C and the stunning KWPN stallion Amour G. Dan currently trains with International Dressage trainer Kenneth Dyrby.
Dressage Horses
Arcadius C, Belgian Warmblood (Contact VD Heffinck/Concept x Tessa/Pion), 2007, 17.3hh, Gelding
Archie has been in training since mid 2011, he has stunning elastic, expressive paces and hopes are high for his future success. He made his competition debut in October 2012 and impressed the judge with his presence and movement. Archie is currently training towards his Summer Regional qualification, so 2013 will be a big test for him and his `Wow` factor!
Amour G, KWPN (Goshka Ringo/King x Sigyn Torsmark/May Sherif), 2005, 16.2hh, Stallion
In Dans first season with Spider in summer 2011 they achieved amazing scores of up to 78.8%, they won the vast majority of their qualifying classes at Novice and Elementary. They qualified and placed 3rd at the Summer Regionals and placed 8th in the Novice Open at the BD National Championships.
In 2012 Dan and Spider became Medium Open Area Champions and qualified for the BD Winter Nationals to be held at Hartpury College in April, they also qualified for the BD Winter Regionals at Med Open and Med FS.
2013 will see this combination move onto Advanced Medium with their eyes firmly set on the Premier Leagues.
Also standing at stud, please contact Mrs Pippa Childerhouse.
Feedmark`s Phoenix, Trakehner (Donaufischer x Polartraum III), 2003, 16.3hh, Gelding
Feedmarks Phoenix made his competition debut in March 2012 at Novice and Elementary. Currently training at home at Medium/Advanced Medium, Polo shall be competing at Elementary for the duration of the 2013 summer season gaining valuable experience for the future.
Rinroe Supreme, Irish Sports Horse (Brilliant Lad x Manninard Lass), 2002, 17hh, Gelding
With Rinroe Supremes main occupation being eventing, Dan has taken over the ride for the pure Dressage. Currently competing at Novice, although training at Elementary/Medium. A lovely boy who is a real gentleman to work with.
Achillios - FOR SALE, Selle Francais, 2008, 15hh, Gelding
Purchased by us as a foal, Chilli has grown into a fantastic small sports horse with an intelligent mind and loving nature. He was backed in autumn 2011 and then turned away for the winter before restarting again in February 2012. He enjoys a varied work regime including jumping. He will be a fantastic prospect for the future. Sadly due to not growing tall enough he is offered for sale, please contact us for more information.
Popstar, Belgian Warmblood , 1992 , 16.2hh, Mare
Poppy has been a part of our family for fourteen years, she is a beautiful mare with a loving personality, in her younger days she took part in all disciplines but especially enjoyed jumping. Poppy is now semi-retired but does enjoy being a hacking companion for our youngsters, giving them confidence and security.
Daisy Duke, Welsh, 1998, 10.2hh, Mare
Daisy is a wonderful pony who is Poppys` life companion and Williams best friend, nothing fazes her and we couldn`t ask for a kinder girl.
FEI Grand Prix School Master
Muriel is a gorgeous 16-year-old Percheron/Appaloosa Cross with a very extensive show career. This beautiful black mare has shown in the FEI ring for over seven years and is currently showing Grand Prix. She has earned scores at Grand Prix into the mid 60s. As well as consistently earning scores in the mid to upper 60s in Prix St. George and Intermediare 1 & 2. Muriel has been owned and trained by a professional rider her entire career and would make the perfect horse for any Adult Amateur wanting to experience the joys of showing in the FEI ring. She helped her rider earn both her Silver and Gold USDF Medals. Let Muriel do the same for you! She is extremely intelligent and her work ethic is second to none. Her barn manners are impeccable and she has been sound and healthy her entire life. The demanding work of an FEI horse has been a breeze for her and she has required absolutely no maintenance thus far.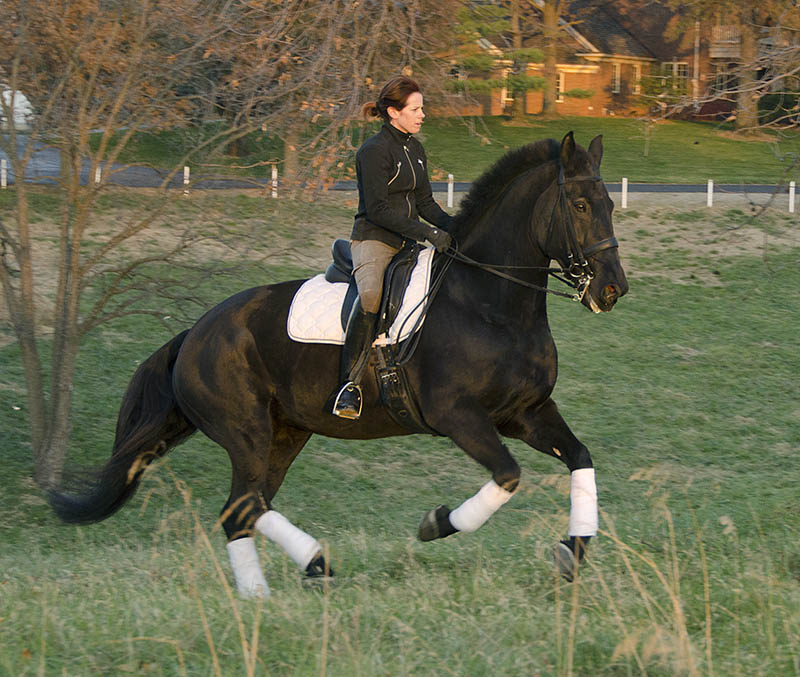 Dressage Schoolmaster, Sedalia, Colorado
Rocky is a very sweet and talented horse. He is imported from SWE. Rocky has three very good gaits . He is not spooky and great on the trails. He is easy to load ,clip etc. Rocky has shown up to Third Level. He has a high score of %74.7 at Second level and %67.8 at Third level(test3). Rocky would be great for a more advanced rider. Video is available on my website, www.nobledressage.com / Call (303)995-0405 / jenny_brauer@yahoo.com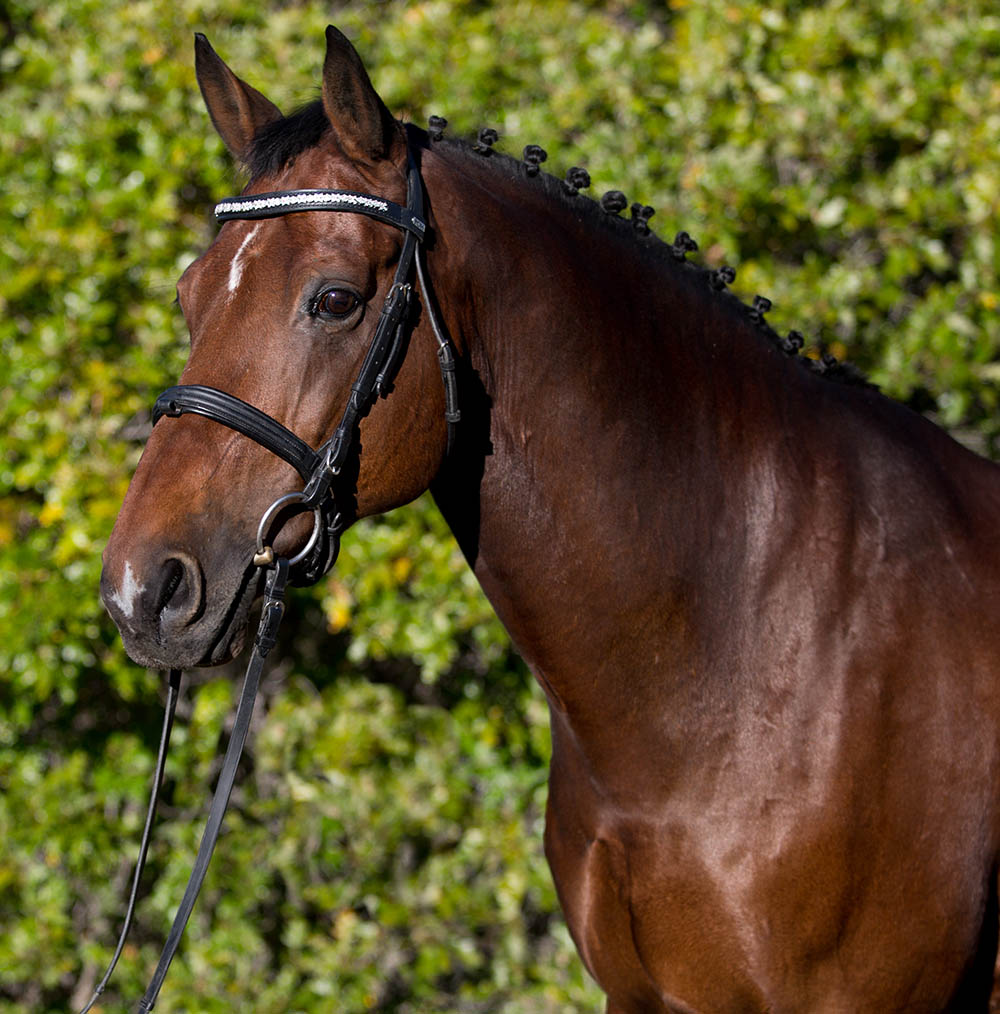 Successful Dressage Mare For Sale
TaylorMade is an eye catching 8 year old, 16hh Shire/TB cross mare, who with her beautiful bay color accented with plenty of chrome has proven to be a favorite of the judges whether in Florida or New York. She is an amateurs dream horse – willing to do anything you want - whether that be a Dressage show (Where she is no stranger to scores in the 70's at both Training Level and First Level), an Event where she takes great pleasure in the jumping phases or just a simple trail ride.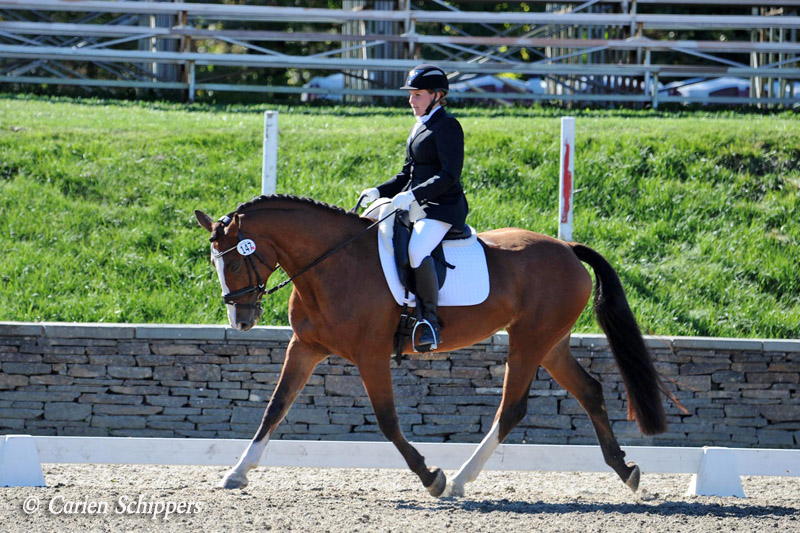 This horse gives the opportunity to have a "One Man" show – she loads well and will be exactly the same horse when she comes off the trailer and never requires a lunge. She has phenomenal bare feet. Is a sound and easy keeper, also great with or without a friend in turnout. Was the USDF All-Breeds Champion for the Performance Horse Registry in 2012 and is Reserve Champion for 2013 along with Reserve Silver Stirrup for training level and 3rd for First level this year. Let Taylor be your next proven, both in results and temperament, mount with the talent to move up the levels. You will love her! Located in Newfane VT. Link to Video -
Adam Murdin, Preston Lancashire
We are a small yard based just north of Preston in Lancashire. The horses that we have with us are equally split between horses stabled for short or long term training programme and a carefully chosen selection of dressage horses, which are for sale.
Adam & Beth are both available for training programs at their stables, private lessons at your own stables & also organised clinics..
Tel: 00 44 (0) 1772 782742 / Mobile: 00 44 (0) 7710 490882 / Email: adammurdindressage@btinternet.com
Feel free to contact us should you require any information on horses available for sale or to arrange a visit to see what horses what we have available.
Should we not have anything that suits your requirements I can either find that horse `to order` or can arrange to meet you in Holland or Germany and show you several horses to your specifications. We can organise all aspects of the trip for you.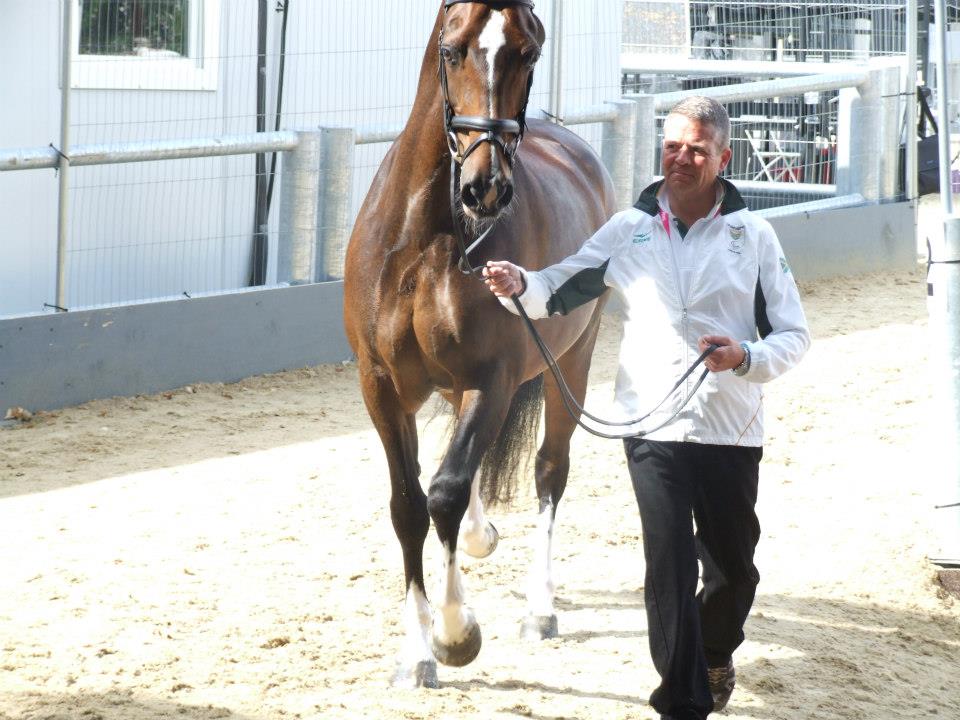 Testimonial - Felicity Coulthard Silver Medallist at the 2008 Beijing Paralympics, has trained with Adam Murdin since 2006. "We started with a goal of reaching the 2012 Paralympics in London" explains Felicity who goes on to say "but we exceeded our expectation way ahead of schedule when we won a Bronze Medal at the Worlds in 2007. Being selected to be part of Team GB for Beijing was a phenomenal experience. A major part of our long-term goal was to purchase a new horse that had the quality to win at the top yet be manageable for a disabled rider. What we wanted was to find a very special horse and thanks to Adam we did just that."
Judy Douglas Miller - Satisfied Customer: I went on two trips to Holland with Adam he organised everything. I had approx 7-8 really nice horses a day to look at all the level and price I wanted, everyone was very kind. I was not pressurized or pushed to ride anything I didn`t like or want and ended up with a really lovely horse. It was all easy and fun every effort was made to match horse and rider, which is so important.
Adam started his career as a rider/trainer in eventing, training riders through to advanced level. In 1997 on moving to the stables of Sandy Phillips he then moved to pure dressage. During his time there he competed at small tour level and was involved with horses working at GP and competing at competitions, once at the European championships and World Equestrian Games.
Since moving to Lancashire in 1999 he has trained students of all levels from Preliminary to Grand Prix including International Young Riders.
The most successful to date being Para rider Felicity Coulthard having found the horse Roffelaar in 2006 for her having it in training in his stables and gaining a bronze medal in 2007 at the Para World Championships and a silver medal at the 2008 Beijing Paralympics.
Testimonial
An undoubtable talent who during his time with me displayed keen intuition and empathy towards the horses in his care and their training.
His dedication and determination to adhere to the classical principles whilst inspiring his pupils to achieve their goals gives us one of the most exciting up and coming young trainers in the country.
Sandy Philips - Olympic Dressage Rider
Melanie Beckmann, Hartpury, Gloucestershire - Dressage Horses For Sale
The MDR Dressage yard is based in Hartpury, Gloucestershire and run by Mel Beckmann and her team. The beautiful and quiet location allows horses and riders to completely relax and focus on their training.
Mel`s unique training method is based on combining equine and human psychology. Once trust and mutual understanding between horse and rider is established, allowing both to feel relaxed, the physical training commences according to the `Scales of Training` - the foundation of correct education of horses of any level and discipline.
The MDR approach has proven to dramatically improve performance of combinations regardless of discipline and level, it especially suits nervous riders and/or `difficult` horses as it provides a valuable "confidence boost`. Give it a try!
07769-975507 / mdrdressage@hotmail.co.uk

Mel - originally from Wiesbaden, Germany - always had a passion for horses, starting to ride at the age of 4. She tried a variety of disciplines over the years including show jumping, eventing, western and carriage driving but got `hooked` on dressage
At the start of her career she rode horses for studs and yards in Germany, Spain, South Africa, Ireland and England, which taught her the "traditional way" to train young and sharp horses.
An important stepping stone in the development of the MDR training method was Mel's own warmblood gelding "Moon", who did not seem to respond to the "traditional" training, proving to be very difficult. Several years (and trainers) later she found the solution in Natural Horsemanship, which transformed Mel's attitude to dressage and horse training in general.
Not only have riders found new confidence and trust in their horse whilst training with Mel, many horses who arrived "sour", resistant and nappy at the yard have learned to enjoy their work and to trust and respect their rider again.
The idea is to teach the rider to make the horse WANT to do the job, which is - when successful - a revolutionary feeling for any rider (and surely for the horse too..).
At MDR fun and horse welfare always come first! Whether you are a livery, coming for a lesson, work here or just pop in for a cup of tea and chat, everyone is welcome. Mel's aim is to keep everyone happy. All horses go out in a herd of 9 to 15 animals which makes them very content animals, there are up to 15 friendly dogs around who constantly want love and fuss, and you will notice that there is always a happy atmosphere on the yard, just how it should be!
Dressage Horses For Sale
Riverdance - 10yo grey ISH gelding,16.3hh, won medium, working at adv medium level, loves jumping, hacks, super schoolmaster.
Hohenstern - 5yo jetblack gelding Hohenstein/Weltmeyer, 17.2hh, lovely genuine and impressive looking horse, 3 excellent active paces.
Dougal Dot Com - 6yo spotted gelding 15hh, top allrounder, kind temperament with lovely paces.
Cappucchino - 6yo bay cob gelding 14.2hh, excellent little dressage horse/allrounder, fantastic paces, jumps, hacks alone and in company.
Chopin - 4yo bay gelding by Flemmingh/Donnerhall/Rousseau,16.1, exceptionally athletic and loose active paces, super sweet temperament, always wants to please, 2nd in first show, jumps, hacks, dressage horse with a big future, already showing talent for collection and lateral work, the whole package - the one everyone wants!
Southfield Enigma
- 9yo black ISH/TB gelding,15.3hh, beautiful and kind allrounder, jumps, hacks alone and in company, easy to do in all aspects.
Fabiro Z
- 4yo piebald KWPN gelding Voltaire/Joost, 15.3hh, super jumper with 3 active paces, stunning looks and a lovely temperament.
World of Dreams
- 6yo jetblack gelding by Weltmeyer,16hh, absolute sweetheart, excellent paces, easy to do in all aspects.
Trussardi
- 10yo bay gelding by Ulft, won elementary, 3 impressive paces, perfect ladies` dressage horse/allrounder.
Aragon
- 6yo bay gelding by Aljano, 17hh, simply the perfect horse! scores over 70%, loves jumping, hacking, dressage, always delivers, super loving temperament.
Mushu
- 4yo grey ISH (King of Diamonds/Clover Hill lines) 15`3. An absolute gem in every way, exceptionally stunning with 3 correct active paces, excellent dressage potential. Jumps, been XC, hacks alone and in company, been to pony club camp with teenager, loading, catching, shoeing, traffic never a problem, just a super allrounder even for the nervous rider, real confidence giver. POA.
Betty Boo II
- 4yo dark brown mare 16`2 hh by Lord of the Dance. Betty is a dream amateur`s horse, she is a very good mover, very kind to ride and very kind to handle. She has won her first Prelim (affiliated) with 68.93%.
Wendo
- 8yo brown 16`2hh KWPN gelding by Sydney working towards Medium, 3 excellent uphill paces, loves jumping, hacks alone and in company, been XC, catching, shoeing, loading etc no problem absolute sweetheart trying his heart out for you, perfect ladies` ride.
Dangermouse
- 5y/o grey 16`1 ISH gelding (King of Diamonds lines) absolutely bombproof never puts a foot wrong. Easy to school, hunted in Ireland, jumps coloured poles,done XC, hacks alone and in company, traffic no problem. An absolute sweetheart in every way!
Zorro
- Stunning 4yo 16`1hh Friesian gelding great potential for dressage, modern type with the sweetest temperament, loves hacking, always wanting to please, easy to do in every aspect.
Crocodile Dundee
- 4y/o dun 16`1 ISH gelding with 3 super paces, uphill and forwardgoing, will excel at dressage but also jumps. Lovely temperament, very trainable, an absolute sweetheart ridden as well as on the ground. Hacks on the buckle, loading, catching, shoeing, clipping no problem. Ideal ladies` ride.
Combat Rock
- Supersweet 3yo 15`2 chestnut TB gelding, ideal for RoR classes, lightly schooled and hacked at the moment now ready to be brought on. never sharp or quirky, easy to catch, shoe, load etc, good in traffic, no vices.
Loewenherz
- Future Superstar! Tricoloured 4yo 16hh gelding by Landtaenzer (Loutano-Landgraf) Scored 79% at YH class! 3 forward, uphill and elastic paces, lovely temperament, hacks, loves jumping. Loading, catching, travelling nothing a problem, a very sweet straightforward horse for the big sport. Turns heads wherever he goes..
Super Dressage Prospect - Ready to Show
Magiek (Mickey) 10 year old, dark bay (black) gelding, 16.3 h, Dutch Warmblood / Trakehner cross, Registered Canadian Sport Horse. Sired by Magnefiek (Dutch Warmblood), out of mare Mickey II (Trakehner). Handsome, friendly, willing, pleasant to work with, nice mover, smooth canter. Professionally trained in the foundations of dressage since May 2012 and ready to show training level. He has schooled leg yield, lengthening, counter canter, turn on the haunches, turn on the forehand. He does simple changes and starts flying lead changes. Mickey's training has been focussed on the flat. He has completed some training over-fences where he has been honest and brave. Mickey is 100% sound and clean x-rays. His pre-purchase vet check and x-rays are available for viewing. Trailers, clips, baths, good for vet and farrier. No vices. Priced to sell at $15,000.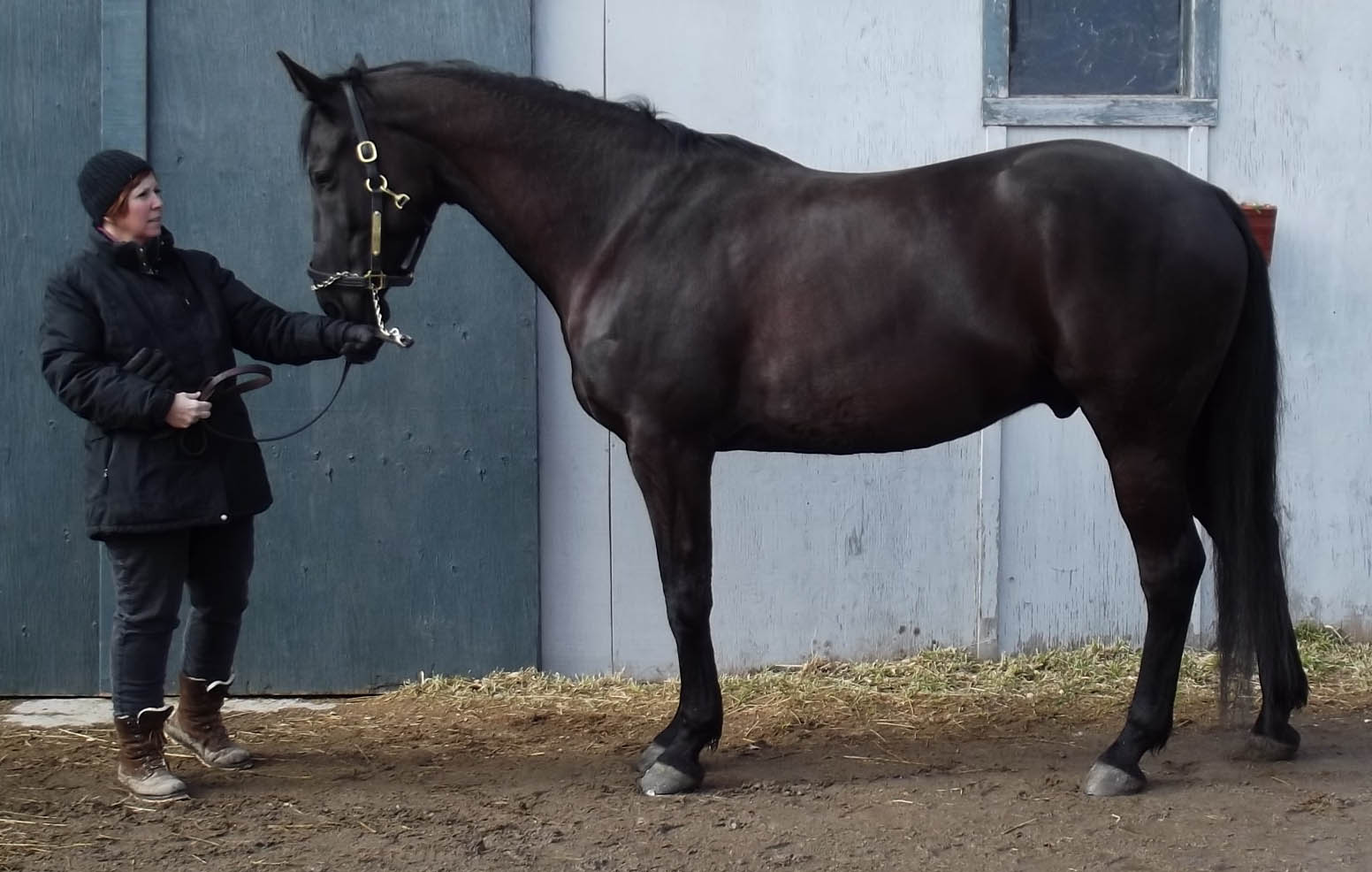 Dressage horse / Eventer / Allrounder, Dutch Warmblood x Trakehner, Sired by Magnefiek $15,000, Call 519-660-3676, Ontario, Canada