Horseboxes For Sale

Ruby Rose Horseboxes

Our customers range from top International Show Jumpers for whom we provide their choice of customised horseboxes to young horsewomen who are looking for a basic 3.5 tonne horsebox at an affordable price.

Location
: Walsall, West Midlands
Type:
3.5 Ton / 7.5 Ton / HGV
Phone:
0800 002 9120
CHOICE is the keyword.
You tell us your needs and we provide the expertise and the craftsmanship.

We also offer -
- Full scale refurbishment of old and much used boxes
- Warranty period on horsebox purchase`s
- Part-exchange facility
- Pre-purchase inspection service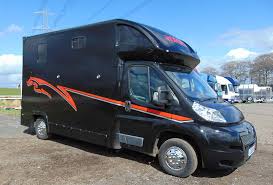 Looking for a horsebox for sale, browse through our selection of 3.5 tonne horseboxes, 7.5 tonne horseboxes and HGV horseboxes for sale, Stable Express is a world wide classifieds making us an excellent place to begin your search for your next form of horse transport. Browse New build horseboxes as well as quality second hand horseboxes for sale.
Craftsman Coachworks

Craftsman Coachworks providing new build horseboxes built to the highest standard Call - 07724358412 | Email - craftsmancoachworks@gmail.com |Clough Bottom Farm, Moor Lane, Haslingden, Lancashire, UK

Kent Bros

Kent Bros Horsebox Manufacturers a family business with over 45 years experience giving quality with style, comfort and safety ... 16, Coopies Way, Coopies Lane Industrial Estate, Morpeth, Northumberland, UK NE61 6JN | Call - 01670 518408

Motts Coachbuilt Horseboxes

Having years of experience in manufacturing horseboxes, we understand the transport requirements of horses and their owners. Call - 01737 773 537 | 11 Fairacres, Axes Lane, Redhill, Surrey, UK, RH1 5QL

Wye Valley Horseboxes

New & second hand horseboxes for sale, Wye Valley Horseboxes, Mynydd Bach Farm, Newchurch, Chepstow, Wales, UK NP16 6DD | Call : 01291 650449

Winterborne Horsebox Company

With 45 years experience Winterborne Horsebox Company offer traditional hunter style boxes at affordable costs, Winterborne Stickland, Blandford Forum, Dorset, DT11 0NT | Call : (01258) 880490 - Evenings : (01258) 881295

3.5 Tonne Horseboxes

Small 3.5 Ton Horsebox, Carries 2 Horses - 3.5 Tonne Horseboxes - West Midlands - Selection of new & used horseboxes for sale

Pembrokeshire Horse Box Company

Quality and attention to detail, friendly service and prompt delivery dates ensure customer satisfaction. Unit 10, Brickhirst park Ind est, Johnston, Pembrokeshire, UK | Call 07931 659273

Style Horseboxes

Style Bespoke horseboxes manufacturer | Style Horseboxes. Unit 7, Albert Place, Lower Darwen, Lancashire, England, BB3 0QE, Tel: 01254 53054, Mob : 07710 405 249

Galloper Horseboxes

7.5 Tonne Horseboxes - Carries 3 Horses - South West, Dorsett - Custom Built Horseboxes - Stalled for 3 with GRP aluminium body. This vehicle is immaculate - Stunning horsebox & very easy drive.

Horsebox Conversions Midlands

Van Conversion Horseboxes, Thames Valley, 2 Horses :- Get a custom built horsebox, built to your specification. Stalled to carry 3 ponies or horses - Rug racks, lined stock board, wrap round padding Protection bars, roof mounted sky light with cooling fan.

Horsebox For Sale Built On Automatic Chassis

North East, 7.5 Tonne Horseboxes, Carries 3 Horses :- Horseboxes built on an automatic chassis :- get free quote

Coachbuilt Horseboxes

3.5 Tonne Horseboxes For Sale :- North East, Carries 2 Horses :- Built to your specification

Custom Horseboxes

Looking at getting a custom built horse lorry, browse our equine classified to find a builder near you. 7.5 Tonne Horseboxes, 3 Horses, West Midlands

George Smith Horseboxes

Loading lights on ramp, double skirt tack locker, storage lockers with wash hose, roof rack at rear with fitted ladders. On board generator.

Equicruiser Horseboxes

British coachbuilder offering horseboxes built to your own specification, from small horseboxes through to luxury hgv horse transporter lorries

2nd Hand Horseboxes For Sale

Used second hand horse lorries :- 3.5 Tonne Horseboxes - East Midlands - 2 Horses

Cheap Horseboxes For Sale Uk

Stableexpress is the place to browse if you are looking for a wide choice of used horseboxes and horse trailers for sale throughout the UK.

Horsebox Lorry For Sale

Stableexpress is the definitive classified advertising site with national coverage dedicated solely to the sale of horseboxes and horse trailers throughout the UK.

T.J Brown Horse Boxes

Rossley House, Milbourne, Malmesbury SN16 9JA | Call - 01666 823676 | UK Horseboxes For Sale

Three Counties Horseboxes

Affordable horseboxes getting you and your horses from A to Z | Tenbury Wells, Worcestershire. WR15 8NH. | Tel:07985 811 311 / 07968 265 561 | ALSO BASED IN SOMERSET

F N L Horse Boxes Ltd

Cliffe Common, Selby, North Yorkshire, YO8 6EF | Call - 01757 630233

TVT Horseboxes

1 Jilkes Cottages, Carters Hill, Arborfield, Reading, UK RG2 9JJ | Phone: 0118 976 1938

Apex Horseboxes

413 Ombersley Road, Worcester, WR3 7DQ, UK | Call - 07838 251 438 | Email - andy.witowski@sky.com

Kerrier Horse Boxes

Higher Carne Farm Black Rock, Praze, Camborne, TR14 9NR | Telephone - 01209 831799 | UK horseboxes for sale

Flintline Horseboxes

Unit 2, Heath Farm, Colchester, Essex | Call 01206 823366 | UK Horseboxes For Sale

Starline Horseboxes

Starline Farm, Starborough Road, Marsh Green, Edenbridge, Kent, TN8 5RB, United Kingdom (UK) Tel: 01732 864970

Springhill Horseboxes

...Practicality and Reliability at a Realistic Price | Springhill horseboxes sale site is conveniently situated on the A418 at Whitchurch, between Aylesbury and Addington EC | Call - 078 140 28538

Horsebox Scotland

Central Scotland Horseboxes For Sale | New build 3.5 T van conversion horseboxes.

Kernow Horse Boxes

Pitslewren Farm/Wheal Busy, TR4 8NY, Truro, (Cornwall, UK) | Call | 01209 821465 | Horseboxes For Sale

Roughan Horseboxes

Founded in 2012, Roughan Horseboxes custom built horseboxes, built to your specification, Call - 07904144911

Bonfield Horse Boxes

Bonfield Horse Boxes, Derbyshire Horseboxes - Call | 01332 874565 New & Used horseboxes for sale

Evolution Horseboxes

Stanley Bank Farm, Singleton Road, Weeton, Preston, Lancashire PR4 2, UK | Telephone 07773 069994

Principle Horseboxes

Brett Farm, The Common, Lavenham, Sudbury, Suffolk, CO10 9PG | Call | 07800 576278 | UK Horseboxes For Sale

New Build Horseboxes

3.5 tonne horseboxes built to your specification, carries 2 horses of a good size, Eastern

Horsebox Classifieds

Stableexpress equine classifieds listing horse, ponies, horseboxes and trailers :- 3.5 Tonne Horseboxes, South East, 2 Horses

Unique Coachworks

Unique Coachworks | 3.5 Tonne Horseboxes For Sale | Cobweb Buildings, Unit 1 Reading Road East Hendred Wantage Oxon OX12 8LN | Call - 07974 538016 or 07855 874622 | Oxfordshire Horseboxes, UK

Annard Horseboxes

Luxury custom built horseboxes from Annard | 1 Summerisland Rd, Loughgall, Armagh BT61 8LG | Phone: 028 8778 8093


Equestrian Classifieds - Horseboxes For Sale

Stableexpress has partnered with a leading builder and provider of horseboxes, new, used, large and small whatever your requirements, we are able to help you in your search for a new horsebox.


If you are looking to advertise your horsebox, then email us at info@stableexpress.com and we will happily add your horsebox on to the stableexpress horsebox classifieds section
Custom Horseboxes For Sale
Buy your dream horsebox and have one built to meet your exact specification, choose your chassis; Volvo, Scania, Leyland Daf, Mercedes, Iveco or any of lorry chassis you may prefer, then choose hoy many horses you want to carry, then what you want in the living area: shower, toilet, TV, DVD, Sky, number of beds. Small 3.5 tonne horseboxes, medium sized 7.5 tonne horseboxes to large HGV horseboxes.
We will work with you to build a horsebox that matches what you have envisioned in your mind, built to a fantastic quality finish, you will be surprised at how little it cost. For a free quote and discuss what you need in your horsebox please call and we will be happy to answer any questions you may have
New Build 7.5 tonne Horsebox
A middle sized horse lorry, 7.5 ton horseboxes are ideal for those riders who take between 2-4 horses to a show, with optional living area from a day living to a living area suitable for away shows, we can help you find a horsebox that matches your exact requirements.
7.5 Ton Work Horsebox
- A minimal living area, but excellent tack storage ensuring you can take the maximum payload in horses ideal for professional yards as a second horsebox, helping you take extra horses in addition to your larger horse truck, or used as a replacement to save fuel over your continental cruiser. Built using light weight but strong material can tack a beating from those bad travellers and young horses.
7.5 tonne Stay Away Horse Box
- Built with comfort in mind, with excellent living space for those stay away shows, or even those cold winter days when you are at a show and there are hundreds in the class. The seven and a half tonne horse box combines luxury with practicality, built from strong materials while keeping the weight to a minimum to ensure you are still able to carry a good payload of horses
For more information or a free quote please call
NRM Horseboxes - Horsebox Manufacturers
Based in Midlands NRM Horseboxes is a leading horsebox builder, who have built horseboxes for some of the worlds equestrian elite including British showjumper Robert Whitaker, NRM Horseboxes construct horseboxes to the highest quality finish but still at affordable prices. Building horseboxes large and small, from small 3.5 ton horseboxes up to and including large luxury HGV horseboxes used to transport you and your horses around the European circuit. NRM Horseboxes was created to give you the horseboxes comparable to all the other
horsebox
manufacturers on the market, but to get that quality finish at a fraction of the price.
Whatever your needs and requirements call NRM Horseboxes today, we will be happy to talk through the many different options and give you a highly competitive quote for the construction of a new horse lorry.
As well as new build horseboxes we also often have a selection of second hand horseboxes available, as we are always open to part exchange when people are buying their new horse box.
If you have a horsebox that requires a bit of TLC but you are no ready to swap it in just yet, we can also offer a selection of maintenance and upgrade services, whether you are looking at new upholstery on the seats, your ramp repairing, a living area installing , replacement horsebox window or anything else we can help, again offering competitive prices.
Horsebox Finance
Stableexpress have partnered with a leading seller and builder of horseboxes who offer a selection of finance options for your horse box, from high purchase to low interest loans. Alternatively you may consider find an independent lender for your loan. The cost of a horsebox ranges from £10,000 up to £250,000+ if your were to take out a
£30,000 loan
you would be able to buy an excellent lorry that would be suitable for most casual riders.
3.5 tonne horsebox
Most of us don`t need a 18 tonne horsebox with luxury living to transport 7 horses around the world, most of us own one or two horses and are looking for a small horsebox that will enable us to transport our horses to local shows, fun rides or just a nice hack some where different.
3.5 ton horseboxes are extremely practicable, small in size they are easy to drive as well as being economic of fuel, small 3 ½ tonne horseboxes are made from light weight durable materials to ensure that they remain under weight even when the horses are loaded giving you the weight carrying capacity and features comparable to all other small horseboxes on the market, but can take the everyday hammer that your horse will subject your box to.
Buy super lightweight highest quality 3.5 tonne horsebox designed and built to the highest standards. Small two horse box are also ideal as you are able to drive them on a normal car licence with no tachograph, no drivers hours recording or speed limiters apply.
With a selection of new and used 3.5 tonne horseboxes for sale, you can find the perfect vehicle for you to make the most of your horse at an affordable price. Our horse boxes are stylish, fuel efficient, loaded with excellent feature, built to last, we are confident to out perform other horseboxes on price, performance and luxury
Ideal Ladies Horseboxes
Please call for a free quote on Horsebox Conversions
Horsebox dealers and private horsebox sellers, advertise on the stable express equestrian classifieds section FREE, with over 60,000 potential buyers each month, you will not find a better place to sell your horse box.
Oakley Horseboxes
Oakley coachbuilders are one of the most prestigious brands in the equestrian world, with leading riders from around the world arriving at horse shows in Oakley horseboxes, Stableexpress is a free horsebox classifieds, with a number of second hand Oakley horseboxes listed please use the search tool to find your ideal horse truck.
Whittaker horseboxes
Another leading builder of horseboxes Whittaker horseboxes are made to last, built to an exacting standard, Whittaker lories hold their value search stableexpress and find used horseboxes at excellent prices, if you have a Whittaker horse box you are wanting to sell, advertising on Stable Express is free, simply complete the simple form and your horsebox will be listed for thousands of potential buyers.
Equestrian Classifieds Horsebox