Philip Carberry
Philip Carberry -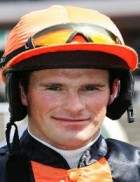 Philip Carberry
Born on 1 November 1980, it comes from a long line of Irish horsemen. His father Tommy won the Grand National at Liverpool in 1975 with L`Escargot. 24 years later, he saddled the winner, Bobbyjo, associated to his eldest son Paul, one of the best riders in the British Isles. Philip also has a sister, Nina, part of the elite of the obstacle in Britain and his native country.
Like all family members, Philip spent his school holidays in the stables, especially for Aidan O`Brien and Dermot Weld, two of the top professionals in Ireland. He won his first race on July 1, 1998 in Liverpool on Native Status and republishes performance two weeks later at his home in Killarney.
Its major victories in Britain and Ireland are the Irish Grand National in 2006 with Point Barrow and Kerry National in 1999 with Lanturn. He also won an event on the Grand National Festival of Liverpool, in the saddle on Sharpaten in the 2000 edition of Le Cordon Bleu Handicap Hurdle. In March 2007, he signed his first success at the Cheltenham Festival with Sublimity in the Champion Hurdle, the Great Race Hurdles English.
Francois Cottin has called on him to mount Princesse d`Anjou at Auteuil as the two men have known each long time and appreciate. Philip Carberry, in fact, won the first victory for the trainer in Ireland, and his second. "I thought he might as well give me a first Grand Steeple" jokes Francois Cottin.
Indeed winner of Gras Savoye Grand Steeple-Chase de Paris (Gr1) in spring 2006 with Princesse d`Anjou in his first participation in the big race at Auteuil, Philip Carberry doubled the fall in the Prix La Haye Jousselin (Gr1) with the same mare.
In 2007, he won only 15 success over jumps in France but exceeded 1.2 million euros of gains, almost exclusively for Francois Cottin, who remains its largest employer in the country.
Phil is also taking courses to obtain his pilot`s helicopter. Category: Steeple Chase
Philip Carberry Horses
† † † Our Bid
† † †† † †- x - ()
† † † Point Barrow
† † †† † †- x - ()
† † † Sublimity
Philip Carberry Competition Results
01 - Leopardstown Racecourse, December Festival Hurdle - 08/12/2008 - Sublimity
---
01 - Fairyhouse, Irish Grand National - 03/04/2006 - Point Barrow
---
01 - Punchestown, Champion INH Flat Race - 25/05/1999 - Our Bid
---
†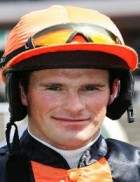 †