Trakehners Studs And Stallions
You canfind Trakehner`s are the top levels of most equestrian sports, below you can search to find Trakehner Stallions for breeders to use from all around the world. To add a stallion to Stableexpress please email your stallions details to
stallions@stableexpress.com.
Caprimond


Dressage stallion Caprimond, from the finest Trakehner bloodlins.
Awarded 1998 Trakehner stallion of the year, Caprimind was granted elite status at just 10 years of age.

Offspring of Caprimond have proved themselves to be highly successful in the dressage arena.,

Sir Graditz - International Jumping Stallion


Competed internationally by Andrew Davies
Trakehner Show Jumping Stallion Sired by Sir Graditz.

Trakehners horses can be seen in many different equestrian sports with a number of top Trakehner competition horses including Trakehner showjumping stallion Abdullah who represented USA with Conrad Homfeldat at many major equestrian championships including the WEG and the Olympic games. Below you can watch Trakehner stallion Abdullah competing with the Conrad Homfeldat the 1984 Los Angeles Olympics.
Abendtanz - Trakehner Stallion
Abendtanz is a popular breeding stallion for dressage and showjumping, and was crowned Trakehner champion at the 2013 performance test, with impececable breeding he attracts some of europes top broodmares and is producing outstanding progeny,
click here to watch video of Abendtanz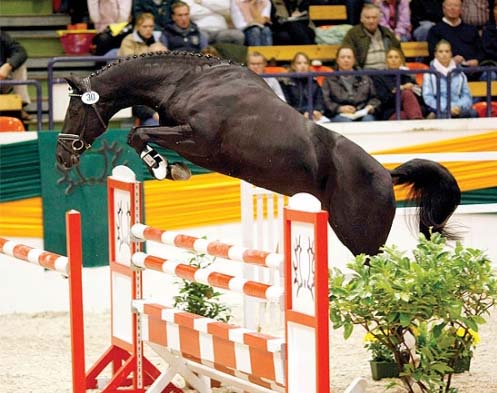 Abglanz
Born in 1942 Abglanz has been a hugely influential for the breeding of the modern Trakehner sport horse, standing at Jork stallion station Abgland sire three sons Abhang I, II and III all become important breeding stallions, these three brothers also had a full sister Zukungt who was competed by Alwin Schockemohle. Abglanz blood was used in a number of other German studbooks to bring more blood into there types.
Kostolany - Famous trakehner stallion (Totilas, Blue Hors Matine...)
(1985 - 2013) Kostolany had a huge impact on today`s breeding. You can find him in the pedigree of : Totilas, Gribaldi, Painted Black, Blue Hors Matine, Sisther de jeu and many others...