Irish Draught Horses / Irish Draft Horses
Below you can view Irish draught horses from all around the world, from some of the most influential Irish Draft stallions such as King of Diamonds, Clover Hill and Sea Crest to finding future Irish draft stars of the future, Irish Draft foals for sale.
SNOWFORD BELLMAN
SNOWFORD BELLMAN is a truly outstanding stallion with beautiful conformation and limbs; he has a superb straight action with tremendous cadence and freedom of movement. Bellman has an abundance of quality combined with substance and a lovely temperament.
Bellman`s pedigree boasts some very nice lines. With plenty of great movement on his top side and Jumping on the bottom, mixed with plenty of breed type and a splash of TB for quality make Bellman an exceptional stamp of horse with all the ability and qualities to be a top class producer of performance stock.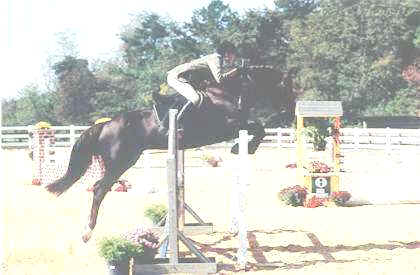 Gortfree Lakeside Lad, ridden by Linda Murphy, the Champion Performance Irish Draught at Dublin Horse Show

Cruising - Irish Showjumping Stallion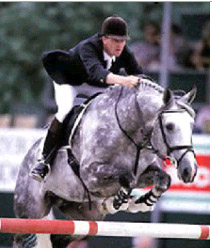 Tors Gentleman Farmer RID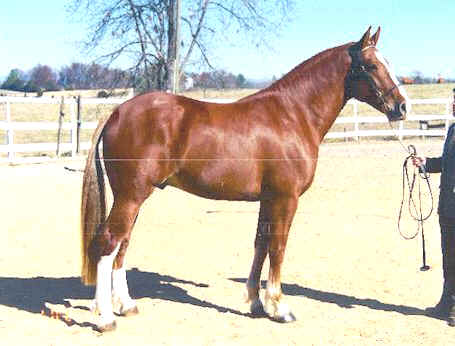 Tors Gentleman Farmer is a very impressive young Irish Draft stallion. Imported from England as a weanling by his owner Mr. Herbert E Buhl, who has spent his time over the last couple of years teaching Guinness the basic ground manners as well as becoming true friends. Herbert contacted Red Ridge some time ago to ask if we would present Guinness for his inspection and possibly stand him. Having been very interested in this lovely young horse`s future from the time we first saw his pictures on arriving in the USA, we were obviously very interested.
When Guinness arrived at our farm back in August, we were extremely excited and as the trailer door opened and he was led off, our chins hit the floor. He was everything we expected and more. Guinness settled in immediately and very quickly became one of the family team. We spent the first week or so getting to know him and his temperament was as delightful as his looks. Guinness has the most honest look in his eyes and and it seems that no matter what you ask of him, he wants to please. Although he is only 16.1hh, Guinness stands tall and covers a lot of ground; he has very correct conformation coupled with extremely light flowing movement and plenty of presence. He is a powerful looking animal with plenty of bone and substance, but one is also taken back by his quality. Over the last couple of months we have been preparing him for his inspections and could not ask for a more willing attitude.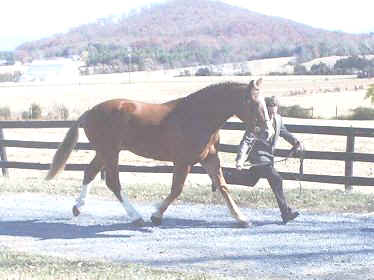 His movement through all three paces are extremely balanced and fluid, certainly what we would expect from a horse with his conformation. He has also boasted his ability when loose schooled over fences, showing a very bold jump and extremely good form. He will shortly begin his career under saddle and our hopes for him as a performance stallion are felt with great confidence.
Guinness is showing great progress under saddle. He is being schooled on the flat and over fences and is ready to start his competition career this spring.
His breeding is very valuable to the current gene pool within the USA boasting such great horses as King Elvis, Silver Jasper & Pride of Shaunlara, all of which have proven to be exceptional RID sires.
Tubber Lass RID pictured here on the left is Tors Gentleman Farmer`s Grand Dam. She has been very successful in the show ring and is truly a great example of an RID mare. Comparing pictures of Guinness one can see the great influence the dam lines also have on the stock they produce and through the generations after.
Sea Crest - Sire Of Cruising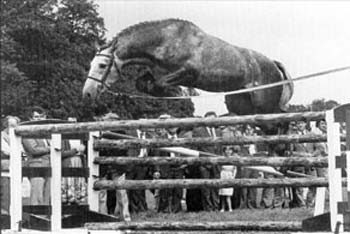 King Of Diamonds - Irish Draft Sire Of Sport Horses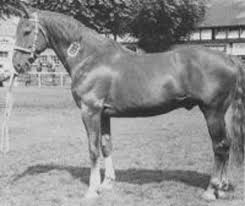 Roma Forest Fox RID
Guinness`s dam, again she has been very successful as both a show mare and broodmare and her conformation and movement can be seen through her son.
Tors Gentleman Farmer`s Sire.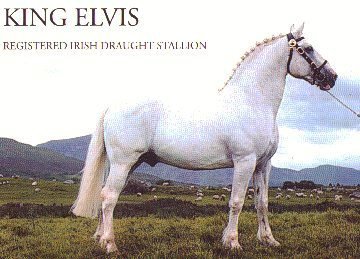 King Elvis was an extremely impressive looking horse. He has left behind some great examples of the breed and has yet again proven to be a sire of sires. Again comparing pictures it is quite obvious how influential this wonderful stallion is in stamping his stock.
Glenlara RID
Glenlara brings classic Registered Irish Draught (RID) bloodlines to the United States. He was approved RID and first stood in England where he was N.A.S.T.A. performance tested and passed his 9-year grading, proving soundness and no hereditary faults. Glenlara later came back to stand in County Cork, Ireland the place where his bloodlines were born. Cork is also home to his grand-dam, the famous Enniskeane Countess, and his grand-sire Ben Purple who is found in the breeding of Custom Made, Gold Medalist in the 2000 Olympics.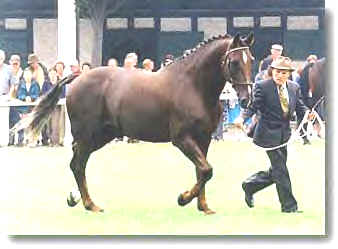 Glenlara stamps his stock with tremendous athleticism, a playful nature and wonderful conformation. Glenlara is a horse who has done it all in several different performance arenas and is the ideal sire for the performance horses of the future.
Glenlara is a horse who has done it all in several different performance arenas and is the ideal sire for the performance horses of the future.
Glen`s first crop of foals in the US were born in 2002, and everyone is pleased with them. Both his pure and partbred foals did exceptionally well in the ring at the IDHS (NA) Breed Show in Lousville, KY last fall, most notably was Bridon Glenmore, who took the Champion Purebred Foal and Best North American Bred titles at that show.
Winmaur Sergeant Pepper
Winmaur Sgnt. Pepper has recently been imported into the United States. An extremely correct little stallion, he was graded in the UK in 2000. He has lovely paces and a neat scopey jump, together with an enormous presence and a truly wonderful temperament. His size and stamp make him unique in Irish Draught terms.
He is by Snowford Bellman, out of Snowford Bright Pink, who is a full sister to the late, great Snowford Stoker. His first crop of foals were born this year and are outstanding. He is a must for the discerning mare owner who wants to breed purebreds, half-breeds, sport horses, small hunters or competition/show horses of any kind.
"Fergal" as he is fondly known, was broken on arrival in the USA and is proving to be extremely trainable and intelligent. Given his combination of athleticism, quick thinking, courage and stamina, "Fergal" is a very real proposition for the production of combined training stars of the future. He will launch his competition career in multiple disciplines in the year 2003.
FOXGLEN HIMSELF
This stunning young stallion has the most wonderful temperament and kind nature mixed with athletic ability, bone & substance and breathtaking presence. Murphy, as he is known to his friends will be of interest to both the purebred enthusiast and to those wishing to breed for competition. He has competed to the upper levels of dressage in Europe before being exported to the USA in the spring of 2000 where he began his first breeding season at Blue Ridge Farm, VA. Due to the fact that he arrived in so late in the season Murphy only covered 10 mares, however they were some very exceptional mares, and we are excited to greet the foals in 2002.
His full sister has been purchased and exported to Germany where she is very successful on the showjumping circuit. His extravagant action and trainability make him an excellent choice to cross with thoroughbred mares to produce the type of offspring required by today`s competition riders.
Foxglen Himself is the sire of many winners, which includes the outstanding Royal Show Champion 2-year-old filly, Caitlin and the Sport Horse colt foal, Belton First Edition. We hope that you may consider this remarkable stallion for your breeding program and feel extremely confident that no matter what you are looking for, this lovely potent stallion can produce the results.
Foxglen Himself has now began preparing for his USA competition career and will soon begin competing again in Dressage. Due to this horse`s remarkable jumping ability, he will also get to strut his stuff in the jumping ring.
Banks Fee Daniel RID
Banks Fee Daniel is an impressive looking stallion that has proved his ability through both himself and his stock. He has to his name a large amount of Champion stock, both in hand and under saddle.
Below I will list just a few of this remarkable stallion`s achievements:
* Grade One Nasta Performance Tested
* Progeny Award Winner IDHS GB
* 7 times Fertility Award Winner
* More than 36 Competition stock
* Sired multiple in-hand Champions
* Has considerable BSJA winnings
Over the last few years we have promoted Daniel within the USA, however his owner has recently moved to the USA and Red Ridge Farm will no longer stand him. It has been an honor to work with such a great horse and he will be sadly missed around the farm.
We still have many doses of Daniel`s frozen semen left and will continue to promote it until sold. If you are interested in purchasing semen from Red Ridge Farm, then we will be delighted to help.
Red Ridge Farm
Red Ridge Farm is primarily a breeding and training facility specializing in the Irish Draught and Irish Sport Horse. Our fully approved Registered Irish Draught stallions have been imported from both England & Ireland, and our Thoroughbred stallion was bred and produced in Ireland.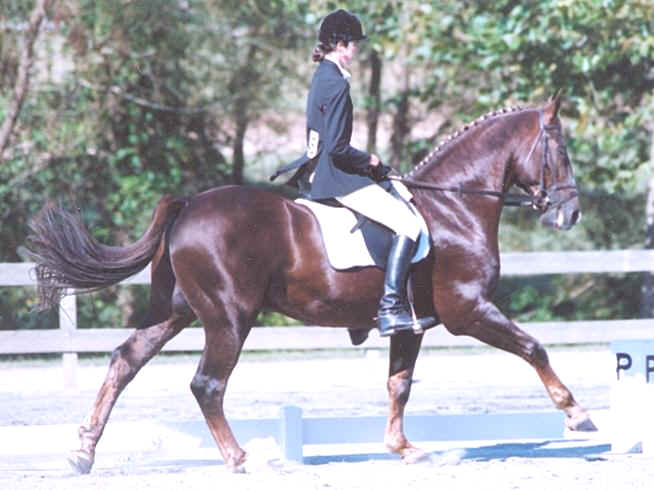 Snowford Bellman - Irish Draught Dressage Stallion
Our aim at Red Ridge Farm is to provide North America & Canada with the exceptional bloodlines that have made the Irish Draughts and Sport horses so sought after and renowned for their soundness and temperament. We strive to maintain both substance and quality in a conformationally correct, free-moving, true to type, athletic and willing animal
No matter if you are aiming to breed a top class competition prospect for any discipline or a bold sound hunter for the hunt field or just a great friend that will carry or drive you safely around for pleasure, we at Red Ridge Farm are confident we can assist you in making that dream horse a reality. Lending our many years experience in horses which includes 15 years within the Irish draught & TB world.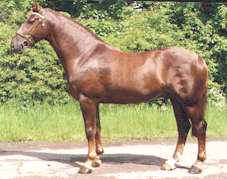 The stallions we stand are all fully lifetime approved and each exceptional examples of the Breed. We have been selective in the horses we have chosen to stand at Red Ridge, making sure we have not only diverse lines, but also a variety of types. No matter what you need from the stallion you select, we feel we have the stallion for all. All our stallions have all the best traits, kind temperament, outstanding conformation and natural performance ability. We hope you enjoy viewing the stallions on the following pages and are happy to answer any of your questions. Videos are available on all horses and we look forward to your response. Red Ridge Farm is now the largest RID stud farm in the world, no other farm stands such a large impressive group of fully approved RID stallions. Please remember that we are still the same friendly, enthusiastic family run farm that we were when we started Red Ridge Farm 4 years ago with just 6 acres and a small barn. We would like to thank all our clients for making our dreams of building a successful business that specializes in the breeding, training and sales of this remarkable breed.
Visitors are always welcome, and seeing all these stallions together in the flesh is a trip well worth making. If you are ever in Virginia please try and make the time to pop in and meet the boys.
When we heard that Fergal was going to be sold, we wasted no time in contacting Maggie Spreckley and making arrangements to purchase him. Obviously after purchasing our beloved Snowford Bellman from Maggie some three years ago and having worked closely with both Snowford Stoker, Fergals grandsire ( a legend in his own right), as well as his dam, Fergal boasted the desirable heritage in his pedigree of many remarkable Irish Draught stock that I have grown to love and admire.
His size was also of interest to me, as I am ever worried about the increase in height that this breed has seen, something that I have witnessed over the last 16 or so years. Although some of today`s Irish draught enthusiasts may considered him small, he is without a doubt a serious asset to the future of this breed. It is my hope that he, along with other smaller stallion could asset in bringing the breed back down to the original size they were before people started wanting a much bigger horse. (see breed standards).
His quality and well proportioned body are also very much the type I have become fond of since my first experience with this breed. He combines quality with substance, and his presence stands him out in a crowd. I think the inspectors comments on Fergal when he passed explain my impression of him well "Small but Mighty".
On visiting Fergal, I was hoping that his size would discourage Amy from wanting to ride him as this is to be my future mount, however she couldn`t resist it and it was very surprising to see how his deep body and tall self carriage disguised the fact that a 6ft 1in woman was riding a 15.2hh horse. Amy commented that he rides like a big horse and was very impressed with his talent and ease of going. Hmmm. I will just have to make sure she doesn`t get any funny idea`s of stealing him off me.
His movement was also a large part of why we felt him a must to stand, and his jump is something else! All this coupled with his general temperament both under saddle and in the barn makes him an adorable guy.
For some time now we have been thinking how nice it would be to own another young Bellman to carry on competing when the time comes to retire him. Although they are very different in many ways, there is definitely many of those very special traits and the desirable conformation that Bellman has set precedent for and has stamped in all of his stock.
Fergal will now spend the rest of his life as one of the Red Ridge Farm stallions and will begin competing this spring alongside the other stallions and his father.
We at Red Ridge Farm were obviously ecstatic to have the opportunity to stand yet another remarkable horse. When we first heard that Foxglen was to come to the USA and stand in Virginia last season, and having heard such great reports of this stallion, we took the time to visit him. When we received the call from Blue Ridge Farm asking if we would be interested in standing him as they were limiting their stallions to TB only, we most certainly jumped at the opportunity. His lines, type and overall impression was enough to say yes immediately.
We have now had him with us for some time now, and he has really settled in nicely. He is a pleasure to be around and is truly one of life`s nice guys and we would like to thank his owner for not only choosing Red Ridge to home this great guy, but for giving us the opportunity to offer breeders such a proven sire through his lines, stock and performance.
RED Ridge Farm would like to congratulate Mr. Damon William`s of Maryland, on the recent purchase of Foxglen Himself. Damon was first introduced to the Irish Draught when he purchased a Sport Horse Colt by Snowford Bellman. He was so amazed with the breed that he decided to purchase another. Damon went all out and is now the proud owner of a remarkable RID stallion. We wish them both success and look forward to seeing Foxglen in open competition again this spring.
Emerald Winds Farm and the Irish Tinker Horses
A year after a chance sighting of a horse whose breeding is very new to the United States, Joanne and Stephen Griffin have started Emerald Winds Farm in Connecticut, where they will be offering these special horses known for pulling Gypsy caravans. The Griffins have already imported six "Irish Tinker" horses, including the spectacular young registered stallion, "Super Star."
Jo was looking for a quiet horse that would be sizeable and sane enough for her husband, a beginner, to ride, when a unique-looking horse caught her eye at last year`s Equine Affair in West Springfield, Massachusetts.
B
"My friend and I saw a woman riding on the most beautiful `drafty-paint` horse I had ever seen," she says. "All I remember was all of the horse flowing in the wind: her mane, tail, and immense feathering. We both stopped dead in our tracks!"

She found the eye-catching horse and rider in the breed pavilion alongside a Gypsy caravan that was on display in the booth. The owners, Joanne and Bill Thorup, soon to become good friends of the Griffins, had brought Jasmine and Esmeralda up north from Bitaboth Farm in Ocala, Florida. Known in this country as "gypsy horses," they were two of only 26 representatives of the breed in the United States at the time. Finding the booth crowded around the two mares and the ornate Gypsy wagon, Joanne asked Bill Thorup for his business card. When she returned home to tell Steve that she had found the perfect breed of horse for him, he suggested they take a trip to Florida to see the horses she was so intrigued with.

They looked at the two yearlings for sale at Bitaboth Farm. However, while "the young filly and colt were both unbelievably affectionate as well as very beautiful horses, Stephen was in search of something he could ride immediately, at least a bit sooner than two years away, so we were off on another search. We came back from Florida knowing that this was the breed we wanted to own. Now the problem was, where to find one?"

Joanne`s trainer and friend, Bill Bohl at Bridlewood Farms of Hillsdale, New York, encouraged the Griffins and offered his expertise in importing, training and showing these unique horses if they could find any. Joanne began an intensive search, contacting European breeders and registries. She learned that while these sturdy, well-mannered horses are used in Europe in a variety of disciplines such as fox hunting, driving, dressage, and jumping, they are often shown under the guise of "show cob." The prejudice against Gypsies carries right down to their horses, and the show cob`s appearance is altered by shaving off the impressive feathering on their legs.

The Deep - Registered Irish Thoroughbred Stallion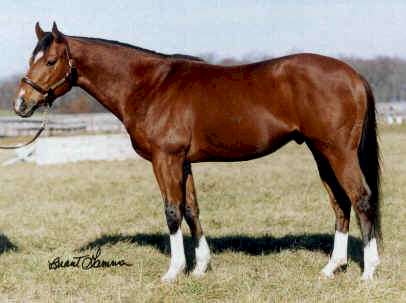 The Deep is an outstanding Irish-bred Thoroughbred with correct conformation and good substance. He began his racing career in Ireland and England, beating "Dover Straits," who later went on to win the Epsom Derby. He was then imported to the States, where he also raced and placed before retiring to stud.

The Deep is an excellent outcross to the American Thoroughbred, as he is the only son of the renowned Shernazar presently standing in the US. His lineage is impeccable, having two Chefs-de-Race as grandsires, and he carries a good and solid amount of substance. He is also a wonderful cross for Irish Draught or Irish Sport Horse mares, passing his conformation and quality as well as his family`s history of stamina and speed, and still maintaining bone.

His first Virginia foal crop are now 3 year-olds , and they all seem to have inherited his wonderful conformation and great temperament. His first runner, In Too Deep, won at Colonial Downs on June 22, 2002 in a maiden race with a field of 13. This 3 year old is out of Kissing Bridge (Linkage).

Hangon Johnny, RID Stallion owned by M. Lackman
We have been fortunate enough to stand and train some exceptional examples of Irish Draughts and Irish Sport horses in the time we have been established. All of them have been welcome members into the Red Ridge Farm herd. Some have come to us for a start in training, and others have come for "refresher" courses or to stand with us for the breeding season. There are a few that have truly become members of our family, and there is always a place for them at Red Ridge Farm.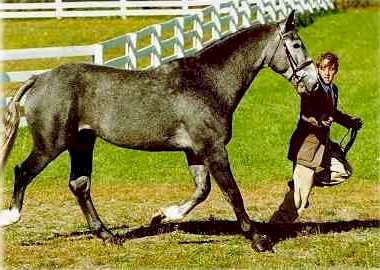 Hello Paddy, RID Stallion now standing in Canada. Seen here with Tony being presented for his inspections in 1999

Reilly`s Fianna, IDSH mare owned by K. Hitchens, Resident Diva

Fee deliverd us an outstanding sport horse colt in 2002 by Snowford Bellman. This colt will be run on by us as a possible stallion prospect. He has a wonderful spirited personality and has all the great movement and presence of both his sire and dam.

It`s the Luck of the Irish, RID stallion owned by J. Shortill .
Sam, ID x Connemara gelding now owned by E. Hauswald. Sam spent some time under our training before being sold to his new home.

Grogan`s Bold Crusader and Winmaur Bright Millennia, Purebred ID yearlings owned by Red Ridge Farm. Winmaur Bright Millennia has recently been sold to Beth Krushinskie and has also just passed her 2 year old RID inspections. She is currently in foal to Snowford Bellman and due in 2003. Congratulations to Beth. Grogan`s Bold Crusader will be staying with us. He has matured into a very nice young horse and is about to start his riding carreer. He will be used for the whole family to enjoy and will become a great all round mount.

Maple Hill Jill, TB Broodmare owned by Red Ridge Farm
Jill delivered us with another outstanding foal this year by Banks Fee Daniel. The filly has great conformation, buitiful movement and will be kept as one of our foundation sport horse stock. Jill has been sent back to Just A Cat TB for the 2003 season to produce another racing prospect. This was requested from the owners of Soutampton Joe, who has been racing well in England with some wins under his belt. Joe was imported to his new owners in England.

Dizzy, Amy`s retired TB gelding, Official Farm Baby-sitter and King Troublemaker.

Southampton Joe, TB colt and aspiring King Troublemaker

Just sold and exported to Mr. Ian Balding, England. Joey will be trained under one of England`s best racing barns. We wish Joey and Ian all the best. "May his road rise up to meet him."

The Gingerbred Man, 1998 16.3hh chestnut by White Clover and out of Ginger`s Diamond

Rockrimmon Tara
1992 16.0hh Bay mare by Householder (TB) out of Serva (HAN). This imported mare has had several foals by Embryo Transfer and was started under saddle in August 2002. A proven broodmare, she passes her conformation and suspended movement on to her foals. Her training has progressed remarkably well for the time she has been it. Tara has a wonderful disposition and will excel with the right training program and personal time. Her breeding has a history of world-class excellence, and it is evident in her action. IHB Registered.

Empey Queen
1993 Bay 163cm mare by Coevers Diamond Boy (ISH) out of Mullagh Mor Lass (ISH) This mare was imported from Ireland and has had several foals by embryo transfer. She was started under saddle in 2002 and is going quietly.

Heaven`s Mirror
1994 Chestnut 17hh mare by Renkum Englishman (KWPN Grade A Showjumper) out of a Grey Macha ISH mare. Imported from Ireland and IHB Registered $15,000

Puissance Clover
1995 Bay mare by Puissance (ISH) out of Clare Clover (Clover Hill), this mare competed in Ireland with all clear rounds in 1998 before importation to the US and a new career as a broodmare. She has since been put back to work under saddle

Reilly`s Fianna
1995 17.0hh Chestnut IDSH mare by First Class (OLD, ISR, SF) out of Misty River Lass (RID). This elegant mare has tremendous scope and presence…a diva at heart, she has had one foal (2002) and has started back in work and ready to progress…a very brave and honest jumper, she also has the movement and talent for competitive dressage. Fee was the 2000 National IDHS Show Sport Horse Mare Champion and is registered in the IDSH Studbook as well as the ISR.. $40,000

Carrick Peach
1996 16.1hh Black ISH mare by The Joker (ISH) out of Carrick Treasure (ISH). This imported mare is very uncomplicated and willing, showing an extraordinary jump. Peach has a wonderful, relaxed manner but will always get her job done. She is ready to progress in the Jumper divisions, making a great mount for an amateur or professional…a very enjoyable mare. $40,000

Clover Damsel
1996 Chestnut 16.2hh mare by Clover Hill out of Tossy Damsel. IHB-papered and has been in training for hunters for the past two years $15,000

The Gingerbread Man
1998 16.3hh Chestnut IDSH gelding by White Clover (ISH) out of Ginger's Diamond (RID). Started in April 2002, this gelding is currently schooling first and second level movements on the flat and up to 3' over fences. This horse is very willing in everything that has been asked of him and has a solid "all-round" base of training. He is ready to progress in dressage, eventing or jumpers…ask and you shall receive! $30,000

Quenlin 1999 17hh bay IDSH mare by Hererro (RID) out of a TB mare. Currently being started under saddle $15,000

Jireh`s Justice
1999 14.2hh dun Connemara gelding. Started under saddle in early 2002 and exposed to the show environment in tha fall, this gelding has had the winter months off and is ready to start under saddle again. Many options are open for this fun little guy, jumpers, dressage, eventing or hunting would all suit him well. He has a huge jump, big flowing movement and correct conformation. He is a very quick and willing learner, Arthur needs a quick and willing pilot to tackle the many future courses! $7,000 OBO

Quarter Moon Servus
2000 Chestnut filly by Rockrimmon Silver Diamond (RID) out of Rockrimmon Tara (see above) This young mare will mature to around 16.hh and boasts loverley flowing movement, sweet yet bold temperament and solid conformation. All this combined makes her an ideal prospect for the competion world. We believe she would well suit the eventing scene. $10,000 OBO

Please remember that all our young horses have arrived through the winter months and are currently living out and left to mature naturally. The pictures were all taken with the horses roughed off and our aim is to bring them in again this spring for backing.

Coevers Silver Diamond
2000 bay filly by Rockrimmon Silver Diamond (RID) out of Empey Queen (see above) $10,000 OBO

Eclipse
2000 17.0 hh Bay filly by Herrero (RID) out of a Reg. TB mare, this filly is very athletic with the size and substance suitable for eventing. She will be lightly backed this spring. $10,000

Hangon Bridget
2000 Chestnut filly by Hangon Johnny (RID) out of Winmaur Bright Olive (RID) (by Banks Fee Daniel). Eligible for inspection to the RID Studbook, ready to be started and/or put in foal $12,000 OBO

Jumping Jack Flash
2001 Bay gelding by Snowford Bellman out of a Saddlebred mare, Sadie`s First Flight He has the most extravagant flaoting movement, wonderful conformation and plenty of presence. At the 2001 IDHS NA Annual Breed Show Jack took home the Best Part Bred Foal Championship and was second to his half brother in The Best NA Bred Foal class in addition to the Reserve Champion Youngstock. Many people complimented us on creating a whole new breed. This foal has what it takes to compete in any discipline and go all the way. $14,000 OBO

Bellman`s Tannist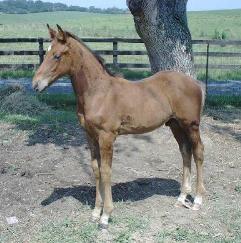 This stunning sport horse colt is rising 2 years old and by the RID stallion Snowford Bellman, out of a stunning warmblood stamp of mare. He has beautiful conformation mixed with a wonderful temperament and floating movement. Red as he is known to his family has been well handled since birth and is proving to be as kind and talented as his father.

Lil`s Spring Belle
2002 Chestnut filly by Snowford Bellman (RID) out of Smart Lil (TB). A very athletic and bright filly, Bunny has retained the fineness of her dam, but the sire has improved on her bone and hindquarters. A wonderful example of the Irish Draught-Thoroughbred cross, this filly is destined to perform and excel $7,500 OBO

The dam is also available with a complimentary breeding to Snowford Bellman for the 2003 season.

The Bellman Secret
2002 Bay colt by Snowford Bellman (RID) out of Secret Oak (TB)

Danny Boy
2002 Bay colt by Banks Fee Daniel (RID) out of Significant Factor(TB)

Irish Draught Broodmares
When Red Ridge Farm was established, we decided early on that we would focus more on standing stallions and limit the amount of broodmares . Us being great believers in Quality over Quantity, the mares we do use in our personal breeding program are selectively chosen and have to be of the highest standard. We couldn`t be happier with the foals our mares had in 2002. Jill gave us a beautiful filly by Banks Fee Daniel and we will be breeding her back to Just A Cat (TB) for the 2003 season. Fianna`s foal has all of the presence his mum and dad have, and we are looking forward to watching them both grow and blossom through the coming years. Fee is back under saddle and very happy the whole broodmare stint is over with: she really missed her daily pampering sessions!

We have three new mares to our breeding herd for this year, two in foal to Snowford Bellman and one in foal to The Deep. Irish Draught Horses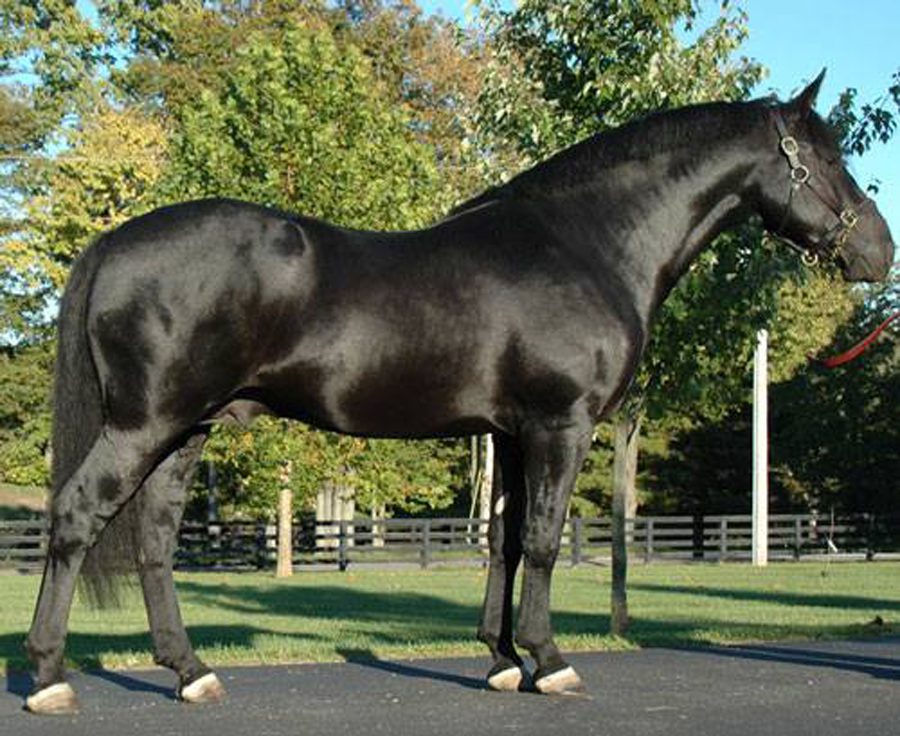 @Mackney Stud - "Mackney Clover" Class 1 Irish Draught Stallion Gold merit Grade A Showjumper Irish Draft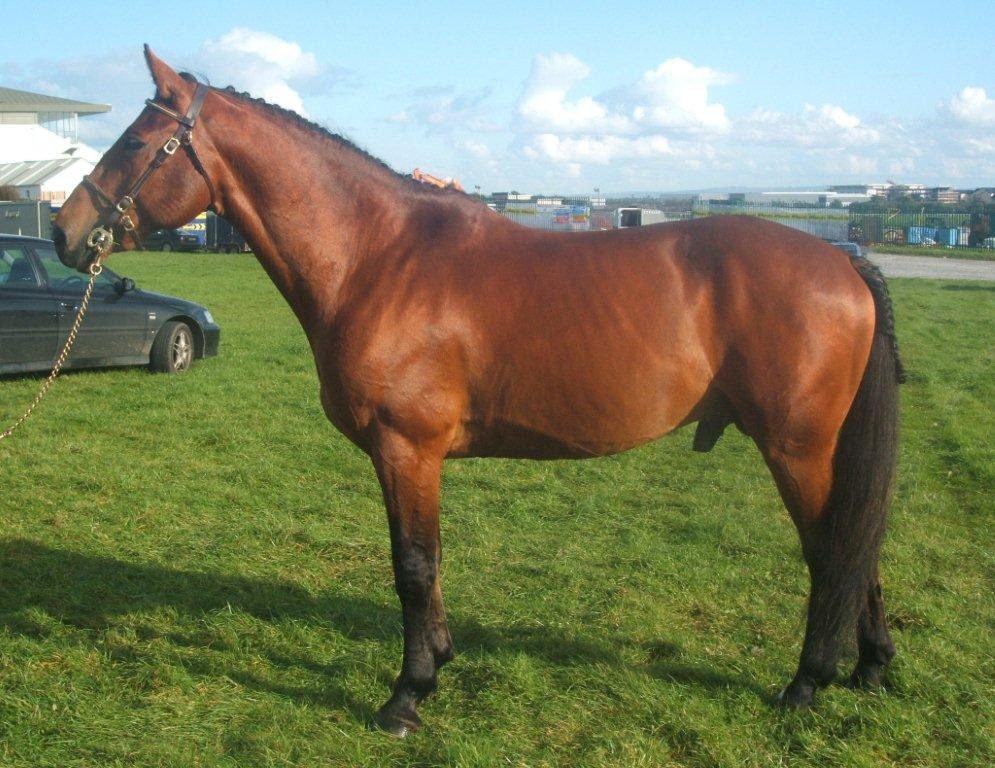 Irish Draft For Sale @Rockrimmon Equestrian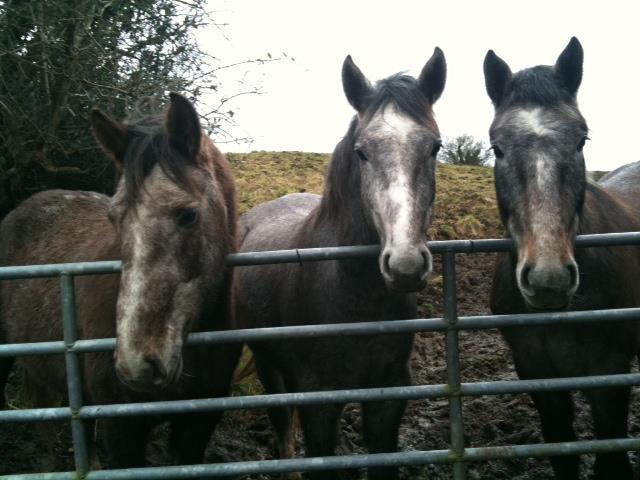 Irish Draft Horse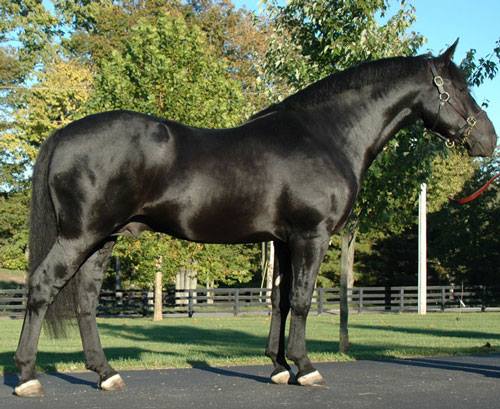 Irish Draft Horses For Sale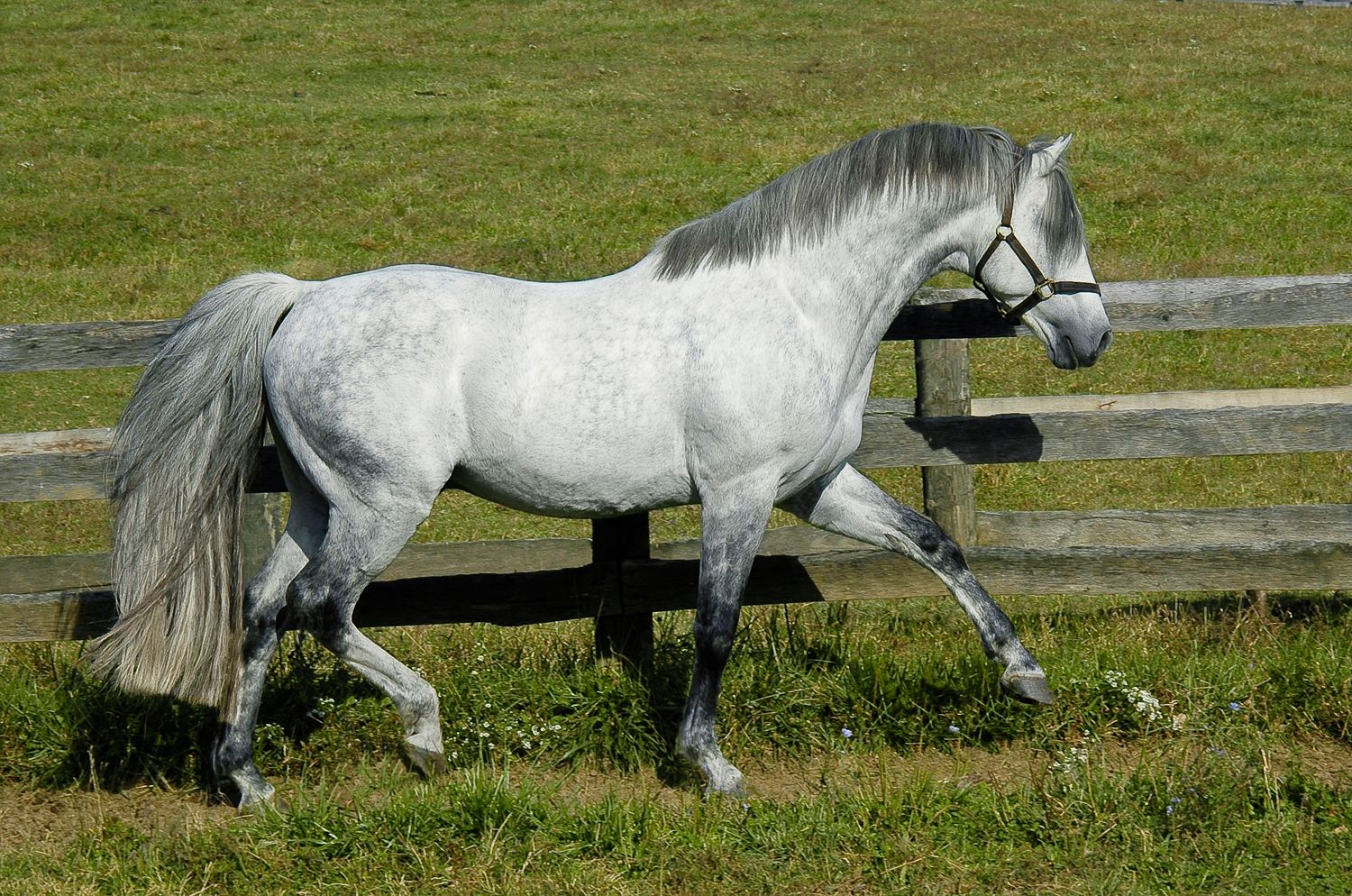 irish Draught Foals For Sale @Hope Pedigree Livestock - Irish Draught Cross Coloured Foals For Sale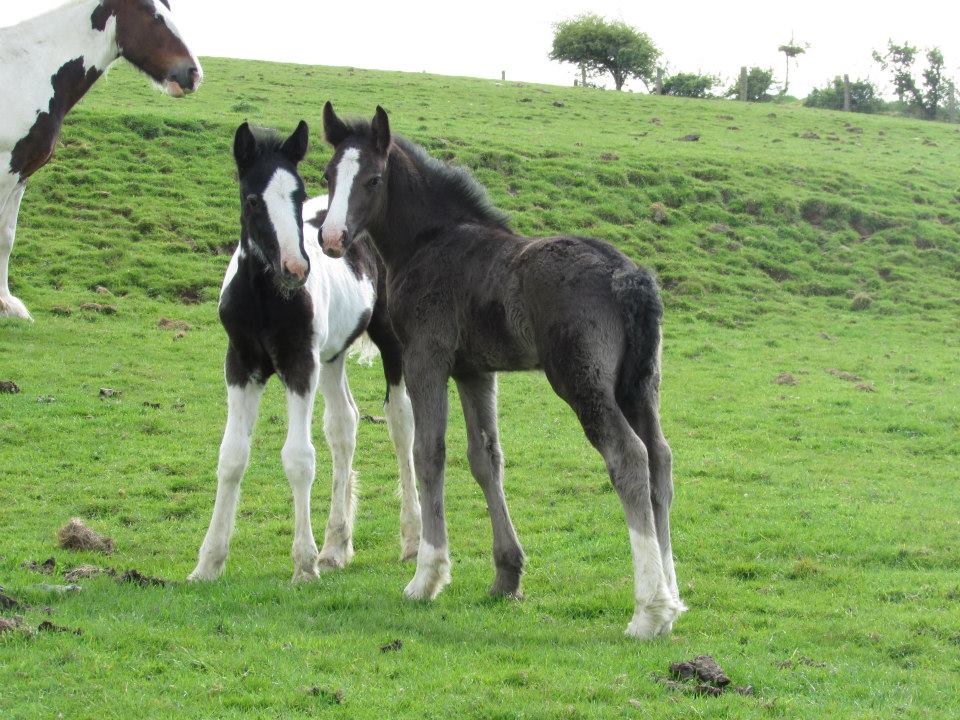 Irish Draught Horse @Legendary Registered Irish Draught Horse Snowford Bellman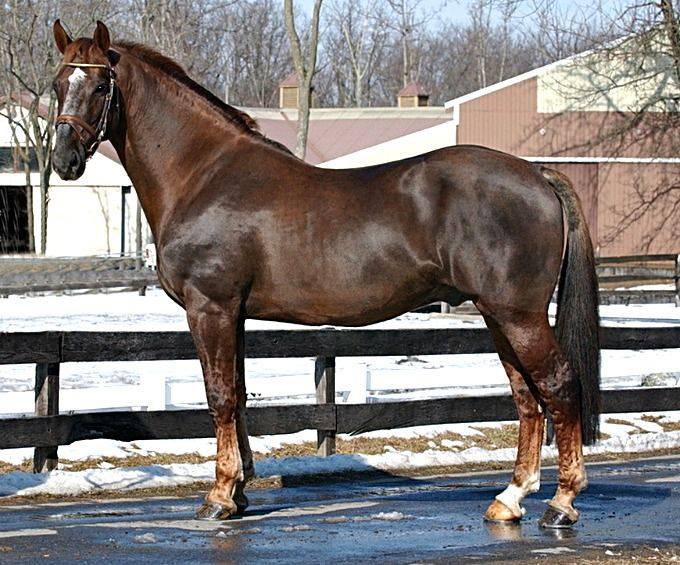 Irish Draught Horse For Sale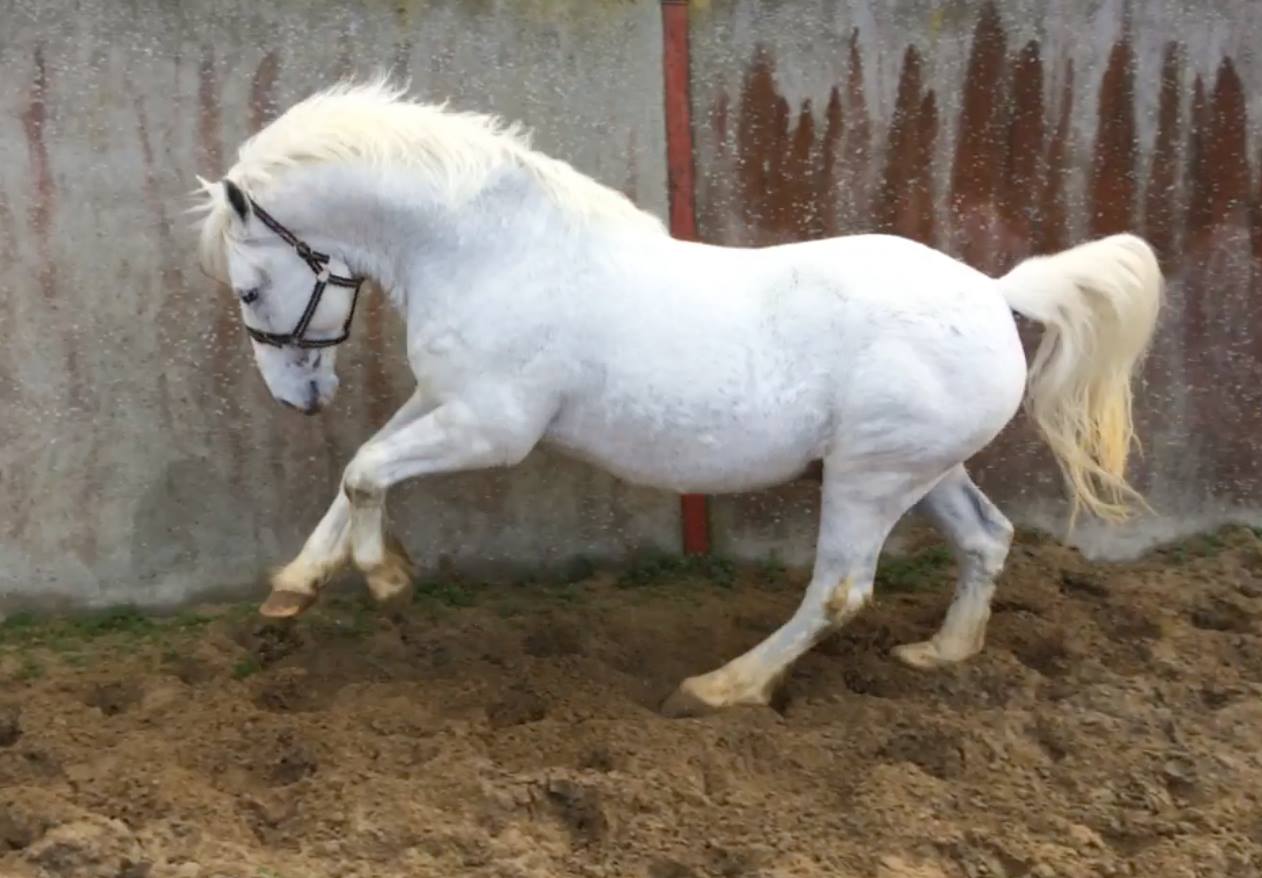 Irish Draught Horses For Sale County Level @Bruce Thorpeley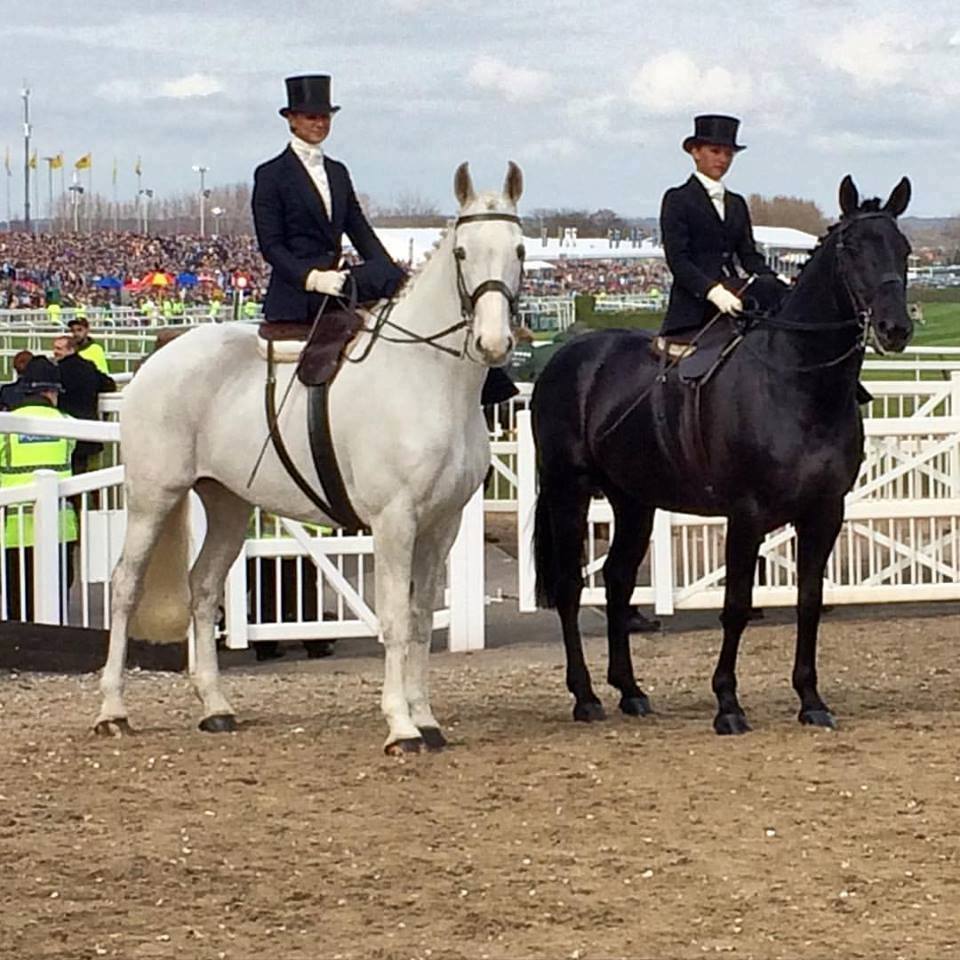 Irish Draught Rescue @Wayne County New York Adoptable Horses d/b/a Rescue A Horse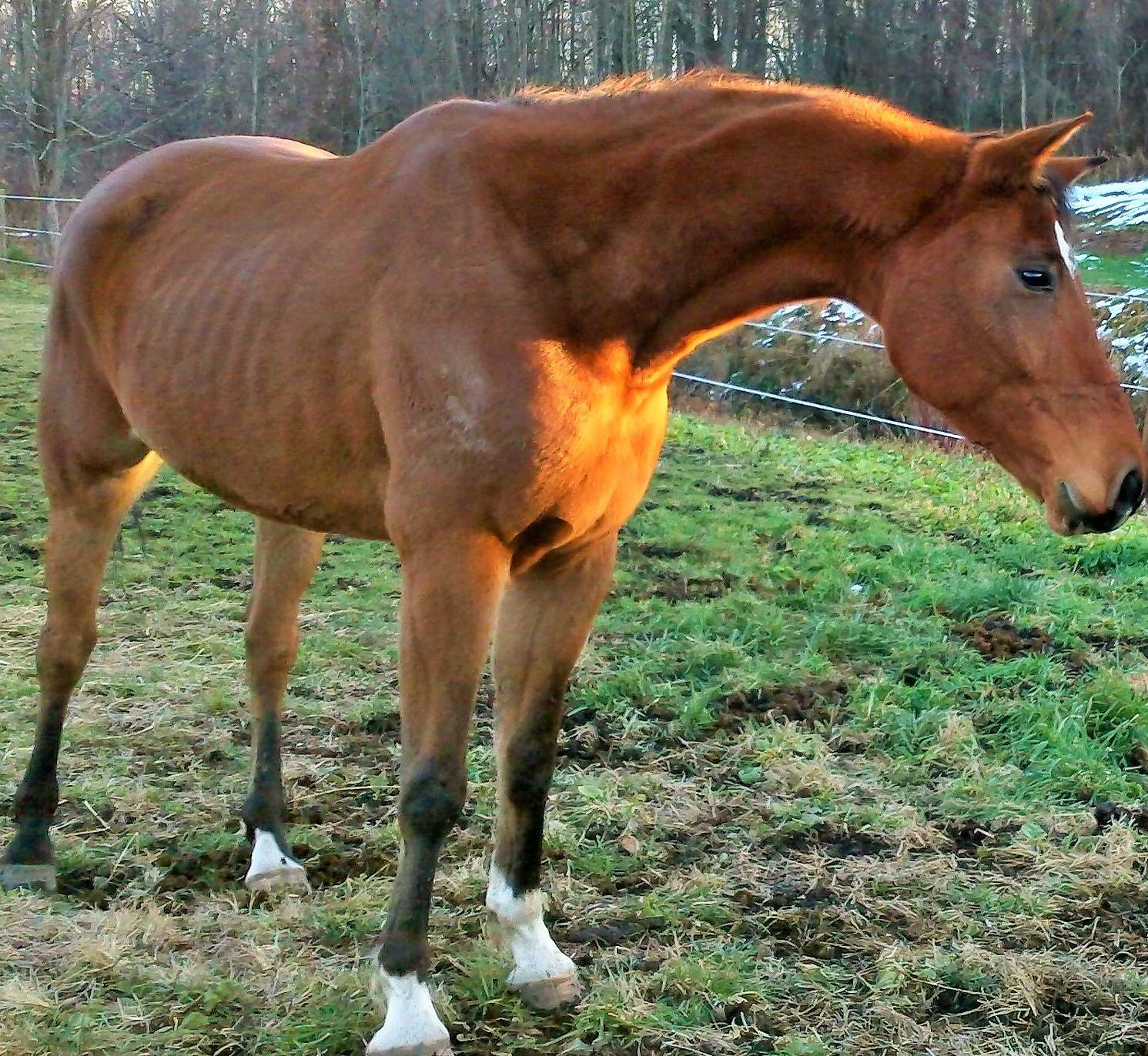 Irish Draught X Shire @Dun Dealers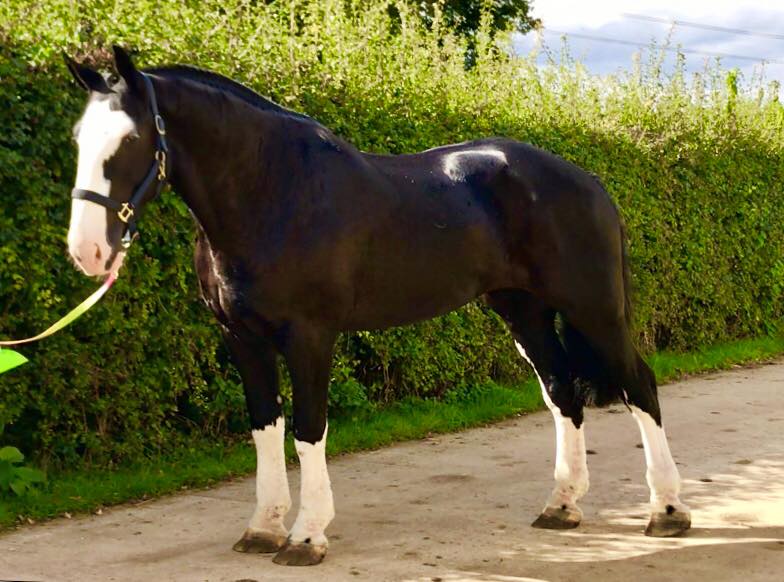 Irish Draught X Thoroughbred @Blackshire Equestrian Centre - Blackshire`s Briallen PF ~ 2017 Irish Draught/Thoroughbred x Oldenburg filly FOR SALE.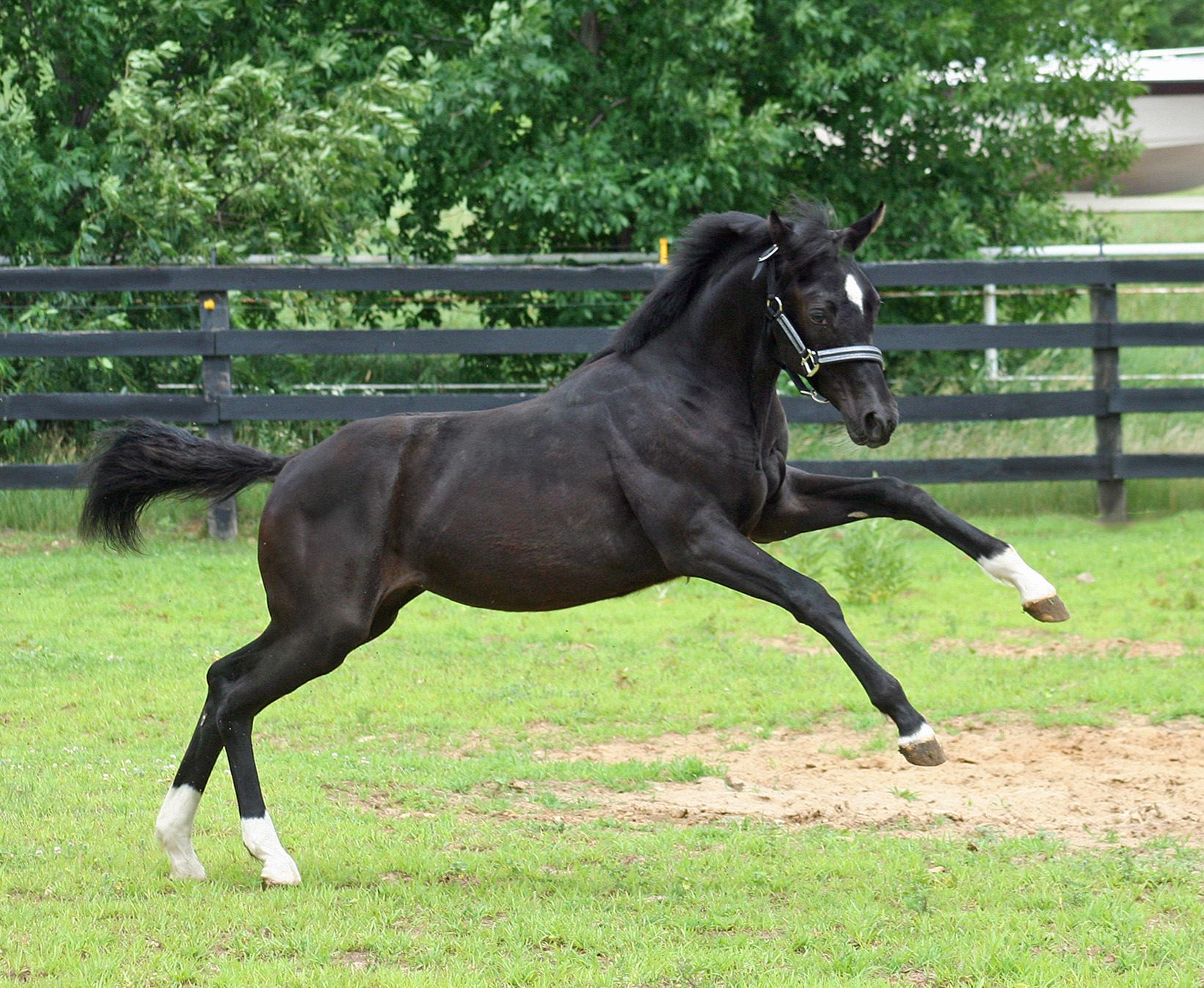 Irish Draught X Thoroughbred For Sale @Arlequins Sport Horses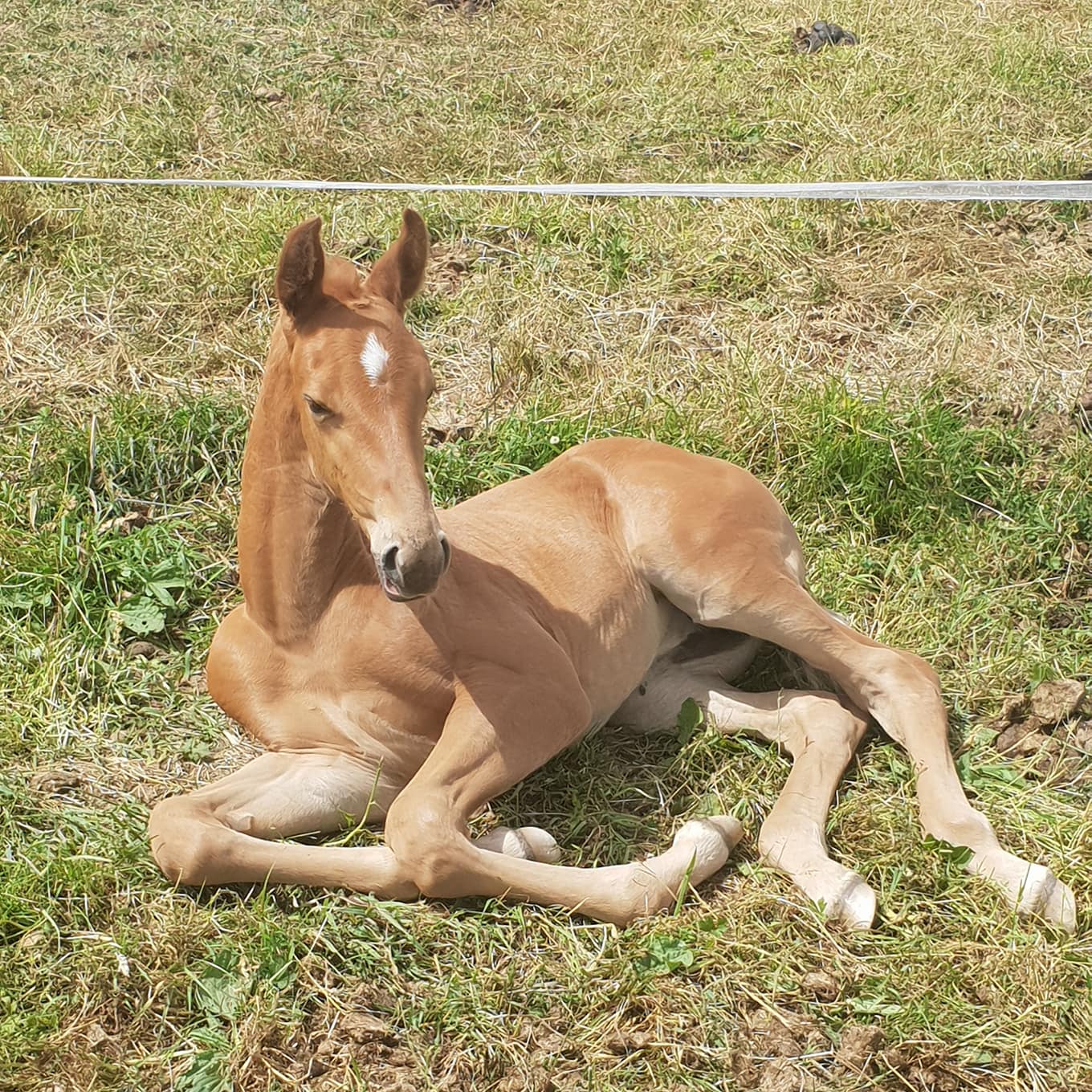 Irish Draught X Warmblood @Blackshire Equestrian Centre - Chestnut Irish Sporthorse x Swedish Warmblood colt - $7,500. *Pictured*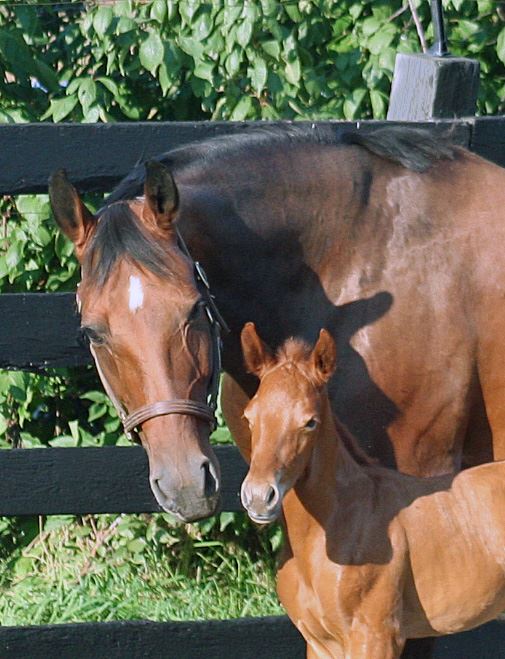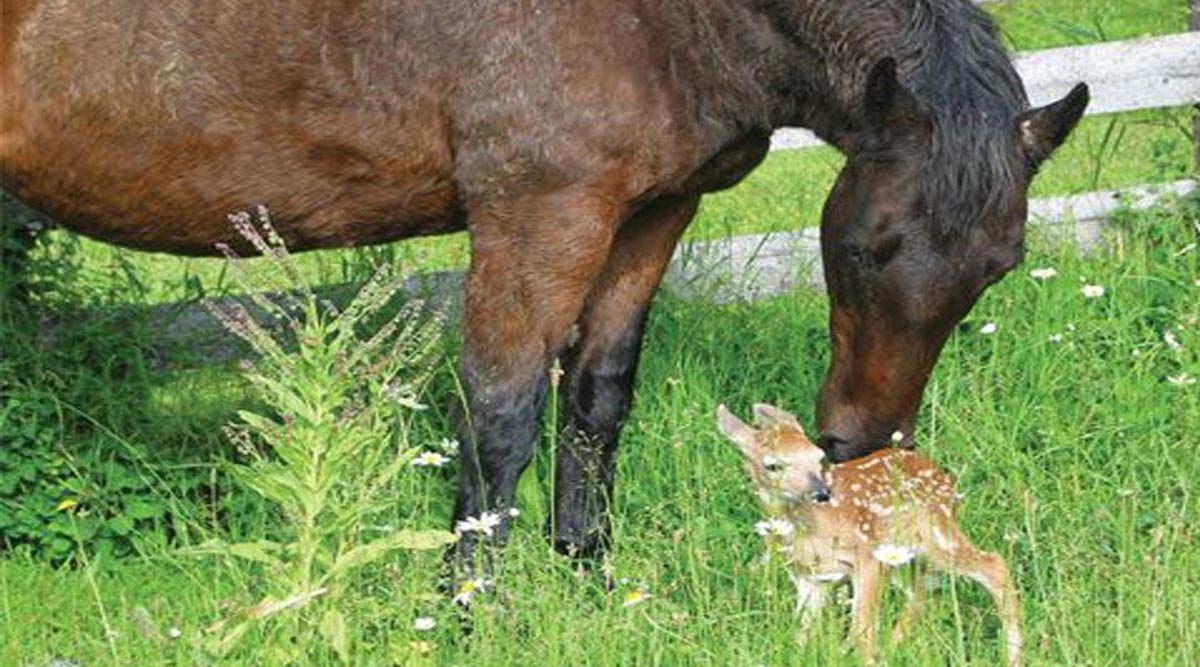 Animals can be the so heart-warming, watch a video of a fantastic broodmare who has adopted this super cute baby fawn...Mare adopts baby fawn …
Read More