Endurance Horses
What makes a good endurance horse? they need stamina speed and an excellent temperament, the preferred breed of horses for endurance riding is Arabian horses, below we show you some of the best endurance horses in the world.
SPOTLESS SUMMER MAGIC
sired by Ebony Masterpiece out of the mare Its Summer Magic who is a daughter of Kalaramas Risingstar, Spotless Summer Magic is a half arabian endurance horse competed by Carmine VILLANI (GBR)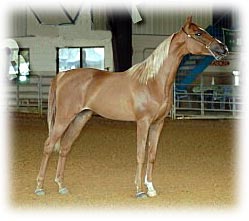 Shelley Bridges Endurance Horses and Trinity Training Center.
Shelley Bridges Endurance Horses and Trinity Training Center. Shelley combines her years of endurance racing experience and her extensive equine knowledge to match horse and rider. Trininty Training Center is located right in the middle of North Texas "Horse Country," Aubrey, Texas. This, along with the scenic Greenbelt Equestrian Trails, make Trinity Training Center the best place to find and train your next Arabian endurance horse.
Trinity Training Center caters to the endurance enthusiast by offering:
Arabian Horse and part-Arabian Horse sales (appraisal and consignment accepted)
Horses leased for endurance racing or pleasure trail rides
Boarding (barn or pasture), featuring a roomy 14 stall barn, pens with loafing sheds, covered arena, and extensive grazing pasture
Training and conditioning (light or heavy)
Riding lessons in the arena or out on trail
Endurance Clinics offered (public or private)
Convenient access to 50+ miles of scenic equine GreenBelt Trails, (Lake Ray Roberts Park) and only a short 35 mile drive to Decator grasslands which has over 100 miles of riding trails
Trinity Training Center is centrally located just north of Dallas-Ft. Worth, and approximately 30 minutes from DFW Airport
Shelley and Keith Bridges, 4247 FM 428, Aubrey, Texas 76227, Office (940) 320 - 1715
Messick Performance & Endurance Horses
Rushcreek Bonita is not for sale. Bonita is now in the broodmare herd.
At only 6 years of age, she had competed in 1 LD endurance ride and 4 CTR`s, and we rode the Tevis Educational Ride in CA, hauling wonderfully from Nebraska! She has ridden in 2 or 3 Centered Riding Clinics as well as a Buck Brannaman clinic.
Rushcreek Classic
Sire: HV Suns Heaven and Earth, Dam: Rushcreek Natka, Comar Raphael x Rushcreek Gwen
Classic was started as a 3 year old on the Rushcreek Ranch.
Campaspe Valley Endurance Horses
We specialise in Anglo Arabian and Quarab breeds. CONTACT US ON FREE CALL 1800 630 922