Caretino
Profile of leading showjumping stallion Caretino, born 1983 sired by Caletto II out of the mare Isidor (Metellus). Caretino is one of the worlds breeding stallions and has bred countless international showjumpers. In 2001 WBFSH rankings of top showjumping sires of the world he ranked 5th being the youngest at 18 years old, in the top ten. Below you can watch a clip of him in action.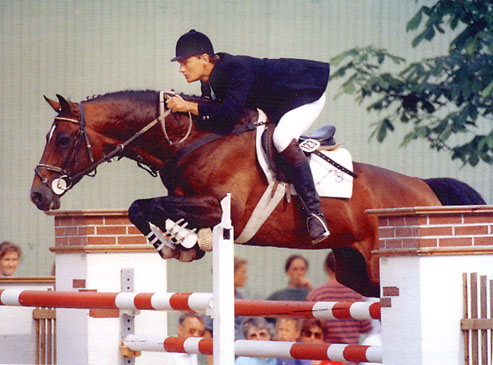 2009 Caretino ranked 4th in the world ahead of great sires such as Cassini, Voltaire, Libero H, Burggraaf and Guidam. Caretino is by Caletto II, the most important son of the Holsteiner breed mainstay Cor de la Bryere, the sire of Cavalier Royale.
Caletto II Sire Of Caretino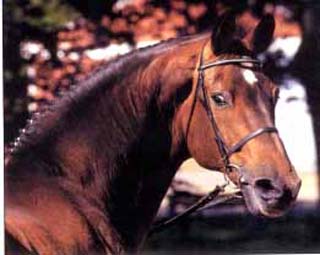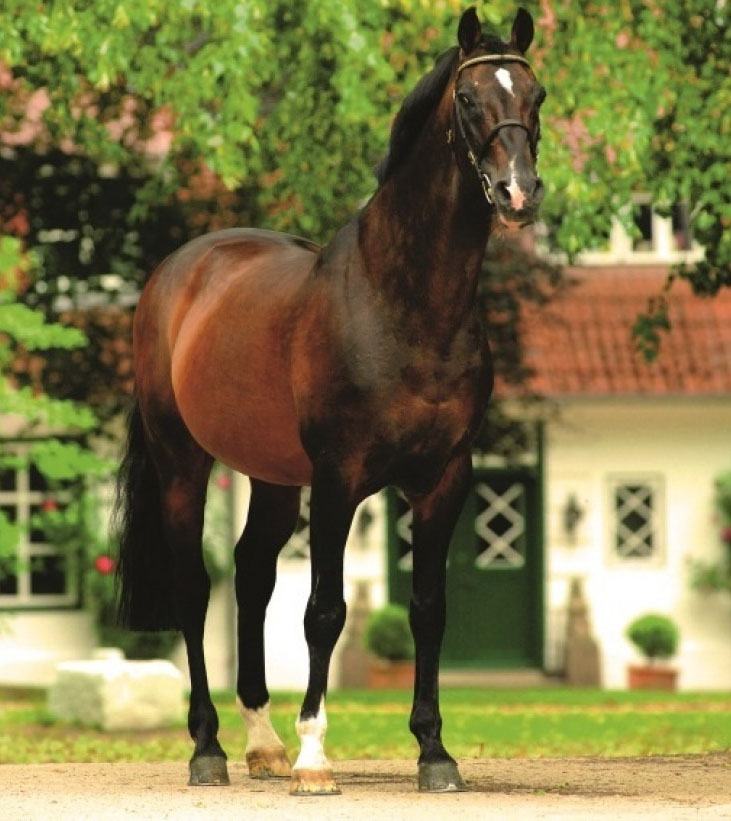 Caretino is one of Germany`s top stallions, producing horses that excel in both the dressage and jumper rings. From the latest (2001) WBFSH rankings of top jumping sires, he is ranked #5 and is the youngest, at 18 years old, in the top ten. With more than 100 offspring, known for their astonishing movement and jumping ability, in sport, Caretino has 18 approved sons and 114 daughters, of which 12 are German State Premium. Recently Caretino was one of four to be accredited as an approved KWPN stallion without having been presented at the Stallion Show nor evaluated on the constitutional requirements of the KWPN.
Caretino is by Caletto II, the most important son of the Holsteiner breed mainstay, Cor de la Bryere. Caletto II is said to embody the perfect traits of the Holsteins: noble and expressive, long-bodied, correct conformation, excellent gaits and exceptional jumping ability.
As a young stallion, Caretino won his 100-day test in the Holsteiner Verband with the brilliant scores of 9.0 and 9.5 in jumping and 9.0 in general performance.
In his early competitions he won the 1998 Holstein State Show Jumping Championship that, in turn, qualified him for the Federal German Championships in Mannheim at which he won. Shortly afterwards he become a successful international jumper with rider Bo Kristoffersen. Their efforts included 40 placings in national and international competition and, as part of the Danish Nation`s Cup team at Gera in 1992, they brought home a fourth place finish.
The promising Caretino (pictured above) showed outstanding potential and in early 1994 the ride was taken over by the legendary Ludger Beerbaum. Just six months later his international career was cut short after he sustained injury. Caretino was retired from sport but began his career as a leading sire.
By 2001 12 of Caretino`s offspring had competed at the international level including AK Caridor Z (Jos Lansink), Crocodile Dandy (Alison Firestone), Chandra (Soren von Ronne), Toyzrus (Jill Henselwood) and Ballerina 124 (Marcus Merschformann). Most recently, his son Camirez (Marcus Merschformann) won the 2001 Hamburg Derby, one of the most demanding events in the international circuit. In dressage Caretino has proven himself as well with the approved sons Cheenook, Carpaccio and Cockney who are considered some of the best movers ever to have entered the sport.
The definite breakthrough of the Caretino offspring in international show jumping, Chandra (Soren von Ronne), Ballerina (Markus Merschformann) and Caresino (Thieir Luther), confirms that the Caletto II son ranks alongside the best stallions within the current Holsteiner breeding.
Caretino was represented by an excellent collection of sons during this stallion approval [31st edition of the annual Holsteiner stallion approval and auction in Neumunster, Germany], with no less than four being approved for breeding. The most striking Caretino son was the dark brown Casario II (dam`s sire Leonid x Ahorn Z, lineage 6893), the best jumper, who was bred from a sister of the stallions Concerto I and II (Contender - Bagina x Ahorn Z (Jann)). Casario II, deservedly, finished as championship runner-up in the approval. At the auction for approved stallions, Casario II was bought for DM270,000 ($118,800) by the Belgian Luc Verelst, who is the sponsor of international showjumping rider Marc van Dijck. - Jac Remijnse, Breeding News for Sport Horses, No. 61 - January 2002.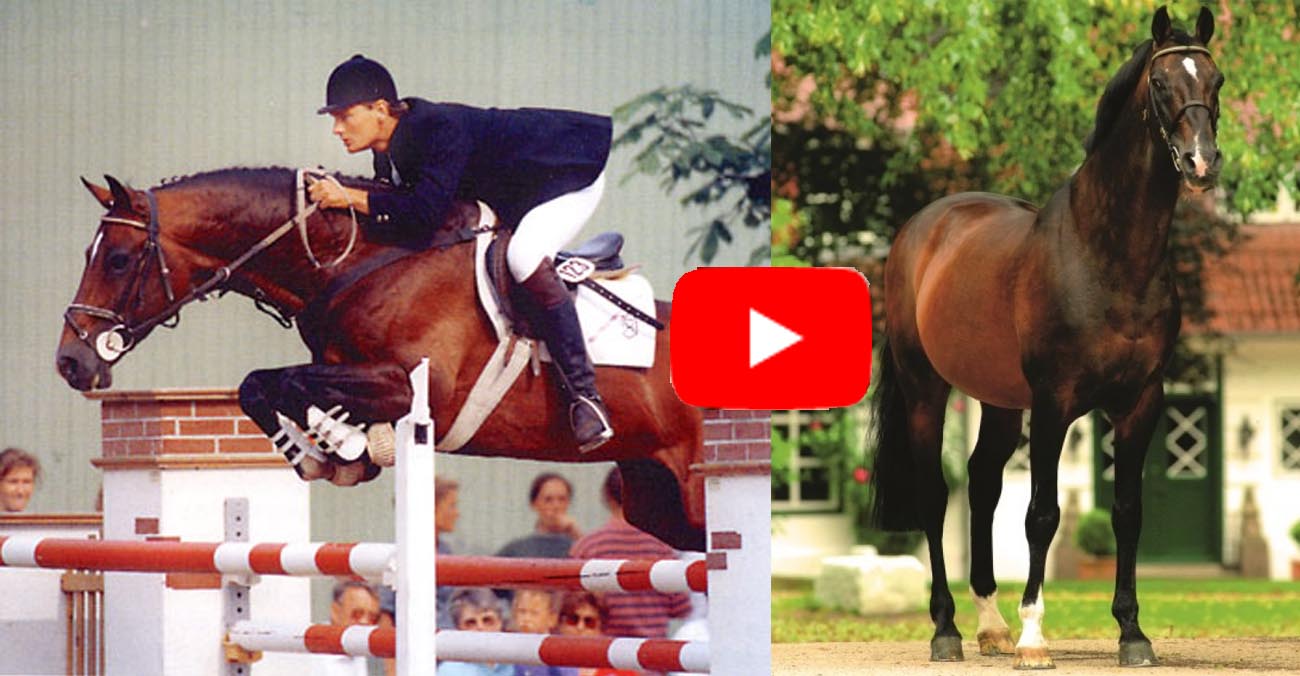 Caresino
The stallion Caresino has had success in the showjumping arena with Italian rider Xenia Herta Schumann, under the name of Eurocommerce Caresino. With an excellent pedigree Caresino is a son of Caretino out of the mare Tina (Tin Rocco)
BMC`S Chicago
Caretino x -, -
DOLLI II
Caretino x -, -
Fy Faen
Caretino x -, -
Joyous
Caretino x -, -
Littlear
Caretino x , -
Olea
Caretino x -, -
R.Rubertha 12
Caretino x -, -
VDL Clapton
Caretino x , -
Ad Como II
Ad Como II is a show jumping horse competed by French rider Olivier Guillon at shows around the world including Fontainebleau, Aachen, Canteleu and many others. Ad Como II is sired by holstein stallion Caretino out of the mare Haselau which is a daug
---
Four Major stallions from German and French Stud-Books unite in the pedigree of Adolfos : ALME, GOTTHARD, COR DE LA BRYERE and RAMIRO !
Ad Como II is a sport horse sired by the great holstein stallion Caretino, and competed by Olivier Guillon.
Horse Websites
Here at Stableexpress we have been designing and publishing websites since 1996 for family and friends, business associates. We have also assisted in the development of numerous websites which included not only basic HTML but also java script while working in either single frame or multi-frame environments. In addition, some have included animated videos and voice-overs.
Varetino OH
Caretino x -, -