Westmoreland Copper Coin - Tobiano Gypsy Vanner Stallion
Westmoreland Copper Coin is a Tobiano Gypsy Vanner Stallion, located in New York, standing at 14.1hh he is registered with the GVHS, Pinto Horse Society,GV R. - Call: 631-553-2530 or 631-537-5346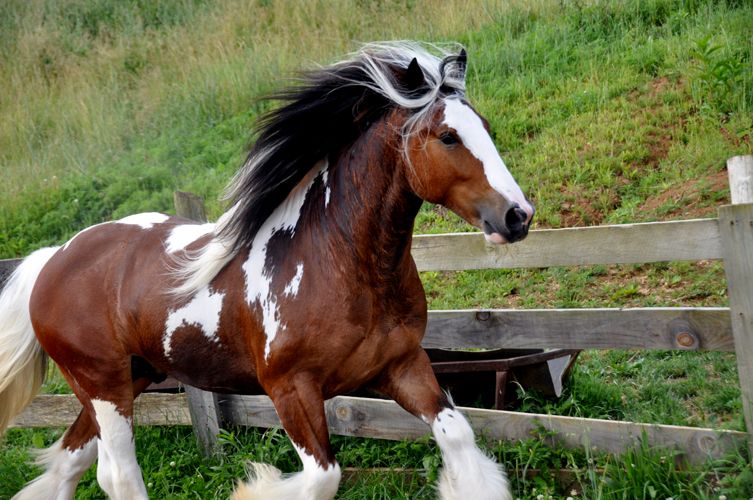 Westmoreland Copper Coin is a national gypsy vanner stallion, below you can watch a video of Westmoreland Copper Coin in action.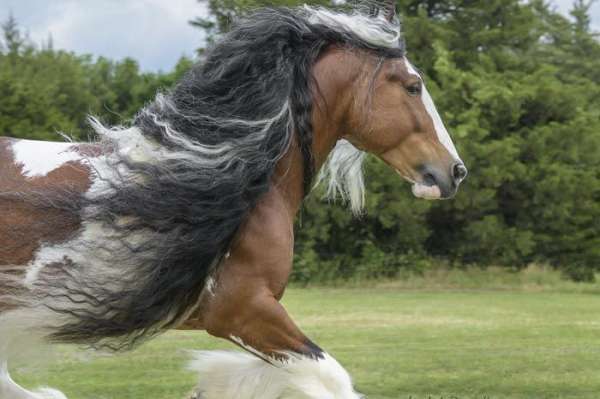 Orchard Hill Farm
Orchard Hill Farm has been in business since 1990. On my quest for the perfect show pony for my students I found it very frustrating and time consuming going from state to state, farm to farm looking at one pony after another and being incredibly disappointed with the quality and representation of the ponies I saw. After my long quest I decided to take my knowledge and past experience with ponies and started my pony business. My goal was to give the customers a place to buy a good quality pony without having to search the way that I had. In 1991 I decided to take it one step further and purchased my first stallion LLandefalle Better By Far starting my breeding service.
Orchard Hill Farm now has five beautiful stallions for you to choose from and a large number of mares that are producing foals that have the beauty, temperament and movement that people are looking for.
A numerous amount of foals from Orchard Hill Farm have become winning hunters, stallion prospects and superb producing broodmares. Orchard Hill Farm truly enjoy every one of my ponies and will continue to provide the pony population with quality ponies that I have been producing for years.
Orchard Hill Farm is dedicated to breeding top quality show ponies.
Orchard Hill Farm has spent over a decade providing our customers with the highest quality stallions for today`s very demanding and diverse disciplines. Our Stallions have something to offer every breeder, whether you`re breeding for a future hunter, jumper, dressage prospect or just an outstanding individual sport pony. We also provide return client discounts.
We often have offspring available out of our and customers top quality mares. If you are interested in buying a foal please visit our sale barn or foals page. Please tour our website and get to know us and our ponies and if you are ever in Aiken, SC we always welcome visitors by appointment only please.
Llandefalle Better By Far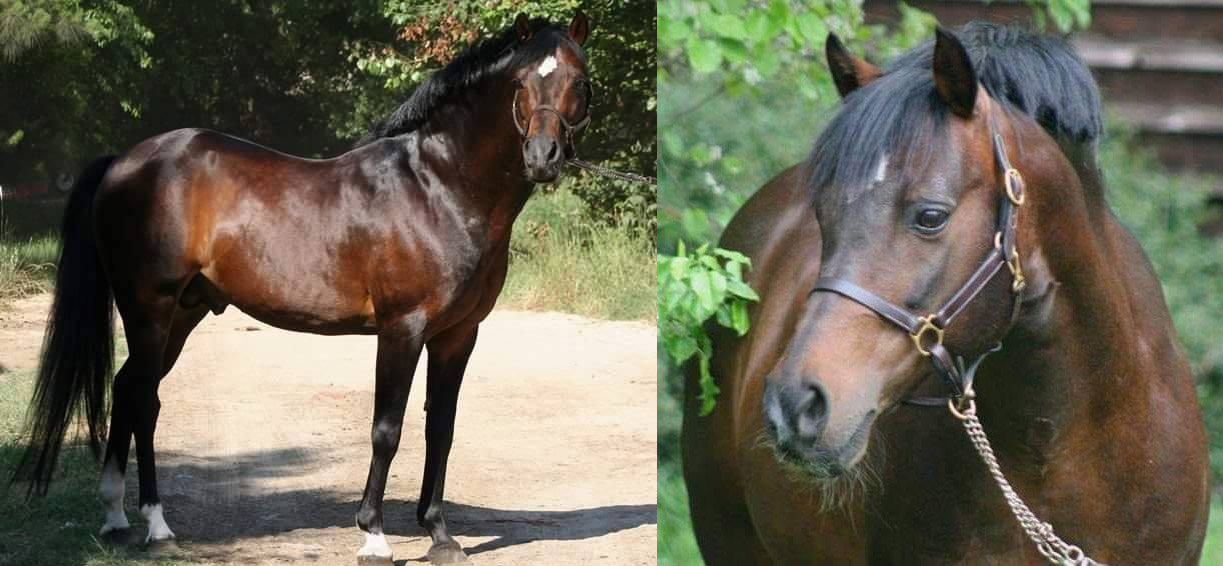 *Llandefalle Better By Far, "Farley", is the sire of many Pony Hunter and Devon winners and is the favorite of the stallions on the farm. Standing 13.2 hands tall he is a beautiful dark bay with three socks and a star. He is registered ½ Welsh with Welsh/Thoroughbred bloodlines. All of Farley`s foals have his outstanding temperament, movement, jump and his natural changes. Farley has been with Orchard Hill Farm since 1991 and has proven himself time and time again.
Smoke Tree Dragon Tail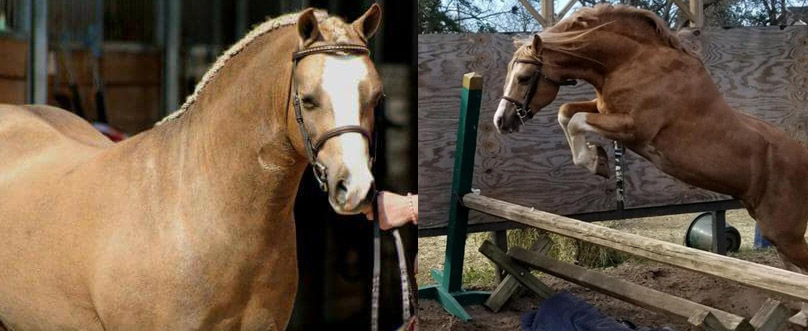 "Prince" - (*Smoke Tree Spun Gold x *Brookhall Go-Go Girl by Eeabrook Democrat) 12.2hd, Welsh, Chocolate palomino with 4 stockings and blaze. Zone 4 Hunter Pony Breeding Year-End award three years in a row. Tremendous mover and jumper. He is the most no reactive pony I have ever had. Nothing fazes this guy! Sire of: Orchard Hill`s Snapdragon, Kate Spade, Orchard Hill`s Ghirardelli, Briar Field`s Dragon Wishes. Live Cover or Shipped Semen. Frozen semen shipped Internationally by the dose.
Orchard Hill`s Fine China

Orchard Hill`s Fine China, known on the farm as "Spring", is a 13.2 hand Welsh/Thoroughbred cross. He is dark bay with three stockings and a blaze. Spring placed 2nd at Devon as a three year old. His first foal was sold as a stallion prospect and he continues to impress us with his progeny. It is rare to find phenomenal jump, lovely movement, outstanding conformation and intelligence combined in a stunning package but this stallion has it all!
Smoke Tree Kismet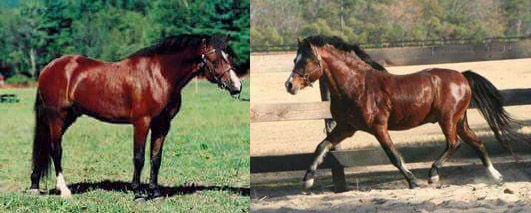 "Kismet" - (*Rowfant Peanut X Rowfantina Serendipity) 11.2 h, Registered Welsh. Kismet is an exceptional mover with a huge stride in all three gates. This can be hard to find in such a small pony. He is also a 10+ jumper. Multi Supreme Champion. Many Year-End Awards WPCSA, NEPOBA, NHHT, NEHC. He is the Sire of Georgia: Reserve Over All Champion at Pony Finals who was also the highest pointed modeled pony; Golden Treasure USDF Zone Region 9 Reserve Champion Young Pony. Live cover or Shipped semen. Frozen semen shipped internationally by the dose.
Orchard Hill`s Snapdragon

Orchard Hill`s Snapdragon is a 2007, Welsh/Thoroughbred, Large Pony. He is a stunning dark palomino with two socks and a blaze. He is a good mover and has a lovely dished head and laid back attitude. He is out of our Thoroughbred mare Vanity Fair and by our stallion Smoke Tree Dragon Tail. His first foal crop is expected in 2011. ORCHARD HILL FARM, 175 Coleman Bridge Road, Aiken, SC 29805 - Call :(803) 644-7444 / E-mail: orchardhillfarm1@aol.com