Welsh Ponies and Welsh Cobs
Family Partners | Welsh Ponies & Cobs | Producing Quality Ponies for Performance, Breeding and to Love!
Welsh Ponies- Section B - Superior quality ponies from select imported and domestic bloodlines. Welsh Ponies with type, substance, kind dispositions, superb pedigrees, excellent conformation, and movement that will take your breath away!
Welsh Cobs- Section D - Beautiful and correct Welsh Cobs with substance, action and pedigrees that carry some of the best blood available.
Wedderlie Mardi Gras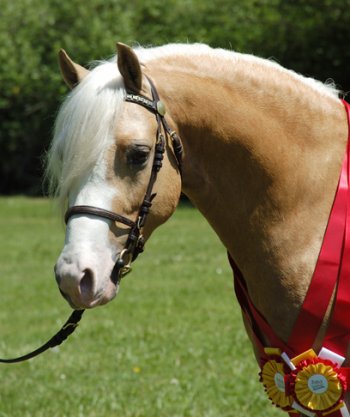 Mardi is a truly breathtaking pony and we are so thrilled to own him. He is maturing so well, and is every bit as spectacular as we had hoped for. He has a lovely, balanced body with a short back, great shoulder, and a terrific hip. His gorgeous, well shaped neck goes on forever, and he has an absolutely exquisite head with tiny ears and width between his large eyes. He exudes presence and Welsh type. His movement is very free and from the shoulder, with little knee action and he uses his powerful hindquarters to their best advantage. He floats out there when he moves -- just a joy to behold. His wonderful disposition is very important to us, as we value that very highly in our breeding stock. And his beautiful golden color is just icing on an already spectacular cake!!!
Section B Welsh Ponies
Welsh Ponies have long been considered to be the most beautiful of the pony breeds, and we heartily agree! Section B Welsh Ponies are the riding ponies of the four Welsh Sections. They combine athleticism and beauty with outstanding movement and kind dispositions. Section B Welsh Ponies are big enough to be ridden or driven by every member of the family, and have a wonderfully trainable nature. They generally range in height from 12.2 hands to 14.2 hands, though our goal is to produce Welsh Ponies that mature 13 to 13.2 hands. We feel that at this size they retain the incredible beauty of the Welsh breed, while being athletic enough to compete in nearly any discipline.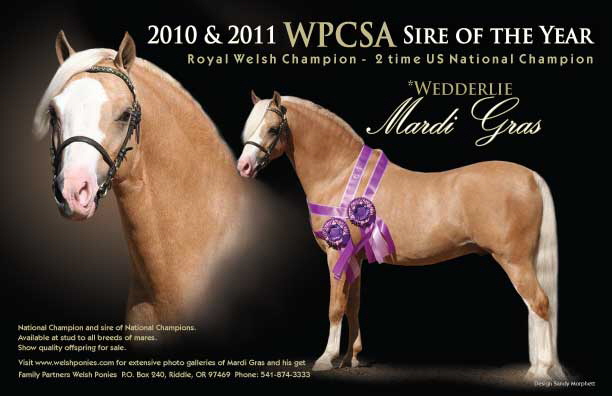 We breed "classic" Welsh Ponies -- that is ponies that look Welsh, and not like miniature Thoroughbreds. If you are looking for a miniature Thoroughbred -- you have come to the wrong place! However if you are looking for a substantial, beautiful, typey, stylish, classic Welsh Pony, with a kind and intelligent disposition -- you have arrived!
Our ponies carry the finest of the old US breeding, and select lines of Champion imported stock. We currently stand the beautiful imported Section B Welsh stallion at stud: Royal Welsh Champion and US National Champion, *Wedderlie Mardi Gras, at limited public stud. We are also very pleased to offer the imported Champions, *Cottrell Andromeda and *Holyoake Copper-Field at public stud for the first time in 2006.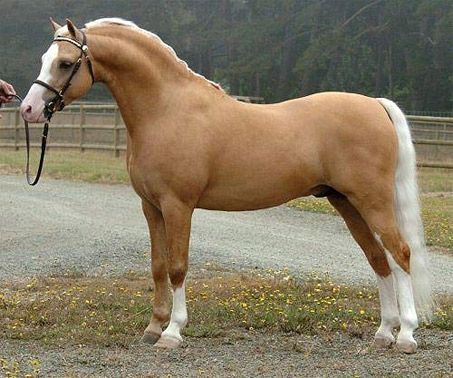 We believe that disposition is of paramount importance when it comes to breeding. Without a kind disposition, an animal is useless. Disposition is our first priority in choosing our breeding stock and we take great care to keep only ponies with excellent trainability as well. Conformation and movement are most certainly not overlooked, as we require that our breeding animals have superior conformation and movement that will leave you breathless. Being a native breed, they must also posses an abundance of bone and substance. We have chosen animals of true Welsh type, that will leave you with no question as to their breed. Pedigree is always an important criteria when choosing stock, and we are proud to own ponies that have generations of champions in both halter and performance behind them. In addition, we require that our ponies have size, in order to be useful for the widest variety of riders. Our goal is to produce ponies that are 13 to 13.2 hands, which are suitable for both children and adults. We believe that the Breed Standard is the ultimate goal, and we strive to meet it in every way possible. We welcome you to peruse the pages of our site, and share our goal for the future!
P.O. Box 240, Riddle, OR 97469, Phone: 541-874-3333, e-mail: gretchen@justgotmail.net
Welsh Cross Horses
One of the most wonderful things about Welsh Ponies is how well they cross with other breeds. They are so versatile! We have had Welsh/Arabian, Morgan, Quarter Horse, Shetland...and even a draft horse cross...proving that they truly DO cross well with every breed!
What can you do with them? Well, what they can do is only limited by your imagination. They excel at performance events such as pony hunters, English and western pleasure, carriage and pleasure driving, dressage, trail riding...and being your best friend! They can do it all...and with style!
Southcoast Welsh Cobs
Our first show together was straight in at the deep end with the Royal Welsh in 1995,Gayle was 5th in a strong class, so we were delighted. In 1998 Gayle produced our first Southcoast foal, Dirty Harry by Trevallion Harry. Harry was shown twice as a foal coming 1st at Northleach and 6th at the Royal Welsh. He was gelded at two and nearly died with an infection, we`re sure his fiery spirit pulled him through. He remained in the field until we took him to our Southern Counties Summer Medal Show 2004 where he became Supreme Champion Gelding , what a great surprise for us. We also have Southcoast Harriet, a full sister to Harry. Hatty is unshown and had her first filly foal in 2005, Southcoast M`lady by Southcoast Mr Tom.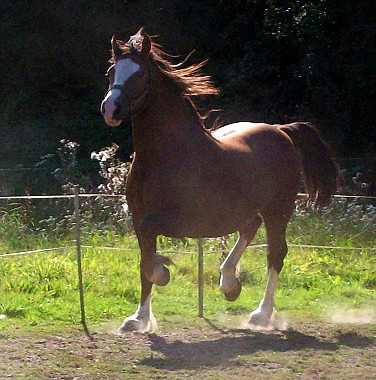 Southcoast Mr Tom, by Bynaur Tywysog out of Cascob Angharad, has been our most successful Welsh Section D stallion winning many championships all over the country. Tom was Supreme Champion as a yearling. As a 3yr old he gained 6th prize at the Royal Welsh in 2004, Reserve youngstock Champion at Blaenavon and was Reserve Section D Champion and Supreme Youngstock Champion at our SCWPCA Spring Show 2004. We are `over the moon` that two homebred horses have done so well at our association shows having only started breeding six years ago. Toms full brother S. Sir Gwilym was sold to Lancaster and we look forward to seeing him under saddle in a couple of years. Toms full sister, S. Roxanne who has been reserve champion section D as a yearling who is now sold and under saddle. Other cobs we have sold are doing well in hand and as performance horses.
The short story ends where we started, Trevallion Gayle is now twenty three and fully retired after having her last foal in 2004, a black colt by Coedeneirin Reflect, S Blackjack. We sold Blackjack to Sweden and he is a silver Medal winner.
16 Nursling Street Cottages, Nursling, Southampton, Hampshire, SO16 0XH, UK
Tel: (+44) 02380 733267 / 07717 502822, Email: steveandlisa@southcoastwelshcobs.com
Deepdale Farm
Jackie moved to Canada from Llanfair Caereinion,Wales, just in time to celebrate the new millennium leaving behind a small farm set on the hillside over looking the Banwy Valley, about two miles from where the famous stallion Mathrafal stood in the early part of this century. While in Wales they bred Welsh Cobs, and thoroughbred/cobs. Jackie a dressage judge and instructor decided that while moving to Canada she would bring part of Wales with them... their Welsh Cobs, Kilgour Pendragon a stallion and also selected for the journey Pendragon Goch his 2yr old filly.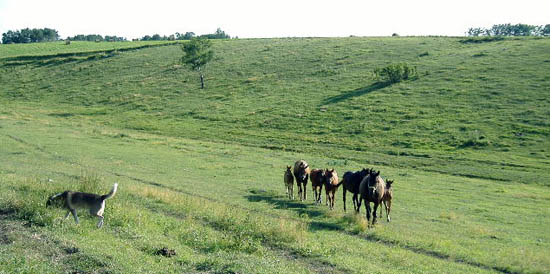 "We found super homes for our other Cobs, and we wish them all success in the future. We are looking now to reestablishing ourselves in Canada, our aim is to produce quality Welsh Cobs and Part bred performance horses that can perform, in all spheres and with Kilgour Pendragon as our stallion we are very confident for the future.....Performance is our Keyword."
Kilgour Pendragon
Dragon has some of the very best Welsh bloodlines. His stunning good looks are matched only by his kind temperament and versatility. Dragon was bred by John & Tina Williamson of the Kilgour stud, Swansea,Wales, who owned Kilgour Welsh monarch. Sire of Horeb Euros and Kilgour Gwynhwyfa Dragons dam.
In 2000 Jackie accompanied Dragon (Kilgour Pendragon) to Canada. Since his arrival Dragon has won numerous championships.
Phone: 204-874-2255, Cell: 204-867-7491, Email: horses@welshcobstallion.com
Ffansi Welsh Ponies
The original home of the Welsh Mountain Pony was in the hills and valleys of Wales. Life was not an easy one.., winters were severe and vegetation was sparse. Shelter, most often was an isolated valley or bare trees. Yet the Welsh pony managed not only to survive, but to flourish. Led by proud stallions, bands of mares and their foals roamed, climbing mountains, leaping ravines, and running over rough terrain. Hence, the development of a pony with a remarkable soundness of body, tremendous endurance and a high degree of native intelligence. Our breeding program consists of carefully selected ponies based on conformation, substance, balance, character, and pedigree ! During our search for outstanding ponies to fit the profile of everything we were looking for, including, superb pedigrees we luckily found Kathleen Rawls of Mt Dragon Welsh Ponies. Many, many thanks to Kathleen for helping us get started with many of these wonderful ponies.
Daniel & Dafni Hendrix, 2022 NW O`Neil Hwy, Prineville, OR 97754 (541) 416-8709, ffansiwelshponies@prinetime.net
Tri-Ef Hummer (*Ceulan Cadog x Tri Ef Hannelore)
With Hummer`s champion-filled pedigree, he can not lose! He has lots of substance like his grandsire, Yaverland Nero. His Sire, *Ceulan Cadog was Imported from Wales and bred by the World-Famous Ceulan Stud, owned by Dr. Wynne Davies. Hummer`s dam is Tri-Ef`s Hannalore, who is a multiple Champion and Supreme Champion mare. Tri-Ef Hannalore is sired by Tri-Ef`s National Champion Stallion, Tri-Ef Cognac! Just take a good look at his pedigree below!! Thank you, to Mrs. Jane Fischer deThouars for this awesome colt.
Caris Lord of Carrington
Carrington is one of our future herd sires both of his imported parents have won Supreme Champion titles at WPCSA Gold rated shows. Carrington has a beautiful head with a large star, stripe and hind socks. He has lots of bone (and attitude!) and moves extremely well.
Evans Dragon Song (*Llanarth Cavalcade x Evans Paradise City by Brisol Victorio)
A grey 2001 stallion, Dragon`s Sire Llanarth Cavalcade is sired by Twyford Signal and is out of Carolina`s Painted Lady.His Dam Evans Paradise City (Bristol Victorio x Bristol Jade). He is a powerful mover, he has a good length of rein and his neck ties into his shoulder nicely.