Seeling Equines
Pretty Horses That Ride In 1998 we began breeding Foundation Quarter Horses with the same goals in mind. We are striving for superb conformation, intelligent minds, willing attitudes, and with that "Hey, look at me" unique color on top of that fantastic package. A horse with that I can do anything ride. Take a look through our site, we are making big plans for the future of Seeling Equines
Don`t forget to check out our sales page. We have one 2003 AQHA colt and one thoroughbred mare available now, and through the coming years, we`ll have some nice Foundation Quarter Horses. We believe that a good horse should not only be pretty to look at, but should also be useful!!
RMS Diamond Dust
RMS Diamond Dust, a.k.a. Maverick, is a fantastic example of foundation breeding. He has substance, a calm disposition, sweet and kind with a willing attitude and an I can do anything mindset. He carries some of the finest blood in the history of the American Quarter Horse with such great old names as King, Leo, Wimpy, Poco Bueno, Three Bars, Diamon Dell, Showdown Rick and Peter McCue.
RMS Diamond Dust, is a bay dun, he was sired by Diamon Dual, a homozygeous black and out of Poco Barts Julie, a red roan.
That means he`s a bay base color with Dun Factor. He will be tested for the gene to produce dun factor and since he is by a stallion who is homozygeous for the black gene, he may also carry it so we will test for the black gene also.
He`s the product of years of planning, and worth the wait.
He will be standing his first season in 2004 and we will be eagerly awaiting his first foals in 2005.
Mav is registered with AQHA # 3900207 as well as both the FQHR #15069 at 87.% and FQHA #863 at 87.9%.
We are applying for registration with the Worldwide Foundation Quarter Horse Alliance. We anticipate a rating of 85% or higher with the remaining association.
We are hoping to get some nice color with the crosses we plan.
We are looking to acquire a few colorful mares...buckskin, dun, grullo, and palomino to use with him.
We have posted some pictures of Maverick here to show his current color and some of the dun factor markings.
We will post new pictures of Maverick as he sheds out this year and shows his color and markings better.
2000 filly registered with the AQHA #3902402 and also with the PHBA #76631, the FQHR #15070 at 93.7%, and the FQHA #519 at 91.8%.
We call her Charm, and that`s exactly what she is ...a charm. Purchased in the summer of 2000 from Susan Prouty of Tanglewood Farm, we plan on crossing her with the smoky black stallion Captain Magic Merlin in 2004.
She will be starting her training this year and we have big hopes for her. She will be showing at the Foundation Quarter and Palomino Horse shows in Halter and later under saddle.
She is bred nicely tracing to such greats as King, Winchester, Leo, Joe Reed, Gold Dust, Bailey, Blackburn, Peter McCue and more.
In 2003, we added a second palomino filly, Ima Daisys Gold. She was foaled in 2002 and is that pretty gold color we love in palominos.
Her pedigree speaks for itself with such names as Impressive twice, Zippo Pat Bars, Two Eyed Jack twice, Sonny Dee Bar and King.
We`re looking for big things from this filly in a few years. She`ll be registered with PHBA and the Foundation Quarter Horse Registry.
She is a sweet little thing, loves attention and being around people.
We`re pretty happy with her. She`s going to be a great asset to our breeding program. She`ll have a few years to grow up and hopefully, when we breed her to our bay/dun stallion, RMS Diamond Dust, she`ll have some of those nice buckskin or foals.
Check out her pedigree and see what you think. In 2002, we added the 1997 AQHA bay mare, Two Id Sugarlita. My thanks to Sara Heitzman-Yule for allowing me to lease this fine mare. We think that she will be a fine addition to our plans and look forward to some super foals. This year she gave us a real nice chestnut colt by This Beaus Eligible, a palomino. He`s tall, balanced and flashy. He should be a real nice halter horse and ride like velvet. He has a nice hip, long shoulder, tiny ears and very pretty little head. You can see more of him on our Sale Page. This year she is bred to One Impressive Beau, a buckskin. We are hoping for a buckskin filly next spring. In 2003, we also added a super AQHA Grullo mare, Tailwinds Design. She has some fantastic bloodlines and should qualify for foundation registry. She`s a 2000 mare and her pedigree is below. She`s bred to DNB Diamond Rio, a dun stallion. We should get a dun or grullo foal from this cross. With her bloodlines and conformation she should be a super producing broodmare. We are currently planning for some nice foals by her. In 2004, she will be bred to the palomino, This Beaus Eligible with the hope of a grullo filly. Here`s our only dun and roan filly. She`s a red dun roan carrying lines of Two Eyed Jack, Poco Bueno, Beau Bonanza, Peter Mc Cue, Mr Tailwind and Skip Shi to name a few. We have big plans for this little lady. I`m sure she will be a super addition to our broodmare band.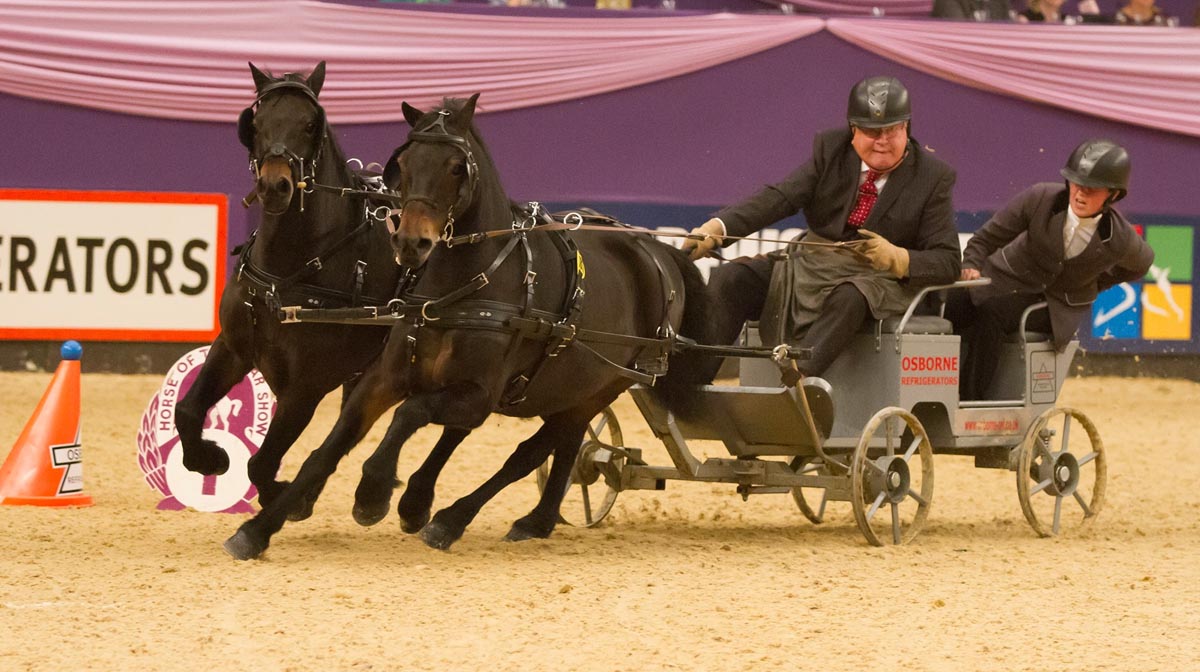 I might stop when I`m 90: meet the 85-year-old scurry driver. Jeff Osborne has been one of the biggest supporters of British scurry driving both as a competitor and a sponsor for many years in 2021 Jeff Osborne sponsored a 3 year sponsorship at Horse of the Year Show. …
Read More