Rachel Stock
Rachel Stock is a New Zealand Para Equestrian Dressage rider, successful at many international competitions and the holder of every applicable New Zealand title including Horse of the Year. Rachel trains and competes from dual bases in New Zealand and Australia with competition horses Donnergollen (NZ) and Rimini Park Emmerich (AU). Rachel Stock - New Zealand - Dressage Rider / Kiwi Team. Rachel Stock London Paralympics 2012
I first broke my back when I was eventing on my horse in a competition in March of 1993. Since the long recovery process from this accident, I have been diagnosed with a degenerative bone disease which is methodically destroying the joints and remaining bone throughout my body. Since then I have gone on to break my back a number of times and been diagnosed with malignant cancer. But I have always found a way to do the things I love and I live by the philosophy that "I will not allow the things I cannot do, prevent me from doing the things I can."
In 2010 I was selected for the New Zealand Equestrian Sport High Performance Squad 2012. This squad is targeted for riders to represent New Zealand in London 2012 Olympic and Paralympic Games and I AM going to bring home a medal!!
Carissa Thomas has been our irreplaceable competition groom for 6 years, there are so few people I would trust implicitly with my horses but Carissa and I work like clockwork together! I have worked tirelessly with my Coach to bring my horses up to this exceedingly high standard and was fortunate to train extensively with Olympian Louisa Hill for a number of years. Donnergrollen is 10yr, 17.1hh, Chestnut, Hanoverian Gelding with an outstanding temperament and train-ability. He has been re-schooled to accept a disabled rider and the para aids and is consistently proving himself in competition. Jacqui Winspear is my supportive mentor, with so many years international experience, riding and coaching, I am fortunate that she is also able to bring 1st hand Paralympic knowledge from previous campaigns.
Last Season I decided I needed to `Test the Waters` with some International experience, I competed twice in Australia, Once at the Australian National Championships and then again in New South Wales State Championships. Both trips resulted in convincing and encouraging wins! Highlight was winning the musical kur by more than 10% ahead of 2nd place!
At the end of the 2010/2011 I had elatedly `Made History` Holding EVERY applicable New Zealand Championship title. We spent a month in the South Island during the competition season to secure the NZ National Championship (McLeans Island) South Island Championship (Blenheim) & Grand National Supreme Champion Saddle Hunter Title & Grand National Champion Paced & Mannered (Christchurch). The North Island wins were a bonus with being able to compete my two horses, being closer to home so resulted in taking the Championships AND Reserve Championship for North Island Champs & Auckland Champs. Season Highlight was Donnergrollen and I winning title of "Horse of The Year" in Hastings March 2011.
August 2011 Donnergrollen and I were recognised by the NZ Hanoverian Society with a wonderful award for recognition of Hanoverian Horse of the Year at an award lunch in Wairakei Resort. The official calendar of Equestrian New Zealand went on sale this month and Donnergrollen and I were beautifully represented as `July` a wonderful surprise and an honor to be on the calendar alongside Mark Todd, Katie McVean, Andrew Nicolson and other high performance athletes. He continues to make me proud everyday, but there is still so much to do!!
I have been fortunate to have the support of the Terry Family from Victoria and Ben Terry who is an Australian National Champion. Ben has been riding Rimini Park Emmerich for owner Dugald Bruce, with Ben heading to Germany to work at Beresfords Olympic Dressage Stables the ride on Emmerich was offered to me, along with 3 months preparation and training with Olympian Hayley Beresford in Germany. This year, as part of my high performance plan and preparation for London, I will be heading to Hong Kong to compete in a CPDI3* in November and onto Australia for Olympic Qualifier in Melbourne, December. I intend to contest all my national titles again and continue to raise the bar, performance, dedication and results.
We have an amazing group of people who put so much time and effort into helping us achieve amazing results, it could not be done without them, Thank you Sue, Duncan and Ben Terry, Dugald Bruce, Rosemary Carter, Kate Uniacke, Hayley Beresford, Ricky Cook, Sarah Cruikshank, Shelley Parker, Barb Du Plesis, Marie Whitworth, Philippa Addis and the Auckland Dressage Group. The success and journey belongs to all of us.
I live with my two daughters and wonderful mom who help me tirelessly with the functional things I can`t achieve, we have worked hard to get as far as we have, now we need supporters to join with us in completing the pathway to bringing home the Gold.....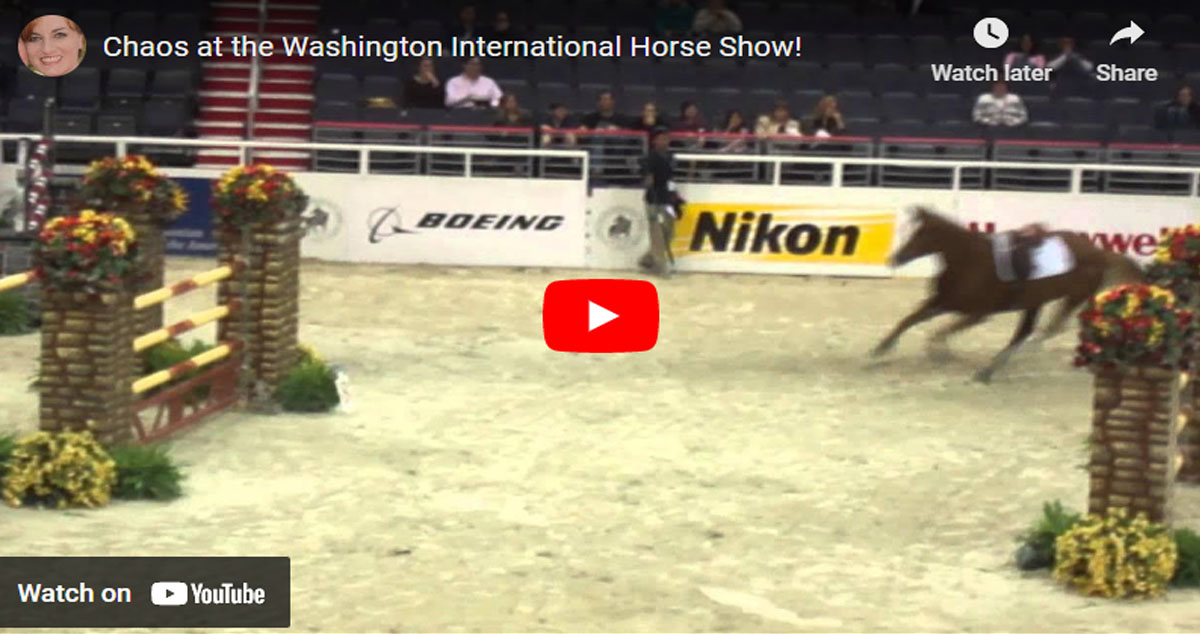 NAVONA GALLEGOS riding VATRICIA in the Adult Open Jumper short course falls, horse runs wild and free-jumps a water obstacle backwards. …
Read More