Percheron Horses
This page has been designed as an educational and informational resource about the Percheron draft horse. The ancestors to the modern day Percheron originated in the Perche region of France. Originally developed as war horses, and later refined as mail-coach, or Dillegence, horses, Percherons, with an Arab influence, were more light footed and spirited than some of the other draft breeds. Over time, however, the breed started taking on the characteristics of a heavier, taller draft animal, particularly in the United States.
A team of grey percherons owned by Cedar Knoll Farm, Lisbon
- Percheron Horses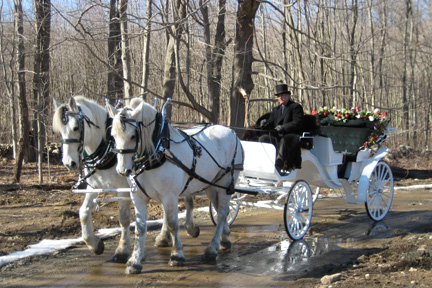 The last half of the 19th century saw a huge growth in Percheron population. They were the heavy horse of choice for both the American farmer and city teamster. Due to their strength, speed and intelligence, they were also the most trusted breed for fire fighters. By the 1930`s, the breed was so popular that US government census showed that there were three times as many Percherons in the United States as all the
Eight year old Percheron gelding owned by Cedar Knoll Farm, Lisbon
- Percheron Horses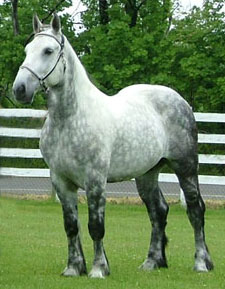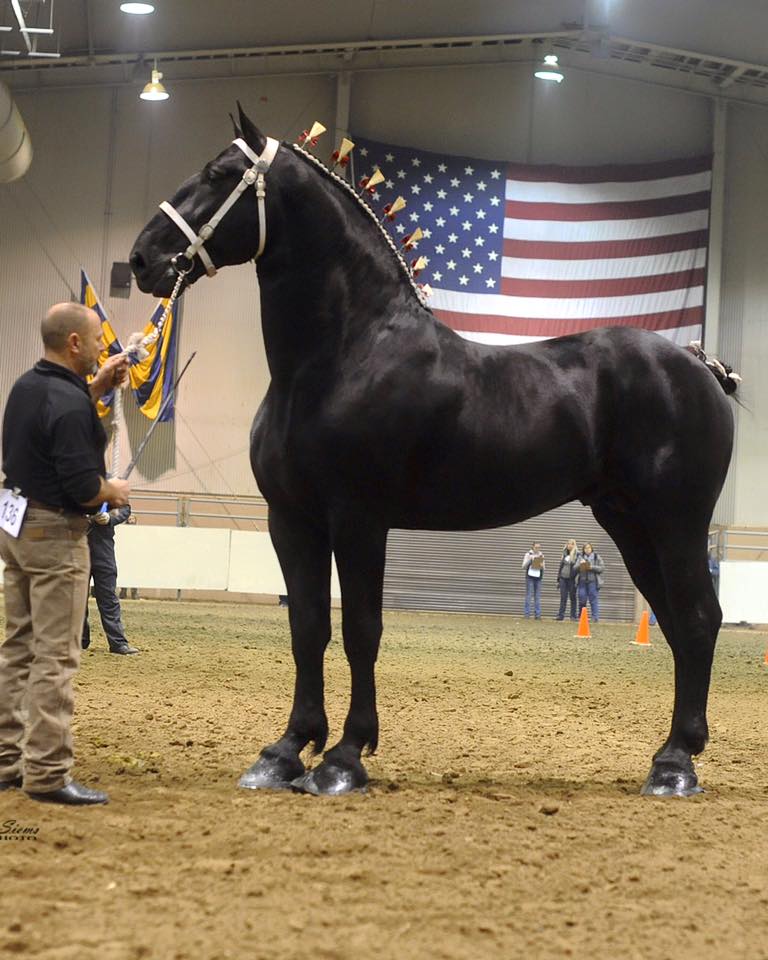 Windermere Farms

If you would like to feature your Percheron horse on Stableexpress, please email us at PercheronHorses@stableexpress.com


other draft breeds combined. During their hay-day, the Percheron breed was very versatile — not only as farm animals, fire horses and city hitch horses, but as circus horses as well as gun horses in WWI & WWII. Following WWII, with the advent of a modern, mechanized world, the Percheron breed nearly fell into extinction. Had it not been for the persistance of a few farmers, including many within the Amish community, all draft breeds would have been in danger of extinction. Since that time, however, the draft horse has seen a renaissance, and they are once again plowing the fields and pulling carriages for pleasure and show. Percherons in particular have become popular in the ever-growing commercial carriage industry.
Black Percheron Horse - Percheron Horses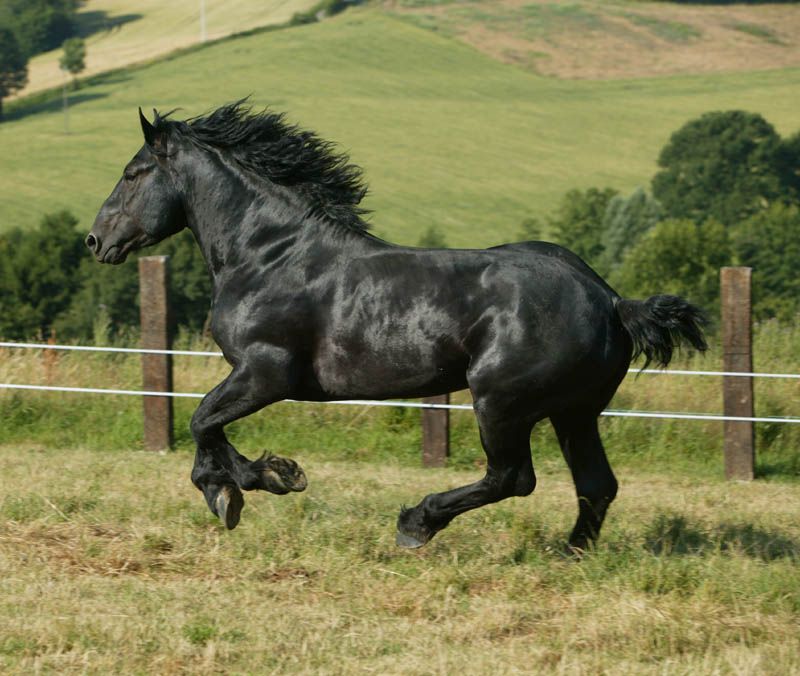 Characteristically, Percherons are either black or grey in color (grey horses are born black and dapple out over time until they become pure white, usually by age 12). Other colors, such as roan and bay, can also be found, however. Percherons commonly stand between 16-18 hands high, weighing in at 1700 - 2200 pounds or more. Due in part to their Arab influence, Percherons sport a very refined head, delicate ears, and elegant gait, with very light feathering on their legs.
Percheron Horses - Draft Horse
- Percheron Horses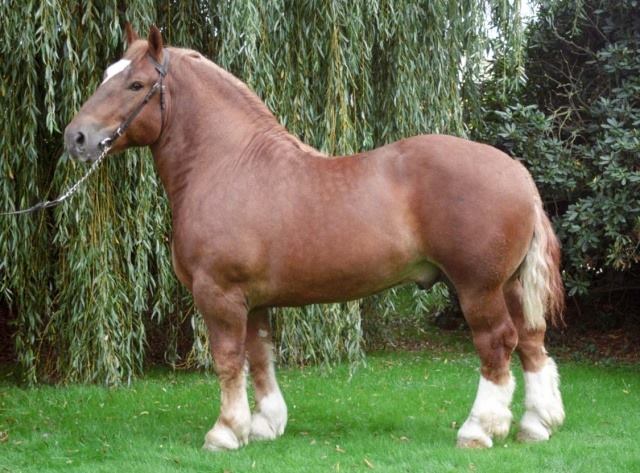 It is a popular belief that the Percheron horses sprang from large light winded horses in the ice age. Though there is no actual documented history for this horse, there are also various beliefs for the advent of this unique brand of horses. There are still some who belief that this horse came form the brand of horses that the Romans used to invade and conquer Brittany (the Boulonnais horses). There are yet other groups who maintain that the horses came from the group of horses that the Arabians used. Some still belief that the horses are from the family of those horses that was used by the Moors during their battle against the people of Poitier. No matter the origin one chooses to follow one can not debate the fact this specie of horses is truly special. There is also an agreement among all that the origin of the Percheron can be drawn to Normandy precisely at an area that is named La Perche, which is where the name is coiled from. This means that the light wind has its roots from Belgian-Flemish blood.
Percheron Horses - Work Horses
- Percheron Horses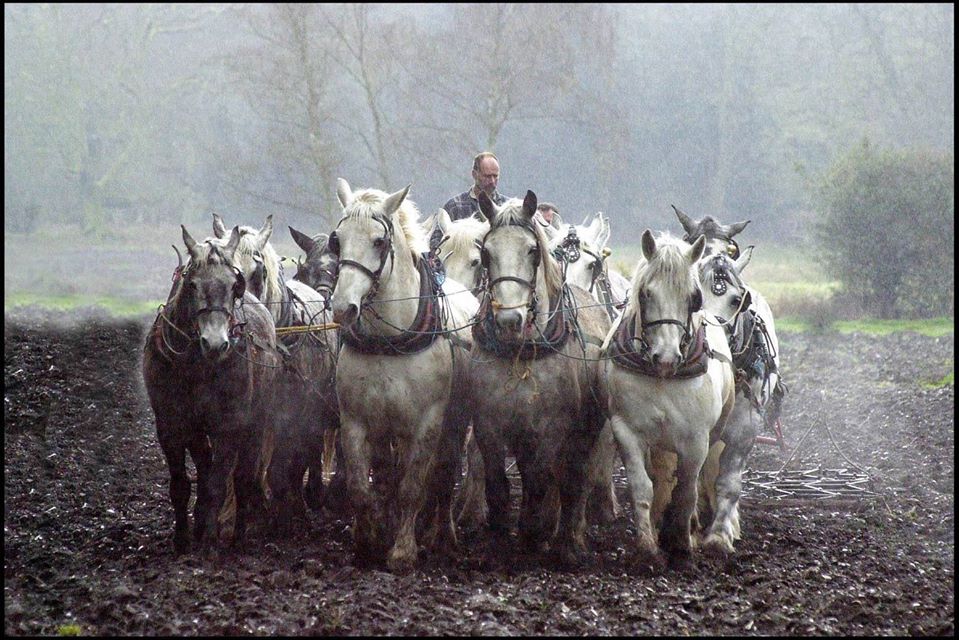 The contemporary Percheron horses are known for their heavy duty works. In the 8th century the Arabian horses were cross bred with the Oriental horses alongside the cob stock and the heavier native. The horses (Percheron) made from this stock were notable for their speed in ridings and also their strength in doing heavy works with light wind peace. At the earlier times Percheron were used as carriage horses but with time this soon changed as it was then used for heavier works. The first breed was small in stature at the beginning but this later changed when it was cross bred with the stockier mares from Brittany. This resulted in the heavier Percheron which is common today.
Lisa Claerhout Wolters and her beautiful Percheron horse
- Percheron Horses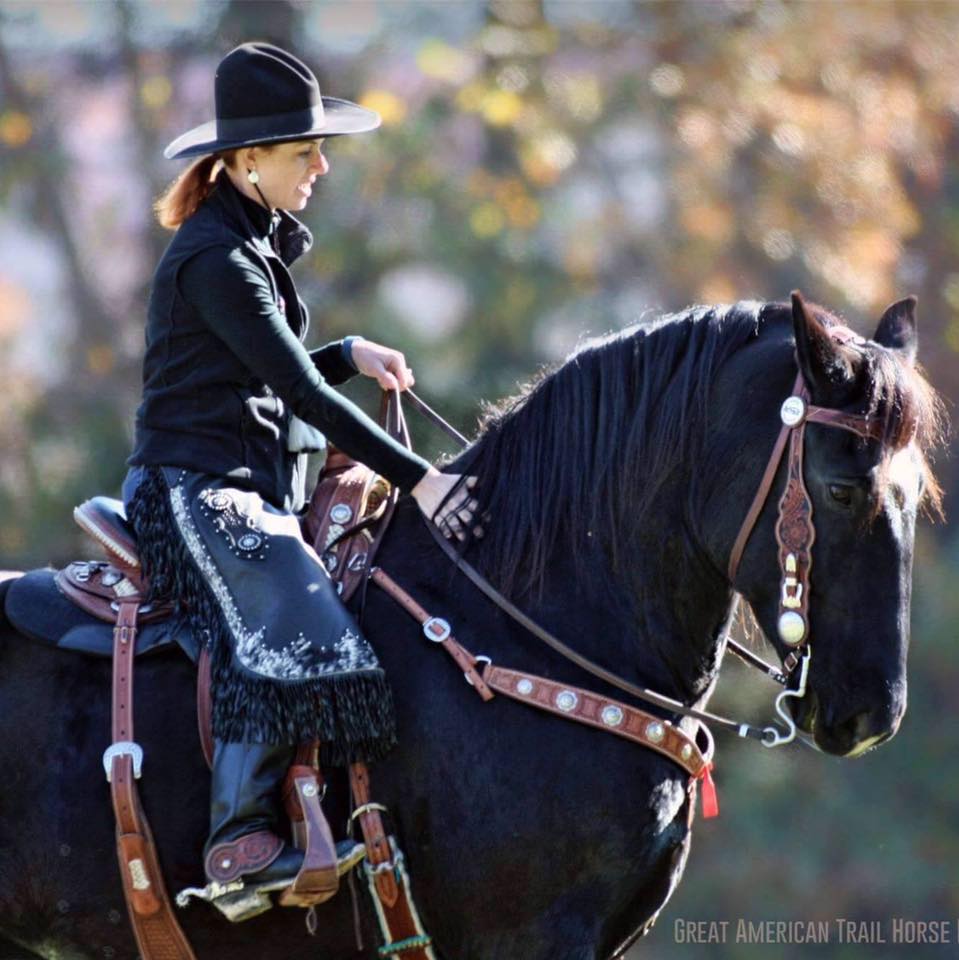 Traditional Percheron
In registering Percheron horses grey or black in color are preferable, though it is acceptable to use brown horses or bays or even sorrels. Because of the heritage they have their elegance shows even though they are a heavy breed of horses. This is due to their Oriental type of blood.
The horse is not jerky in its movements as other heavy horses tend to be. The head is primarily medium in size, with a wide space in between the eyes. The head has a lean spotless cut. The shoulders of a Percheron do not stand out precariously as other heavy horses tend to be. The back of the horse is proportional to the rest of the body in a straight and strong way.
Percheron, circa 1930`s
- Percheron Horses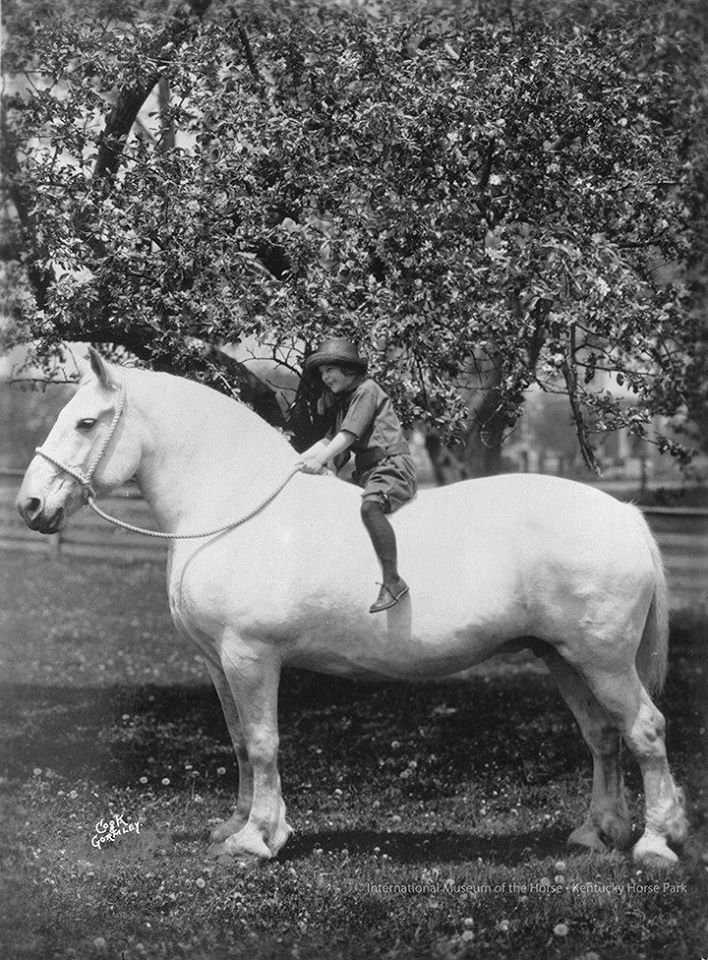 The average matured Percheron measures 113 stones approximately and 17.5 to 18.5 hands when measured from the shoulder. Excess weighed Percheron can weigh 2.500 pounds approximately. The horses in this breed have been said to be very adaptable as they can adapt to any weather and any environment. The Percheron horses have long even strides that speak of willingness and determination to work. The horse is known for its genial temperament, cleverness and also its positive acclaim of ease in handling.
Dapple grey and her spotted colt.
- Percheron Horses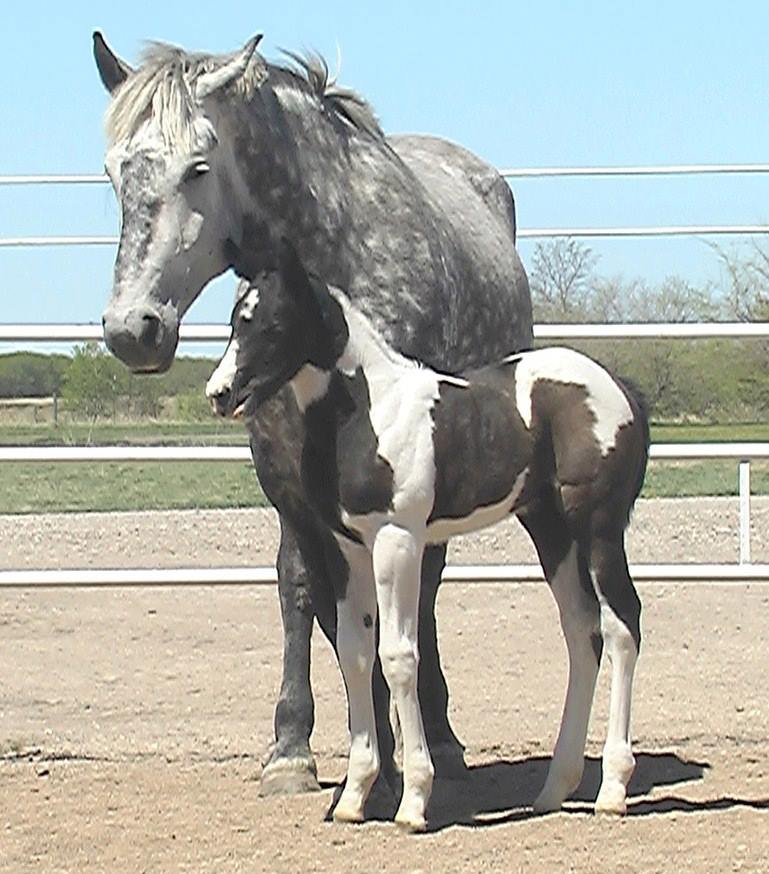 The Percheron horse should not be mistaken for the Shire horse because the Shire horse can be traced to the Roman conquest. The horse has been depicted in paintings showing it in its full war dressing showing its symbol of office. The paintings go as far back as the 15th century. The Shire horse was used mainly by the war lords and knights unlike the percherons that was first used as carriages. Though the shire horse have an impressive history the horses were later used for pulling wagons and it is still possible today to find the shire horses in beer wagons as they are used by brewers to pull heavy luggage's in the breweries. They are also used for tilling the soil and weight lifting.
Combine harvester in Washington state, circa 1902.
- Percheron Horses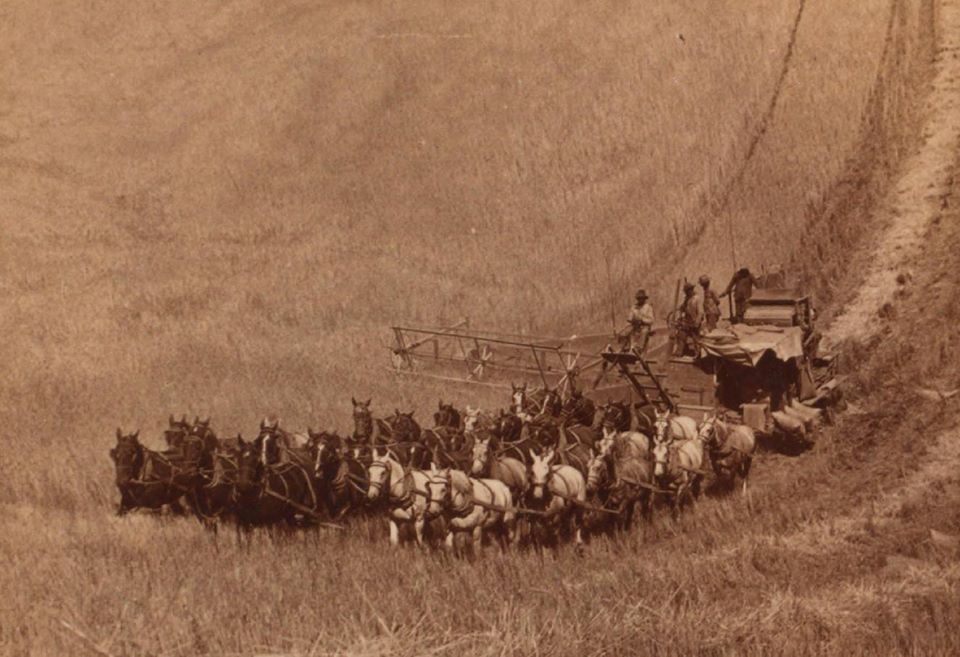 The shire horses have a history that stems from England while the Percheron horses come from the Normadian linage. The only similarity between the two kinds of horses is that when they are cross breed with other breeds of horses they both tend to improve in nature and become better and stronger breeds of horses. The shire was brought to the American scene in the 1800`s and in the 1900`s it seemed as though it was going to over shadow the Percheron but later the Percheron triumphed in popularity.
Neil Dimmock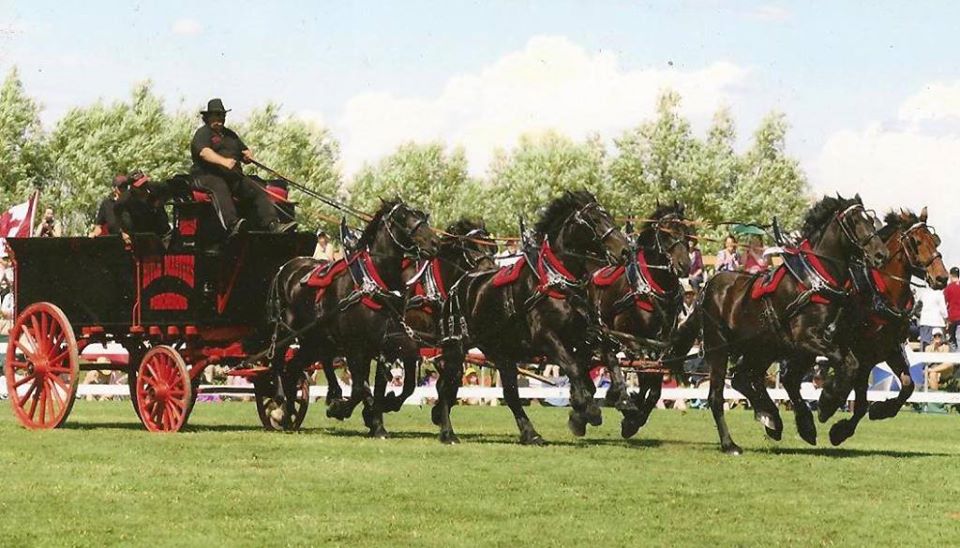 The shire horses seem to agree with the Percheron horses when it to comes to acceptable colors for registration. The major color for the today shire horses vary but common among them is black, brown, grey and it is also possible to see some bays and white. The white is a rear color that is equally acceptable.
Percheron Horses
- Percheron Horses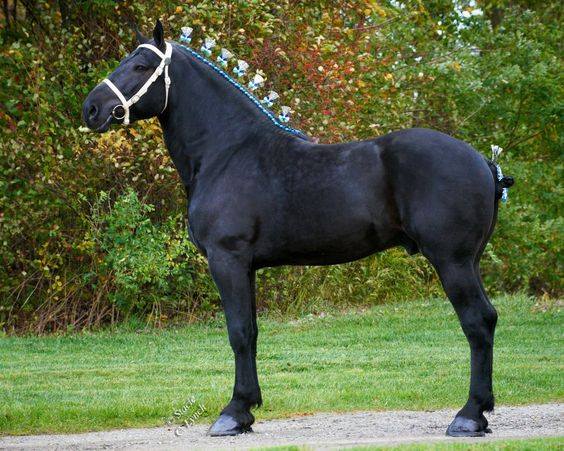 The mares are of a smaller version to the Percheron horses but have large eyes that are expressive in nature. The shire horses are highly intelligent with prominent and wide shoulders. They are a great alternative to the Percherons horses.
Percheron Stallion. Instagram: @sumatambo
- Percheron Horses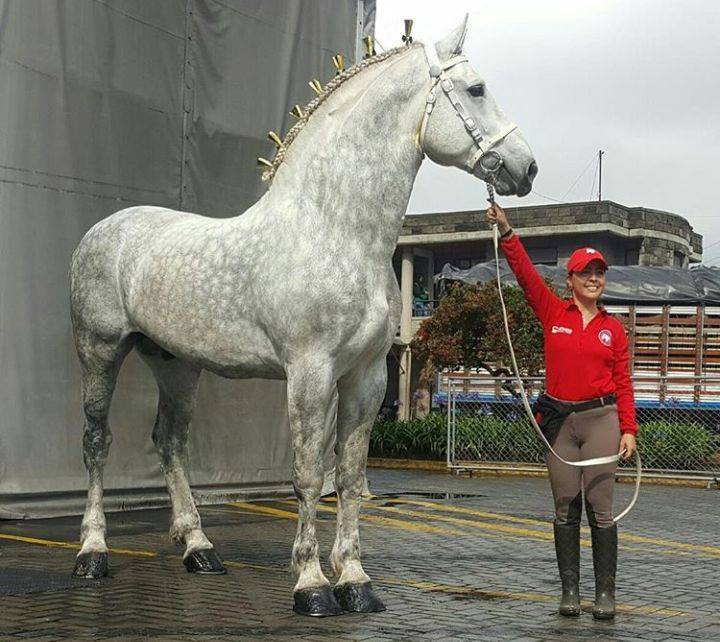 Goliath, the 2005 Guinness Book Of Records World Record holder for Tallest Living Horse
- Percheron Horses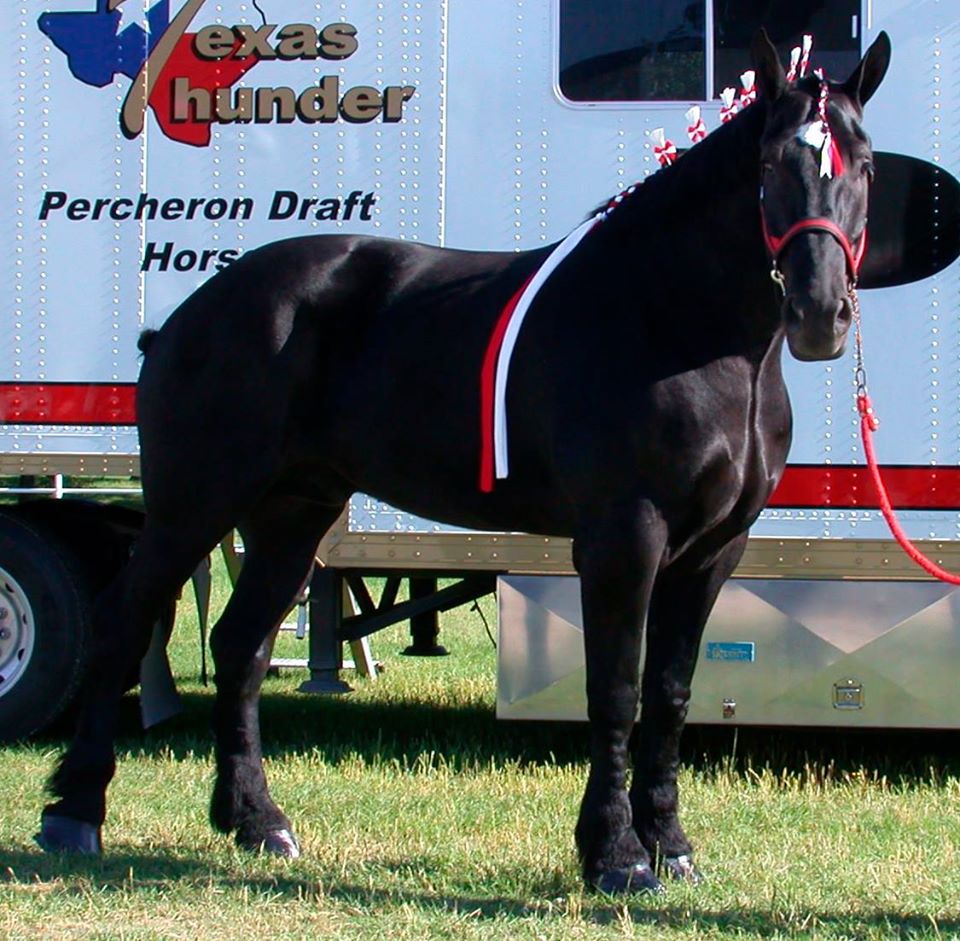 Percheron Foal
- Percheron Horses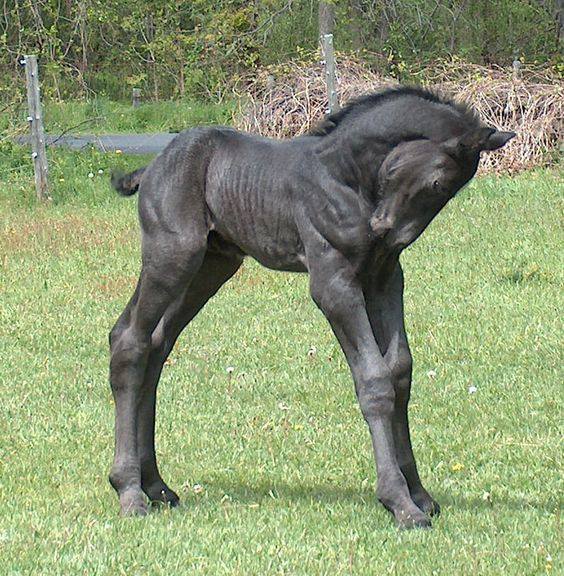 Dapple Grey Percheron
- Percheron Horses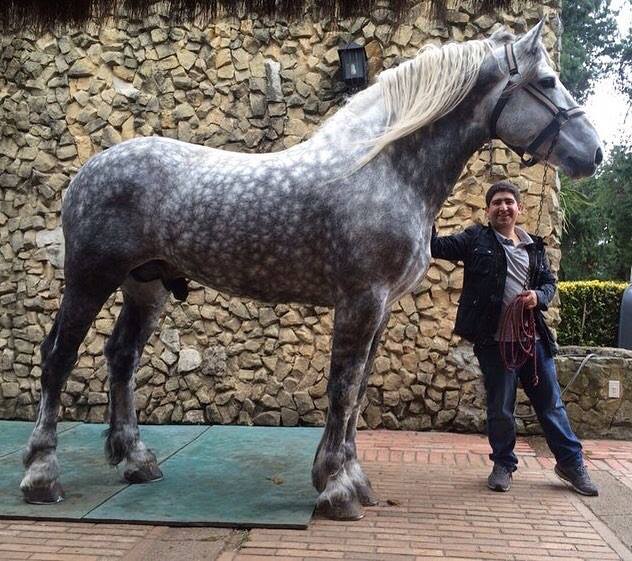 See more cosplay from Percheron Horses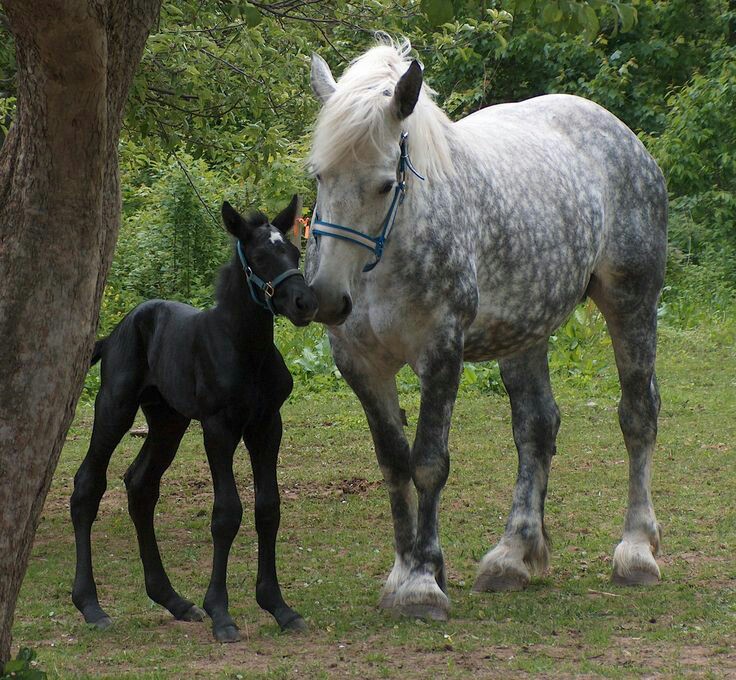 March Viking
1st Prize and Champion, Percheron Society Stallion Shows, 1935, 1936, 1937. Bred and Exhibited by H.H. Truman, March, Cambs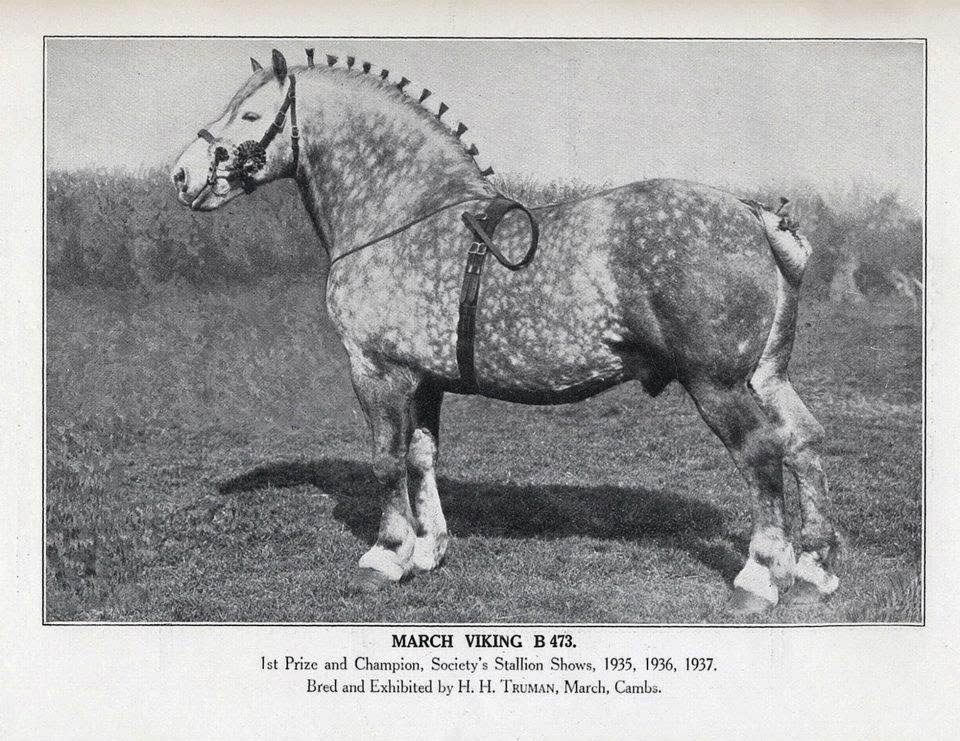 FP Lafayette
Bred at Windermere Farm FP Lafayette is sired by Percheron stallion Bentley and exported to Pakistan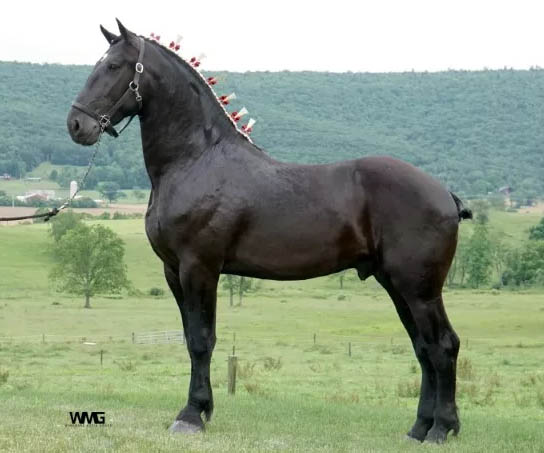 Windermeres Ozzie
Sire Rolling Hills Nature Boy, Dame Windermeres Markie Maid, 2015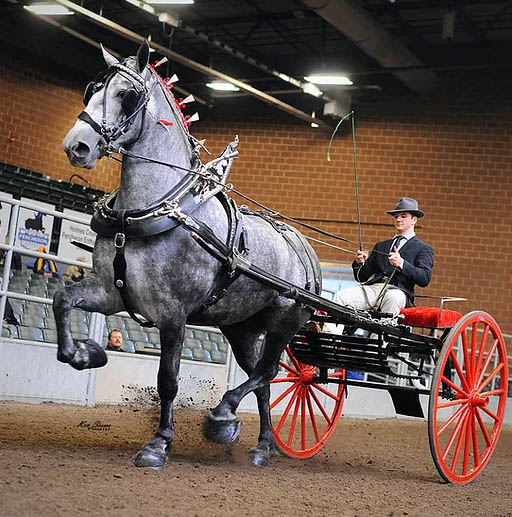 Rolling Hills Nature Boy
Rolling Hills Nature Boy is an 18.3 Percheron stallion sired by Blue Ribbon Farms Prince out of the mare Rolling Hills Symphony who is a daughter of Levis Knighttime. Rolling Hills Nature Boy is based at Pennsylvania Percheron stud farm, Windermere Farm. Email - geraldallebach@yahoo.com, Telephone - (814) 883-2859.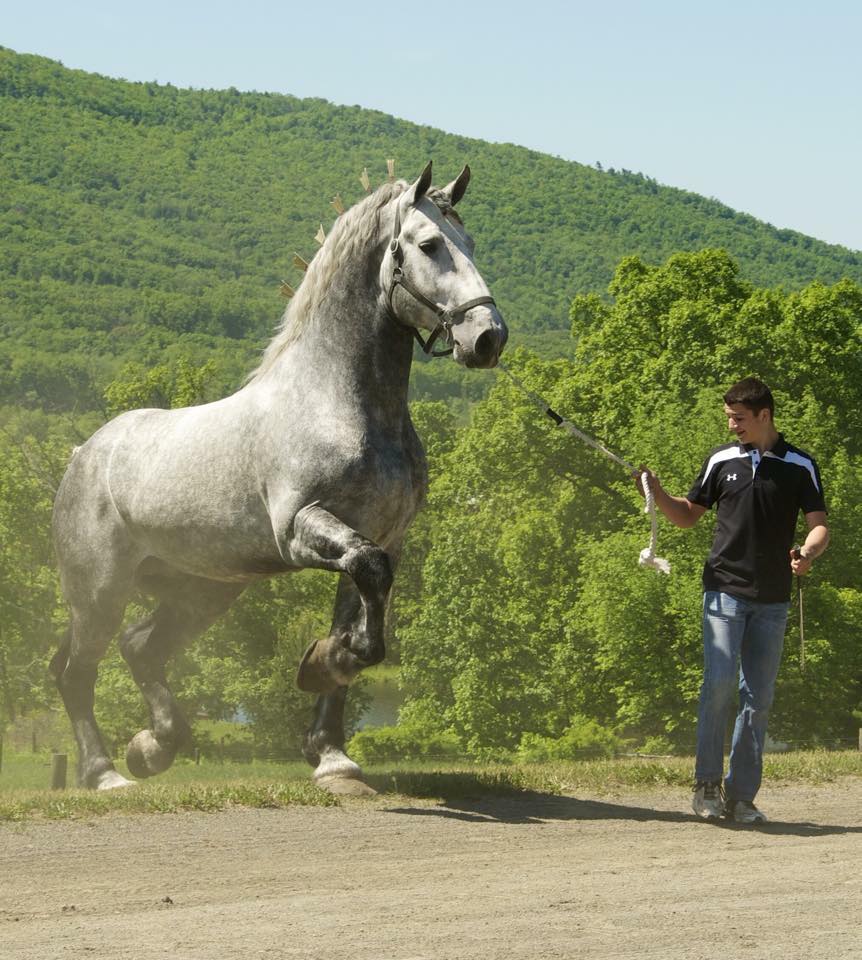 Bentley
Bentley continues to lay the foundation for an exciting and promising future for Windermere farms breeding program. Hi is fast proving himself to be the most dominant and consistent producer of quality Percheron heavy horses. Bentley is siring modern foals with an abundance of motion and a driving mentality, coupled with the conformational correctness and quality demanded by Windermer Farms. Email - geraldallebach@yahoo.com, Telephone - (814) 883-2859.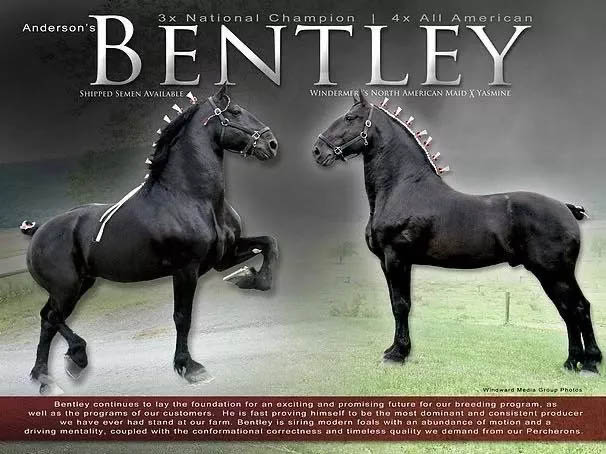 Windermeres Navigation
Born 14th March 2012, Windermeres Navigation is sired by Windermers North American Maid out of the mare Windermers Jewel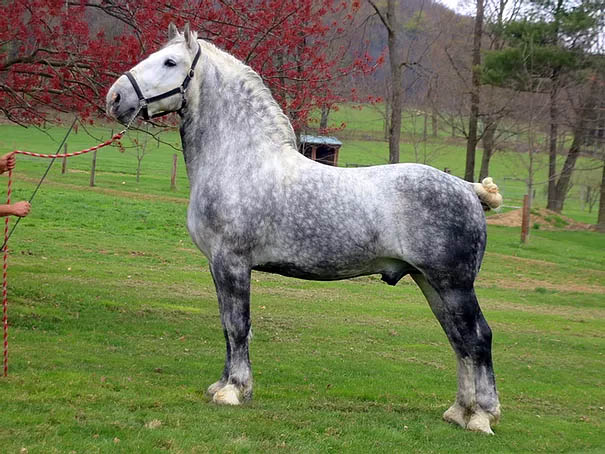 Windermere King Kong
Windermere`s King Cong has been one of the greatest producing sires of the Percheron breed. Cong has had the winning get of sire at the World Percheran Congress and the National Percheran show, He has sons that have been crowned World Champion gelding in 2006 and 2010. The Burger Family had World Champion Mare in 2006 with B.P. Madison, His offspring, both stallions and mares, have dominated both the halter and hitch ring as well as breeding barn. We are expecting 3 foals from Windmermere`s King Cong that will again prove the quality of the great deceased sire,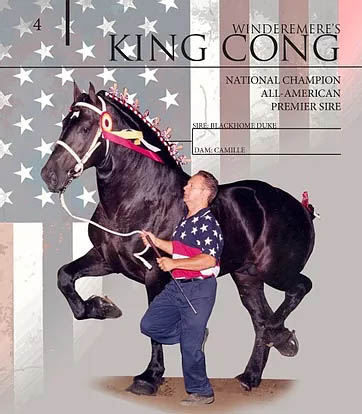 Windermere AKA Moose
In 2010 Moose was crowned the Supreme World Champion. He has left an impression on people around the globe. Many breeders are using his offspring to enhance their breeding programs. They have captured his sons in the hopes that they will install his genetics in the mares that they cross on him and for this we are deeply honoured and thankful. Here at Windermere farms we have retained his frozen semen for future use, We are standing as our senior herd sire his very best son, Anderson`s Bentley to carry on his genetics, Bentley is stamping his foals with his awn and also his sire`s look that maintains the balance of style, quality and motion that the harses of Windermere Farms have been known for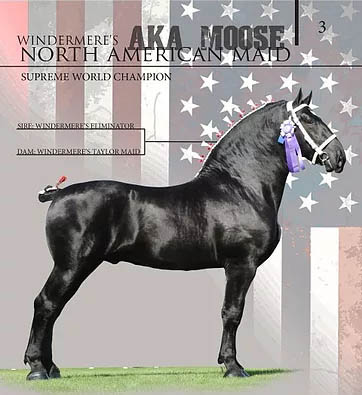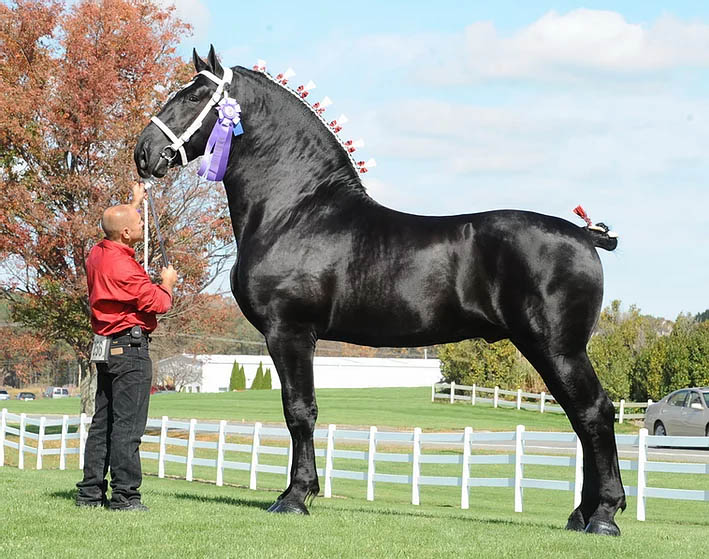 Windermeres Set the Tempo
Black filly foal, Foaled February 12, 2021 / Dam-Windermere`s All In Good Time - Sire- Bentley