Palladio
Palladio has quality bloodlines, fabulous temperament, excellent sound conformation, powerful jump, and correct, lofty movement... Palladio was born in 1997 and raised in Holland until he was imported to the US by Crestline Farm as a three year old. Palladio stands just shy of 16.2hh with a substantial build.
DAM: JORINDE- The dam of Palladio is the Elite Dutch Warmblood mare Jorinde. Elite is the highest rating that a mare can achieve in the Dutch registry and this mare has also earned a " Sport" designation for her competition in dressage. Jorinde is sired by the colorful Samber and her pedigree also includes L.Ronald one of the most famous sons of the great G.RamiroZ. Jorinde has also produced other talented sport horses including the coloured stallion Fernando who stands in the UK at High Offley Stud. Fernando is a son of Kannan and is currently jumping 1.40m classes.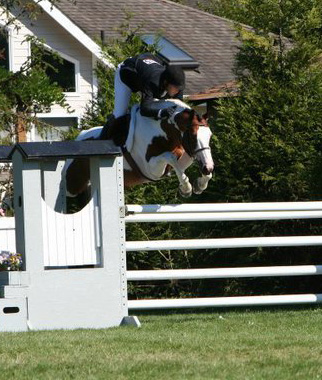 Palladio offers a well-known, highly respected Holsteiner sire line seldom seen in the US...and never before offered in a colored stallion. As a grandson of Samber, Palladio can be bred to almost all pinto mares giving the possibility of homozygous offspring. His Dutch pedigree combines an exciting blend of the best Holsteiner, Dutch Gelder, Dutch Groninger, Thoroughbred, Selle Francais, Anglo-Arab, and Shagya bloodlines available worldwide.
Palladio is approved with the Rhineland Pfalz-Saar (RPSI) registry and has earned his Lifetime Breeding License from the International Sporthorse Registry/Oldenburg North America. In 2005 he was approved by Belgian Warmblood(BWP/NAD). For 2008, the KWPN has confirmed that Palladio foals from KWPN mares can receive Register A papers. He is also registered with the International Registry of Coloured Horses (IRC). We have fully nominated Palladio to the International Jumper/Dressage Futurity so his foals are also eligible for nomination to IJF/IDF. Prior to 2006, Palladio was fully nominated to IHF. Due to the lack of interest in this program, the lack of geographic availability and the demands that it places on young horses we have chosen to drop this program. We are happy to nominate by breeder request so please contact us if you need this program.
Breeding inquiries: Please contact Andrea Clibborn-Anderson 253-639-3944, 206-949-6661 (cell) or andrea@crestlinefarm.com (Pacific Time Zone)