Horse Books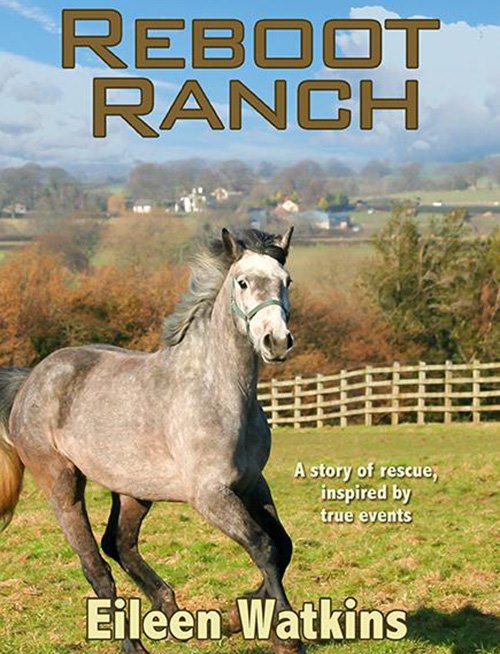 Reboot Ranch
A Stable Express Good ReadAuthor:- Eileen Watkins
Read about a story of a rescue, inspired by true events. Two years ago, Anna Loehmeyer`s marriage, job and life fell apart when her husband was arrested for fraud. The experience devastated her, but Anna found a new purpose when she rescued a mare bound for slaughter. After acquiring two more hard-luck equines and a small farm in western New Jersey, Anna decides to take the plunge into her own horse-rescue operation.

1970s horse books - vintage Weekly Reader Book Club books set of 3
Three hardcover vintage 1970s editions of illustrated children`s books about horses from the Weekly Reader Children`s Book Club: Last Horse on the Sands, Horse of Two Colors, and Swampfire.
1. Last Horse on the Sands by Arthur Catherall, illustrated by David Farris, copyright 1972, first American edition 1973, 128 pages. Excellent vintage condition aside from some edgewear to the spine. Twelve-year-old Paula and her big brother Simon are collecting cockles on the beach of their seaside English village when a small plane crashes just offshore. When cars and tractors prove to be too heavy to cross the sand as the tide comes in, only Paula can drive the horse and cart out to rescue the stranded passengers. (Photo #3)
2. Horse of Two Colors by Glenn Balch, illustrated by Lorence Bjorklund, copyright 1969, 170 pages. Excellent vintage condition. The setting is what is now the American Southwest in 1680. Young Native American Mots-Kay of the Nimapus (aka Nez Perce) can`t forget the vision he once had of a horse of two colors. So when he sees one in the flesh in the Spanish compound where he`s been imprisoned, he takes it with him when he escapes even though he`s never ridden a horse before. (Photo #4)
3. Swampfire by Patricia Cecil Hass, illustrated by Charles Robinson, copyright 1973, 187 pages. In very good vintage condition; spine is cracked in one place but pages are secure. Twelve-year-old Sally and her brother go to coastal Virginia to spend the summer on their cousin`s Swamp Farm and to go camping with Robin, the island boy they befriended the summer before. Cousin Anne tells them some of the locals have reported a ghost in the swamp, while Robin says he`s actually seen it -- and it`s a horse. (Photo #5)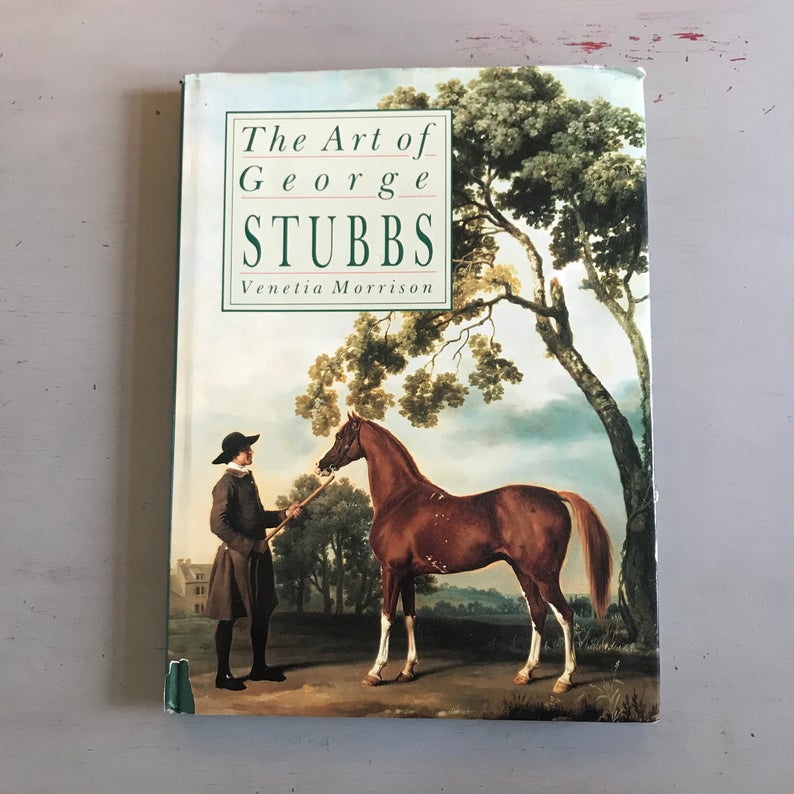 The ART of GEORGE STUBBS
This is a copy of "The Art of George Stubbs" by Venetia Morrison, published in 1989 by Headline Books, London.
There are 191 pages and numerous super colour plates. Size is 33 x 24cm.
The binding is green cloth with title to spine, with slight nick at bottom of spine. Internally, in good condition with no markings or inscriptions. Complete with unclipped dust jacket, a little torn/worn.
George Stubbs ( 1724-1806 ) was an English painter renowned for his pictures of horses.
My favourite artist with fabulous colour plates!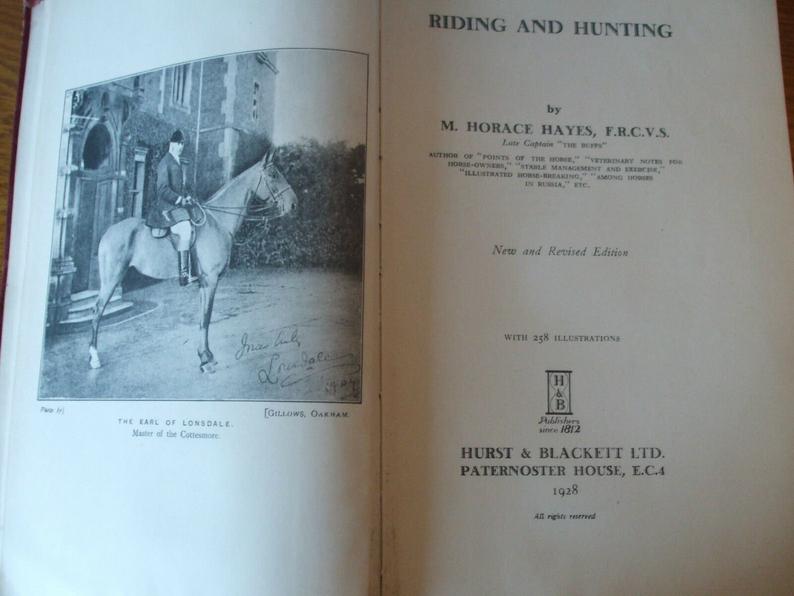 Riding And Hunting Dated 1928 Captain Horace Hays Illustrated Hardback
HERE IS A HARD BACK BOOK TITLED RIDING AND HUNTING DATED 1928 FOURTH IMPRESSION BY HORACE HAYES AND BY HURST & BLACKETT LTD. BOOK CONTAINS PICTURES, PHOTOS AND DIAGRAMS.
BOOK HAS RED CLOTH COVERS WITH TITLE TO FRONT AND SPINE IN GOLD. SOME MARKS AND RUBBING TO COVERS BUT OVERALL BOOK IN QUITE A GOOD CONDITION.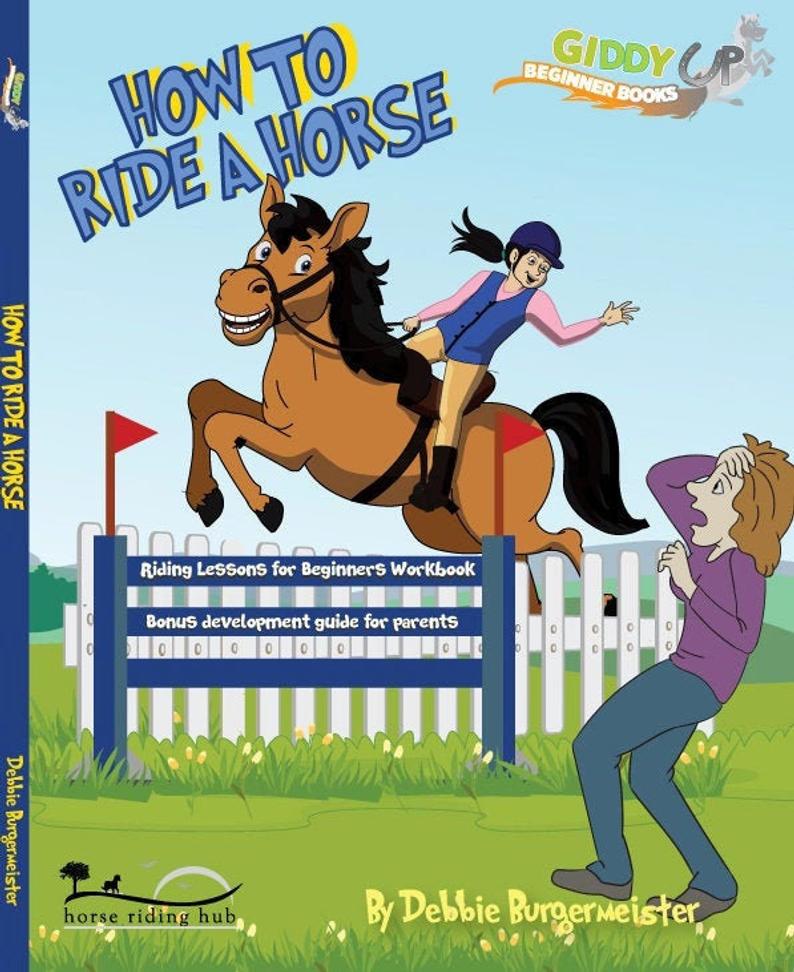 How to Ride A Horse - Horse Riding Lessons for Beginners
Horse Riding Lessons for Beginners book - How to Ride a Horse

Written by Deb, owner and head coach with over 35yrs of horsemanship knowledge to share and over 10yrs teaching kids with requests from parents for development goals.

An interactive learning book written to be read by children with large font and full colour pictures. Encouraging learning safely, starting out with the core fundamentals to support the future of sensible, confident, and capable horse handlers and riders.


This book is every child`s equine essentials kit to commence on a wonderful journey with horses and learn valuable life skills. Development of confidence, care and communication is the blessing Deb wishes you for a happy and healthy life.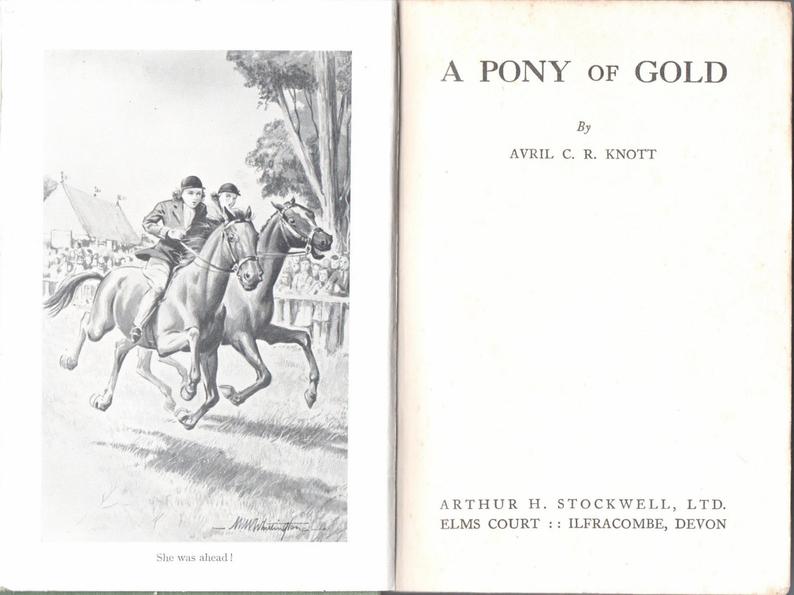 A Pony of Gold by Avril Knot
Hard to find and collectable first edition pony story. Published by Arthur Stockwell. Illustrated, illustrator not credited.
Fair overall condition without dustwrappper. Boards are quite clean and tidy but are faded in places. Corners are bumped. Binding is no longer tight due to a damaged/wobbly front hinge - though everything is still intact and no pages are in danger of coming loose. Tape marks inside front, on the pastedown. Pages are a bit tanned and foxed. No writing or scribbles.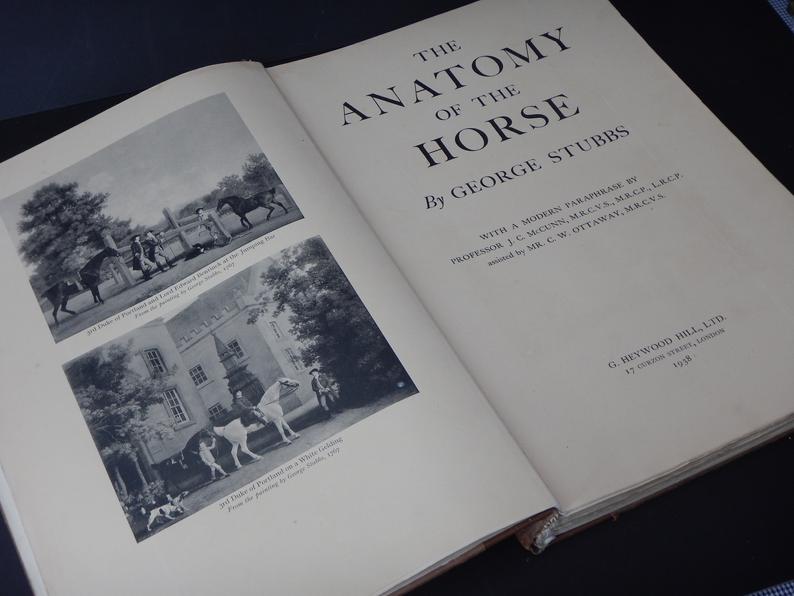 George Stubbs - The Anatomy of a Horse - fourth edition
A rare opportunity to buy a copy of this world renowned book by George Stubbs (b.1724 - d.1806) - a Bible not only for any artist drawing or painting horses but also for students and professionals in the Veterinary service. This book was the first, and remains, the definitive reference book for all aspects of equine skeletal and muscular structure with fine drawings and explanation of the animal at each stage. This particular book is not in good outer condition but is completely intact and the plates are all present with very little damage. The book measures 18" high by 12" wide (450mm x 300mm) and is 1.5" or 4cm. deep. it weighs 280 grammes without any packaging. George Stubbs was the first artist to faithfully represent the figure of a horse and he did so by studying the animal in depth. This Third Edition reprint comes from 1938, dedicated to the 3rd Duke of Portland
Starting with line drawings that are numbered and referenced in the text, the book is sectioned starts with the entire skeleton, the organs, skin and blood vessels, muscle and tendon placement; each line drawing is followed by a full drawing for the section. In all there are three skeletal referenced drawings and 15 anatomical plates. George Stubbs famously painted the most successful race horses of his day.
The book came from the estate of a retired equine vet here in South West Ireland; his speciality was horses and the book was used for reference on a daily basis, both by himself and his students. Some of the plates are double sized as can be seen in the photographs. This book could be inspirational for an interior designer or artist; using or reproducing the plates would make a magnificent design statement.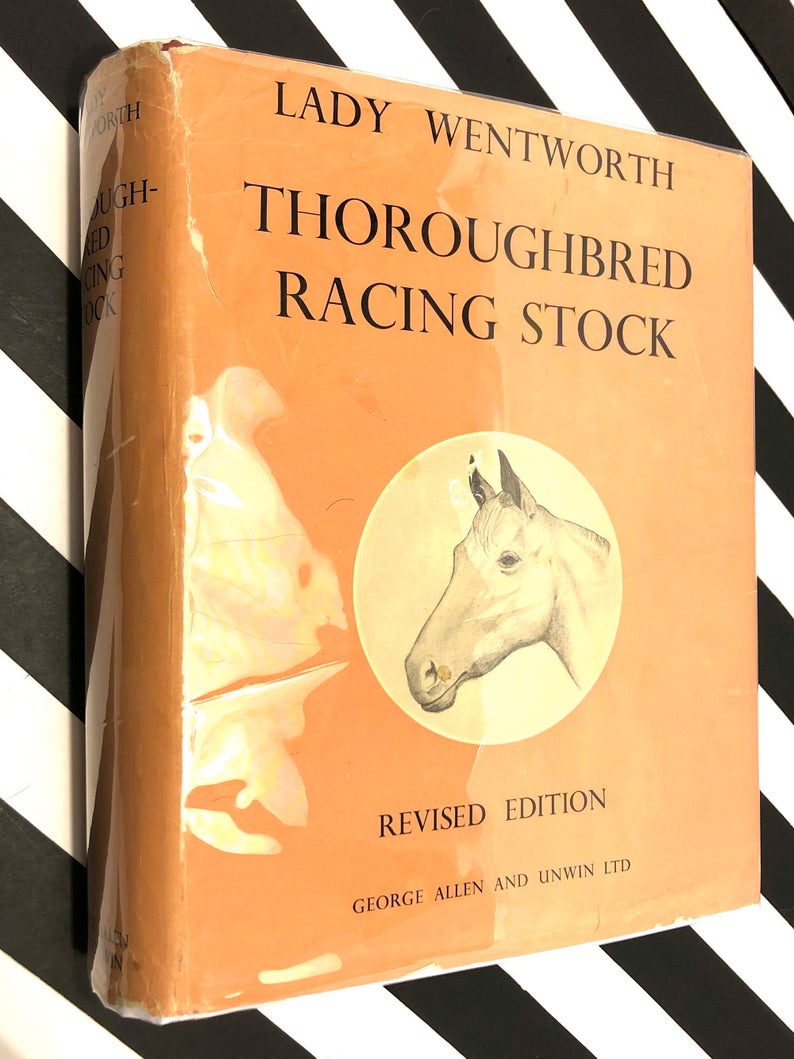 Thoroughbred Racing Stock and Its Ancestors by Lady Wentworth (1960) hardcover book
Lady Wentworth - Thoroughbred Racing Stock and Its Ancestors: The Authentic Origin of Pure Blood
London: George Allen & Unwin, 1960. Second edition. Hardcover. 4to. 556 pp. Red cloth binding. 556 pp. Indexed. Illustrated with 392 plates (24 in color). Fold-out diagram intact at rear. Very good condition. No markings. Dust jacket is chipped at spine ends, has a couple inconspicuous creases. This is a seriously hefty book.

1849 - Horses Their Varieties, Breeding, and Management in Health and Disease - by H D Richardson
This book measures 4 x 6 1/2 inches and has 97 pages. It has many illustrations of various horse breeds. It is rated VERY GOOD with the flaw being the leather spine and corners show wear. It has a nice bookplate from Thomas W Lawson.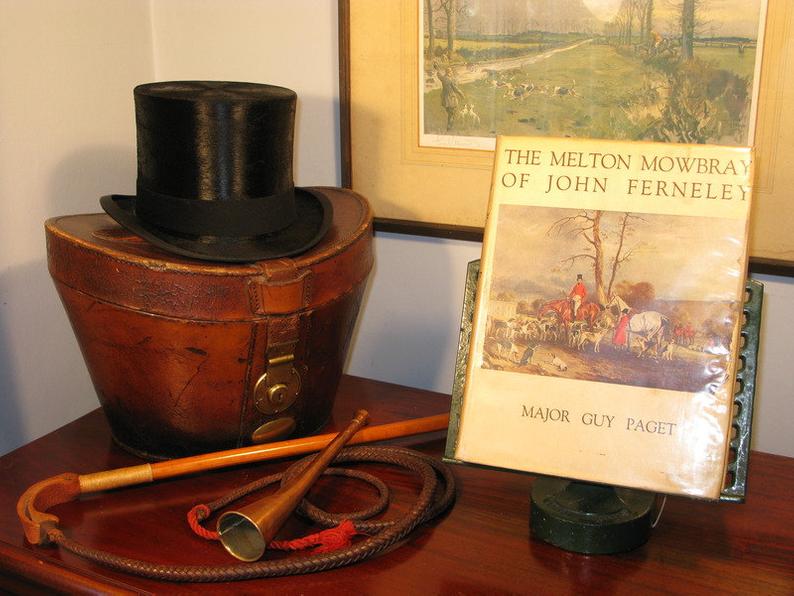 Antique Vintage Edwardian Book 1st Ed 1931 The Melton Mowbray Of John Ferneley by Major Guy Paget Equestrian
Very Rare Edwardian Vintage 1st Edition Book - The Melton Mowbray Of John Ferneley By Major Guy Paget
Dedicated by special permission to H.R.H. The Prince Of Wales, Publishers Edgar Backus 44-46 Cank street Leicester England, Published 1931
A nice late Edwardian vintage edition volume for the avid collector.
1931. Edition, 178 pages, 7 coloured plates,9 plates in photogravure and many Sepia and line illustrations. cloth with gilt title to spine and fox with cross whip & horn to front, a very good clean copy with dust cover.