Horse Bedding

If you're not sure what is the best horse bedding for you and your horse, browse through our directory of horse bedding companies and see the pros and cons of the different options available......
PureBed


LOW PRICE just £4.75 per bale :- The Ultimate, Low Dust, Highest Absorbency Horse Shavings Bedding. Buy Online Now. Gold Service. Fast Delivery.

| | | |
| --- | --- | --- |
| | | 5 Tips for quicker stable cleaning |
Looking for horse bedding, stableexpress can help in finding companies providing all different types of horse bedding from wood shavings, straw, Wood pellets, paper as well as other different types of horse bedding.
Are you a manufacture or seller of horse bedding, add yourself to our directory and get seen by 100`s of thousands of horse owners around the world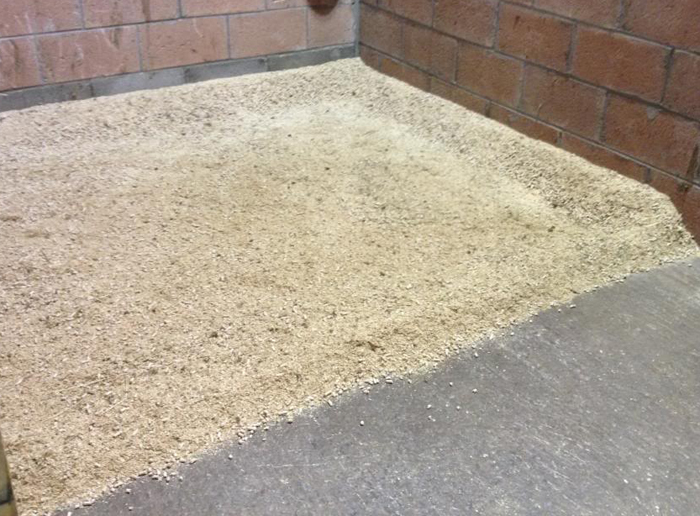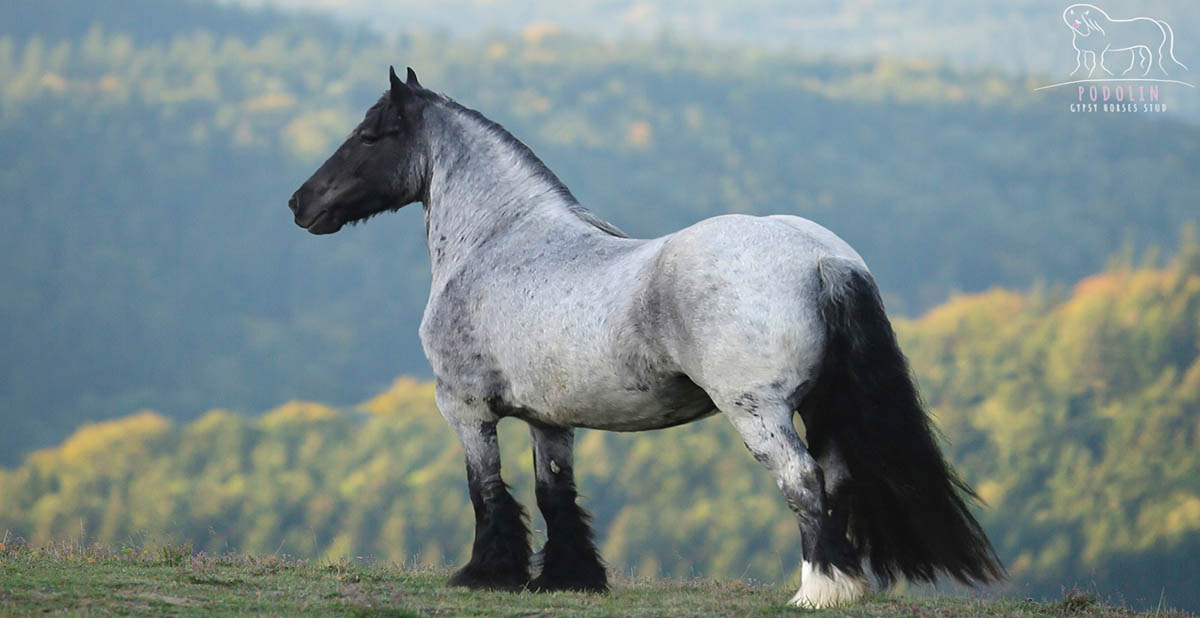 Annabel Van de Mol : (Ballydangan and Raisin x Liberty`s Willow) / Sailte Anabel Van de Mol - Black Roan Gypsy Cob…
Read More
What Bedding Should I Use For My Horse

There are so many things that go into caring for a horse and when you have a horse there are so many decisions you need to be making that regard their health and their living situations. One of the biggest decisions is what bedding to use for your horse. There are lots of options out there that are good for different reasons, so you`ll need to know your horse very well in order to make the most informed decision.
There are few things to keep in mind when you`re choosing bedding for your horse. Is it safe? Is it good for any special requirements they might have? Is it available? Affordable? Absorbent? Is it easy to handle? Is it too dusty?
Shavings
Shavings are one of the most common types of bedding for horses because they`re very absorbent and they smell great. A downside to shavings is that they are quite dusty so it`s not the best if your horse is a sneezy, or if you are either! You can save money if you buy in bulk, which is what most people who buy shavings do, but you`ll have to make sure where you buy them from holds stock all year-round.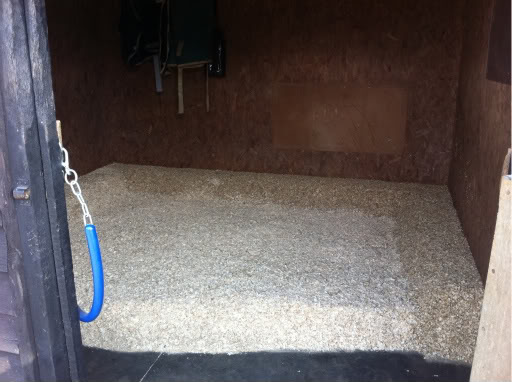 Usually this isn`t a problem, but it`s not an issue you want to be confronted later on.
Wood Pellets
There are lots of varieties in wood pellets, but the most common kinds are fir, pine and alder, almost never cedar. So what`s great about wood pellets? Well, to begin with they`re far less dusty than shavings, which make them more pleasant to use and be around.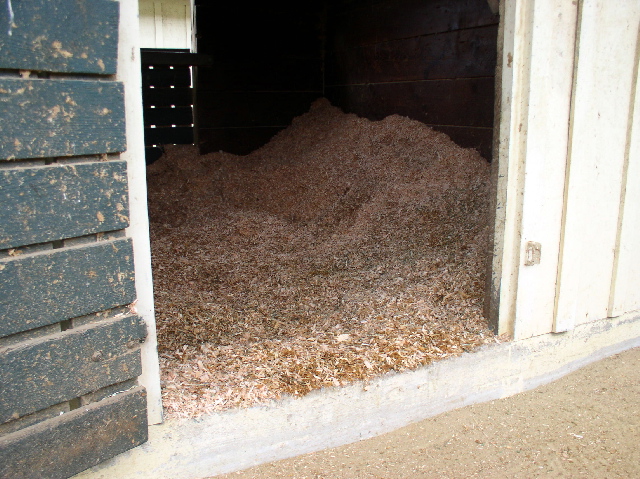 The other advantages to wood pellets are that they are also quite absorbent and don`t need to be cleaned as thoroughly, as you can just pick out the bad bits and add new wood pellets, rather than re-bedding the whole stall.
However, there are some disadvantages, such as wood pellets not doing as well in the winter because their absorption levels decrease.
Straw
Straw is probably the most common type of bedding you`ll see. Straw is actually far less absorbent the wood pellets or shaving, so they do need to be used with a mat that acts as a kind of barrier. You`ll need far more straw to have the same effect as the other beddings simply because it`s not very absorbent.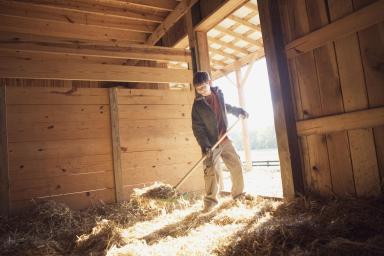 Using straw isn`t all bad though, the upside is that it composts well.
TaylorSelect Horse Bedding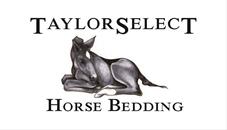 Call: 815-601-3002, Email: Info@Taylorselect.com
TaylorSelect Horse Bedding offers safe, clean, reliable and economical products for your horse bedding needs - without sacrificing quality
What`s your preference? Pine shavings, pine pellets, chopped straw? TaylorSelect has it.
As farm owners ourselves, we understand the financial commitment and the importance of finding an economical horse bedding without sacrificing quality. It was this search that led us to develop our line of pure pine animal bedding products. We are picky and you should be too. We offer a variety of bedding products to satisfy even the most discriminating buyer. Our products range from pine shavings of varying sizes to pine pellets and chopped straw. With so many products to choose from you are assured to find the right product for you.
Our horse shavings are manufactured from pure, softwood pine. The raw materials go through a rigorous screening process to eliminate allergens and dust. The equine respiratory system is delicate and our goal is to provide the safest, softest, most absorbent animal bedding possible. All of our products are environmentally and animal friendly and our bags are 100% recyclable.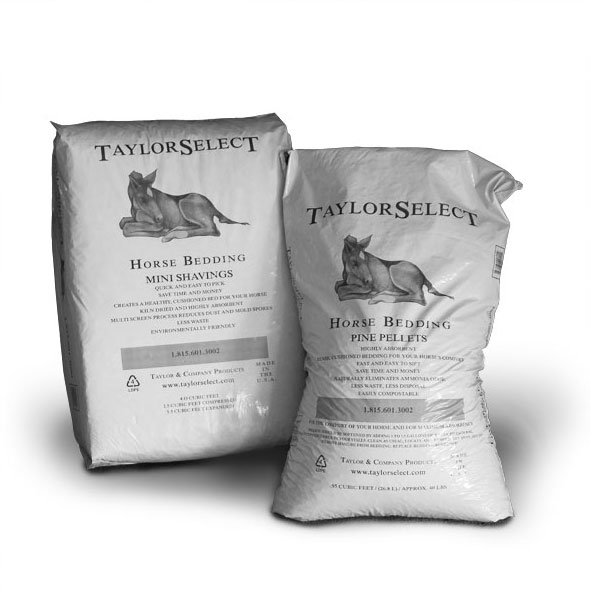 Our mission is to provide clean, safe and absorbent horse bedding to ensure the well-being of your animals and to provide the best possible value to our customers. Bedding is not a fun expense like a great saddle pad or blanket, but it IS essential. We are here to help you eliminate unnecessary waste, while providing quality horse bedding that you can count on. SELECT the best.
We feel that as the owners and hands-on operators of a 25+ horse stable for over 20 years, we truly understand the concerns and needs of our customers. We have ridden, owned and loved horses for over 35 years. The well-being of our animals is our TOP priority which is why we are dedicated to providing exceptional horse bedding products.
It was in our search to enhance the quality in our own stable that we developed our product line and our business. We have been providing quality bedding for close to a decade.
We understand that there is more than one premium bedding product and that people have preferences. It is because of this, we offer an array of quality products to meet your needs. We take pride in our products and value our customers. We thank you for choosing TaylorSelect Horse Bedding. SELECT the best.
Shipping nationwide by the semi-load from our 7 regional plants.

Bedmax Shavings

BEDMAX horse Shavings is a natural, dust free choice made specifically to help you keep your horse healthy, happy and comfortable in the stable. With a history going back to 1998 we have a vast experience providing bedding for your horse.
Phone: 01668 213467
-
Email
- info@bedmax.co.uk
Mccamey Kimbler

Mccamey Kimbler - USA - Endurance Rider | Horses competed by Mccamey Kimbler include Rohara Royale, Sb Nazeem, Faheem Star O Jaaz, Wallace Hill Leo, Latteefah and Elliptic.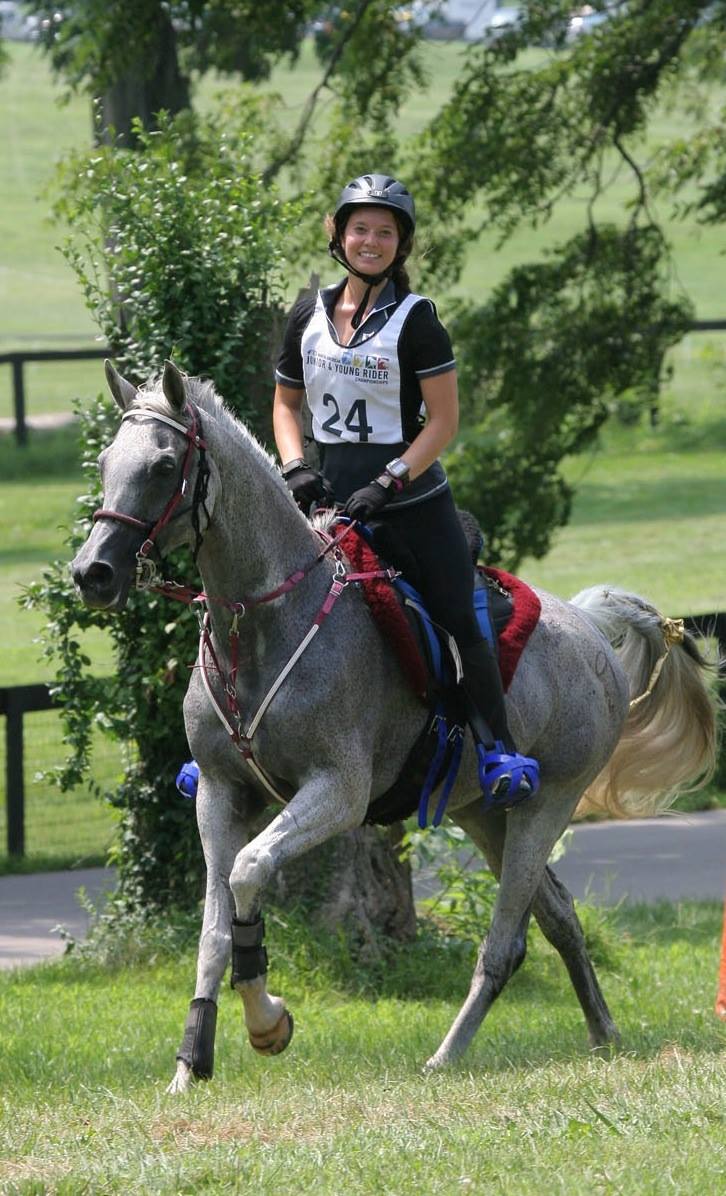 280 South Orange Grove Blvd
Situated on what was once known as Millionaire`s Row with some forty millionaires residing there in the day, this home is one of five adjacent residences that constitute the largest grouping of original South Orange Grove homes still in existence. Architect Frederick Roehrig, a graduate of Cornell, studied architecture in England and France, and was commissioned by many wealthy Pasadeneans to design their private mansions. Roehrig is best known for designing The Castle Green in Pasadena. Bella N. Scofield hired Roehrig to build her a Prairie style home (considered to be very Avant Garde at the time). August C. Brandt was hired as the contractor. Brandt was a respected Pasadena builder during that period. This home is full of detail sure to please the eye and taste of many. Located on the Rose Bowl Parade route, one is within close proximity to the Tournament of Roses house, the Arroyo, Old Town shopping and restaurants, as well as the Norton Simon Museum. Close freeway access. www.280southorangegrove.com