Equestrian Couples
As the celebrity world have their famous couples, so does the equestrian world, here we have some of the famous his and her partnerships from the equestrian world.
Vanessa and Buddy Brown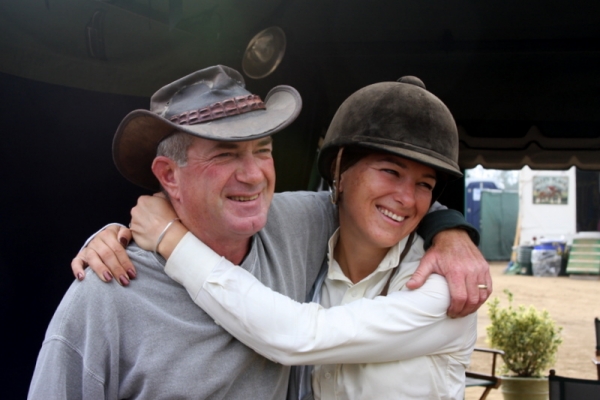 Under the coaching of George Morris, Buddy Brown won the USEF Medal Finals at Harrisburg in 1973 and was later selected to ride on the team in 1974. At the age of 18, Buddy won the 1974 Grand Prix of Dublin while representing the United States. Buddy holds the title as the youngest winner of this elite class to this day. He competed in the 1976 Olympics for the United States, in the World Championships in 1978, and lastly the Pan Am Games in Puerto Rico in 1979. His exceptional career offered opportunities for him to teach multiple clinics and judge numerous medal finals such as the East and West Coast USET Medal Finals, the New England Medal Finals, and the WIHS Medal Finals.
Vanessa Brown began riding under the direction of Lindy Townley and began to succeed in the equitation and hunter rings. In her final year in her age group equitation division, she was undefeated. Vanessa also earned the CEF Junior Hunter Champion title twice and won many medal finals in British Columbia. As soon as her junior career was completed, she started working for Eddie Connors and began to train young horses. Her time with the young horses gave her valuable experience, and when she was 22, she moved to Kentucky to purchase her farm, Lane Change Farm. At her farm, she retrains racehorses and turns them into top performance horses. Over the years, she has trained and worked with some of the most elite horses including Justified, Geste, Grappa, and Rich and Famous.
Fred Bauer and Karen Healey
Fred Bauer began riding for George Morris and went on to win the AHSA Medal Finals in 1969 and the Maclay Finals in 1970. At the same time, Karen Healey was developing her riding skills. Fred and Karen would often cross paths at various shows and events. Later on, Karen started her professional riding career with George Morris and discovered her passion for teaching. Fred then decided to go to college and attended Harvard for three years before earning a law degree. His career in law caused him to move to San Francisco in 1979. In 1981, Karen moved to Los Angeles to teach. Since Fred no longer had time to ride, he stayed involved with the horse industry by being an active committee member and a judge. Karen was also a judge and an active board member. Their paths crossed again here, and almost ten years later, the pair got married on March 17, 2004.
Kent Farrington and Tiffany Foster
Kent Farrington is from Chicago Illinois. Kent is one of the most fitness oriented riders in the equestrian sport. He trains daily with an intensive boxing routine that includes several jump rope exercises. He also has a custom interval training program for his horses by using a figure-eight track at his training facility in Florida. Like Tiffany, he is not from a professional equestrian family, and he is also the first and only professional rider for his family. He is ranked No. 4 in the World Top 40. Both Kent and Tiffany were in the top three placings in the 2015 Pan Am Games when Tiffany won Gold for Canada and Kent won Bronze for the United States. Their love bloomed throughout the international show jumping circuit, and they competed against each other during the Rio Olympic Games.
Tim Price and Jonelle Price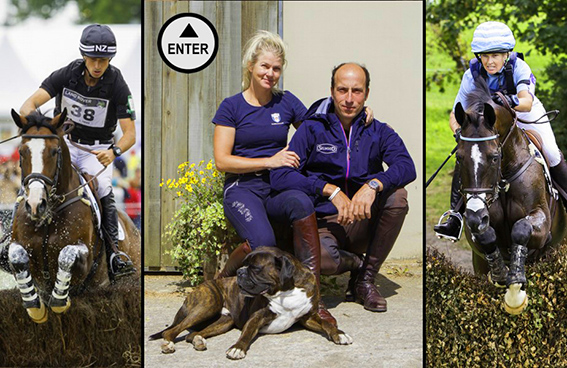 Tim is from Oxford, North Canterbury, in the South Island of New Zealand. He was surrounded by horses as a child and naturally followed a career into horses. He began show jumping and entered into World Cup level before switching over to eventing. Jonelle is from Nelson in the South Island of New Zealand. She grew up in a non-equestrian family, and after she had finished school, she went on to study law at Canterbury University. It was short lived though as she began to pursue her dream of eventing. It did not take long before she was a reserve winner for both the Olympics in Athens and the Aachen World Championships.
Tim and Jonelle Price had made a substantial impact in the world of eventing since they made the United Kingdom their permanent home in 2005 when they settled their operation at Mere Farm. In 2012, Jonelle was on the New Zealand team which won the bronze medal at the London Olympics. In 2014, she and Tim made history when they became the first couple to represent New Zealand at the World Equestrian Games in France. In 2016, Tim and Jonelle were both part of the New Zealand team at the Rio Olympics.
David O`Connor and Karen O`Connor
Karen O`Connor also competes in eventing. She began to compete in the late 1970s internationally and began to riding for the United States national eventing team in 1986. She has ridden in five Olympic Games, two Pan American Games, and three World Equestrian Games. She has won multiple medals and has had numerous wins, and top 10 placing finishes at other international shows.
William and Pippa Funnell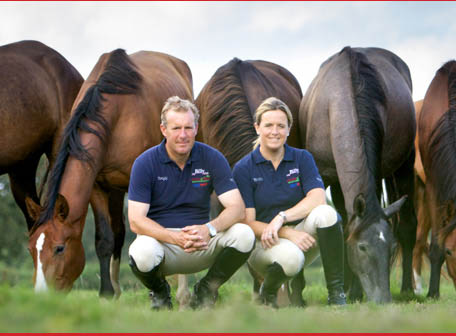 William Funnell is an elite show jumper. He has been in many Nations Cup teams. In 2006, he won the Hickstead Derby and won it again in 2008. He also won the La Baule Derby in 2011. He married the famous eventer, Pippa Funnell, in October 1993. They now live in Ockley, in South Surrey. Pippa became the first person in history to win the Rolex Grand Slam of Eventing in 2003. She won Badminton in 2002 and 2005. She has been an Olympic medalist three times (2000, 2004, and 2016).
Lucinda and Clayton Fredericks
Clayton Fredericks is an Australian eventer. He won a silver medal at the 2008 Beijing Summer Olympics. Clayton is currently the coach for the Canadian Eventing Team. He also regularly holds coaching clinics in the United Kingdom and Europe. He has also been named as the interim chairman of the United Kingdom`s Event Rider`s Association.
Tom and Mandy McCutcheon
Tom McCutcheon is one of the reining industry`s top riders with multiple awards and numerous championships with earnings exceeding $1 million. He is the co-founder and chairman of the directors` board of the National Reining Breeders Classic. The National Reining Breeders Classic is the largest added money reining event as well as the largest stallion incentive program in the history of reining. His wife, Mandy McCutcheon, is also one of the industry`s top riders. She is also the only woman and non-pro rider to surpass $1 million in earnings. She was inducted into the National Reining Horse Association Hall of Fame in 2011.
Mark and Shannon Rafacz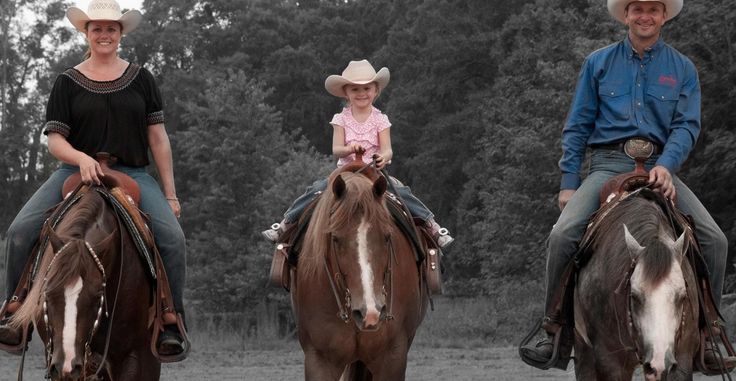 Mark Rafacz has been a National Reining Horse Association professional since the 1980`s and has been involved in starting young horses, futurity and derby horses, as well as preparing horses for major NRHA events. He has taken numerous world champions, Derby winners, and All American Quarter Horse Congress Champions to the winner`s circle. While reining is his primary focus, he has also been involved in both the American Quarter Horse Association and showing Appaloosas in reining. His wife, Shannon Rafacz, is an 11-time NRHA World Champion and also has multiple wins at Congress and USEF Championships.
Craig and Ginger Schmersal
Craig is a top-class rider and has earned over $3 million in earnings through the National Reining Horse Association. He specializes in training, showing, and selling Derby and Futurity horses. He has trained and shown numerous Futurity and Derby winners as well as nine Congress champions. His wife, Ginger, competes as a Non Pro in the National Reining Horse Association. She has almost $415,000 in NRHA Lifetime Earnings. She won the NRHA Non Pro Top Ten World Championship in 1996 and 1997 as well as the 2000 NRHA Derby Intermediate Non Pro Co-Reserve Champion. In 2001, she earned the NRHA Derby Intermediate Non Pro Reserve Champion title, along with being a Non Pro finalist in numerous NRHA major events such as the NRHA Futurity, Derby, and the National Reining Breeders Classic for several years.
Find This Article Interesting, Please Share With Your Friends
Stableexpress

https://www.facebook.com/watch/?ref=search&v=816149708842785&external_log_id=bb3d153a66cc126798a75b761a77c2c7&q=Inside+My+Stable+With+Karl+Cook

Posted by Stable Express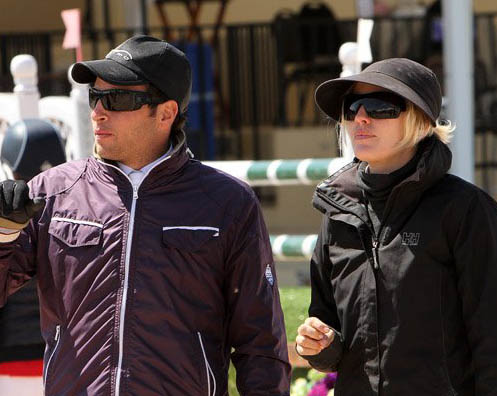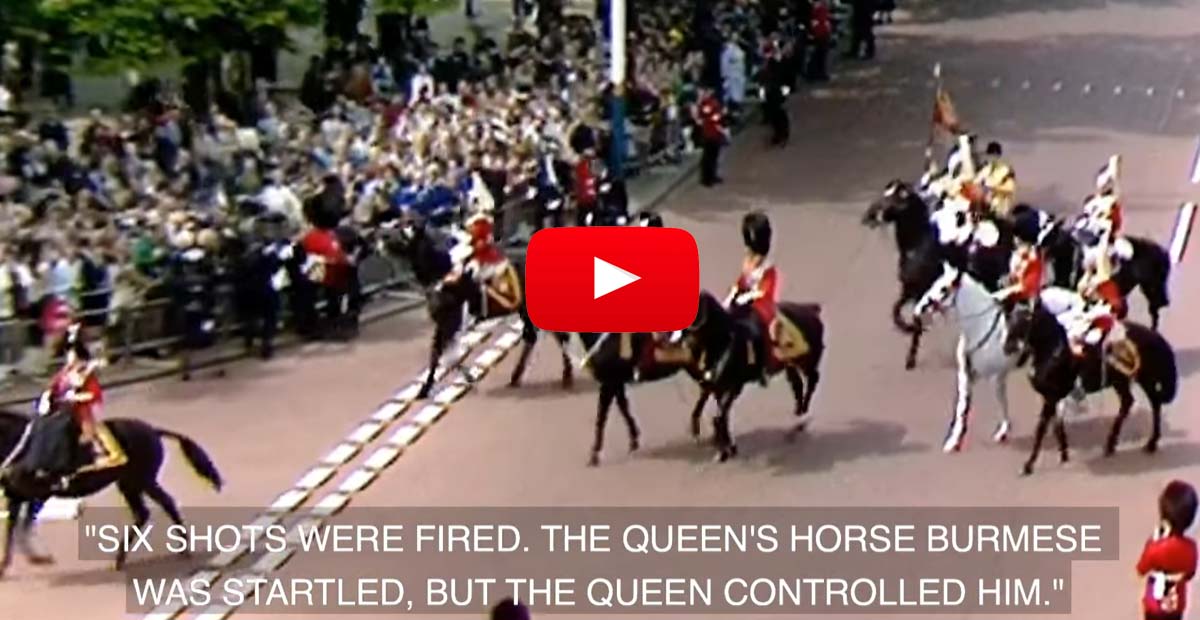 AWESOME AMAZING how the Queen 👑 handled everything & calmed Burmese down before bolting! & reassured him after patting him a excellent loving reward! 1981 Trooping the Colour ceremony incident - Queen Shot At During Trooping The Colour…
Read More