Dressage Horses For Sale
17hh Bay Westphalian Gelding - Dressage Horse For Sale, Canada This big beautiful guy is looking for a change of career. He has been shown in the hunter ring exclusively up until 2015 and has made it clear that he's ready for a change of pace. After a little down time, we have started some basic dressage training and he is showing talent and more importantly interest in the work. This horse needs to be kept busy and will do best if he's in a program with lots of variety. The ideal prospective owner will have the interest and resources to put some training hours into him. In a few short months he's made fantastic progress and would win at training level already. If you're a keen, fit rider that wants a bit of a challenge with the possibility of a magnificent partner down the road then he's worth a look. Telephone : 519-573-3089





Callisto - Dressage Filly (SOLD) - A beautiful and talented prospect with a sensible willing temperament and polite ground manners. Leads, ties, loads, and clips. Could be your future star in dressage, hunter/jumper or eventing. Should mature at 17h. Currently offered at $5500. Price will go up as she matures and training increases.

J`Suis Belle ~ Dressage Mare by UB40 (SOLD)- Suis Belle is a stunning 2014 filly by UB40 (Olivi) out of imported Swedish Warmblood, Anuschka (Argentinus). Her sire, UB40, is a successful Dutch FEI stallion with a full list of performance and breed accomplishments. "Belle`s" damsire, Argentinus, has sired many approved stallions, elite mares, and top horses in both dressage and jumping. This filly has revealed a motivated temperament and should excel in any discipline as she has outstanding dressage and jumper bloodlines. She has inherited the best of both worlds with her exceptional conformation, and elegance of movement with three lovely gaits making her a truly modern performance horse. This filly is initially stunning but solid and is gorgeous with a smart eye. She is a quick study and motivated to learn as she continues to grow. Current on all vaccinations.

Warmblood Cross Exceptional Dressage / Sport Horse 2 yo Prospect (SOLD) - 2014 handsome and athletic dark bay Half-Arabian gelding (H.A.H.R.) sired by the Hanoverian stallion, Royal Prince of Hilltop Farm, Inc. Royal Prince developed into one of Hilltop`s most prominent stallions including winning the USEF Dressage Breeding Sire of the Year Award for five consecutive years. Out of Rucellaa, a pure Polish Arabian mare with a stellar pedigree Rumour Has It possesses the conformation which will allow him to excel in a variety of disciplines, i.e. dressage, hunter/jumper, Sport horse under saddle. Rumour is an eye-catching boy with big, beautiful, elastic gaits, balanced uphill carriage and excellent impulsion. He currently stands 15.2 HH barefoot and he should to mature to 16h. Sadly for sale only due to health reasons. Located in Gainesville, Florida. Asking $12,000. Call Greta Wrigley Training 352-318-7738

BIG Homebred Holsteiner/CB/TB gelding, fancy mover, amateur-friendly, ready to go in any direction - Dressage Horse For Sale (SOLD) - "Ervin" is a homebred, eight year old, 17 hand, Holsteiner/Cleveland Bay/Thoroughbred cross. He is a handsome, high-quality guy with an in-your-pocket personality, a floaty mover with a great jump, natural lead change and balanced gaits. Ervin has hacked out in company, hunted twice, schooled at about six horse shows, been in the show ring once, is cantering courses and will be ready to do 3` this season. He is by the Holsteiner stallion Magical, out of a Cleveland Bay/Thoroughbred mare by the Cleveland Bay stallion Leavenmouth Gordon. Ervin has had every advantage--great breeding, one owner, a professional start, a slow and correct education, and plenty of time to grow and develop. He is now ready to go have some fun with his new partner, and can truly go in any direction--his brothers and sisters have been versatile mounts with lots of wins in the hunter divisions and success in the hunt field. Ervin is an easy keeper with great feet (currently barefoot), no vices, no maintenance, no quirks, can be stalled or live out, has great ground manners and is a pleasure to live with. He will be an excellent addition to any show or hunt barn--please contact for further details. More photos will be posted when available.

FANCY FILLY FROM A FAMILY OF ATHLETES (SOLD) - Fancy, athletic filly from a family of champions. Bay with four white socks. Sire a proven jumper. Dam a 2008 Olympic competitor in eventing. Current on everything. Well handled since birth. Motivated sale. Owner returned to school.

Handsome Hanoverian for sale (SOLD) - Bernt L'Orange (Bernie) is a sweet, handsome, 9-year old 17 hand chestnut Hanoverian with lots of chrome (4 white socks and a blaze) and a commanding presence. Son of Grand Prix sire Bretone out of Gina (grandsire Grand Cru), bred and trained by German Bereiter graduate Harry Diel, He showed 4th level this past season with scores into the high 60s and will be ready for PSG next year, executing beautiful full pirouettes with ease. Always tries his hardest and never runs out of steam, but still listens to his rider. Bernie has only had one loving home, so there are no mysterious gaps in his past. In full training since the age of 3. Carefully brought along with lots of show exposure, he is now mentally and physically ready for the big time. Motivated seller as his rider is in law school. Located in Hoosick, New York, 45 minutes from Albany airport and 10 minutes from the NY/VT/Mass border. Good home essential. Photos by Terri Miller Video is of 4-2 at Stockade this past June where he scored 68.3; other videos, including 4-1 with AA as well as schooling in both a snaffle and a double.

Grand Prix Dressage Schoolmaster "Monterey" (SOLD) - Monterey is a joy to ride and handle. One owner/trainer his whole life who bred him in Sweden and imported him to CA 2003. Showed all levels and done Grand Prix since 2010 with 74% as best. Monterey is kind, willing and always positive. He performs all movements without any protests. He is very secure in him self and doesn`t get upset even if the rider makes a mistake.This is a one of a kind wonderful horse that will give you everything.

Amazing showjumper bloodlines (SOLD) - Azure Twist has the pedigree, conformation, and temperment to go to the top as a showjumper. Her sire, Silver Twist was the 2005 USDF all breed Dressage and Sporthorse breeding horse of the year. Silver Twist is by Olympic gold and silver medalist, Abdullah. Silver Twist`s dam is by Frank Chapot`s USET horse Good Twist((sire of Olympic Gem Twist).Gem Twist was cloned to preserve this very bloodline, as it was so successful, yet rare. George Morris has said that the Good Twist(by New Twist, by Bonne Nuit) bloodline is The Best Showjumping bloodline EVER. Silver Twist`s dam`s dam is by Avant Garde, sire of top jumper, Bonte II and her dam was also the dam of Olympic showjumper, Jet Run. Please see Silver Twist`s website for more info.. Azure Twist`s dam, Hilary (shown as Haley`s Havoc) was a successful Intermediate level eventer, by Hadrian. Hadrian sired many successful dressage horses, eventers, and hunters. Haley was a great jumper and fantastic cross country horse. Azure Twist is a candidate for top level competition.

2014 Big, Black Stunning CORLAND grandson-top H/J prosp mature 16.3hh (SOLD) - Lovely black coming two year old hunter jumper or dressage prospect, Jesse commands attention with his looks, movement and character. His pedigree is a whose who in show jumping that guarantees his future success! Flawless conformation and impeccable temperament make Jesse a must see! He is perfect for vet and farrier and clips ties bathes and has been well handled and extremely desensitized. Lightly lunges under tack to voice commands. He is a quality gelding for the discerning buyer.

Champion Filly by Sir Donnerhall/Sir Sinclair - FOR SALE: Kahlua K.F. (Sir Donnerhall/Sir Sinclair) filly. Born April 29, 2015 Kahlua has it all... tall, leggy, super disposition, and top quality movement! First Premium and Champion Dressage foal at her Keuring at Iron Springs Farm, where the judges commented that she was "long-lined, refined, and had a well-muscled top line." They felt that her light-footed movement showed "remarkable articulation and suspension in trot and canter." They commented on her suppleness and athleticism as well. Kahlua`s comes by her quality honestly, her sire, Sir Donnerhall 1, has competed successfully at the Grand Prix level, and has many offspring following in his footsteps both on the national and international stages. Kahlua`s dam, Aloha S.E., is by Sir Sinclair -- a stallion well known for passing on his fabulous temperament and quality movement. Aloha S.E. is herself a fabulous mare and proven producer. In 2010, she was North American Champion of the DG Bar Cup for 5 Year Old Dressage Horses at the 2010 Keuring, and her son Encore (by Jazz) was 2013 Reserve Champion 4 Year Old at the USDF/Markel Young Horse Dressage Championship at Lamplight and was ranked 4th in the 5 Year Old Championships. Special consideration to a competition home. More information at my website: www.kanequesfarm.com

2008 Oldenburg Mare (SOLD) - Remi is a 7 year old Oldenburg. I bought her as a 3 year old as a Dressage prospect. She is done some first level work, however, she has been out of consistent work for a little over a year since I became pregnant with our first child. Now I just don`t have the time to dedicate to her. I am still riding her, just not as consistently as I would like. She is an excellent mover and scored an 8.2 on her movement at her inspection. She has a wonderful temperament,loves to work, loads, clips, ties, stands for the farrier, and travels easily. No matter where I take her, she is quiet and ready and willing to work. I would love to see her go to someone who will allow her to reach her full potential. She is out of Lerita a 17.1 imported Dutch mare that had a successful 4`6" jumper career in Canada. Remi is by the 1997 imported KWPN stallion Pandorra who is approved by ISR/Oldenburg, NA. Pandorra is by Ferrolan (Olympic Ferro X Ramiro) and out of Aurora(Satelliet) a rare keur gelder mare. I only have one picture right now, however, I will upload more photos as well as a video soon. You may contact me at 515-525-8694, or e-mail me at jennyleigh925@gmail.com

Rosenthal filly with FEI potential (SOLD) - Renga`s sweet disposition, calm temperament, athletic ability, and outstanding conformation, make her suitable for Dressage, Hunters, or Eventing. Renga is easy and quiet enough for an amateur to bring along with the potential to be a professional`s ride as an FEI prospect! Expected to mature between 15.1-15.2 and will be a marvelous ladies horse or Junior Rider mount. She is great off farm already and has been to 3 shows in hand. Renga is an in your pocket kind of girl, stands for the farrier and for grooming, as well as loading easily. She is smart, athletic, and extremely sensible! Once done her show career she will make beautiful Sport pony foals in her later years! Comments at her inspection were: "Pretty Feminine type with beautiful head and neck, good Topline Energy and Activity with a long sweeping stride, her Calm demeanor will yield to good ridability in her future." Her sire Rosenthal Speaks for himself (Rubinstein/Karon/Woermann), A 1998, 16.3` Imported Black Hanoverian Stallion. A leading producer of Premium foals of multiple breeds, Rosenthal adds both beauty and temperament. His offspring are simply stunning, with beautiful conformation and excellent heads that catch the judges` eyes. Her Dam line is equally exciting to the Arabian aficionado. The sire line for the Dam is (VV Jaamir/Tamaal FA/*Ali Jamaal ~pictured~). I am looking for the perfect owner to take her to the height of her abilities! She has been registered RPSI and is ready to start your own way and hit the show ring winning! Please call or text. I will consider offers to great show homes. . www.silverfernfarm.vpweb.com

Fancy Bay Filly Lots of Chrome. Future Star (SOLD) - Jumper Prospect. Big bright future ahead. Our loss is your gain. Too many horses. Owner returning to school. This regally bred filly comes from a family of Olympic calibre dam and International Jumpers. Her sire is Quebec. From the Selle Francais family of Quick Star ridden by US rider Meredith Michaels Beerbaum to many Grand Prix victories. His sure the famous Galoubet the sire of many Grand Prix and World Cup horses. On the dams side is Karla. A Slovakian Warmblood. Her sire Narcos II Puissance record holder of 2.25 m. A member of winning Nation Cups in Madrid, Luxemborg, Rome, Hickstead, etc. Karla herself was the 2008 Olympic mount in eventing for Jaroslav Hatla This fancy bay filly with 4 white socks is born to be an athlete. She has been well handled since birth. Current on everything. Good for handling including vet and blacksmith. Presently on small group turnout. Priced at $10,000 CDN for quick sale. Price negotiable to an approved show home where her potential can be met

Pure Spanish Andalusian colt-NEW PRICE!!! (SOLD) - A sweetheart of a colt with breathtaking movement and uphill conformation. Very responsive on lunge: will walk, slow trot and fast trot on verbal command, engages his hind end for incredible impulsion and suspension. Has natural elevation and extension. Altogether extremely flashy! This guy will quickly get you up in the ranks of competition! Manny`s sire, Cazar, is a son of the Lion of Spain- Indiano XVIII, is a champion in Canada and on the west coast. Dam is by east coast multi champion Deco X. Sire and dam are revised with ANCCE. Colt registered with IALHA (S). Heterozygous grey yearling can produce color. Great stallion prospect. Will mature 16+H, no doubt! Price negotiable to show home or with retained breedings. More videos available on YouTube, search "Amalgamate Farms."
| | | |
| --- | --- | --- |
| | | Dressage Horses For Sale |
Dressage horses for sale from foals through to international grand prix dressage horses, sell your horse via Stable Express horse classifieds


DRESSAGE HORSE FOR SALE - KWPN - GELDING - 12 Yrs - 176 cm
KWPN Dutch warmblood with excellent pedigree, Westpoint x Flemming, born 2009, a horse with an excellent temperement located in Holland, contact Gallery Horse, wide selection of warmblood horses, Lusitanos and Andalusions call +31 307 996 425 / +34 692 633 067



High Offley Stud
- Warmblood horses for sale, proven competition bloodlines, dressage foals for sale & young horses for sale.
> More Info <
Dressage horses and ponies for sale - Sell horses online FREE with stableexpress. If your are looking for a dressage horse start your search with our online equine classifieds with lots of horses from around the world we can help you find a dressage horse that will meet your needs.
High Offley Stud - Dressage Horses For Sale
High Offley Stud specialise in breeding sport horses, although mostly known for our success in the showjumping arena, we have also bred and produced many exceptional dressage horses. We use proven bloodlines, and we use movement and trainability as key elements when selecting our breeding stock.
Contact High Offley Stud today to find out more about dressage horses, we are based in Staffordshire, UK. Visit www.highoffleystud.co.uk or call 07811 329229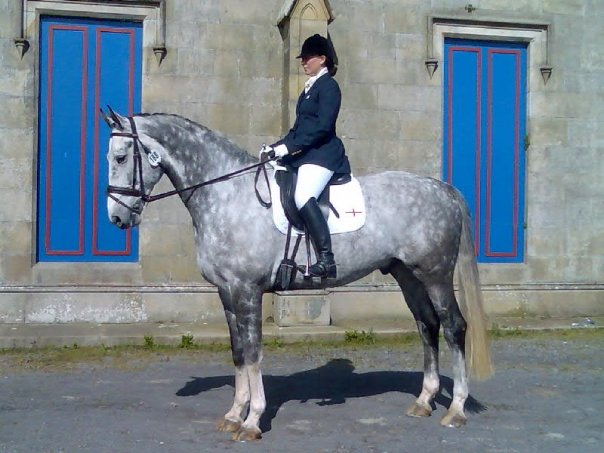 Warmblood Dressage Horses For Sale