Draft Horses For Sale / Draft Horse Breeders

Looking for a draft horses for sale or finding breeders of draft horses, browse out stableexpress draft horse classifieds section, if you are a seller or breeder of draft or heavy horses, list yourself on stableexpress and reach thousands of horse lovers from around the world.
Messersmith Draft Horses, Hampton, Iowa, USA

Draft Horses and Carriage Horses For Sale | Hampton, Iowa, USA | Phone: (319) 240-9721, Email : bcmess@hughes.net | Heavy Horses For Sale

Santa Cruz Carriage Company - Draft Horses For Hire

Visit us at Wilder Ranch State Park during one of our demonstrations or reserve your group`s hay ride now! :- Santa Cruz, California USA. Victorian Carriage Rides Starting from the Palomar Hotel Pacific Avenue, Santa Cruz, CA.

Drafted Sport Horses - Ohio, USA

Drafted Sport Horses.... There is a little Draft in everything we do : Ohio, USA. Danielle and her teammate Apollo, preparing for the season in Level 1 Dressage and Pleasure Driving.

Email | annmarie.nagle@draftedsporthorses.com

Estendon Horse Ranch Sarles

Breeders of a wide selection of draft horses, Percheron horses, Belgian draft horses and crossbred draft horses. Foals and young horses for sale and draft stallions standing at stud

:- North Dakota | USA :- Email: jerest@utma.com | Phone/Fax: 701-697-5257

Rice Creek Shires, Traverse City, Michigan

Rice Creek Shires :- Striving to Breed the best, Traverse City, Michigan, USA :- Home bred shire horses for sale | Call : (231) 947-5600 E-mail: dahubbell@chartermi.net

Mulcahy Draft Horses, California USA

We believe Draft Horses have the intelligence and temperaments to be trained to do it all! Riding, driving, dressage, show...You name it, they can do it. Mulcahy Draft Horses, California USA

Star-Knight Farms, breeders of English Shire Horses in Williamston, Michigan

Shire Horse Stallions At Stud :- The Super Premium Stallion DEIGHTON COMMODORE The "Champion of Champions" - Commodore was 3 time consecutive champion at the Shire Horse Society National Shire Show, 1992, 1993, and 1994! Vern and Kristin Stark 3345 WEBBERVILLE ROAD WILLIAMSTON, Michigan 48895 Phone: (517) 521-4825 Fax: (517) 521-4625

Warland Farm - American Cream Draft Horses

Breeder of American Draft Horses, foals, and young horses for sale and American Cream Draft stallion Clar Ann Dick`s Major standing at stud. Southeast Michigan, USA :- Wes Rogalski, 406-745-5111 or email at wrogalski@aol.com

Grand Champion Ragan :- Pinto Percheron Draft Stallion, Spotted Tobiano Stud Horse
Grand champion stallion for the state of Georgia who has featured on a number of equestrian magazines, fantastic moving and markings Grand Champion Ragan is a fantastic looking horse who will be a popular choice for looking after this amazing draft stallion

Britt Draft Horse Show
Class Descriptions
Single Cart: The single Cart had many uses. Farmers used it to take their produce to market; their wives used it as well to do their shopping or to go for an afternoon visit. It was also used for exercising stallions on breeding farms, so it is sometimes called a stud cart.
In judging the cart horse class (as well as all the harness classes), the judge takes into consideration both the conformation of the horse as well as its manner of going. A cart horse should have a good fast snappy trot and carry its head up, thus looking alert. When the judge calls for a walk, it should come down to a good flat-footed walk and stand quietly when at a stop.
2-Horse Draft Team - In judging the team classes, the judge is looking for a team that works well together. They should be closely matched as to their conformation and manner of going. In fact, they should come as close to working as one horse as is possible.
The Unicorn Hitch - When the team couldn't quite pull the load or would get stuck in the mud, an extra horse was added to help the team out, thus adding an extra bit of horse power. This was called a unicorn. The advantage of having the one horse in the lead is that all the power is being used to pull the wagon ahead, there being no side-wards pull.
This class is judged on conformation of the horses, manner of going and a small percentage for equipment. This class takes a skilled driver as the lead horse must stay ahead of the team. On the other hand, he must not have to pull the whole load either. The team must be well-matched in size and manner of going, and the lead horse, in particular, should be stylish and well-mannered.
4 and 6 Horse Hitch - Playing a very important part in the early days were beautiful four and six-horse hitches as they were being used for show work about the cities, especially on brewery wagon. They were also used for the hauling chores on dray wagons. Another team was added as more horse power was needed. The team hitched directly to the wagon is called the wheel or pole team. They are usually the largest since they do most of the pulling. The middle team is called the swing team and the team in front is called the lead team. (In the four-hitch the swing team is eliminated). The lead team usually consists of the smaller and faster horses as they must travel a greater distance when the hitch is making a turn. In judging the combined hitches, the manner of going is of prime importance. The harness and wagon and conformation of the horses is taken into consideration, but they are not as important as how well the horses work. All the horses should be pulling equally so that all of the traces are tight, thus the skill of the driver is very important.
Youth Competition
- The art of showmanship is such that the earlier you start, the better you will become. Many of our Youth Groomer and Youth Showmanship competitors started before they were even 10 years old. It takes a lot of practice at home in grooming and handling the horses before these Youth competitors reach the level of competence you see in these classes.
In the Youth Groomer competition, the young people braid the mane, tie the tail, and decorate the horse. They then show the horse to the judge in the show ring in the Youth Showmanship competition.
Our youth today are the teamsters of the future. There are three classes at the Britt Draft Horse Show for them to display their driving ability: the Youth Cart Class with a single horse. the Youth Team Class with two horses, and the Amateur 4-Horse Class with four horses.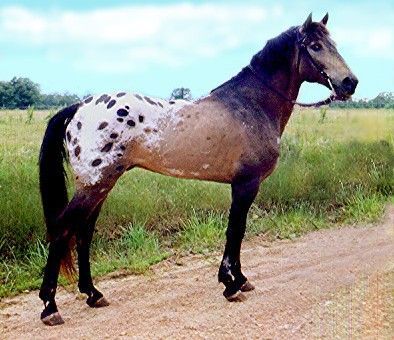 Tiger Horses Gallery | Read about the information of Tiger Horses, the new breed in development - Spotted Tiger Horses, Tiger Horse Foals, Tiger Horse Stallions At Stud…
Read More