Black Arabian Stallion - Spades LRA
Spades LRA is a stunning Black Arabian stallion, born 2010 he is sired by DA Valentino out of the mare Serenata Eljamaal who is a daughter of Parys El Jamaal. Spades LRA is a champion show stallion and was ranked 3rd in the US National championships. Spades stood at stud ar Armstrong Arabians for many years before being sold to Australia where he continued to be very popular stallion for the Australian Arabian horse breeders.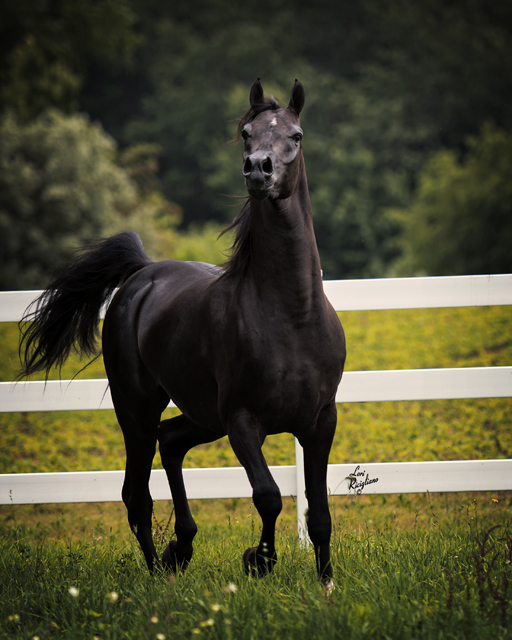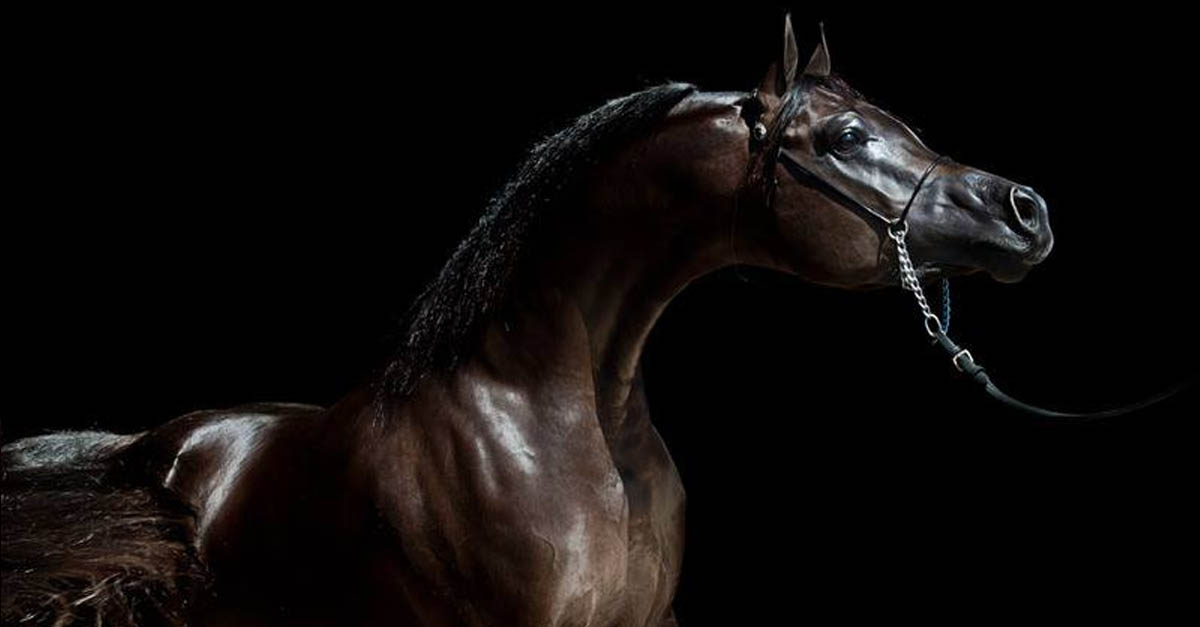 Desperado V - Black Arabian Stallion
sired by Huckleberry Bey out of the mare Dara Ska who is a daughter of Dar.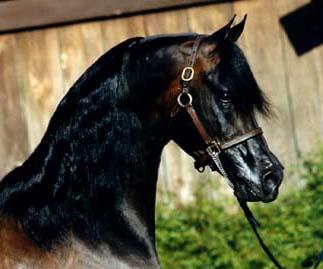 Lucius GA
Purebred arabian stallion, born 2008, sired by JJ Bellagio out of the mare Duchess Of Marwan who is a daughter of Marwan Al Shaqab.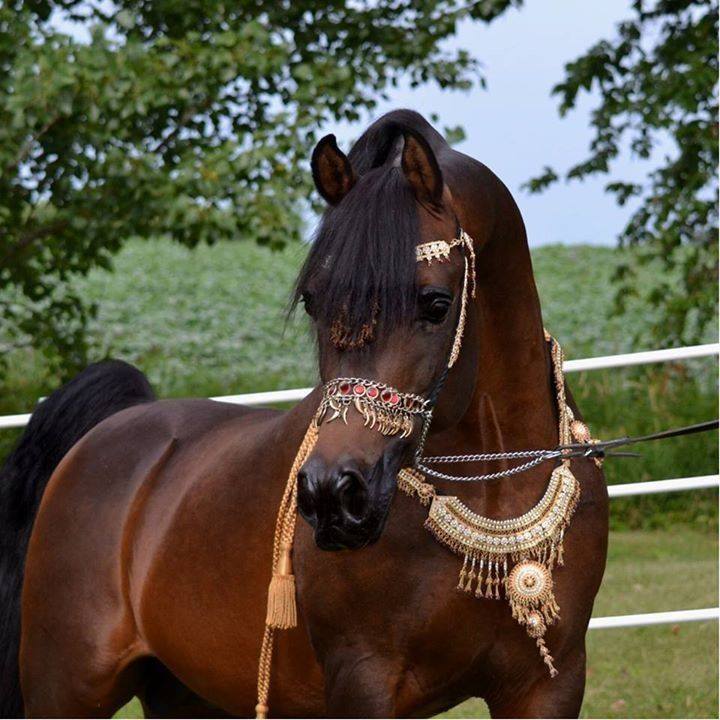 AM Good Oldboy
- The first time AM Good Oldboy+ won a Reserve National Championship in Reining his daughter, AM Honor TheStar, was Top Ten in Junior Reining as a 4 year old. AM Good Oldboy+ has also been Reserve National Champion Reining Horse in Canada and has many regular show wins at Regional level.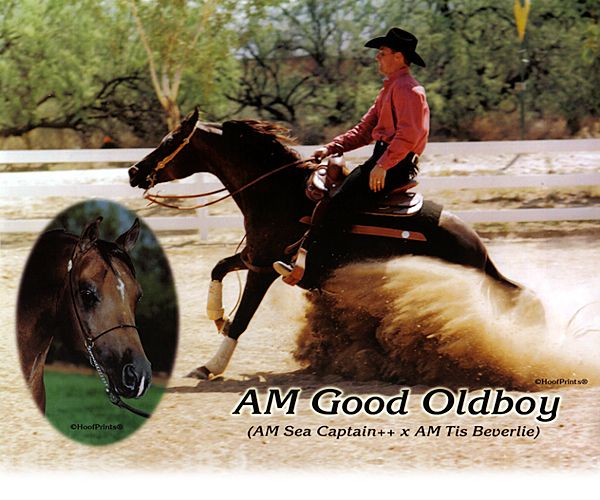 Bremervale Destiny
- This is an outcross stallion although we have used this blood successfully in the past through one of his forbearers, Bremervale Destiny. He was purchased in Australia and has an August birthday but in spite of being 6 months younger than most of his competition he has won blue ribbons in several shows and in Region 7 was Reserve Sport Horse Stallion In-Hand and at Scottsdale he won Sport Horse Stallion In-Hand. His first crop of foals have just hit the ground and there is no doubt in my mind that he is going to be a great breeding horse.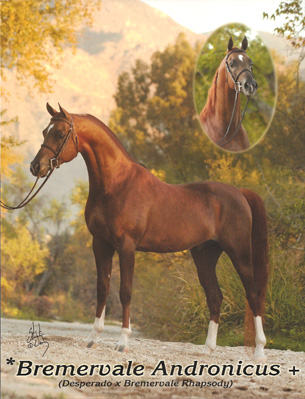 AM Power Raid - Arabian Stallion
- AM Power Raid+++/ is the dream stallion that happens occasionally when you have bred and bred.
AM Power Raid+++/ has his Legion of Supreme Merit winning:
Canadian National Champion Western Pleasure Jr Horse 2000, US National Sport Horse Reserve Champion Under Saddle 2003, Scottsdale Champion Sport Horse In-hand ATH 2005, US National Sport Horse Reserve Champion In-hand ATH 2005 and US National Sport Horse Reserve Champion In-hand Open 2006.
He is a nominated Scottsdale Signature Stallion. AM Power Raid+++/ is SCID clear and shipped semen is available.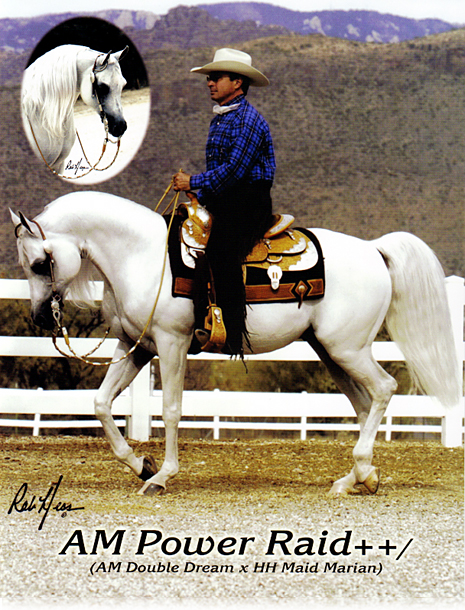 AM Ben Dream - ARabian Stallion
- AM Ben Dream is another Dreamazon+++ son and with a possible exception of Dreamazon+++ himself, is the prettiest Arabian I have ever seen. He`s out of a AM Sea Captain++ daughter and is therefore not only pretty but very athletic.
He is 14 hands but so exquisite that he has twice been Regional Reserve Champion In-Hand, once on the West Coast and once in the Midwest.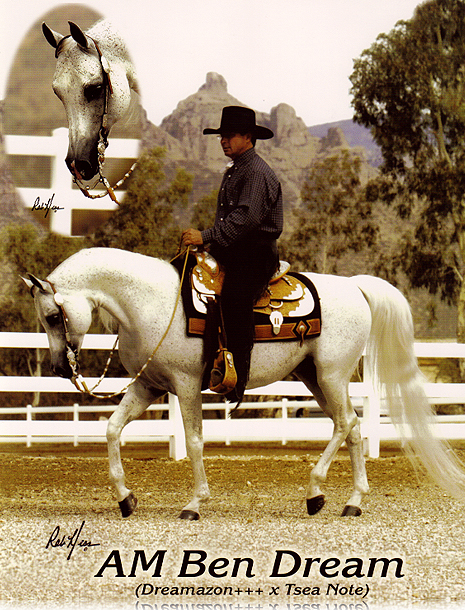 Al-Marah Quebec - Arabian Stallion
- Al-Marah Quebec+ is today`s closest representative of the prized Rissalix blood that was in that importation. His sire was a Nationals winner both in Park and Fine Harness and his dam was a daughter of AM Sea Captain++.
He was the first U.S. stallion to be accepted into the American Trakehner Registry. Their Inspector said this of him: ôbalanced and harmonious, good depth at girth, tracked up well, covered ground, good trot, rhythm with good use of hocks and knees, willing and athletic, with an excellent temperament and manner-exhibiting good ride ability.
Quebec+ spent most of his life as one of the two lead performance horses in the Arabian Nights Dinner Attraction as the mount of the Prince. This meant a lot of dressage training and on the weekends his trainer occasionally slipped away and won with him in open competition. Eventually he was U.S. Reserve National Champion in Level 4 Dressage. His own special act is 3rd Level Dressage without a bridle.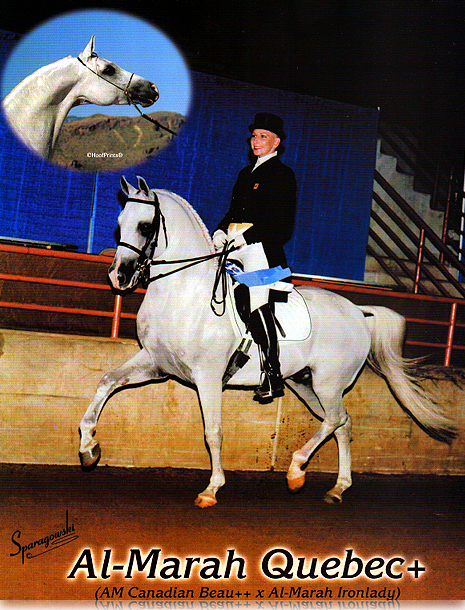 AM Chance Command - Arabian Stallion
- AM Chance Command++ is a promising junior stallion by our dream stallion, AM Power Raid+++/. As a show horse, he is following his sires lead being named 2006 US National Top Ten Sport Horse stallion, ATH, Top Ten Sport Horse Under Saddle, Jr. Horse. In 2007 he was named US National Top Ten Sport Horse stallion, both open and ATH. In 2008, he earned the title of Region VII Champion Sport Horse Stallion. AM Chance Command++ is proving himself as a worthy addition to our stallion line up siring foals of exquisite beauty and great temperaments.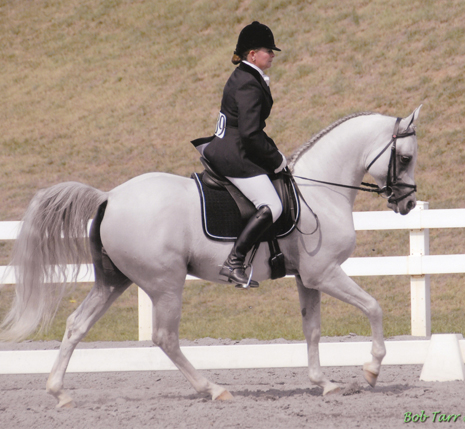 Avalondales Arabian Horses
A small breeding farm, nestled in rolling green hills of Ellsworth, Michigan. A place where time stands still, surrounded by a patchwork of maple trees, hay fields, and well off the beaten path. Yet, close to favorite vacation destinations of Petoskey, Charlevoix, or Traverse City. Here, we are able to create the tradition of breeding horses that meet the needs of the rider in a variety of disciplines....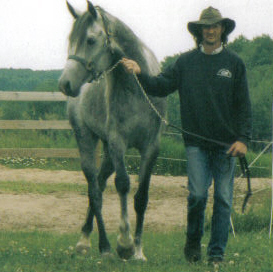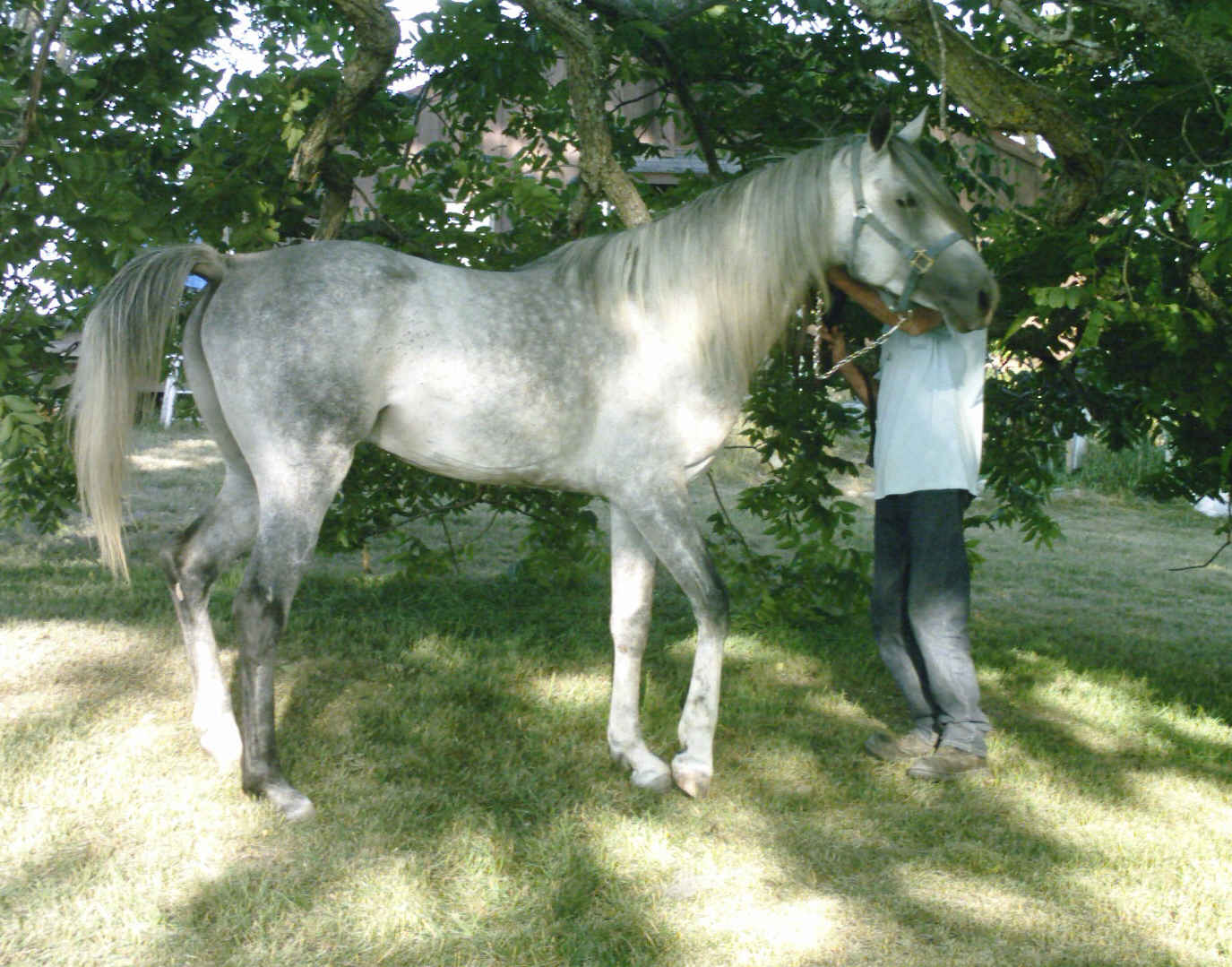 Email : Avalondales@aol.com / Website: https://www.avalondalesarabianhorses.com
Ceasare - 1999 Straight Egyptian Arabian Grey Stallion of non-Nazeer bloodline
He stands about 14`3, he has a short back, excellent legs, a short nicely wedged head with a straighter profile, large kind eye, he is a striking grey with long flowing black mane and tail.. He comes from excellent racing and performance bloodlines... Ceasare`s sire was the last Ibn Hafiza son in the USA. Sahlih passed away last winter. He left three son`s and a few daughters to carry on his legacy.
Ceasare`s dam is J Zaziza, she is the last daughter of Zaghloul who bred her dam live cover at the age of 27 the month before his passing resulting in a preservation of the Non-Nazeer bloodlines of Zaghloul and Ibn Hafiza.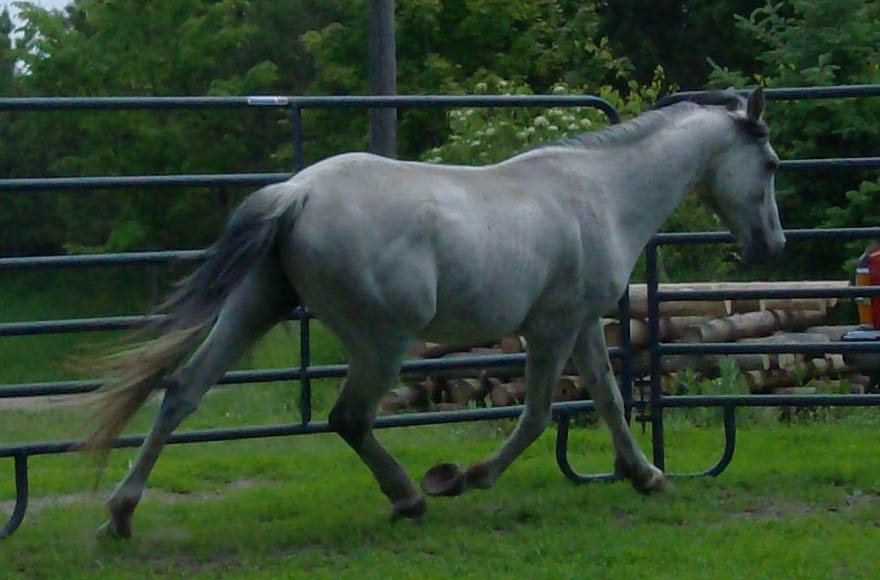 32% Hamdam (full brother to Shahloul), 28% Ibn Rabdan, Pure in the strain Saqlawiyah Jidran, Both tail female lines trace to El Samraa, Straight New Egyptian, Blue list and Al Khamsa
Appaloosa Horses