BLC Joker`s White Russian - American Cream Draft Stallion
| | | |
| --- | --- | --- |
| | | BLC Joker`s White Russian - American Cream Draft Stallion |
BLC Joker`s White Russian is an American Cream Draft stallion, registed with the ASHDA. BLC Joker`s White Russian was bred by Bonnie Lake Creams located in Eastern Washington state, his pedigree includes some of the best foundation American Cream Draft blood lines including Captains Barnabus Gold, Clar Ann Cream Dream, Lupkes Captains Jake to name a few.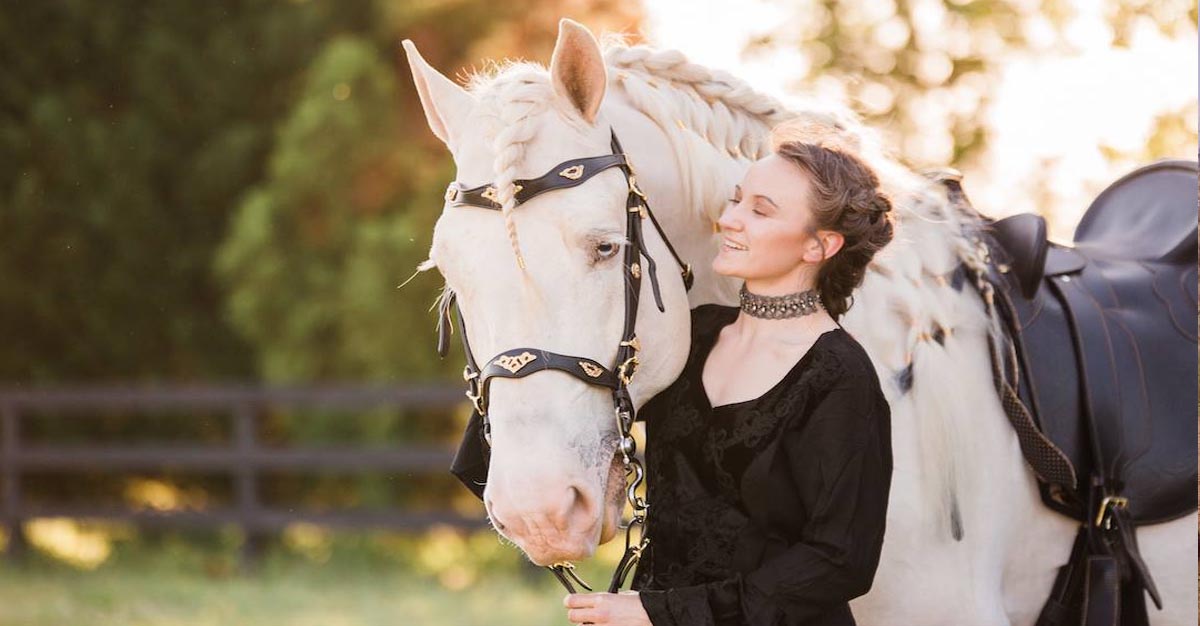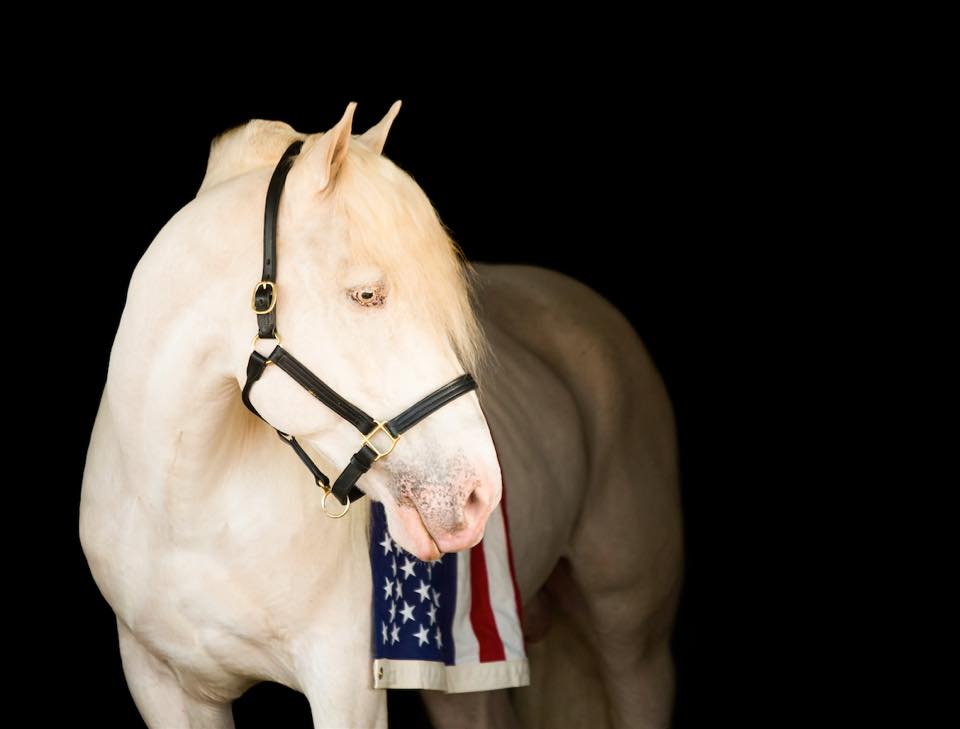 BLC Joker`s White Russian is a stallion who stands at Fields of Gold Farm in Hendersonville, North Carolina for more information call +1 828-692-7096 or email info@fieldsofgoldfarm.com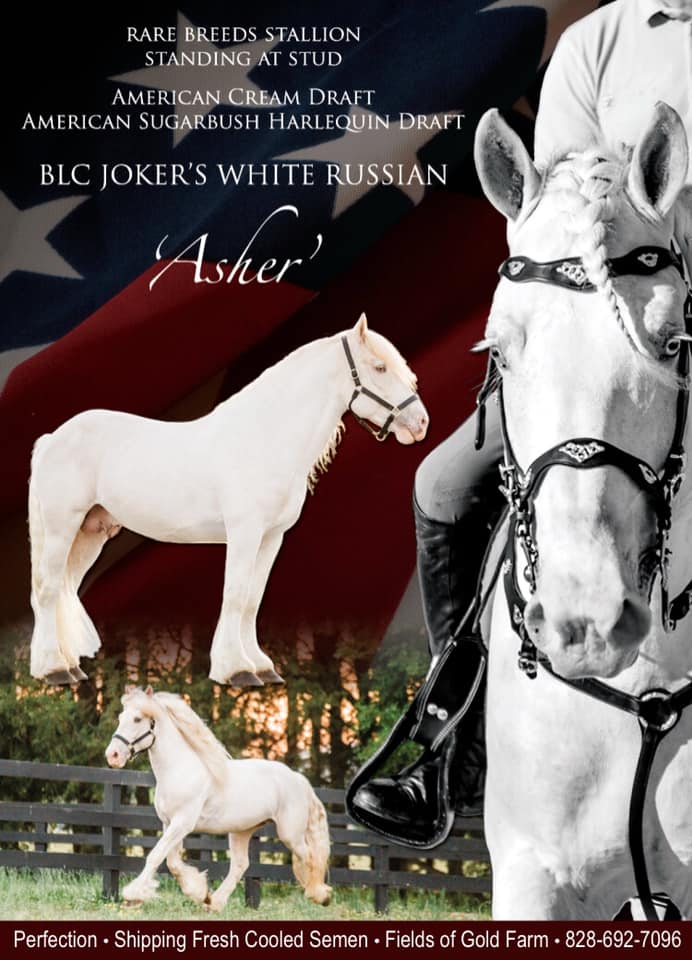 ContentAdvert
A white mane and tail with various other white markings improve the animal`s appearance and contrast beautifully against the rich cream color.
The eyes of these horses are nearly all amber or a clear red-brown color. The colts are foaled with nearly white eyes, but at the age of one year, these begin to turn darker. By maturity, the Cream horse`s eyes are a clear amber color.
Contrary to public belief, the best color is obtained by matings of cream sire and a cream dam. We have learned through experience that the more cream breeding to be found in their background, the surer we are of the desired color. This, however, has not proved true when American Cream mares or stallions are mated with another strain of creams. For instance, creams with dark skin. The result of this has nearly always been a disappointment, most of the colts being too light in color. Some of them are nearly white, which is very undesirable.
Our horses retain nearly the same color throughout the year. Their winter coat is very little lighter than during the summer months, with the exception of the colts, which become a little lighter. On the contrary these horses seem to have a tendency to grow slightly darker with age.
We often receive information of other cream horses but on investigation are invariably disappointed. After several of these disappointments, we have drawn the conclusion that there are no others quite like our American Creams. The unusual color of these horses seems to be their major attraction, but on further investigation, qualities which make them invaluable as a draft horse are brought to light. Such important qualities as these are listed among the American Cream`s assets: Docility, uniformity, pleasing style and willingness to work. Uniformity in color and type is a convenient factor and therefore worthy of much consideration.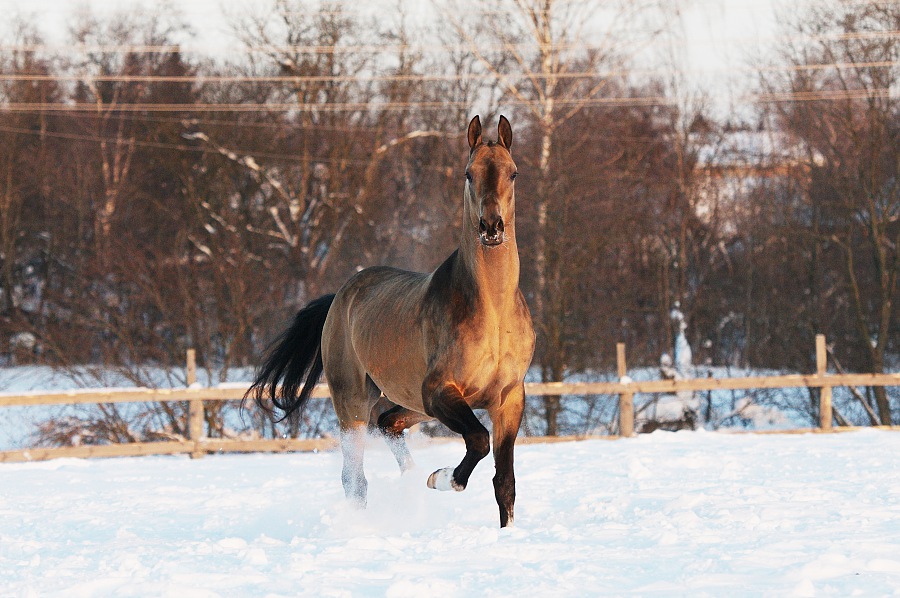 Information on Akhal Teke horses for sale, the pure bred horse breed from Turkmenistan that excels in all the different equestrian sports / Stallion Dagat Geli - Akhal-Teke Turkmenistan Sale…
Read More