19 Hands Black Percheron Stallion Windermeres North American Maid AKA Moose @Windermere Farms
A landmark stallion for Percheron horse breeding this stunning Black Percheron stallion was bred at Windermere Farm and because of his size would be given the stable name of Moose. As a Percheron Show Horse Moose had an incredible show record, wins include Grand Champion Stallion at KILE, Supreme Champion over all breeds at the MGLI and most importantly, on October 21st, 2010 he was crowned Supreme World Champion.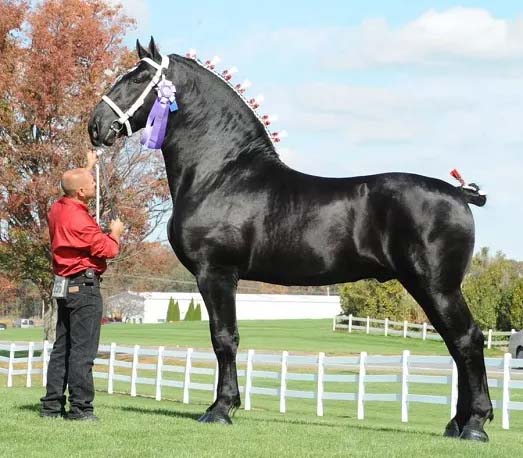 Windermere`s North American Maid`s name is in honor of his mother, Windermere`s Tayler Maid. Tayler was one of the very best Blackhome Duke daughters ever. She was Jr. Ch. at the `95 Congress and was a two time All American winner. Tayler was used in every position of our grey mare hitch which won many championships throughout the United States and Canada. Windermere Farms started calling North American Maid "Moose" because he was always such a big colt. Now he stands 19 hh and moves with incredible action.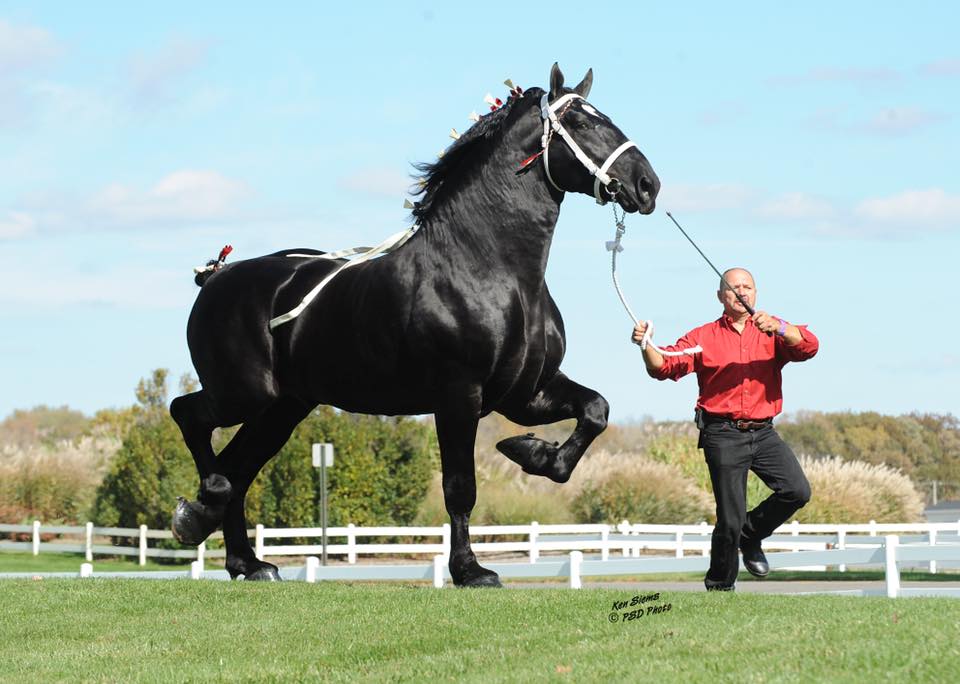 Moose marked the start of a new era of Percheron breeding at Windermere Farms. He is the complete stallion and he is ready to make a mark on the
Percheron horse breed
. His impressive front end, quality of bone and extreme size come from both sides of his pedigree. In short, we feel this horse is a living example of what we have been breeding for during the past 30 years. Windermere Farms feel that Moose will take our breeding program and our customers` programs to a level that has not been reached in the Percheron breed. Breeders who are looking for a massive, modern stallion but wish to retain their style, quality of bone, and tightness of joints should consider Moose for their mares. We feel Moose is the complete package in a Percheron stallion; one where you can acquire the size to be competitive in the show ring without sacrificing style.