Zangersheide Auction - 2 Year Old Coloured Stallion Sold For 47,000 Euros
The Zangersheide auctions have long been an important date on the international sport horse auction calendar, with the Covid epidemic of 2020 the young horse auction was help online via their website, but some excellent prices where achieved for some very exciting young horses for the future.
SUSKE VAN DE BOORTOREN (OBI-WANXJOEPIE V/D WATERINGHOEVE)
This young coloured stallion was billed as bringing a bit of colour to your stud, and received interest from stud all around the world, the high price of 47,000 euros was from Brazil and will see this foundation coloured breeding stallion move to South America.

CANINTENDRA PS (CASALLCO X CHACCO BLUE)
This talented 5 year old Canintendra was the top price young horse sold, and will be coming to the UK for 72,000 euros + Vat. This exciting young horse is daughter of the sister of the international 1.50m horse Con Cento PS.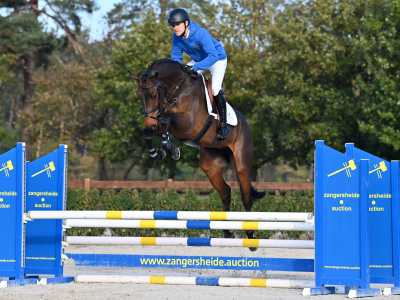 GREGORY-LOU Z
(GEORGE Z X NABAB DE REVE) - Sold for 34000 to the USA - Approved Stallions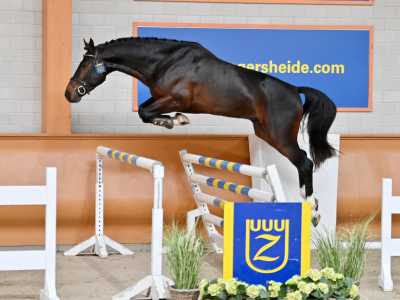 MISS CHELLA
(TANGELO VD ZUUTHOEVE X QUASIMODO VD MOLENDREEF) - Sold for 32000 to Russia - 2017 Mare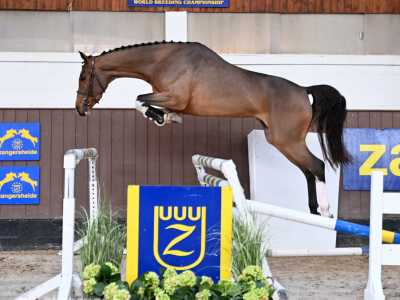 MCGEE
(ZENTO X CORLAND) - Sold for 30,000 to Germany - Approved Zangersheide Stallion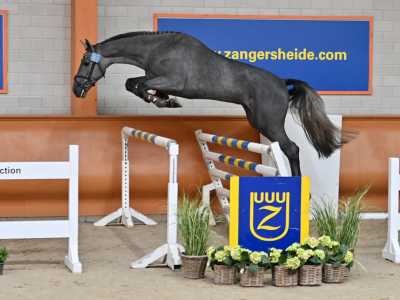 INDIANAPOLIS I
(CASALL X CALIDO) - Sold for 30,000 to Luxemburg - 2018 Stallion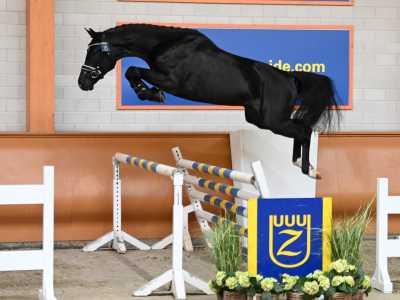 ELLIOT TDYR Z
(EMERALD X ZIDANE) - Sold for 20,000 to Canada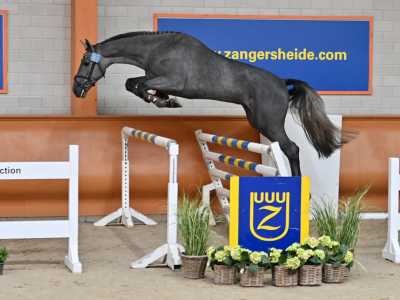 BALOU`S SATINE VH POELEIND Z
(BALOU DU ROUET X NABAB DE REVE) - Sold for 20,000 to United Kingdom - 2018 Mare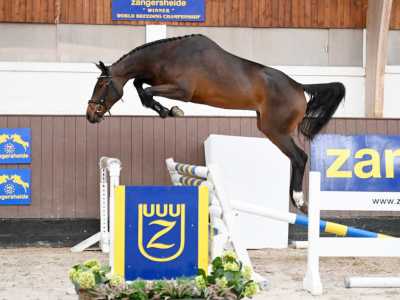 MAXIMUS DE LEVEE
(HEART TOUCHXORAMÉ) - Sold for 20,000 to Germany, Brother to 2 international showjumping horses!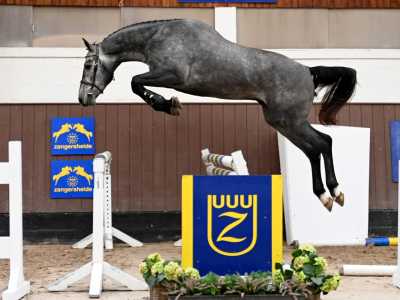 MINECRAFT CA
(COHINOOR VDLXCORLAND) - Sold for 19,000 to Sweden - 2018 Mare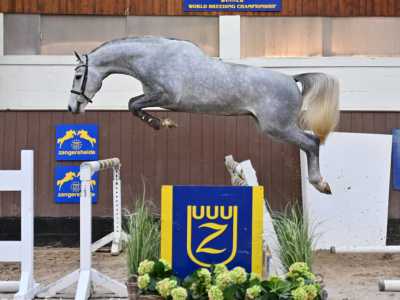 SOLOTERMA Z
(SIR OBOLENSKY ZXODERMUS R) - Sold for 18,000 to Bulgaria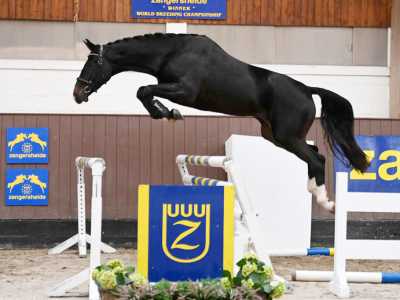 EL AMIGO 111 Z
(EL BARONE 111 ZXHERR SENAAT 111) - Sold for 17,500 to Sweden - 2018 Stallion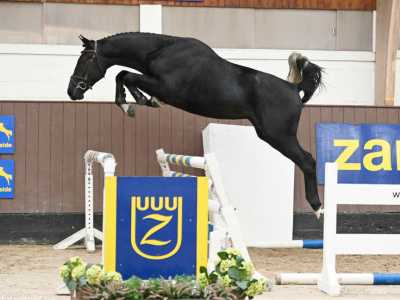 TABASCO Z
(TAKE A CHANCE ON ME ZXCRAVITZ W) - Sold for 15,500 to Holland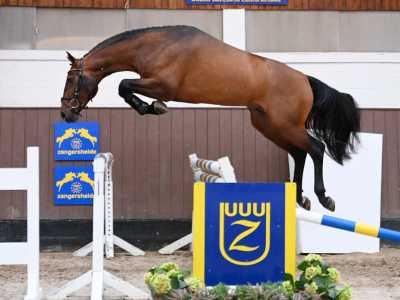 MONTENDER
(PARRANDERO (EX CLASSE HS)XCHIN CHIN) - Sold for 15,000 to Holland - 2018 Stallion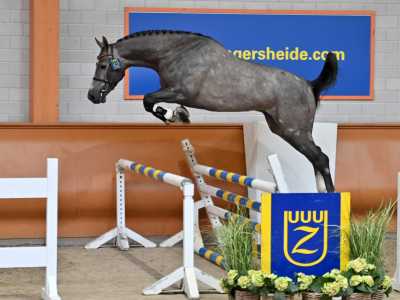 MI AMOR
(C-INGMAR X GOODTIMES) - Sold for 14,500 to Germany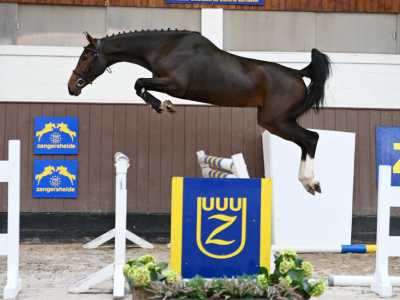 ROCHAS VD BROUWERSHOEVE
(AGANIX DU SEIGNEUR Z X HEARTBREAKER) - Sold for 14,000 to USA - 2017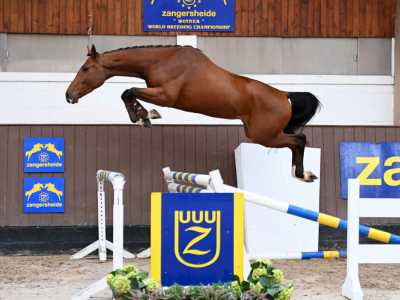 CHARLIE OF DALWHINNIE Z
(CORICO Z X TANGELO VD ZUUTHOEVE) - Sold for 13,000 to Holland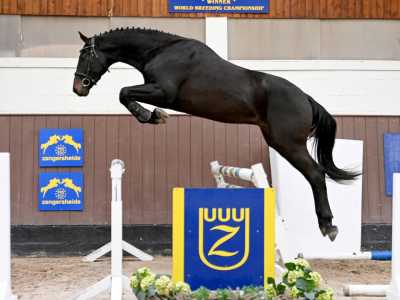 CIBELLE VAN HET BERGERHOF Z
(CICERO ZXLIMBUS Z) - Sold for 12,500 to Belgium - 2018 Mare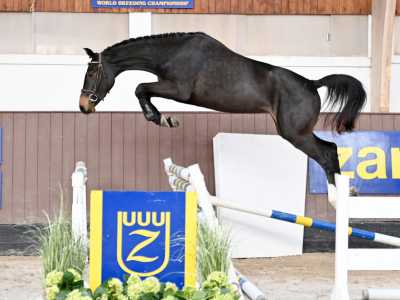 RAMSES DE LITRANGE CC
(VLEUT X NABAB DE REVE) - Sold for 11,500 to Monaco. Out of the full sister to ENSOR DE LITRANGE LXIII !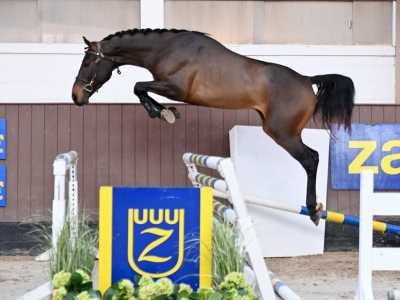 ANUBIS M Z
(APARDI X INDOCTRO) - Sold for 9,520 to Switzerland - 2018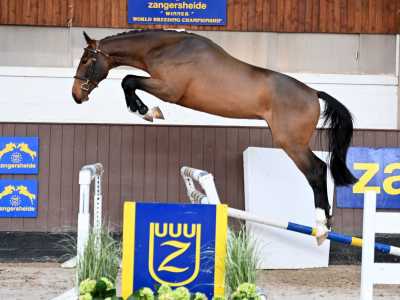 NOLAN
(JE SUIS EQUUS TAMEXVITTORIO) - Sold for 9,500 to Switzerland. 2018 Stallion