Working Hunters
A great place to buy and sell working hunters, stableexpress is an online marketplace for quality show horses for sale. Add your working hunter to our equestrian classifieds FREE.
High Offley Stud - Working Hunters For Sale
High Offley Stud have a long history of presenting our horses in the show ring, over the years we have bred and produced many horses who have caught the eye of many judges on the county working hunter show circuit.
Contact High Offley Stud today to find out more about working hunters for sale, we are based in Staffordshire, UK. Visit
www.highoffleystud.co.uk
or call 07811 329229
Northern Ireland Working Hunter Association
Aims Of The Association
To encourage and foster an interest in working hunter horses and ponies
To stimulate the interest of riders in the training and riding of horses and ponies for pleasure and in competition
To encourage good sportsmanship whether in competition or otherwise
To organise or provide competition for working and show hunters
To encourage potential judges, stewards and course builders
In 1980 a group of keen pony exhibitors met at Millbrook Lodge, Ballynahinch to form the Northern Ireland Working Hunter Committee with the idea of encouraging the production and showing of working hunter ponies in Northern Ireland.
The first committee was under the chairmanship of Jim Lilley, with Jan Joyce as Secretary and Sidney McIvor as Treasurer
Our ponies took part in national and international competitions, representing Northern Ireland in England, Scotland, Wales and Republic of Ireland and were always successful
In 1985 the group became the Northern Ireland Working Hunter Association with 150 members and a full winter and summer programme for both ponies and horses. Recognising that dressage was an essential part of good horsemanship, in 1989 the Association introduced the Blue Ribbon Dressage League which still continues to this day. We celebrated our 20th anniversary in the year 2000, a lively group with a membership of over 400 and a horse and pony registration of 630
Today the Association is one of the most active equestrian organisations in Northern Ireland, providing a full calendar of events all year round and our three day Championship Show at the Royal Ulster Agricultural Society Showgrounds, Balmoral in July is the highlight of the year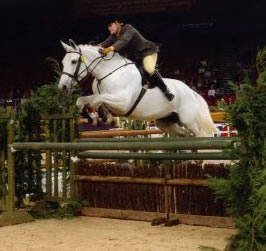 Located on the Staffordshire / Shrewsbyury border, High Offley Stud have sold many horses for both the hunting fields and the show ring. High Quality Working Hunters For Sale | Call 07811 329229
Billy Bigtime

Winner of TC Feeds & Tack Haven Working Hunter Pony at Kempton horse show with Daisy Grovestock