Solaris Sport Horses, Scotland
Located in Crief, Scotland Solaris Stud Farm is a breeder of sport horse foals with the breeding and the ability to excel in any equine discipline. Solaris Sport horses also have a selection of coloured horses all with excellent bloodlines making us one of the leading stud farms in the world for coloured sport horse breeding. We breed from proven brood mares that have been graded and inspected combined with stallions who posses some of the top bloodlines from the worlds of showjumping, dressage and eventing. For more information please call
0759 0813 509
or email us on
info@solaris-sport-horses.co.uk
Solaris Stallions At Stud
Solaris Sport Horses is home to proven stallions standing at stud as well as having limited amounts of frozen seman from past stars of the stable yard, see below the selection of stallions at stud. For more information please call
0759 0813 509
or email us on
info@solaris-sport-horses.co.uk
Solaris Buenno
- Coloured Dutch Warmblood Stallion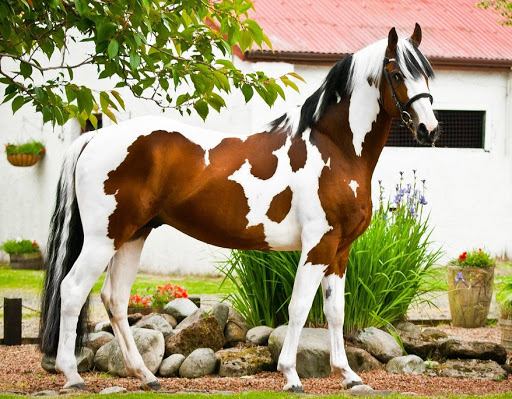 A Bay Tobiano homozygous coloured, Solaris Buenno offers warmblood breeders a rare opportunity to breed from a stallion of colour with an excellent pedigree that includes Wellington, Nimmerdor, Samber, Ekstein and Dottore among many others. Solaris Buenno is a popular choice for breeders, including HM The Queen Elizabeth II who put her own coloured mare Tiger Lilly (formerly competed by Zara Philips.)

Kambarbay Perlino
- Akhal Teke Stallion / Eventing Stallion An Akhal Teke stallion at stud Kambarbay is a horse with the stamina, speed, agility and intelligence to compete in any equestrian discipline, with an excellent jumping technique for show jumping, exquisite movement for dressage and the stamina for eventing.

McJonnas
(Frozen Seman) - Cremello Warmblood Stallion

A Cremello warmblood stallion registered with the Czech warmblood association, McJonnas is a stallion with a unique colouring that helps him stand out from the crowed, MCJonnas competed succesfully as a dressage horse and his progeny all inherit his fantastic temperament and his stunning coat colouring.

Umenno
(Frozen) - KWPN Coloured Warmblood Stallion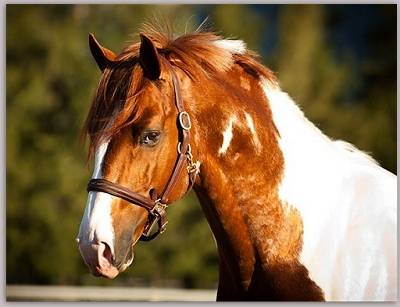 A chestnut Tobiona stallion, Umenno is a powerful mover with a fantastic jumping ability, with a proven competition record with British Showjumping, Umenno is a son of the well known KWPN stallion Wellington his progeny are highly sought after for both breeders of sport horses and coloured horses. Umenno was sold to South Africa but Solaris Sport horses still have frozen semen available for export for countries around Europe.
Solaris Amoureux
- Homozygous Black Dressage Stallion