Side Saddle
Princess Elizabeth wears scarlet tunic of colonel of the Grenadier Guards as she sits side-saddle preparatory to representing King George at the King`s birthday trooping of the colour at London, on June 7, 1951.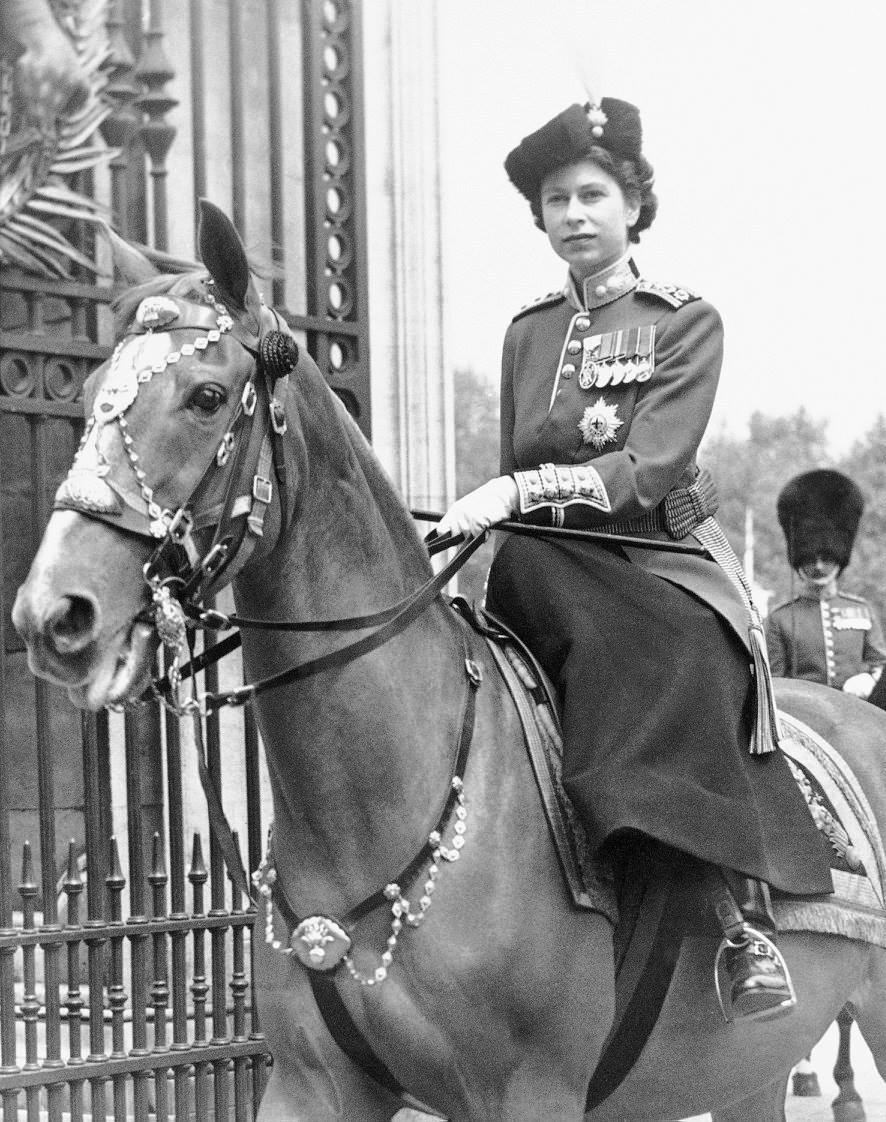 Region 17 Champion Arabian Ladies side-saddle Western with Yvonne Copple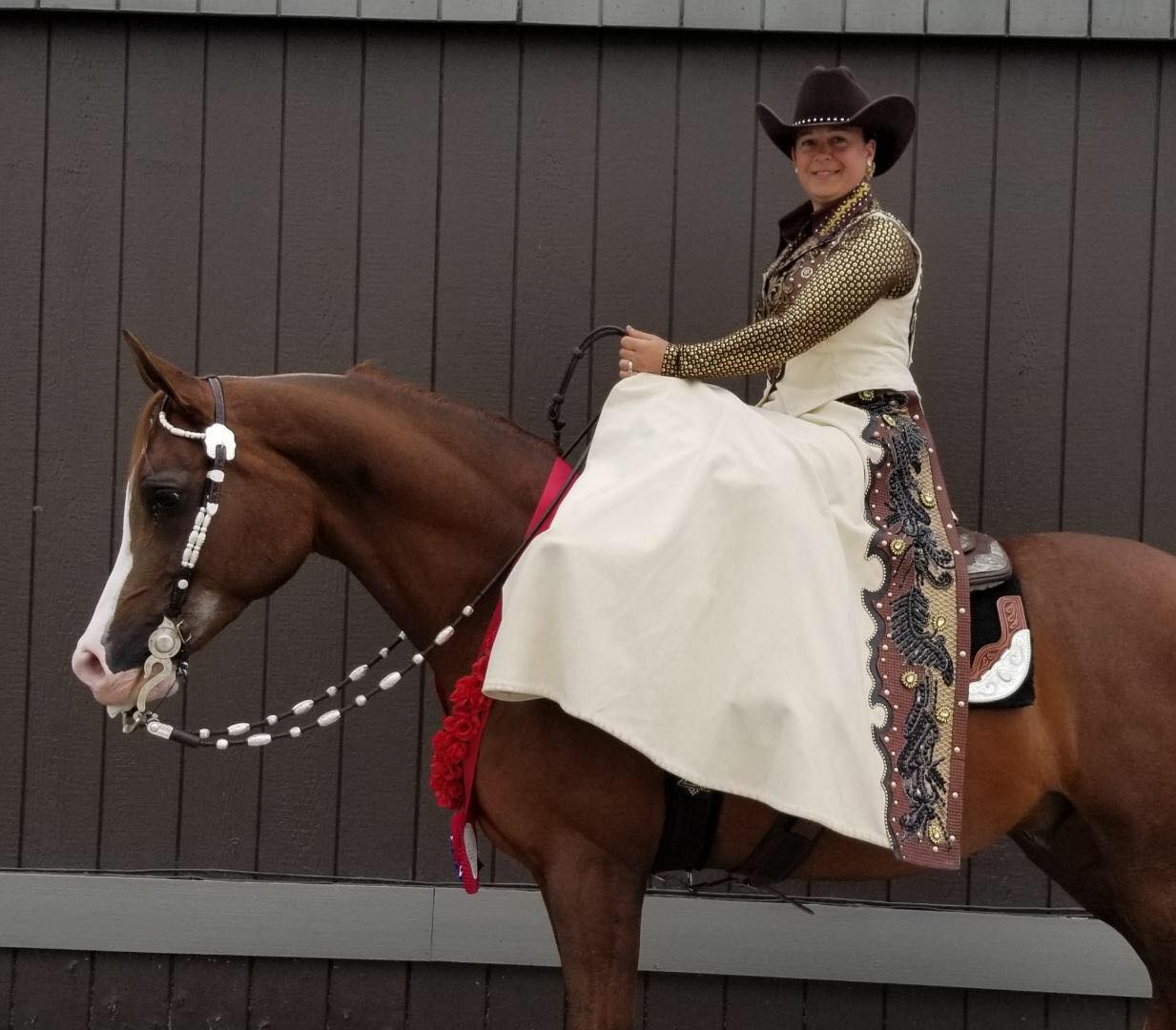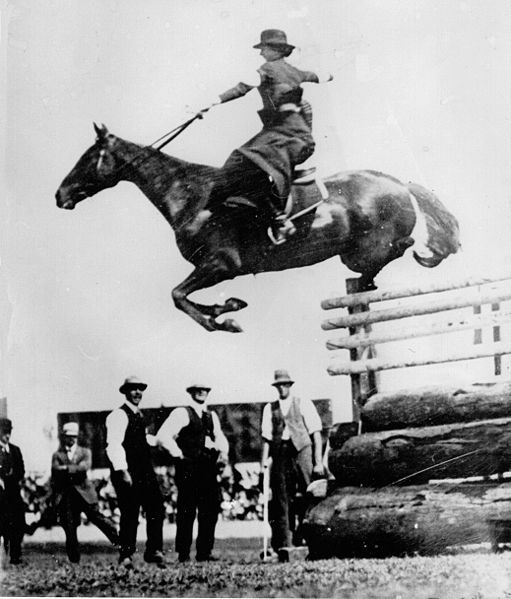 6ft 6in record set by Esther Stace High Jump record set in 1915
Susan Oakes - Side Saddle Puissance World Record - National Horse Sport Arena

ContentAdvert
Grace Kelly
- Riding Side Saddle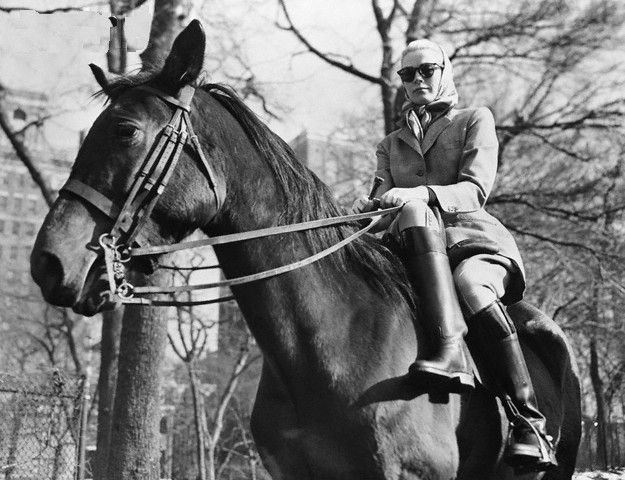 Jayne Ross & Time 2 Reflect
- HOYS Side Saddle Champion
Side Saddle Galloping
- Side Saddle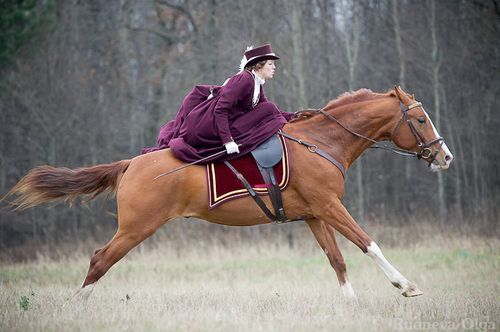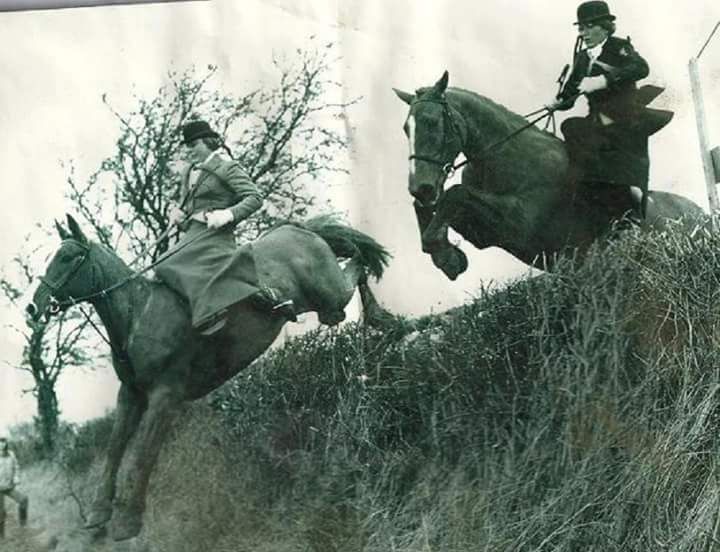 Many actresses have portrayed roles that envolved them riding side saddle on the silver screen, below you can watch Angelina Jolie riding side saddle in the Hollywood blockbuster Tomb Raider, as you can see Angelina Jolie rides her horse side saddle with lots of skill, getting up the speed, covering the ground with ease.
Angelina Jolie rides side saddle for Tomb Raider
Side Saddle Showing Class
- Side Saddle

Sidesaddle Racing at the Calgary Stampede
Below you can watch some dare devil ladies taking part in the Calgary Stampede horse race.
The History Of Side Saddle
The history and development of the Side Saddle is a fascinating study that can be traced back as far as the 9th century. However there is evidence on Greek vases and Celtic sculptured stones that women sometimes rode sitting sideways even earlier than this time.
The first version of the side saddle was a small padded seat. We are not sure when this was used but in the 9th century, a step called a planchette had already been added to the saddle and was used by the Picts and other Celtic people. On one Celtic sculptured stone the woman rider is seen to be riding aggressively and in full control of her horse, not just being carried.
Women probably rode smaller horses under 14 hands, even when sitting sideways and they would exert enough strength to have control, but often they would be led by a servant. This type of side saddle was introduced into England in 1382 by Anne of Bohemia, wife of Richard II. Little by little it was improved upon but in the process it created difficulties for riders that took several centuries to overcome.
15th Century
By the 15th century the padded seat had developed a central horn in the front and signs of a cantle at the back, but still had the foot rest and remained unchanged for 200 years.
Recent writers have suggested that evidence shows Catherine De Medicc may have been the first to have hooked her leg around and over the high pommel (horn) and been facing more or less to the horses head. This was a break through for the rider being in more control of her horse. Catherine loved hunting and rode until her sixtieth year.
16th Century
In 1566 Mary Queen of Scots whilst 6 months pregnant fleeing with Darnley from the Palace of Holyrood, rode pillion behind Lord Erskine though the night to Dunbar Castle, a journey of 25 miles.
Almost all the information we have of ladies riding side saddle comes from paintings by great masters, preserved in art galleries and in private collections. They tend to be ladies of royal blood or of good quality. What happened further down the scale is obscure and left to the imagination. Some were seen riding pillion behind the man.
17th Century
During this century paintings show elaborate bridles, breast plates and saddle clothes on the horses and in the case of Isabella of Bourbon they are gilded and embroidered as is her gown. Queen Christine of Sweden who mounted on a white horse for her official entry into Rome in 1655 was first thought to be riding astride, because although sitting on a side saddle, she was so straight and erect and stiff that she gave that impression.
Ladies would wear the same outfit riding that was worn for everyday wear.
18th Century
By the 18th century the side saddle was in general use, some still having a rail at the side and velvet covered slipper stirrup. About this time women started carrying little whips often made with whale bone and with daintily carved ivory handles more for decoration than for use on the horse.
The Marchioness of Salisbury hunted her own hounds, the "Herlfordskin Hunt" from 1777 to 1812 and Lady Lade in 1799 was present throughout the run of the season that lasted two hours and forty minutes with the royal buck hounds. It was said that women had difficulty riding astride because they had rounded thighs.
19th Century
At the end of the 18th century and part of the 19th century it was unusual for women to follow hounds, although they would often grace their presence suitably attended by a groom.
The invention of the leaping head came about when Thomas Aldaker, Huntsman to the Earl of Buckeley (1788-1820) broke his leg jumping in a side saddle with only the top central horn and having no grip for his left leg. Although Jules Charles Pellier, a French riding master emphatically claimed he invented the leaping horn in Paris in 1830.
Around about 1850 various safety stirrups appeared, replacing the velvet lined slipper stirrup, in turn replacing the planchette (platform).
As late as 1875 the cut back to the trees was introduced enabling the front of the side saddle to be less cumbersome and more flat. Prior to this the saddles were high in front and straight across the horses withers and the rider sat very much on a slope, with quite a dip in the seat.
20th Century
Around the early 1900`s the flat seat came into being with now only two horns enabling the rider to sit straight to the front of the horse and also able to have full control. A lot of balance is required as well in keeping straight and square. Today, the lady side saddle rider can do everything as astride rider can do with equal security, as the side saddle is very secure.
Until 1957 the old establishment firm of Champion & Wilton still existed in Oxford Street, London, where ones every wish pertaining to side saddles could be met and women would go and be measured and fitted for their saddle so they would have a tailor-made saddle.
The side saddle has gone through a lot of changes over many years and lots of courageous men and women have tried their skills at riding in them (and staying in them). Also they have become more of a sport or pleasure to ride in, rather than just a mode of transport from one destination to the next changing from a basket type seat that sat the rider sideways to a flat seat with horns positioned to sit the rider straight to the front of the horse. This later position gave the rider full control of the horse as well as a very secure and firm position, fully able to stay in place if the horse were to buck or rear badly.