Shire Horse Stallion Tom at Equitana
Meet Tom and LianeBe, Tom is an impressive shire horse stallion who have shown themselves at many major equestrian events doing fantastic displays. Below you can watch the pair in action at the Equitana horse show with lots of appreciation from their fans.

Shire Horse Stallions
This website is designed to give mare owners the opportunity to find and choose your stallion more confidently and easily. You can see this site as an online catalogue where you can browse and you can make a decision which stallion to use.
For the stallion owner this is a unique opportunity to show their horse to the whole world. The stallions are sorted by country and color. We would like all Shire stallions from around the world on this site to unite and we need your help with that!
Do you know a Shire stallion at stud, but the owner has no access to the internet, please contact us. It is particularly important for healthy bloodlines that the lesser known stallions are also seen. All approved stallions are welcome: big, small, especially horses that never show.
We also want to promote artificial insemination. If this is done worldwide, breeding new healthy bloodlines is within everyone`s reach.
If you want to advertise your stallion on this page, please email us at stallions@stableexpress.com
Westfield Shire Stud @westfieldshires
- Telephone:01274 675807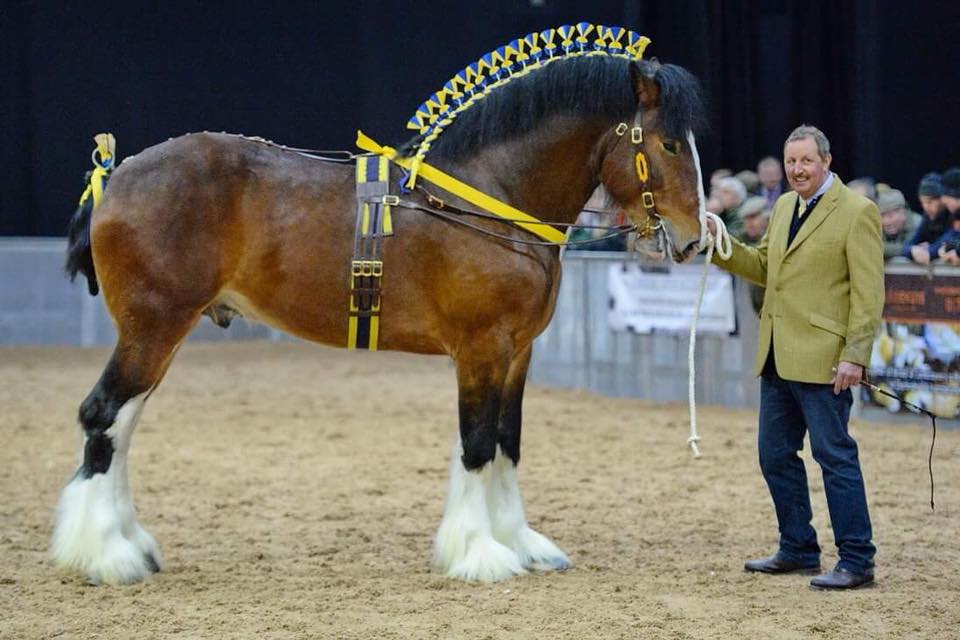 Haras des Chambarans
Located in the heart of the Grenoble, Valence, Lyon triangle, on the edge of the Chambarans forest massif and at the foot of the Vercours, 6 km from the city of Saint Marcellin (IsŤre). The Haras des Chambarans is a family breeding. Our foals are born at home and handled from birth. We establish a special relationship with each one.
Our shire horse bloodlines come from great English lines and are selected for their qualities in order to give size and mobility to their products.
Drayhorse Shires | +61 476 199 826 | https://www.drayhorseshires.com/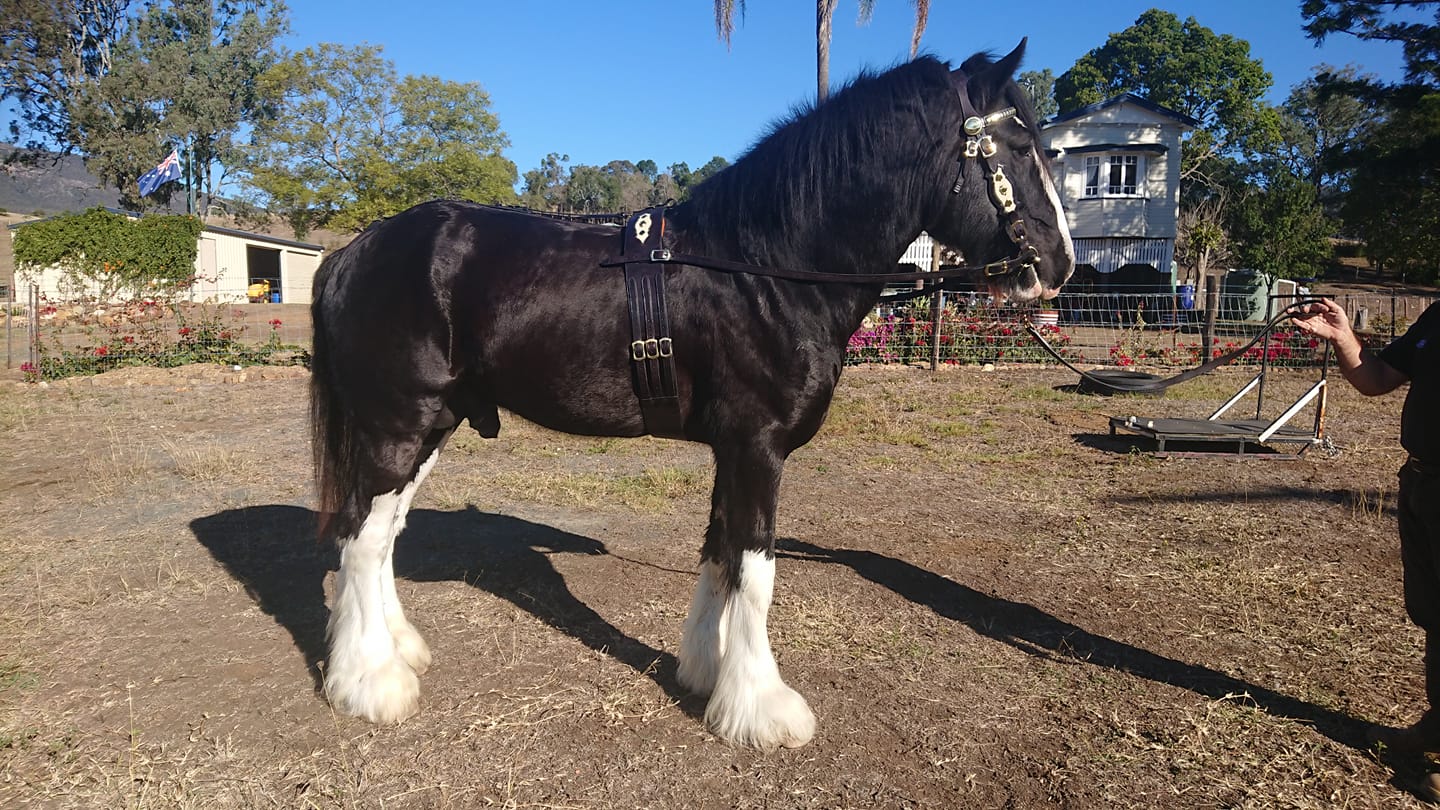 Arclid Shire Horses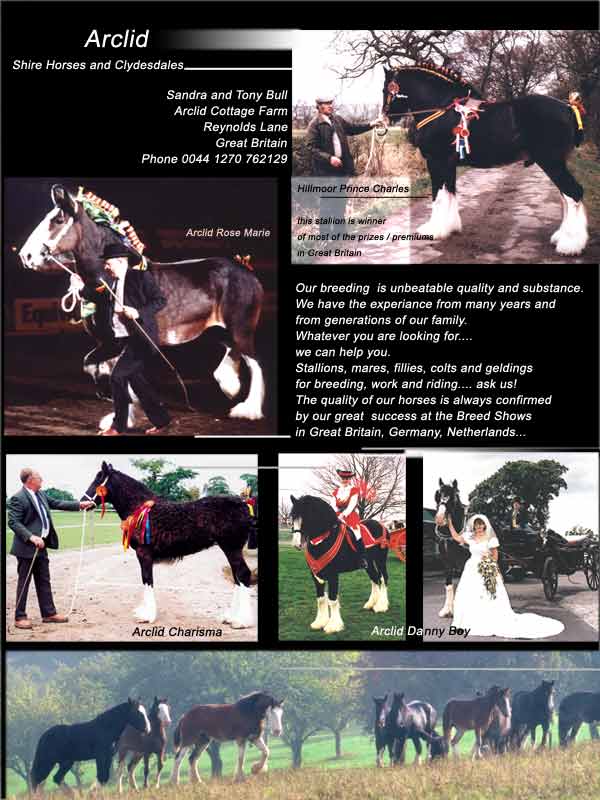 Shire Horses | From War Horse To Draft Horse
The first mention of the ancestors of the Shire seems to have been made almost 2000 years ago in the "Gallic Wars", by none other than Julius Caesar, who referred to the great black horses present in the north of England, and which the Romans then baptized "Equus Magnus".
In the Middle Ages, the first function of the "Great Horse" was initially military, hence the name "war horse".
His powerful conformation naturally designated him to wear the knights and their enormous armor on the battlefields where the knighthood was then the elite corps of armies. The English having learned it the hard way during the disastrous battle of Hastings in 1066 (at the end of which William the Conqueror seized the crown of England), they decided to improve the size, the power, the bravery and skill of their valiant steeds by crossing them with Flemish and Dutch horses.
Throughout the Renaissance and until towards the end of the 16th century, the breed of the "Great Horse" was then protected from any cross which could be unfavorable to it, and the size of its subjects was thus preserved. Towards the end of the 16th century, the advent of artillery changed the military career of these horses, which became workhorses, both in the fields and on the poorly drivable roads of the time, where they were used to pull carts and stagecoaches.
The first half of the 17th century was the turning point in the evolution of the ancestors of the Shire when the Dutch began to clear and drain the "Fens", a marshy region in eastern England. They imported for this purpose horses from Flanders, heavy subjects with slow movements, with large hooves, raised on damp grounds similar to those of the Fens, and as black as the horse of the Frisia (Frisian).
These horses then remained in this region and it is now accepted that they were the main founding strain of the Shire breed. We also stopped talking about the "Great Horse" at this time, which then became the "Old English Black".

Pegasus Shire Horses
It started with, as with most people, that the Shire horse was a girl`s dream. But I could never dream that I would get one. I have always had a weak spot for workhorses Ardenner and Bruksnordsvensk and not to mention Shires. So when I least expected it, I saw an ad in a horse magazine, where it said: Shire foal for sale. We went all the way to RŲnŲ to Gina and Kjell to watch. And there was no more watching. It became a horse purchase almost immediately. I think that was when my partner got his eyes open for the shire. So now I had my first shire horse in 1996, and it turned out at registration that it was the first born shire horse in Sweden, his name was Duke of Winter. We gelded him at the age of 1 because there was no talk of breeding then.
It was now when my boyfriend Magnus started driving and riding (Lord) that We called him that he started to like this with horses. Then there was a lot of the breed itself, many also think it is a big and grandiose breed, and when people pointed this out, Magnus grew. But it was not until we went over to England and went to the Peterbourg Show that it said bang in Magnus. From no horse to now a stallion that he would have.
And it was not long before Fairmead George stood on the farm 1 year and stallion. George and Lord got along really well, they played and had a lot of fun together. But then one day Lord got an eye inflammation that I had trouble getting over, Partly he was 180cm tall and standing on a stool and dripping in eye drops several times a day Was not so easy. So it was time to go to Ulltuna`s animal hospital.
Now let`s draw a long show card. There stands Lord and gets well from his eye inflammation, But instead he dies of constipation, it turned out after an autopsy, Here we are now with a lone stallion who is ready to go to the roof of loneliness. Sad and no desire to have horses after a horse like this, we still have to have company to George. That`s when Titti and Christer told us about Jemma, she was pregnant with our now firstborn foal on this farm Pegasus Amber.
Pegasus Amber
- We thought it sounded good with a pregnant mare, because then we could have them together and George was a bit disciplined as well. I had a little in mind that maybe this foal could be my new favorite horse. And so it became. Today Amber is 3 years old and we have started riding her. She is also at the premiere of the stallion. George we have actually ridden in together and Magnus has ridden him himself. It`s not bad for a guy who was not interested in horses at all from the beginning. Gemma that we bought when she was 10 years old and today is 14 years old, we have managed to ride in. We have not bothered to drive her in because she is our breeding mare.
Redshell Gemma
- During the time she has been with us, she has had 2 foals for Pegasus Windy 2 years and Pegasus Brutus 1 year. someone else. We think he has developed canon well but it is up to the award committee to have his say.
FAIRMEAD GEORGE 2001
We have been lucky with our 2 other shown offspring one year old Windy we got 38p and Amber 2 years we got 39p at the summer premiere in ÷rebro 2002 . (see their own pages) In the same year, we also kept a pedigree book for their mother Gemma with an approved riding test. We did not get any points for Gemma because she was over 12 years old when she was shown and then it is mandatory that you get no points, so now we hope that our colt Pegasus Brutus also gets as good points as his sisters.
This is the Deighton Pegasus Coldstream that we bought in England from P&W Bedford Stud Deighton. He was shown as a 2 year old in the autumn of 2002 and is approved in England. But unfortunately he was not approved here at the count`s farm in March but they WANTED to see him again next year. He was at least in the field this year, but got very good reviews
NORTCLIFF ELSA
- Rebel was probably one of the nicest foals we have had, he was very stallion already as a foal, I hope he has calmed down a bit now. But unfortunately you can not keep everything if you are going to breed. It`s the hardest part to sell. But as long as you know that the animals get a good home, it`s easier.
PEGASUS REBELL
It was father and son who came and wanted to buy a horse. Dad wanted to drive and the son to ride, the son goes to riding high school. in ÷stersund When there are people who come and want to buy and also use them, we think it is very fun, many only have the shire horses To see what we think is wrong. We now have 2 children August 3 years and Viktor 1 year so our time is now short. But we take turns riding and driving but how would we manage without our lovely stable girl Johanna who rides and dressage trainer Jemma and her mother Anette who is with and rides George sometimes. There was little about us there. If you want to know more or just come and look, you can call or us Magnus Karlsson and Katharina Johansson (katarina.johansson-pl6153@telia.com)
We are located north of VšsterŚs about 2.6 miles it is called Gršllsta is located along road 67 on the road to Sala
Magnus Karlsson and Katarina Johansson pl 6153 Gršllsta 73394 Sala tel 0224-24194 it is home mobile number to Magnus: 070-3115311
Katti`s mobile number: 070-4182490