Seabiscuit
| | | |
| --- | --- | --- |
| | | Seabiscuit - An American Legend |
Born in 1933 Seabiscuit was a champion racehorse who`s stories endure`s to this day, a horse of legend he remains a household name with his story depicted in many books and movies over the years including the self titled Hollywood movie that was released in 2003.

In 2003 Hollywood created a feature film biography on the life of this great American horse racing legend, below you can watch the final race from the movie.


Seabiscuit was a small horse standing at only 15hh, although a race horse with lots of talent and speed he didn`t instantaneous become a success on the track in his first 40 race he would have mixed results. But he would soon find the form to become a fan favourite and make him a great American racing legend. Below you can watch the famous race between Seabiscuit and War Admiral where Seabiscuit would beat the Triple crown winner by 4 lengths

Tom Smith was regarded by many to be an unorthodox race horse trained but Seabiscuit was much less lethargic in his new training regime. Seabiscuit was then paired with Canadian jockey Red Pollard. Improvements in results came quickly with numerous wins including the Detroit Governor`s Handicap (worth $5,600) and the Scarsdale Handicap ($7,300) at Empire City Race Track. His winning would continue with numerous wins both on the West coast and East Coast racing circuits and would become a fan favourite. In 1937 Seabiscuit would become the leading money winner in the USA including victory in the prestigious Triple Crown.

In 1938 Red Pollard suffered a terrible fall on Fair Knightess who fell on the Canadian jockey and caved in his chest ruling him out of riding Seabiscuit. He settled on jockey George Woolf, their first race together was the prestigious race The Hundred Grander, drawn on the outside the pair had a poor star and were several lengths back before managing to grab the need, unfortunately was pipped at the post by Stagehand after a photo finish.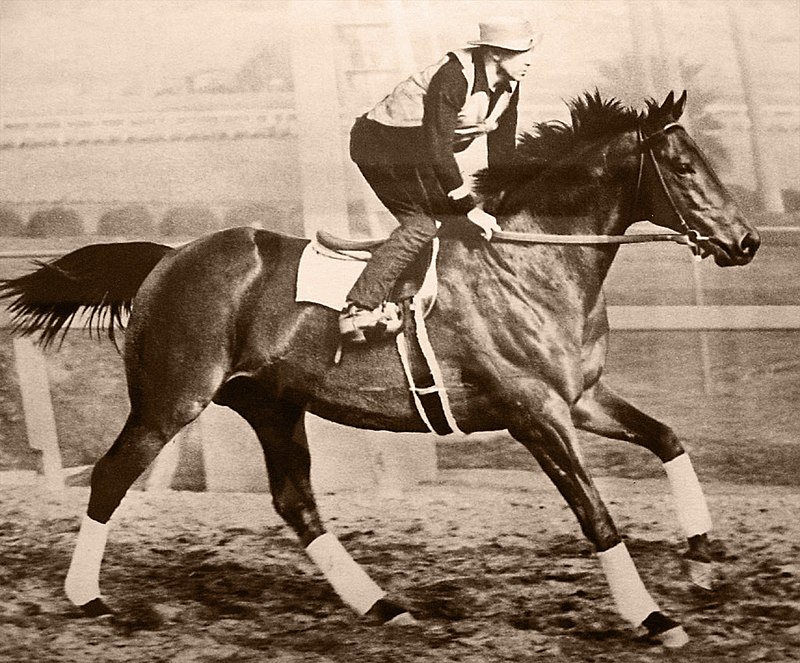 Seabiscuit would take part in a number of high profile match races these would include War Admiral and Ligaroti, these races would capture the publics imagination and love for Seabiscuit who would beat both Ligaroti and War Admiral.

Seabiscuit would suffer an injury with a ruptured suspensory ligament, it was thought he would not race again and would cover a number of mare`s. Red Pollard who had suffered another injury breaking his leg was on the road to recovery and him along with Seabiscuit worked hard to get back to the race track. in the winter of 1939 is was judged that Seabiscuit was fit enough to race again but Red fitness was in doubt, but he convinced trainer Smith he was fit to be reunited with Seabiscuit. Their first race back was La Jolla Handicap at Santa Anita, with them finishing in third place, the comeback trail would continue and by the third race they were back to the winning ways.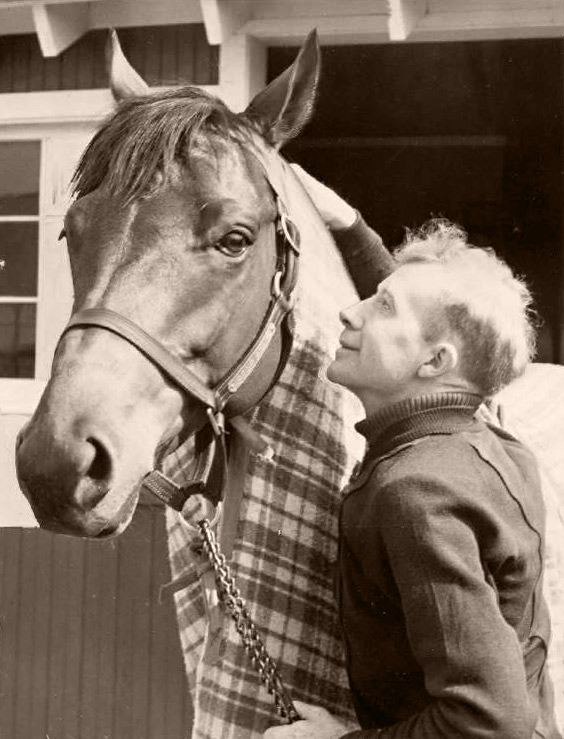 The last race of the year was the Santa Anita Handicap and its $121,000 prize, the one race that had eluded Seabiscuit. He would again have a poor start to the race and have to pick his way through the packed field, traped in third place Red would steer Seabiscuit to the outside of the track and rely on the speed of Seabiscuit, racing past Wedding Call and Whichcee to the cheers of the 78,000 race lovers.

He was retired in 1940 and put out to stud, he would sire 108 foals, he would pass away in 1947 at the age of 14, but his legacy continues through his descendent`s`s and the memories left by his many victories. Below you can watch the trailer of the Hollywood biographical feature film based on the life of Seabiscuit