Reining Horses
Looking for information on the champion reining horses, or possibly looking for a reining horse for sale, browse through Stable Express online reining horse website.
| | | |
| --- | --- | --- |
| | | Reining |
Lil Joe Cash - AQHA Reining World Champion

| | | |
| --- | --- | --- |
| | | Reining |

Are you a reining rider, breeder or seller of reining horses, add yourself to Stable Express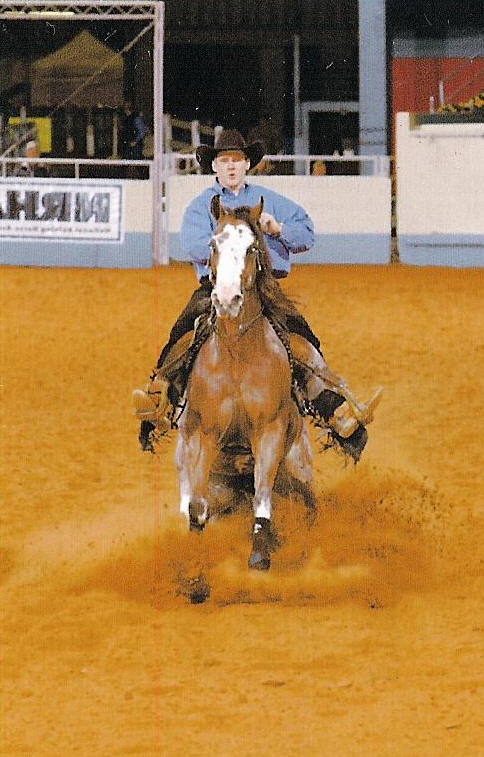 Paint Reining Horses
5447 Zion Hill Road, Weatherford, Texas 76088, Telephone : 817 594-1325, Email : gkklilley@msn.com #Reining Horses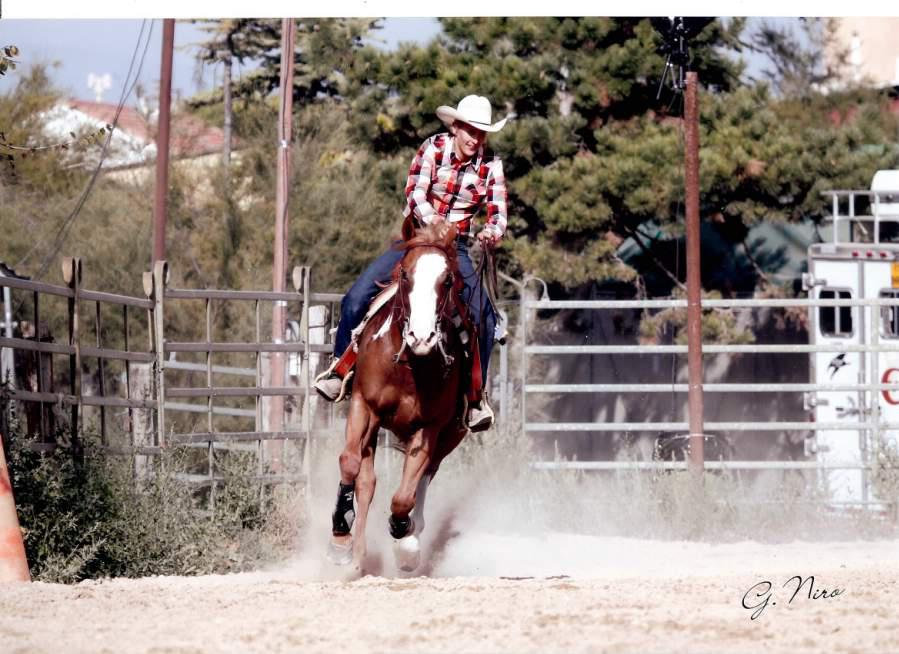 Titan Texan
Paint Horse Stallion, bay overo born in 1995 (Titans Crown x Real Doc`s Peppy), yves.fromont@fromont-briens.com Tel: (00 33) 04.78.62.15.00 - Fax: (00 33) 04.78.62.15.99 #Reining Horses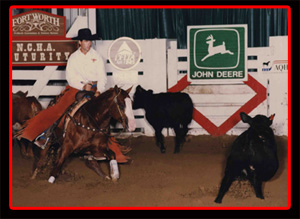 Jim McCutcheon - Quarter Horses
Jim McCutcheon Quarter Horses, Inc. 227 CR 386, Valley View, Texas 76272 / Call : 940-665-3980 #Reining Horses


Reining Creek Ranch - Western Horses
Breeding quality Quarter Horses & Paints for Cutting, Reining and Working. Reining Creek Ranch 1621 CR 269 Leander, TX 78641, Joy@ReiningCreek.Com, telephone : 512-260-2878 #Reining Horses

What is Reining?
Event difficult to describe in fact. It is one of the most common events in the United States and the most awarded. It is a test which takes place at a gallop on a prescribed course. It makes it possible to judge the balance, flexibility, calm, availability and voluntary character of the horse.
This course is made up of spins, change of foot, roll-backs, sliding-stops, and backslides. The most famous event in the United States => Futurity! Very promising young horses.
THE FIGURES
- The spin
The spin is a rapid pirouette on the hips, or a rapid pivot on several turns to the right or to the left. Figure very complex to achieve, start in front of the judges, finish in front of the judges as straight as possible...
- The change of foot
The change of foot takes place in the middle of the career by changing direction. As you know, the horse gallops on one foot to the right while making a circle to the right and vice versa (anterior and posterior further forward.) It tests the horse`s balance. The judges note the discretion of the rider`s helpers (valid for all figures), and the execution made by the horse.
- The roll-back
The roll-back is a very fast half-turn on the hips with an immediate start at a gallop if possible on the right foot. It is generally preceded by a sliding-stop.
- The sliding-stop
The sliding-stop is a stop slipped over several meters. You must first start a good gallop. The judges note the straightest and most parallel possible route as well as the position of the horse and the action of the rider. Very impressive and much appreciated figure!
CUTTING
Cutting is a test taking place with cows. So you need a very well trained horse. The horse must prevent the calf or cow from joining the herd behind it. And a superb work is then established by the horse itself, the rider simply hangs on.
France is unfortunately a little weak on this kind of discipline because obviously it is very difficult to have cows at home ... Nevertheless here is 1 address where you can find some if you feel like it.
THE PLEASURE
The Pleasure is a very complex event due to its technique. It takes a lot of work. To obtain a very good result, you are a winner by choosing a horse descended from a good line of pleasure.
The pleasure is a test judging all the gaits of the horse and the most discreet aids of the rider. Everything is in the gathering which will give the impetus to your horse and obtain very rhythmic and very slow gaits. You have the impression that your horse is treading water.
THE TRAIL
The trail is a course made up of various obstacles such as bars on the ground or even raised, doors, cans, boards, obstacles that you could find on a walk ...
The goal is to overcome all these obstacles according to the rules imposed on them. each route. The horse must be very manoeuvrable, very mobile and must respond calmly with discreet aids. He will be required to perform side steps, "L" backsliding, pivoting on the forelegs or hindquarters, a whole bunch of manoeuvres in order to prove the horse`s good training.
BARREL RACING
Barrel Racing is a timed speed test around a "clover" made up of cans. It is loved by all people in general, as the speed of the horses is impressive, and the event in itself fun. However, it requires a lot of effort from the horse, and a very good attitude from the rider !! The work of a Barrel horse is special because we ask the horse to wrap itself around the container at very high speed, it must be flexible and under orders. The reins are closed and not independent, short. In the United States, this ordeal is mainly passed by women.

Wim Schroeder - Holland - Showjumping Rider / Horses competed by Wim Schroeder include Montreal, Arthos S, Beau Rubertha R & Winterberg B.…
Read More
Reining Horse Champion
JESSOLUTION
@Veronika`s horses - 2009 AQHA stallion, sired by Einsteins Revolution (has Offspring that have won in excess of $900,000). Dam, Miss Jessie Jac HYD has Offspring that have won in excess of $25,000
Show Record
Palomino World Champion, NRHA Open Bronze Trophy winner, PHBA Jr Reining World Champion, NRHA Lifetime Earnings over $3,500, AQHA Register Of Merit in Open Reining and Open Ranch Horse Pleasure, WTRHA Novice Horse Open year end Champion, AQHA High Point Open All Around Trophy Champion, 5 panel tested with negative results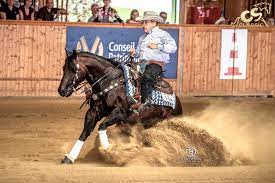 Paint Reining Horses
Select paint reining horses. Specializing in well bred performing mares. We prepare a few nice fillies to show in the non-pro aged events (futurities and derbies) each year. We wish we could keep them all but its just not possible so occasionally we offer some really super individuals for sale. Be sure to check out our cyber sale barn. We just might have your dream horse waiting.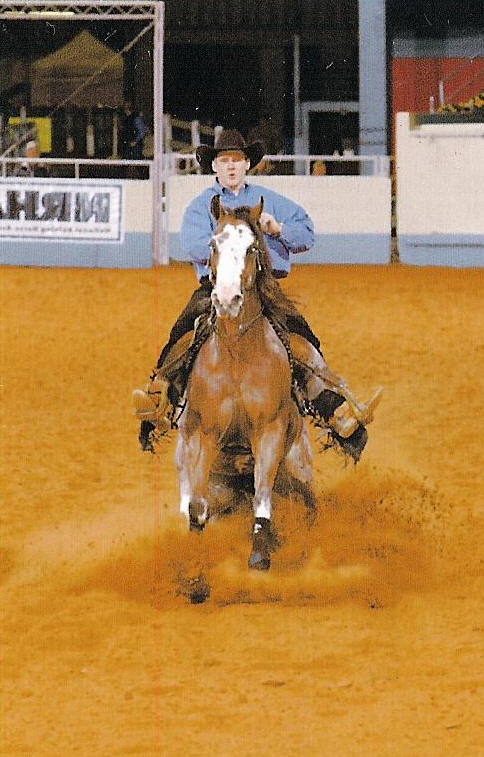 RR Star - Reining Stallion
Champion Reining Stallion, RR Star. RR Star is the NRHA Futurity and NRHA Derby Champion, as well as the highest money earning reining stallion of all time.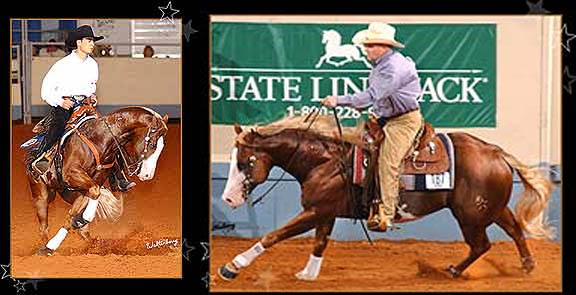 RR Star is a 1998 Sorrel Overo Paint stallion with a flaxen mane and tail. He is owned by Richard and Rose Lundin of Lundin Farms.
This superstar athlete began his show career with Andrea Fappani in 2001. That year RR Star made history when he won the NRHA Open Futurity out of 445 entries-making him the only paint horse to ever do so. RR Star and Andrea also won the second go of the NRHA Futurity as well. All in all, the duo earned over $151,800 during the 2001 Futurity.
In 2002, RR Star returned to the show pen, making both the National Reining Breeders Cup Finals and NRHA Derby Finals with Andrea. Then in 2003, RR Star continued his illustrious career with Todd Bergen, making the NRBC finals yet again.
However, it was at the 2003 NRHA Derby in Oklahoma that RR Star again made history-this time with another history maker in the saddle. After only 3 weeks together, NRHA million dollar trainer Tim McQuay rode RR Star to the NRHA Derby Championship. This made RR Star the only horse to ever win both the NRHA Open Futurity and the NRHA Open Derby Championships. The Derby win also added another $50,000 to RR Star`s earnings. With over $222,750 in lifetime earnings, RR Star is now the all time highest money earning Paint horse in the NRHA, and the highest money earning stallion in the NRHA.
RR Star was bred by Richard and Rose Lundin of Lundin Farm. Lundin Farm is located in Del Norte, Colorado.
RR Star will stand the breeding season at McQuay Stables in Tioga, Texas for a fee of $3,500.
RR Star is not only one of the most dynamic and talented reining horses to ever grace a show pen, he also has the breeding to back it up. With a pedigree that reads like a who`s who of the reining, cutting, and cowhorse industries, RR Star is destined to be a top producing sire himself. Listed below are some of the great performance horses of our time that make up both sides of his lineage.
Like A Diamond
- Like A Diamond is a sorrel overo stallion, and the 1996 APHA World Champion Junior Cutting Horse. Like A Diamond also was a 1996 NCHA Super Stakes Finalist and has earned 23 APHA points in limited competition. With a limited number of colts on the ground, Like A Diamond is proving to sire top winners, including RR Star, the NRHA Open Futurity and Derby Champion, and Ifitaintgothatswing, 2001 PCCHA Open Futurity Champion, Cutting at Tejon Futurity Open Champion, and earner of over $50,000. Like A Diamond is sired by the legendary Grays Starlight
Grays Starlight
- Even after his untimely death in 2002, Grays Starlight continues to be one of the hottest sires in the performance horse industry. Grays Starlight had NCHA earnings himself of over $41,000, and has sired earners in excess of $7.7 Million in the reining, cutting and cowhorse industries. Grays Starlight is sired by the legendary sire Peppy San Badger, who earned $172,710 in cutting events, was inducted into the NCHA Hall of Fame, and is the #2 Leading Lifetime NCHA Sire and the #19 Leading Lifetime NRHA Sire.
Paternal Granddam: Diamond Jewel Wood
Diamond Jewel Wood is the matriarch of a long dynasty of superstar paint horses. In 1978, this mare was a top performer herself, winning the 1978 CRCHA Snaffle Bit Futurity Non Pro Championship, the 1978 CRCHA Snaffle Bit Futurity Ladies Championship, and was a Open finalist at the 1978 CRCHA Snaffle Bit Futurity as well. In 1979 she was crowned the APHA National Champion in Jr Cutting. But it was as a dam that Diamond Jewel Wood really sparkled. She is the dam of earners of over $160,000 including Like A Diamond-APHA World Champion; Diamond Sting- NCHA earner of over $22,000; Montana Diamond- APHA Sr Cutting World Champion and earner of $141,000; Tulsa Shuffle-earner of over $40,000 in NCHA events; Juana Twinkle- earner of over $32,000 and the APHA World Cutting Champion; Red Rocker-earner of over $17,000 in NCHA events; Lil Southern Grace-earner of over $26,000 in NCHA; and Too Rich For Me-earner of over $26,000 in NCHA and NRCHA events. Diamond Jewel Wood is sired by Diamond Jim, earner of 23 Halter and 5 Performance points, and the sire of 47 offspring with show records.
Dam: RL Miss Kitty
- RL Miss Kitty, the dam of RR Star, was a top performer herself. With Ted Robinson in the saddle, this mare excelled in cowhorse competition, winning several major titles. Included in those titles is the NRCHA Novice Horse Championship in 1996. RL Miss Kitty is sired by top cutting, reining, and cowhorse sire, NU Cash
Maternal Grandsire: NU Cash
- NU Cash, the sire of RL Miss Kitty, is a 1984 sorrel stallion with earnings in NCHA and NRCHA of over $100,000. NU Cash was the 1987 NRCHA Open Snaffle Bit Futurity Champion, and was shown to 3 Championships by Robinson. After his show career, NU Cash proved to be an outstanding sire, as evidenced by his current ranking as the #1 Leading Lifetime NRCHA. He also is a top ranking sire in both the NRHA and the NCHA, siring finalists or champions at NRHA, NCHA, and NRCHA futurities, as well as at the AQHA World Show. NU Cash is sired by one of the top performance horse sires, Colonel Freckles, who was the 1976 NCHA Futurity Champion, and is a lifetime leading sire in NRHA, NCHA, and NRCHA events. NU Cash is out of Nu Rendition, the dam of 3 other performers in NCHA events.
Maternal Granddam: Smokes Jinx
- Smokes Jinx, the dam of RL Miss Kitty and granddam to RR Star, was also a performer. She competed in NRCHA and NCHA competition, and has several cutting wins to her credit.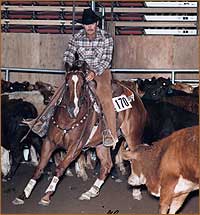 Titan Texan
Titan Texan, an exceptional stallion is a guarantee for your breeding to which he will bring his genetic potential and his recognized qualities: model, performance, mentality. He has an exceptional style and gait which makes him a complete western horse.
Titan Texan is the most successful Paint in Europe in Reining. Today it is considered to be the biggest Reining paint in Europe.
Son and grandson… of champions totaling multiple titles: ROM, Superior, World Champion… in Reining (Miss Amigo, Adios Amigos…), Cutting (Real Doc, Genuine Doc, Peppy`s Desire, Gay Bar`s Gen, Peppy San,…) , Western Pleasure (Titans Crown, Triple`s Titan,…), Halter (Titans Crown, Triple`s Image…) Trail (Titans Crown…)
Many of his ancestors have sired champions in Halter and Performance and among them some are at the origin of the best lines of QH and PH.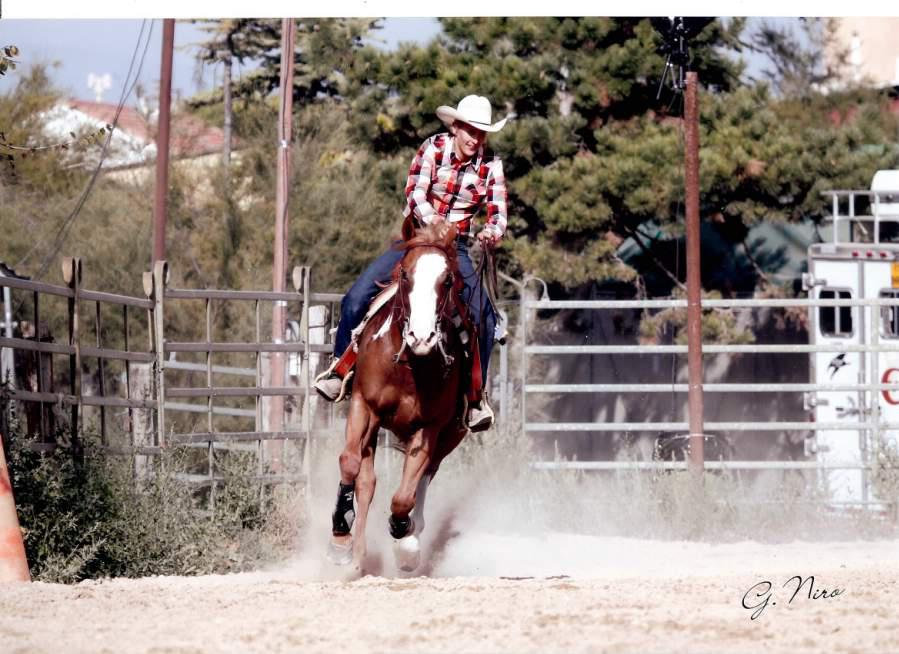 Titan`s achievements:
1999:

Intermediate Open reining 2x finalist - Okhlahoma City
Intermediate Open Reining Finalist - Ardmore USA

 

2000:

NRHA Limited Open Champion –Gelita Breeders Futurity
NRHA Open Morisso Bronze 3 rd - Niort

NRHA Open Bronze Trophy Finalist - Bremen

NRHA Open Lawson Bronze Finalist - Weikersdorf Austria

NRHA Limited Open Champion - The Belgian Open

NRHA Open Morrison Champion - The Belgian Open

NRHA Open Lawson Bronze Finalist W Slide In - Germany
NRHA Open Bronze Trophy Champion Numbrech - Germany

NRHA Open Jackpot Reining Champion Numbrech - Germany

APHA Senior Reining 2x Champion - Weikersdorf Austria

 

2001:

Worl   World Open Cup Reining Champion - Vatterstetten Germany

NRHA Open Lawson Bronze Champion - Weikersdorf Austria

NRHA Open Champion -  Germany Open Reining 6 th Equitana

 

2002:

NRHA Open Champion - Mourmelon

NRH   NRHA Non Pro Champion - Mourmelon

APHA Non Pro Reining Champion - International Paint  Germany

APHA Open Senior Reining Finalist - International Paint 
Germany

No Pro France Champion

 

2003:

Fren French Team Crio - Reggio Emilia Non Pro France Champion

Non Pro Reining Finalist European Championship -  Germany

 

2004 :

Intermediate Non Pro Champion - World Reining Trophy  
Mooslargue  

Non Pro Nrha of France Champion, 
Non Pro Nrha USA Champion, 
FFE Master finalist, 
Limited Open Champion - Nancy (August)
yves.fromont@fromont-briens.com Tel: (00 33) 04.78.62.15.00 - Fax: (00 33) 04.78.62.15.99