Reg. Blue Roan Brabant Belgian at Stud
| | | |
| --- | --- | --- |
| | | Reg Blue Roan Brabant Belgian at Stallion at Stud |
Milkwood Terrys Blue Blue is an awesome man. He has a great temperament, and sweet personality. He stands about 16.2 and goes about 1850 lbs. He is small enough to make awesome halfbreds.

We offer many different ways of breeding. We have stopped live cover, due to the dangers to all involved with breeding. However, we can still do limited mare care and AI here on the farm, or up at a breeding facility. Because we are just getting into the Frozen semen, it is priced by the straw, at this time we are offering a deal on the straws, until we have a mare pregnant by them. After confirmed pregnancy, price will increase quite a bit. Email me for more details, laceylne@gte.net.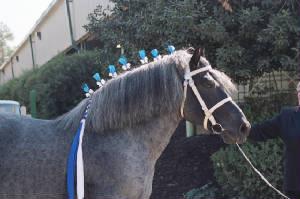 He is true blue roan with black mane and tail, and black legs. He does have a white spot under all his mane in the forehead, and has white on both pasturns on his hind legs.

Blue has 30 babies on the ground as of 2007. We have an almost 5 yr old filly and she is awesome. We also have her full 6 month old sister. She`s gonna be sweet too. Not quite a match, but both blue roans.

Blue throws roan babies, Blue, Black, Bay, Strawberry, blonde, a really cool color of dun, all roans, but not necessarily blue.

Blue was a farm horse in up state NY, and doesn`t know a lot about being a fancy horse. He had never seen running water, a hose, fly-spray, none of that kind of stuff. He had a stream in his field, and in the mountains of up state NY, you don`t have a lot of bugs and stuff like that. Since then, he now gets baths, has been to fancy places to be collected for frozen semen. He enjoyed that a lot. :o)

He has been to Va. Draft and Mule Show in 06, was Res. Grand Champ stallion, Went to Va. state fair, 07, Won his halter class, was Sr. champ Belgian Stud, and Grand Champ Draft Stallion, Went to NC state fair, he was 3rd there, he refused to trot for the judge. He was tired. But they were from Belgian and France, and asked if they could take a card with his picture on it back to their countries, Blue went international. :o) He has come along way, and we are very proud of him.

Heavy Horse stallions at stud.
GHRA ALL ROUND CHAMPION OF CHAMPIONS - Gypsy Stallion At Stud Cielo Celeste Farm, Santa Ynez, California 93460, Phone 805 6888020, URL: https://www.cielocelestefarm.com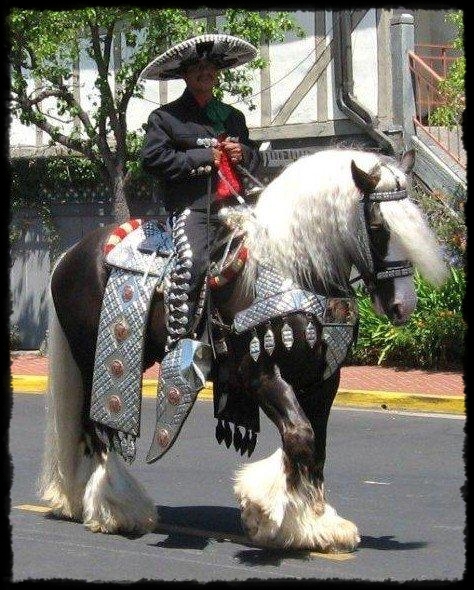 We offer LIVE COLOR FOAL GUARANTEE...wE OFFER 40% OFF REGULAR FEE.. 50% off IF YOU BOOK two breedings..ST CLARINS WON THE HIGHEST HONOR OF THE GHRA WORLD SHOW AT FORT WORTH, TEXAS. HE WON WESTERN PLEASURE-ENGLISH PLEASURE-STALLION AT HALTER-SOLID STALLION AT HALTER-AGED STALLIONS-CHAMPION OF CHAMPIONs OF THE SHOW. LIVE COLOR FOAL GUARANTEE, means, we will give a free breedback to your mare IF you do not get a foal with the SILVER dapple gene when breeding to a EE/Ee pinto or black. Dr Phillip Sponenberg, the foremost color genetics expert, has selected St Clarins from all breeds as the representative of the chocolate silver dapple horse! We have had top quality silver dapple foals by St. Clarins in 2007-08-09-10 from palomino and b/w gypsys and draft mares! we offer discount to all non-gypsy breeds!

St Clarins is by popular opinion the most athletic and stunning silver dapple standing in the US as of now. conformation is perfection and his motion unbeatable. His DNA-EE for black-nn for lethel white-nn for cream-Zn for silver dapple-aa for agouti nn for pearl. We will be exibiting him nationwide. His semen has shipped east to west coast and settled on first go-round. Watch for his face and form on many calendars and magazines. He has had covers on Ride Magazine-March-cover of Color Issue-California Horsetrader-Horseman`s News- Equine Journal etc.. There is NONE as beautiful or stylish. Multiple mare discounts.

OWN SON OF FW CHAMPION OF CHAMPIONS
Cielo Celeste Farm, Santa Ynez, California 93460, Phone 805 6888020, URL: https://www.cielocelestefarm.com = Sir Keith, has the tounges wagging. His color by is SMOKEY BLACK SILVER DAPPLE, he carries the creme gene as well as the silver dapple, standing @ 14h3 1/2". He should finish his height at 15hh". He is not only one of the most perfectly conformed stallions in the gypsy world and out of top heritage, but has the best DNA for color posibilities . He can not only create silver dapple, but palomino, buckskin and the list goes on with the DNA of each mare & luck creating the color call. He carries Z-CR-Ee and aa a dorsal stripe and belly spot. His semen count is amazing 85% at collection 75% @ 24hours and 65% a@ 48 hours. WE SHIP SEMEN. His dam, stunning palomino, Saffron, is 14h2" and his sire St Clarins 15h 1 1/2".
SHANDOR-SON OF WORLD REKNOWN CHANCE DU VALLON
Cielo Celeste Farm, Santa Ynez, California 93460, Phone 805 6888020, URL: https://www.cielocelestefarm.com
SHANDOR is new to the public venue. he has been living on an island at orcas Island gypsy horses and has not stood to the outside public. We will be promoting him and he will become a great star. there are not many chestnut gypsy stallions with his grace, size, motion and presense. His sire is the world re-known french gypsy stallion, Chance du Vallon-and his dam a dressage champion mare, Leann! Do not miss out one this opportunity to breed such high quality and fresh blood to USA.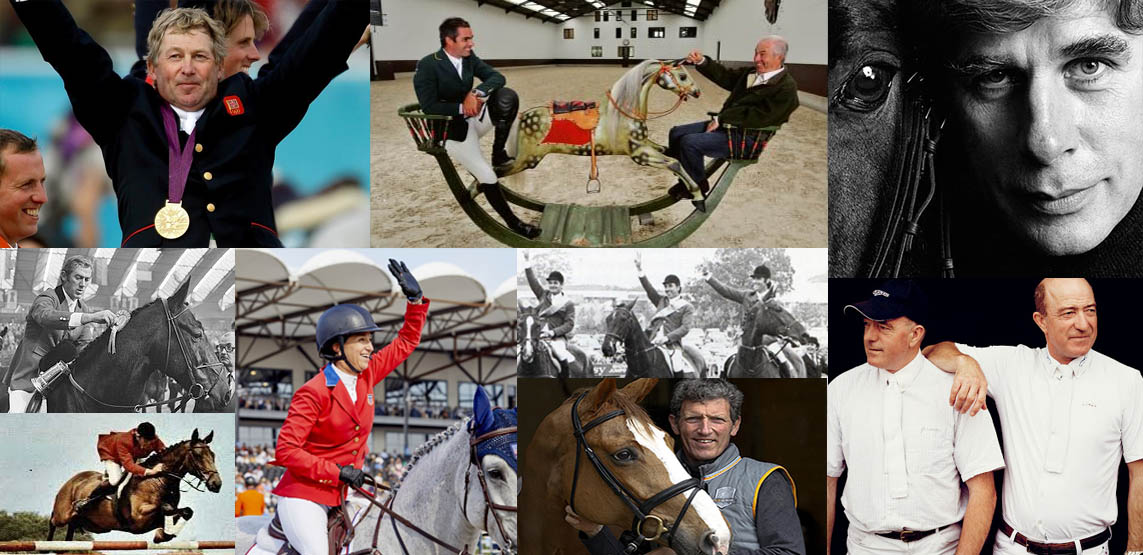 We would love to hear from you on your opinion of the top showjumping rider of all time / Showjumping rider database, browse through huge database of riders past and present, watch video`s of your favourite showjumping horses…
Read More