Pure Spanish Homozygous Black Stallion - REGALIZ
Axis/Ingrato x Samba 3, 1996 Pure Spanish homozygous black stallion / Sire of USDF and Breed Ring Champions!
Regaliz is a superb example of correct, compact Spanish type possessing balance and harmony. He has the bone, substance, movement, nature and noble bearing that have made the Andalusian `The Horse of Kings`.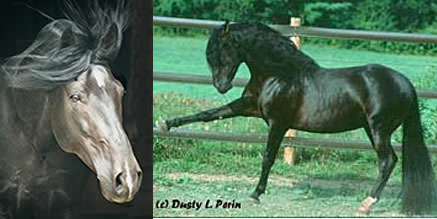 Regaliz is as kind and gentle as he is beautiful and his easy going temperament makes him such a joy to have in the barn.
Regaliz is gaining incredible popularity for the quality of offspring he throws. Two purebred foals were 1st place USDF Sport Horse All Breed Year End winners in 2003, and two more in 2004. Several have won breed ring championships as well.
His foals are all stunning movers and lookers with quiet temperaments and charming character. His prepotency is obvious and he consistently throws short backs, round baroque form, well set necks, great bone and substance, friendly commonsense temperaments, and especially his powerful haunches with their thrust, collection, lateral agility and weight carrying abilities. So consistent is his get that spotting them is quite easy when you see those hind ends in action.
DIEGO MC - Pure Spanish Chestnut Sabino Stallion
This flashy colt was bought at 3 months old as the perfect match to my Regaliz daughters. He is a different type from Regaliz & they balance each other`s strengths beautifully.

Diego is a longer, leggier more sport horse type of Andalusian and has those qualities which make for an excellent performance horse. Diego`s long hook neck, long powerful shoulder and massive hip make him a real athlete. He has a flowing round way of going is very light and elegant on his feet.
This combined with his teddy bear nature make him a tremendously exciting young stallion! He already knows many tricks and loves to be trained and works hard. His quick mind and flexible, supple physique make for a really fun and rewarding horse to work with. Diego will complement mares of any breed that need to add longer lines, uphill build, fluidity and grace. Diego`s first foal hit the ground in 2004 and she is such a stunner anyone who walks in the barn simply stops dead and stares at her! See Maddalena
Maddy did extremely well on the open USDF/DSHB circuit in 2004 and sold very quickly. She was the 1st place USDF All Breed award winner in Weanling Fillies for 2004 and ranked 10th in the Nation for weanling Fillies. We are really looking forward to future foals from Diego and watch him fulfill his promise in performance and breeding. The icing on the cake is Diego`s extremely rare chestnut sabino coloring, making him a real color asset as well!
Andalusian Stallions & Colts For Sale
Currently we have the following stallions and colts for review and purchase. Please check back as our stock and our prices are subject to change without notice.
DON CARLOS
- Regaliz x Costosa - grey colt
A full sibling to Manrico! This colt is already showing exquisite conformation and presence. His head is sculpted and refined, neck set is high and arched, legs perfectly straight, good withers and short back.
He is very intelligent and will be a top notch show horse for the serious competitor. IALHA Futurity nominated, eligible for the NEDA Dressage Futurity.
$10,000
RAMIRO
- Regaliz x Esmeralda MC - black colt - SOLD
DNA is Eeaa, black, can throw red.
Here he is Emme`s first foal! What a charming and engaging little boy. "Sammy" has three white socks, a big star and a little snip. He follows humans around already and comes running when we ride out in the golf cart. He is so happy and fun to be around, he just radiates joy. His head is beautifully shaped and so pretty. Sammy has the most incredible movement.
He has all the elements of a Spanish horse: elevation, lift, extension. His gaits are so light and springy he barely touches the ground when he trots. Still so young, as he matures and fills out his gaits should only get bigger! What a stunner.
Futurity nominated in the IALHA and eligible for NEDA futurity.
MASETTO
- Diego MC x Operista MC - bay colt. DNA is EeAa, bay, can throw black & red.
Diego`s first son and looks just like him. This colt promises to be tall, 16H+, and have the long graceful legs and neck of his sire. He has a very laid back shoulder and good angle to the hip.
Eddie`s temperament is uncomplicated, easy going and relaxed. He loves his lessons and is a quick learner. He should be a great performance horse with his easy temperament and hard working nature.
His movement is perfectly straight with the ability to lengthen and collect. Uses that exquisite neck of his to balance and adjust his frame.
Very steady, even and rhythmical. Not extreme in any one direction, adjustable and a light easy ride with enough power to be impressive.
Great dressage prospect, could also do some jumping or eventing.
Futurity nominated in the IALHA and eligible for NEDA futurity.
$12,000
MANRICO - PUREBRED ANDALUSIAN
Costosa x Regaliz - grey colt
A grandson of Olympic dressage horse Aureolo VII!
Futurity nominated and current on payments
1st Place USDF All Breed Awards Colts & Geldings of 2003
Manrico is the perfect blend of both his parents talents. The cadence, suspension, extension and drive from his dam and the collection, agility, roundness and temperament from his sire. You have to see him to believe just how amazing he can move.
His proud head carriage and bearing make this colt a real stunner. Manrico possesses an arrogance and intelligence that captivates. His exotic look and long thick hair make him a natural for those wanting a flashy exhibition or performance horse. He has talent enough for upper level dressage work and the drive to take him there.
$15,000
ESCORIAL- HALF-ANDALUSIAN
- 1997 Andalusian/Saddlebred cross gelding / 14.3 hands.
Trick Trained Driving Pony!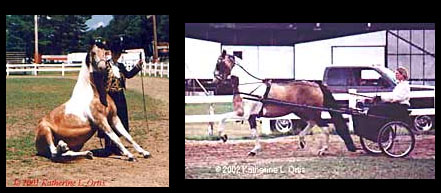 Escorial is a buckskin pinto with a mane past his shoulders and a tail that drags almost three feet on the ground. He is fully trick trained and has performed all over the country.
His tricks include: bow on each knee, kneel, camel stretch, circus bow, lay down, sit, rear, hind leg walk, jambette, turns on the forehand and then hind end while on the pedestal, says `yes` and `no, blows kisses, does the corkscrew, etc, etc! He is also liberty trained and does all the usual ring moves such as changes, come to center, he also waltzes BOTH directions, Spanish walks along the rail, halt and back on command, etc.
Escorial also drives beautifully and loves it. He just started learning all his moves in harness and currently can Spanish walk and bow in harness using an open bridle. He is very quiet in public and is a show ring trooper. He has been doing performances since he was two. He goes in parades and will hind leg walk all along route! He has also shown quite a bit and has wins/ Top Fives in halter, Best Movement, and driving. He is a Steady Eddy at shows: loads, clips, all the good stuff, no fuss. Not spooky or flighty at all. He is saddle broke but not finished, good on trails, likes water.
Escorial is for sale only to the right home or is available for lease.