Perus Stables - Home Bred Stallions, Holland
Noordermiedweg 1, 9074 LM, Hallum - Tel. 0518-431862 / Mob. 06-29402040, info@appaloosahengsten.com
Perus Argument
Peru`s Argument is a very luxurious elegant stallion with a great character, his height is 1.68. He combines a superb exterior with color and movement and a beautiful pedigree. His father is Peru`s Armani V. Sartors Showtime Vv. Sir Donnerhall. Dam is the star champion mare Peru`s Compliment V. Vivaldi. She has already given several 1st premium foals and a champion foal at the national inspection. Peru`s Argument has a special appearance. He was approved in 2019 with a 1st premium. In 2020 he successfully passed his offspring inspection. A uniform group of riding type foals. Jury comment Peru`s Argument: "A special beautiful horse with a wonderful type. He presents himself very well in movement, with space and strength and very light-footed, according to the chairman of the stallion jury. "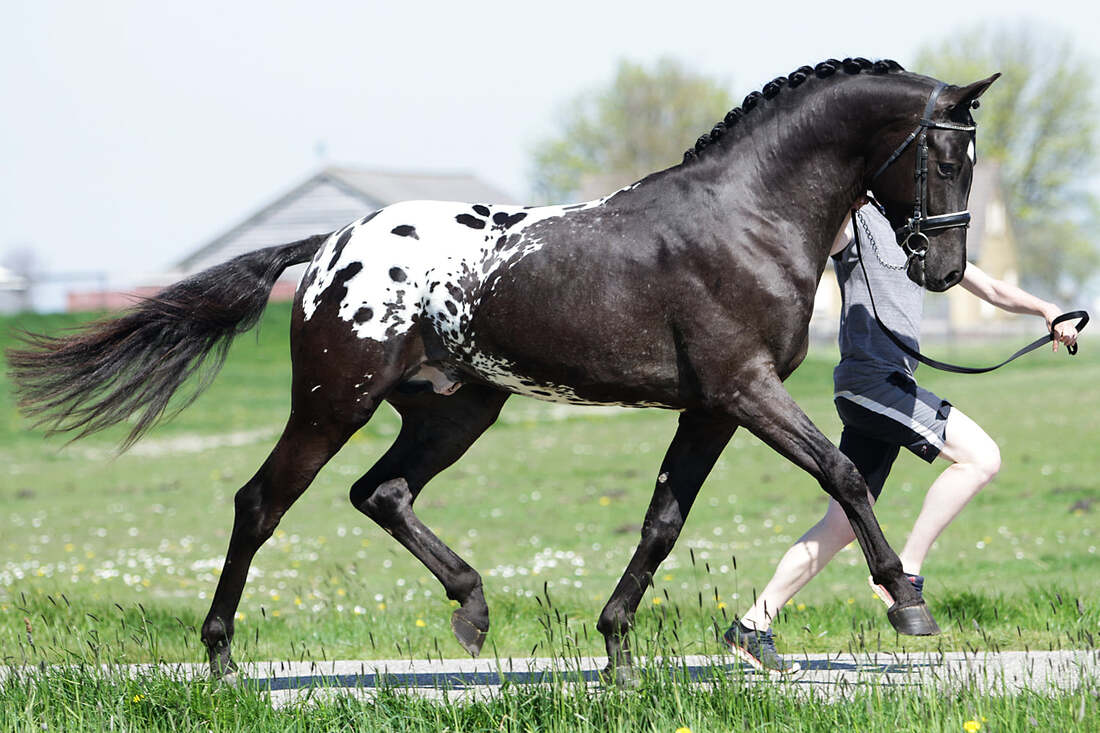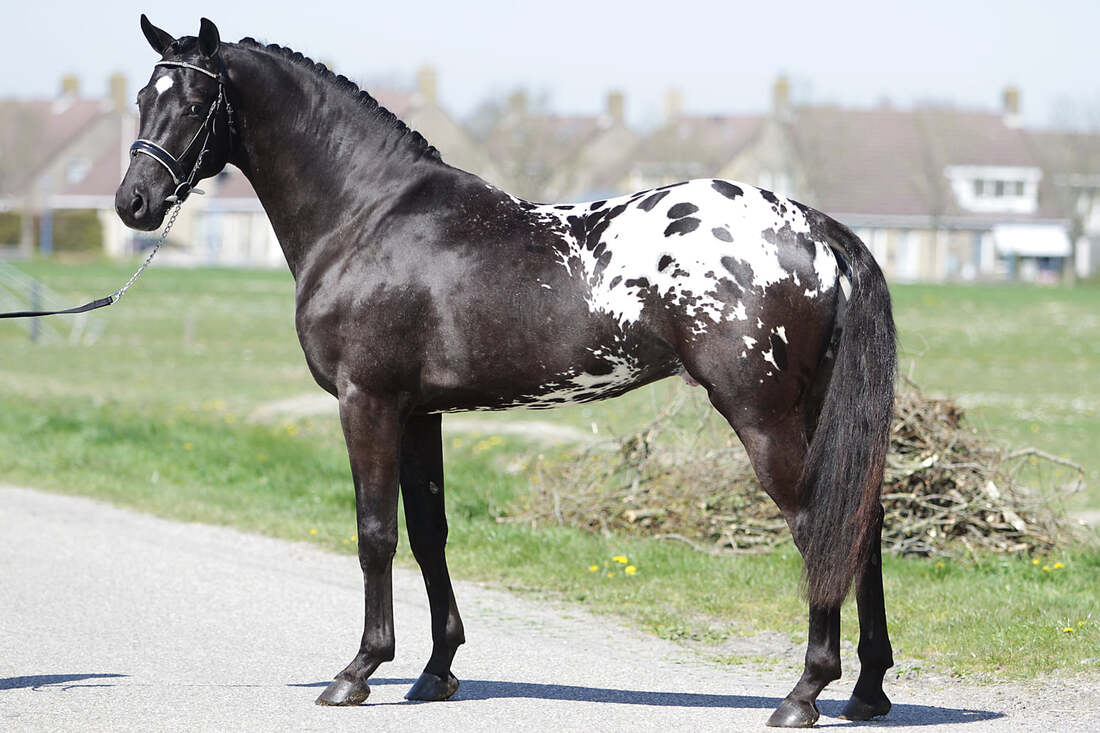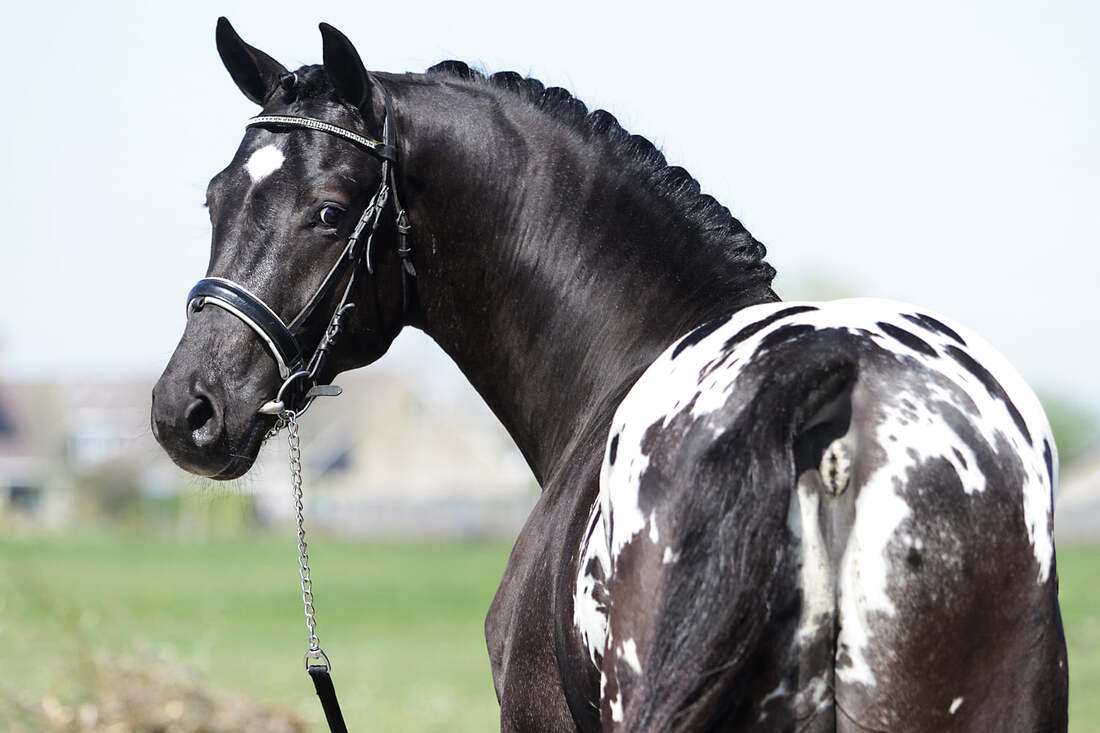 Perus Armani
Peru`s Armani, height 168 cm. 1st premium 2016,2017,2018,2019 and champion stallion 2016 2021 approved for life with a 1st premium NAS (Dutch Appaloosa studbook) Stallion Inspection. With praise, a stallion for the future for both breeding and sport. Peru`s Armani has a special appearance. He is very nicely lined and has good graceful gaits with a lot of power and impulsion. Armani has a very good, calm character. Peru`s Armani was fully licensed on descendants in 2016. He showed a nice collection of riding-type foals with a lot of charisma and color. The offspring are notable for their beautiful, spacious, powerful movements that they show with a lot of suppleness. Another characteristic is that the foals all have a good and easy character. Peru`s Armani seems to pass this on well.
His offspring score well on inspections at both the NAS and the NRPS. Peru`s Armani also has his first approved son named Peru`s Argument, this stallion comes from his first year. Armani`s sire is the German sports stallion Sartors Showtime who performs very well. His father is the well-known stallion Sir Donnerhal. Armani`s dam is the ster preferent champion mare Shetans Shubaidah. She is now the mother of two approved stallions. She descends from Peru`s Scen-Tao (Pax x star Gershwin V. Voltaire), Keur, Prestatie, Sport, Preferent. Peru`s Armani competes in the class Z dressage. Peru`s Armani is fox factor free.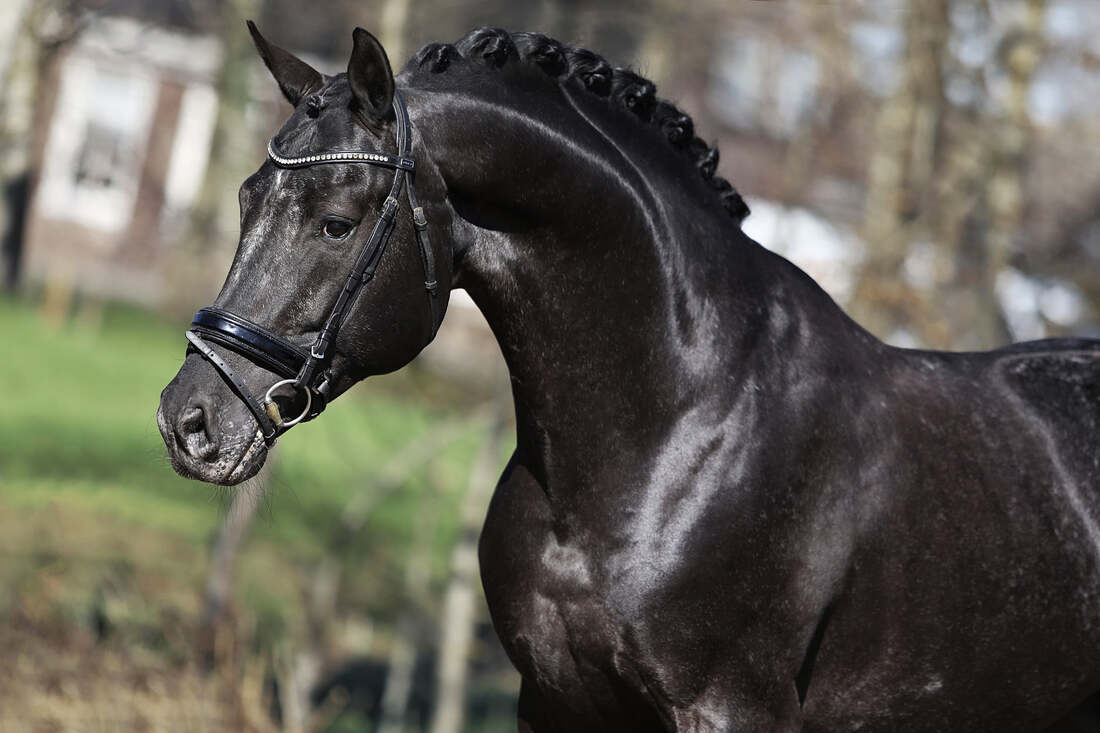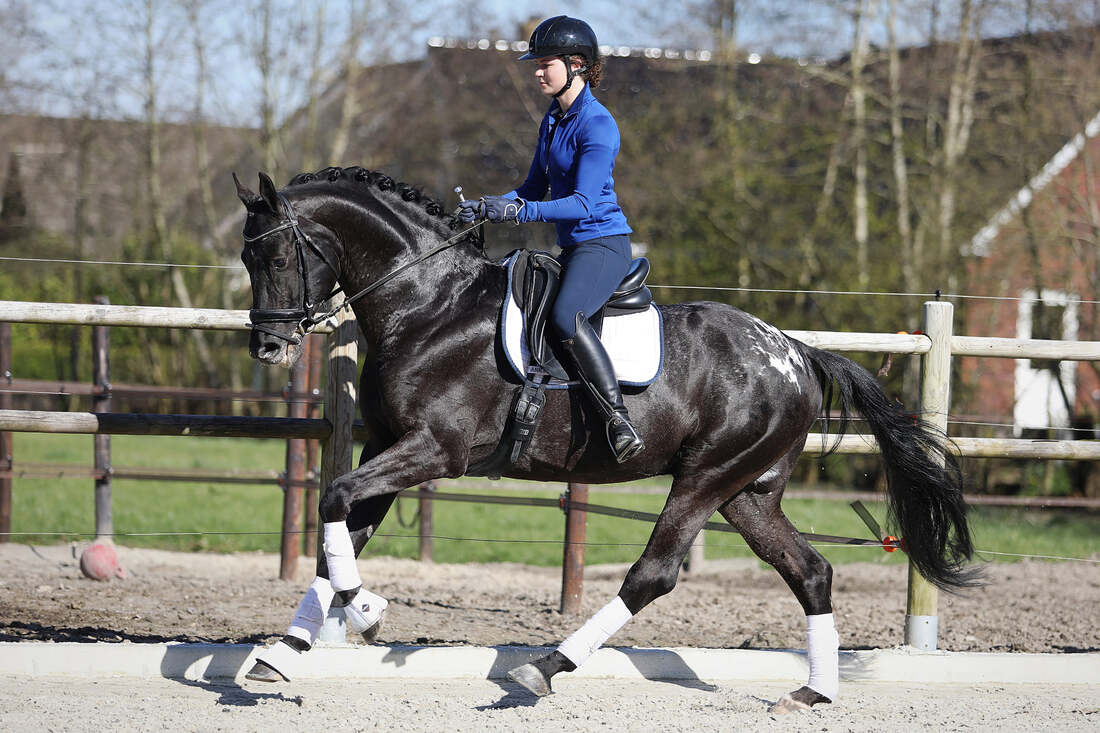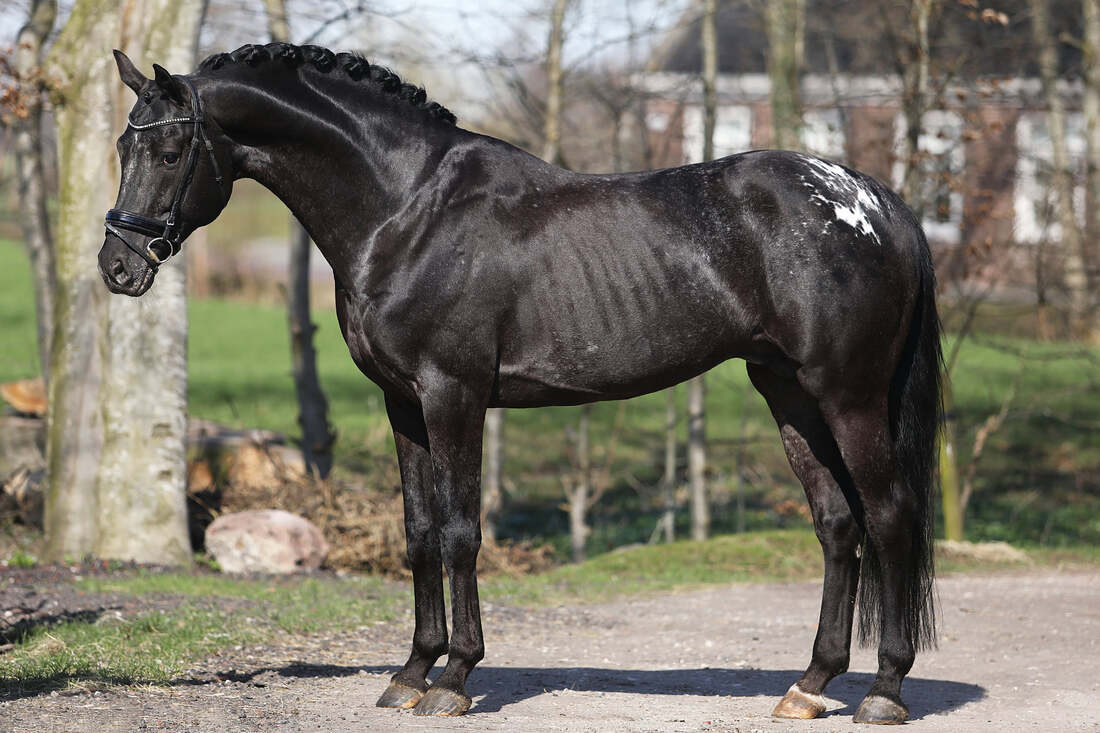 Perus Dumoulin
Peru`s DuMoulin is all-round bred where he excels at jumping. He descends from the stallion Peru`s Yismerai (Qoutenkonig x Peru`s Scen-Tao) x preferent Bratt x Indoctro x Ahorn from the Ornita line. Peru`s Scen-Tao comes out of a kwpn star mare V. Gershwin Vv. Voltaire. Peru`s DuMoulin is licensed with the AES studbook. He is a very reliable stallion who is willing to work and works fine. He jumps very convincingly and has a lot of scope. His height is 166 cm.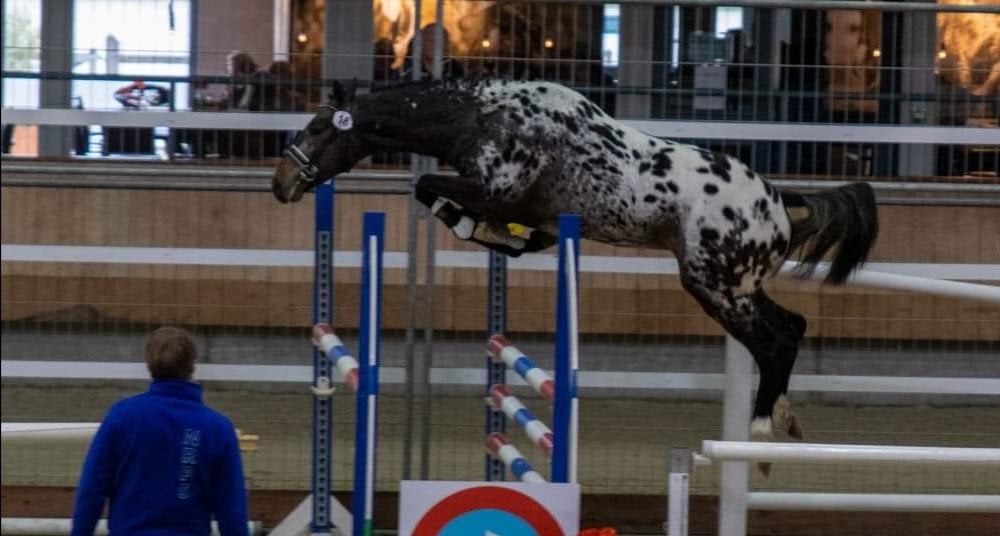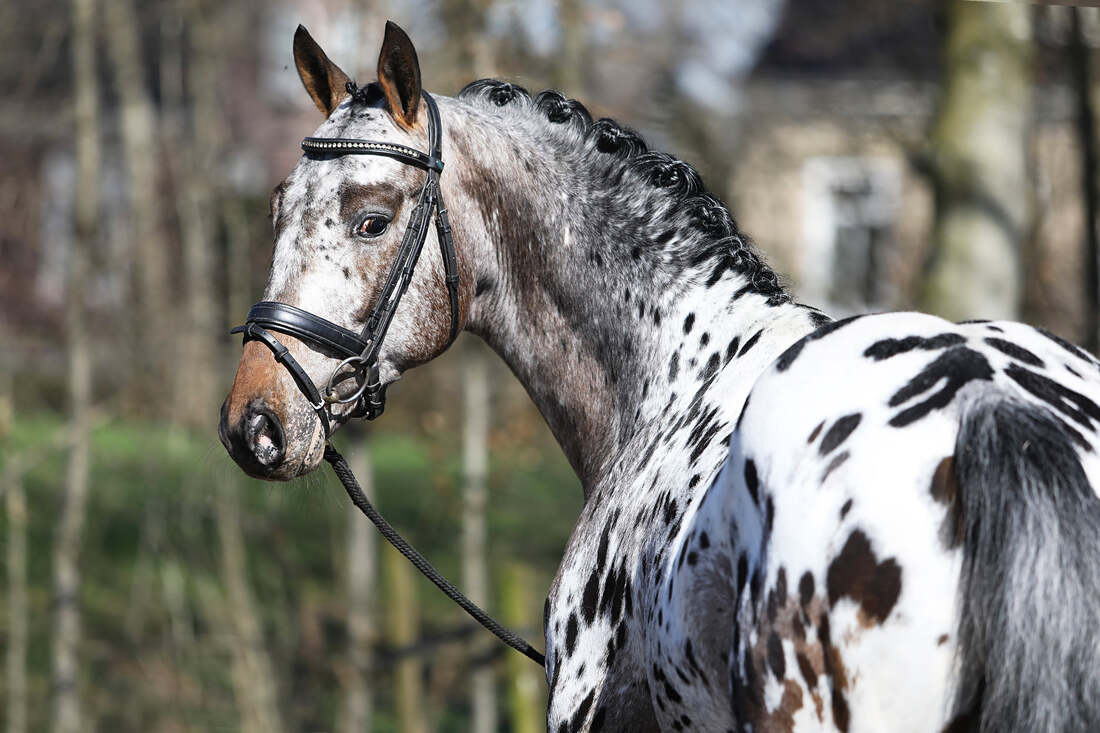 Perus Sarowski
Peru`s Sarowski has recently been approved for deck service with the NAS. It seems very interesting for large size appaloosa breeding. It has been tested homozygous. So always appaloosa color or characteristics. His sire is the very talented stallion Peru`s Yismerai (Qoutenkonig V. Quaterback) x ster, preferent Peru`s Scen-Tao (Pax x Gershwin).
Peru`s Sarowski is measured at a height of 167cm. It will grow to + - 170cm. Peru`s Sarowski moves very strongly. A good walk that shows a lot of flexibility. A trot that has good handoff and scope. And a canter that has jumped upwards. His first foals have already been born this year and are looking good. Color size and strong movements.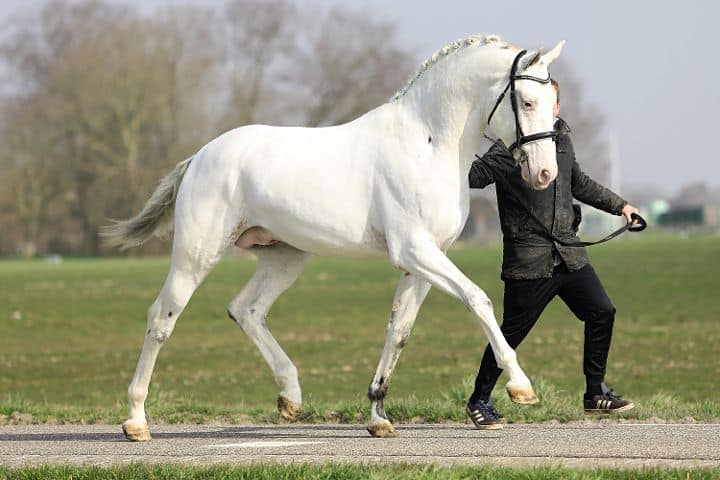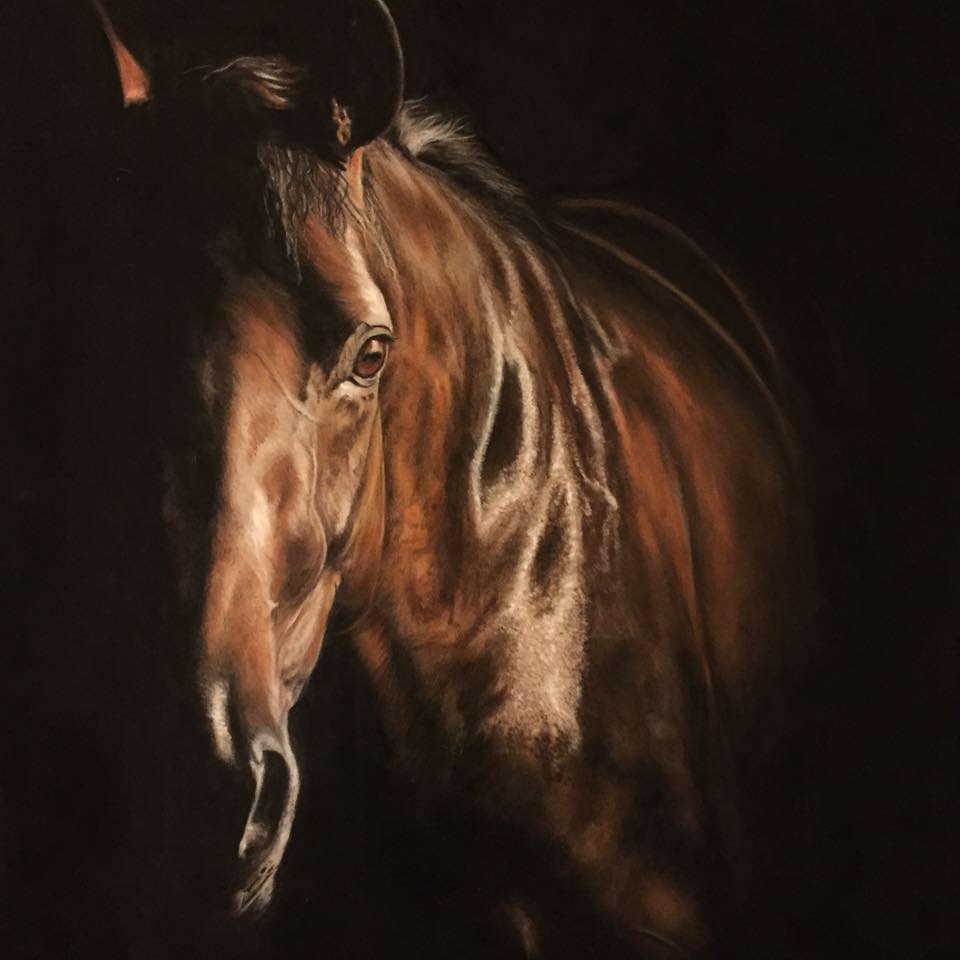 Looking for equestrian artists, visit our art directory browse all types of horse themed art. Oil paintings, watercolours, pastels, pencil in all different types of style.…
Read More