Moondarra Arabians - Foals For Sale
Our stud, Moondarra, commenced in the mid 1970`s and in the initial stages bred derivatives, gradually progressing to purchasing our first purebred mare in 1976. Oxford Stardust was a Count Manilla daughter and we bred several foals from her, mainly English lines. One of the most noteworthy mares for us was Bright Light (Imp) bred at Crabbet Park and her daughters and granddaughters form the nucleus of our breeding programme today. However, looking at what currently graces our paddocks, there is also Egyptian, Polish, and Russian influences as well. A real cosmopolitan style. It is more important to us to have a conformationally correct, athletic horse which is able to win at halter and under saddle rather than limit our choice to bloodlines.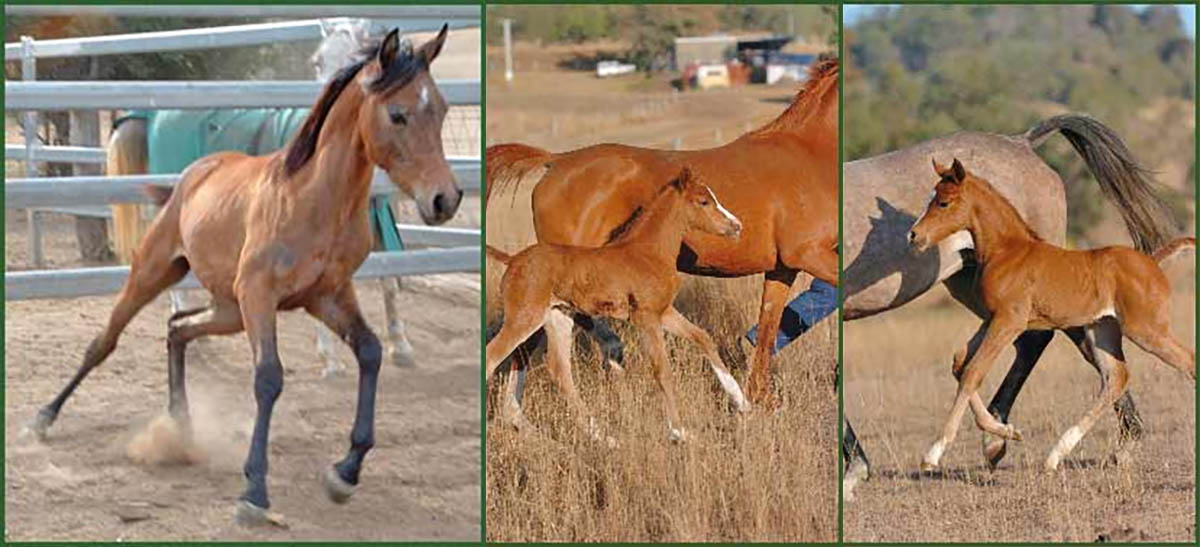 We have bred and shown to Australian Championship level with our own horses both at halter and in performance. Ian is the halter trainer and daughter Kellie competed successfully in youth and open classes. Debbie is a National Panel judge as well.
The stud is located on a 62 acre property in the picturesque Lockyer Valley of SE Qld, and boasts a new stable complex and horse facilities. Samson Tai is leading our breeding programme, we had three Panache daughters foal to him last season, two fillies and a colt (now gelded). These mares as well as a forth Panache daughter were rebred to Samson for 2004, resulting in 3 fillies and 1 colt. Samson will also compete under saddle, when time permits in the not to distant future.
Moondarra Arabians - Foals For Sale
The last of our foals has arrived. Born to Moondarra Aurel and Samson Tai, a chestnut/grey filly to be called Moondarra Amali early Sunday morning. Both are well The third foal for us in a chestnut/ grey colt by Samson Tai from Moondarra Pearls `N Lace, born 11th September. To be named Moondarra Samuri.
Moondarra Delilah(Samson Tai from Moondarra Diamonds `N Lace). She was born on the 18th August.
Moondarra Samira (Samson Tai from Moondarra Mira). She was born on the 17th August. (14 days old in photo)
Moondarra Diannah is a chestnut/grey filly by Samson Tai from Moondarra Diamonds `N Lace. Di has not been shown but this filly has the scope to win at halter and carry on through to the performance field. With her "look at me" attitude, Diannah will be a winner in any discipline.
Moondarra Pearlina is a bay/grey filly by Samson Tai from Moondarra Pearls `N Lace. Pearl has not been shown but this filly is destined for the show ring. Stunning movement, exotic head and body with correct conformation and movement to die for.
Moondarra Aragon is a chestnut/grey colt by Samson Tai from Moondarra Aurel. (Her photo is on the mare page). He has a stunningly typy head and extravagant movement. Aragon is our future show star with his flair and style and as such will be gelded and campaigned in the showring before being offered for sale.
We`re located approximately halfway between Toowoomba and Brisbane. Travelling along the Warrego Hwy from Brisbane turn left at Minden crossroads towards Rosewood, this road is Tallegalla Road. Travel approximately 3.2 klms along this road and take the left turn into Humphreys Road. Our property is on the corner of Tallegalla Road and Humphreys Road. Drive on Humphreys Road for approximately 200mtrs and our gateway is on the left.
Contact- Ian & Deb Watson, Address- 1 Humphreys Road, Tallegalla.
Phone(07) 5426 8294, Mobiles- Ian 0411 239 296 - Deb 0408 656 776.
E-mail- moondarra@hypermax.net.au
Moondarra Arabians - Stallions
Panache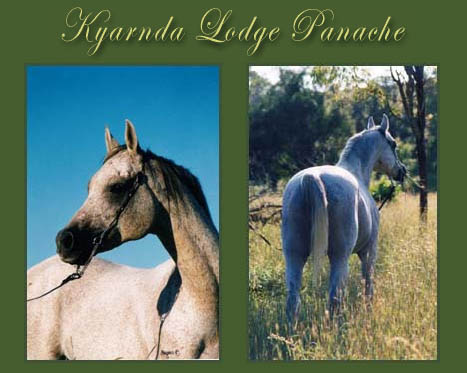 Panache is now 13 years young and is the sire of several mares retained by us. By Arabian Lodge Andre, who was a Gai General son and from Arabian Lodge Hafiza, an Ansata El Masri mare, and his dam was Burnham Adjanette, by Adjan from a Gai General mare., Panache is the epitomy of Gainey breeding. Unfortunately, Arabian Lodge Andre left few progeny as he died at a young age.
Panache won numerous awards as a young colt, being Reserve Champion East Coast Yearling and the following year was Top Five 2 year Old colt. But his greatest achievements have been in the breeding barn. Progeny have excelled in halter, performance and endurance with progeny exported overseas.
Some of his well known progeny are Moondarra Pizzazz, a multi champion stallion at halter and under saddle, in the Arabian ring as well as the Stockhorse arena. Moondarra Merlin, mutli champion halter gelding and destined to shine in the show performance arena. Panache`s daughters are now proving their worth as breeding mares, with their first foals on the ground by Samson Tai.
Samson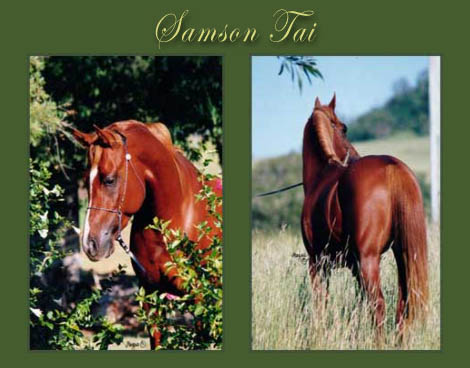 Samson is a 4 year old stallion with a bag full of champion awards at halter. He was probably the most successful colt in Queensland at the time, but has not been shown recently due to an accident. This has now cleared and as Samson has now been broken in, will be shown under saddle in the 2004 season.
Samson was bred from frozen semen and is by Sambist, a Balaton son, who has been a very successful racehorse in Europe before being sold to the UAE. Sambist currently stands at stud in the UK for his owners. Samson is from the Amir El Shaklan mare Electra Tai. He has the most breathtaking movement, and smooth balanced body. He compliments the Panache daughters admirably.
We had three foals by him in the 2003 season, two fillies and one colt, about whom we were very excited. These three mares together with a forth Panache daughter were rebred to him for 2004 foals which resulted in 3 fillies and 1 colt on the ground for this season..
Arabian Mares - Moondarra Arabians
Moondarra Aurel is a rising 9 year old mare by Kyarnda Lodge Panache from Moondarra Silk `N Lace. Aurel was bred to Moondarra Limelight and the resulting foal was gelded and is offered for sale. Aurel is broken and was lightly shown at "A"class shows as a yearling achieving the award of Reserve Champion Filly at the Black Sash show prior to foaling. She had a colt last year, filly at foot now by our new junior sire Samson Tai.
Aurel`s previous foal, Moondarra Aura is now a rising three year old gelding. Aura is the first foal by Moondarra Limelight. Moondarra Aura has been sold for endurance overseas.
Moondarra Lace is by Cherokee Casino Royal from Bright Light (Imp). Lace was a multi champion show winning mare who has bred quality foals for us. Her foals by Kyarnda Lodge Panache have been exceptional and we have retained two full sisters.
Moondarra Mirage by Mustafa (Imp) from Bright Light (Imp), hence both mares are half sisters. Mirage has bred some great foals for us as well. Including Moondarra Maverick who has been sold to endurance in the UAE, Moondarra Merlin who is a mutli champion halter gelding and will be campaigned undersaddle in the next few years, and Moondarra Mia, who has just commenced her show career.
Show Results
Moondarra Mia is a new show filly for us. She is a two year old bay filly, by Kyarnda Lodge Panache from Moondarra Mirage. She is a full sister to Merlin and we hope she will follow in his steps with regard to the showring Moondarra Mia, new to the showring and bay 2 yr old filly,also won her class in a lovely strong class of fillies, her first ever outing.
Moondarra Merlin is 15.2hh, 6 year old and is the latest of the show geldings. Currently being prepared for the 2004 Australian Championships in Sydney, Merlin is by Kyarnda Lodge Panache from Moondarra Mirage (photo on mare page). In limited shows, Merlin has amassed a swag of Champions and Reserves. He has now been broken in and will be campaigned under saddle in the coming years.
We have attended four shows this 2004 season with Merlin and his accomplishments are: February- 1st and Champion Senior Purebred Halter Gelding - Summer Show March- Top Ten and 3rd on the cards, Senior Purebred Gelding - Australian Championships. April - 1st and Champion Senior Purebred Halter Gelding - Pan Pacific Showcase May - Top Five Senior Purebred Halter Gelding - AHAQ Challenge Show State Titles Moondarra Merlin competed at the Fantasia show on Sunday for a win in his class and Reserve Champion Purebred Halter Senior Gelding
Moondarra El Khobar- Cobber as he is affectionately known was bred by us and is 21 years young. As seen in the photo he was Reserve Australian Champion Bridle Path Hack Youth horse in 1998 with Kellie riding. Cobber is by Istana Khamaji (Talquah Jai) and from Oxford Stardust (Count Manilla x Electric Ray) who was our foundation purebred mare. Cobber is worth his weight in gold as he has taught many a youth a thing or two. He is currently on loan to an 10 year old girl who is having a great time Pony clubbing with him, and she has had him for about 2 years.
Moondarra Silk `N Lace is a 15 year old mare by Mephisto (The General Imp/Exp x Scimitar Mantilla) from Moondarra Lace (photo on mare page). Silk has produced two foals a gelding and a filly. The filly is Moondarra Aurel (photo on mare page). Silk exceled in the performance field as Kellie`s youth horse. She was pulled from the paddock as a 9 year old and in 6 weeks took out Debut, Maiden and a bag of under saddle awards at an A class show. Silk was a costume horse expert and was rarely beaten, winning H.O.T.Y. youth costume and Reserve H.O.T.Y. adult costume with a rider who had not ridden her til 10 minutes before the class.
Moondarra the Gambler (decd) was a 16.1 hh grey purebred gelding by Cherokee Casino Royal x Chookalum. From the moment he was born he was destined to be a great show horse. Rarely beaten in the halter ring he was awarded the first Australian Champion Junior Purebred Gelding Halter. Three years later he entered 11 events, placing in all with a Top Ten in Halter, Champion Youth Western, Reserve Costume and Side Saddle and the rest were Top Fives. A mammoth feat over a two day weekend. He went on to do dressage and after couple of years was then ridden by Kellie. They had a very successful first year together winning bags full of awards culminating in Reserve Champion under Saddle at the Top of the Range A class. Gambler unfortunately passed on before the next show season.
Moondarra Maverick is a 15.1hh bay gelding who has competed successfully in endurance in Australia for the last couple of years and has now been sold overseas.