McLain Ward
McLain Ward is a leading American showjumping rider who has had lots of success in the showjumping arena with many different horses, below you can watch a tour given of McLain Ward`s stable yard, after that if you can keep scrolling and watch some of his career highlights from the world equestrian games through to the Olympic games.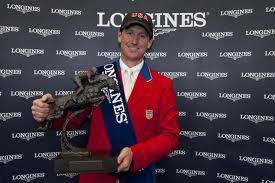 McLain Ward - Azur - Rio Olympics 2016
- Watch video of American McLain Ward representing his country at the 2016 Olympics in Brazil riding Azur.
Below you can watch McLain Ward in action at the world equestrian games riding the great Saphire
Olympic Gold Medalist McLain Ward Wins $380,000 Suncast Grand Prix
At the Suncast Grand Prix 2017, McLain Ward and HH Azur won the $380,000. In the video below you can see how they won the show, that happened on February 25th. With an amazing precision and speed they navigated the course. We must agree that they`ve deserved their triumph. Respect and congratulations for the perfect team!