Leslie Burr Howard
Leslie Burr-Howard (born 1 October 1956) is an equestrian from the United States and Olympic champion. She won a gold medal in show jumping with the American team at the 1984 Summer Olympics in Los Angeles, and a silver medal in 1996
Leslie Burr-Lenehan - Mc Lain - WC Gothenburg 1986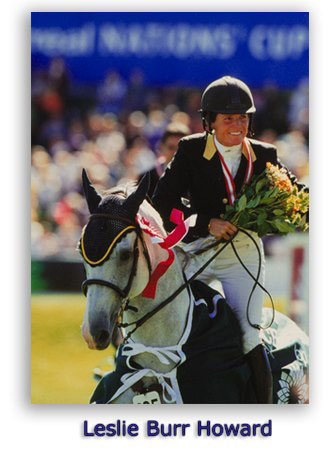 Leslie Burr Howard Horses
      Afrer Eight, Clover Leaf (Clover Hill), Corsair, Extreme (Wolfgang), Lucky Punch (Luckylight , McLain, Mivenno (Emilion), Nick of Diamonds (King of Diamonds x Irco Mena), Priobert De Kalvarie (Kimball), Rolling Thunder (Biscay Wonder), S`Blieft (Burggraaf), Ulane du Plessis, Youp
Leslie Burr Howard Competition Results
7 - Washington International - Washington, DC, Open Jumper - 28/11/2005 - Rolling Thunder
---
9 - Zada Wellington Masters, CSI - Wellington, Florida, Zada Enterprises, LLC Masters Cup - 27/02/2005 - Mivenno
---
2 - Jacksonville Winter A To Z - Green Cove Spring, Jacksonville A To Z Grand Prix - 30/01/2005 - Youp
---
1 - World Cup Final, World Cup - 3rd Leg - 24/04/2002 - Priobert De Kalvarie
---
6 - Mechelen, Mechelen Grand Prix - 30/12/2001 - Priobert De Kalvarie
---
01 - Amsterdam, ING Prijs - 16/12/2001 - Priobert De Kalvarie
---
02 - Amsterdam, Amsterdam Rai Prijs - 16/12/2001 - Lucky Punch
---
1 - Amsterdam, World Cup Qualifier - 16/12/2001 - Priobert De Kalvarie
---
1 - Amsterdam, Amsterdam Grand Prix - 16/12/2001 - Priobert De Kalvarie
---
03 - Amsterdam, World Cup Preliminary Round - 13/12/2001 - Priobert De Kalvarie
---
1 - Maastricht, Maastricht Grand Prix - 02/12/2001 - Priobert De Kalvarie
---
06 - Berlin, Audi Championat Finale 01 - 24/11/2001 - S`Blieft
---
02 - Berlin, World Cup Qualifier - 23/11/2001 - Priobert De Kalvarie
---
06 - Berlin, Preis Der Gold-Zack AG - 22/11/2001 - Lucky Punch
---
04 - Berlin, Audi Championat Finale 02 - 22/11/2001 - S`Blieft
---
02 - Berlin, Preis Von Brandenburg - 22/11/2001 - Priobert De Kalvarie
---
7 - Spruce Meadows, Du Maurier Grand Prix - 10/09/2000 - S`Blieft
---
1 - Attitash Equine Festival, Governors`s Cup Classic - 17/08/2000 - Nick of Diamonds
---
02 - Rome, Nations Cup - 23/06/2000 - S`Blieft
---
14 - Spruce Meadows, Du Maurier Grand Prix - 12/09/1999 - S`Blieft
---
11 - Panamerican Games, Individual - 08/08/1999 - Clover Leaf
---
02 - Panamerican Games, Team - 08/08/1999 - Clover Leaf
---
04 - Göteborg, Göteborg Grand Prix - 21/04/1999 - Clover Leaf
---
01 - New York, Nations Cup - 05/11/1998 - Afrer Eight
---
01 - Rotterdam, Nations Cup - 19/08/1997 - Ulane du Plessis
---
16 - Olympics, Individual - 29/07/1996 - Extreme
---
02 - Olympics, Team - 28/07/1996 - Extreme
---
07 - , - 27/07/1996 - Extreme
---
1 - World Cup Final, World Cup - 3rd Leg - 24/04/1986 - McLain
---
1 - World Cup Final, World Cup - 2nd Leg - 24/04/1986 - McLain
---
01 - World Cup Final, World Cup Final - 21/04/1986 - McLain
---
1 - World Cup Final, World Cup - 1st Leg - 24/04/1984 - Corsair
---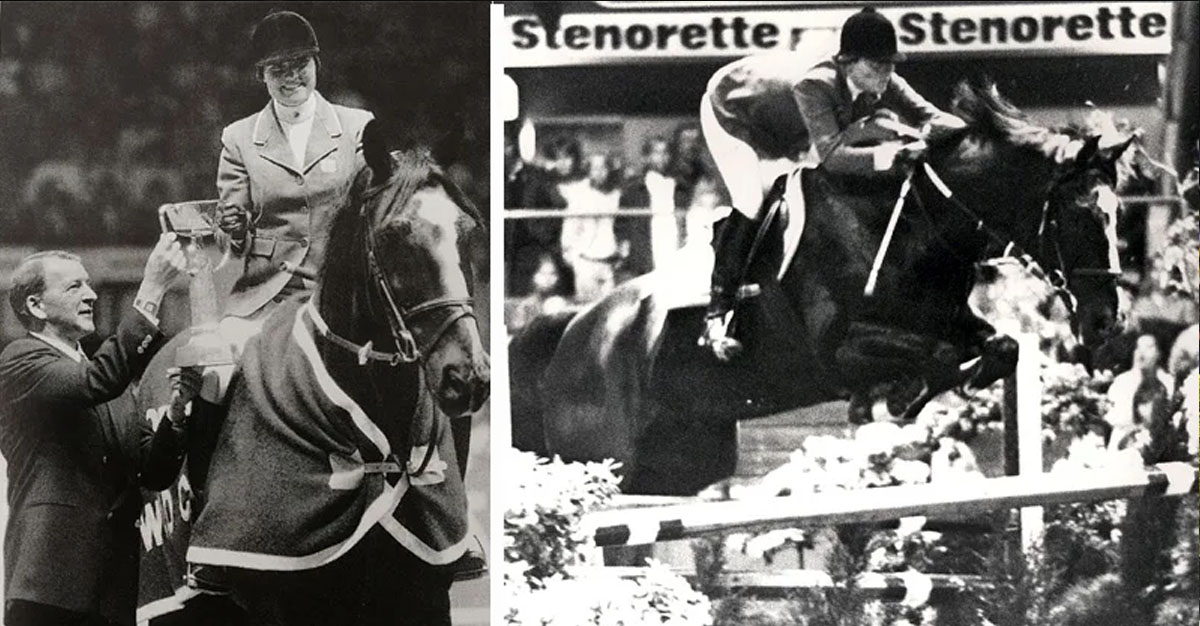 Leslie Howard Claims Victory at the Royal Horse Show
With a victory in the $25,000 MDC Corporation President`s Cup this afternoon, Leslie Howard of the United States entered the winner`s circle at the Royal Horse Show.
After finishing third at last night`s Investo Opening Night Classic, Howard returned today with Clover Leaf to clinch the win after jumping clean in the jump-off with the fastest time, 26:38 seconds. "He`s an easy horse for me to ride because we know each other quite well," said the U.S. team veteran, who enjoys staying in the same city as her Toronto-based husband, Peter Howard. "With this horse, you feel like you are on a motorcycle, he can make all the tight turns."
Coming closest to Howard`s time was Canadian Jill Henselwood riding Same Old Song who, as the first of five riders in the jump-off, posted a time of 27:37 seconds.
Third went to Eric Lamaze of Schomberg, ON, who was the fastest of the four faulters in a time of 26.86 seconds riding the ten-year-old Millcreek Raphael. Ray Texel of the United States finished fourth with Pershing while Heather Manbert-Serniuk of Milton, ON, rounded out the top five with her nine-year-old Dutch mare, Just Julia.
$25,000 MDC Corporation President`s Cup
Rider Hometown Horse Faults Time
1. Leslie Howard Westport, CT Clover Leaf 0:0 26.38
2. Jill Henselwood Oxford Mills, ON Same Old Song 0:0 27:37
3. Eric Lamaze Schomberg, ON Millcreek Raphael 0:4 26.86
4. Ray Texel Beverly Hills, CA Pershing 0:4 28.69
5. Heather Manbert Milton, ON Just Julia 0:4 36.22
Defending Champion Leslie Howard Wins $35,000 Ox Ridge Grand Prix
DARIEN, CT-June 22, 2000- Two-time Olympic Medalist Leslie Howard of Westport. CT won the $35,000 Ox Ridge Grand Prix at the Ox Ridge Hunt Club in Darien, CT, clinching the U.S. Equestrian Team Regional Show Jumping Championship for Zone 1 for the second consecutive year.
Howard topped the field of 34 horses aboard Priobert, owned by Higher Ground Farm. Priobert was purchased only two months ago and this was their first Grand Prix together. She also placed second on Nick of Diamonds.
In the five-horse jump-off, Howard had been leading the class on Nick of Diamonds, when she raced through the timers fault-free riding her other horse, Priobert. Her winning time with Priobert was 42.459 seconds, .440 seconds faster than Nick of Diamond`s time. Jeffrey Welles of Ridgefield, CT, riding S&L Riviera, had the fastest jump-off time of 39.982 seconds, but had a rail down at the last jump on course to finish with 4 faults and the third place ribbon.
When asked her thoughts about the Grand Prix, Howard replied "Jeffrey`s horse is older and more experienced than mine as well as being a very fast horse. I was just hoping luck would go my way."
In the junior rings on Sunday, Mae West ridden by Clementine Goutal won the $2,500 Howard Johnson of Darien Pony Hunter Classic, while Brianne Goutal was named Best Child Rider on a Pony and Sara Wytrzes was named Best Child Rider on a Horse.
When Sunday`s equestrian action broke between morning and afternoon classes, the 2000 Ox Ridge Floral Jump Contest took center stage in the grand prix ring. Seven area florists and nurseries competed in this year`s event, the theme of which was "Something Special in the Air." The contestants, who spent three hours prior to the afternoon`s main event in the ring designing Grand Prix jumps, demonstrated a wide variety of interpretations of the theme. The winning design came from Oliver Nurseries, of Fairfield, CT. Scott Jamison, proprietor of Oliver Nurseries of Fairfield, CT, left the design up to Perennial Manager, Kristin Schleiter, and her team of Marlyse Dembicer, Andrea Busk and Jed Duguid, who spent a week creating their winning design centered around a large skunk. Their efforts were well worth it as they took home the first place trophy and two round-trip airline tickets to London, England provided by American Airlines®, the Official Airline of the Ox Ridge Charity Horse Show. Round Meadows Landscapes of Darien, was the runner-up and winner of two round-trip airline tickets to Los Angeles, California provided by American Airlines®.
On Saturday, Kristen Monchik swept the $10,000 Amateur-Owner/Junior Jumper Prix, placing first aboard Wichita and second riding Haarlem out of a field of 41 horses. In the hunter ring, Cashmere and Sarah Willeman won the $2500 Fleet Private Clients Group Junior/Amateur-Owner Hunter Classic while Most Wanted and Cody Baird took home the second place ribbon.
Friday`s action included a win by McLain Ward of Brewster, NY who rode Four Seasons to victory in the $5,000 C.L. Adams Futures Class. Ward and Four Seasons also won Thursday`s $3,000 Open Jumper class sponsored by Brooks Community Newspapers. Earlier in the week, Mark Leone of Franklin Lakes, NJ won the Audi of America $2000 Open Jumper class aboard Karat. Leone also placed second in the same class aboard Pinkata.
The tradition of excellence, exciting Olympic-caliber equestrian competition, and gracious entertaining continues to draw big name sponsors and support from Brooks Community Newspapers, American Airlines®, Audi of America, C.L. Adams Company, Howard Johnson of Darien and Liz Claiborne, Inc. to the Ox Ridge Charity Horse Show.