Landgraf I
Landgraf I is one of the all time great sport horse breeding stallions, sired by Ladykiller he has fathered numerous showjumping and dressage horses. Offspring of Landgraf I include Libero H, Freestyle (formerly Lalique), Lacros, Landlord, Taggi among many others. Below you can watch a video of the great stallion Landgraf I.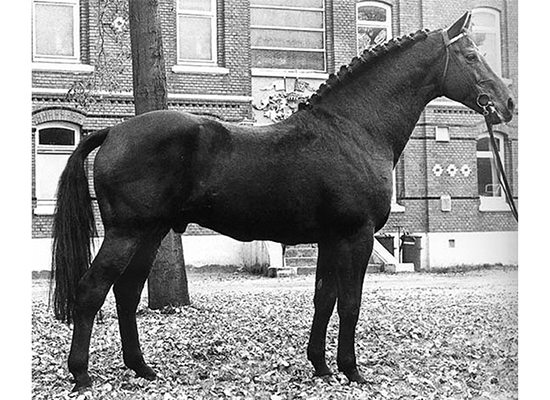 In all, offspring of Landgraf I have won over €4.5 million, Landgraf I passed away over 20 years ago but his legacy lives on with his name still an important part of some of the top competition horses in the sport today.
Willi Melliger - Landlord (Landgraf I x Hilla) - Stockholm 1990
Libero H is a son of Landgraf along with Jos Lansink he won the Dutch national championships as well as the 1994 world cup final.
Click here to watch Libero H in action.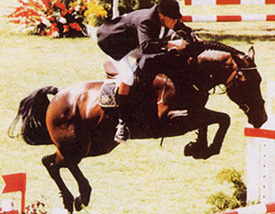 Birte II
Landgraf I x U-Capitola, -
Ferbena
Landgraf I x Nitta, -
Halla XXVI
Landgraf I x Wonne IX, -
LEMGO
Landgraf I x -, -
Liatos
Landgraf I x A-Candina, -
Libertino
Landgraf I x -, -
Libertino II
Landgraf I x -, -
LORADO
Landgraf I x -, -
Loutano
Landgraf I x -, -
Love Me Tender
Landgraf I x -, -
Lucilla II
Landgraf I x , -
Lacapo
Landgraf I x -, -
Lagretto 5
Landgraf I x -, -
Lancer III
Landgraf I x Inula, - International Holstein Stallions At Stud
Lancetto
Landgraf I x Ulypse, -
LANDETTO
Landgraf I x -, -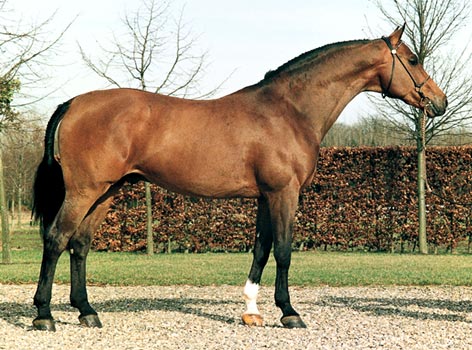 Landjunge
Landgraf I x Minerva, -
Landjunker II
Landgraf I x IRA, - Sports Horse Stallions at Stud
Landstreicher
Landgraf I x Alraune, -
LANDWIND II B
Landgraf I x -, -
Landy Randy
Landgraf I x -, -
Larno
Landgraf I x Setra, -
Larome
Landgraf I x , -
Latus II
Landgraf I x Folia, -
LATOURO
Landgraf I x -, -
Latus I
Landgraf I x Folia, -
LAVALL I
Landgraf I x -, -
Laveletto
Landgraf I x Zypresse, -
LAVALL II
Landgraf I x -, -
Sandstone Fortuna
Nucy
Landgraf I x Fleur, -
Ohra
Landgraf I x Brikscha, -
PALMI
Landgraf I x -, -
Quebec 19
Landgraf I x -, -
Sandstone Fortuna III
Landgraf I x Amsel II, -
Suehne
Landgraf I x Buehne, -
S-Leila
Landgraf I x Nicki, -
Sevada
Landgraf I x Las Vegas, -
Thyra
Landgraf I x Odetta, - Showjumping Broodmares
Upolda
Landgraf I x Lanke, -
Vanessa III
Landgraf I x Renaissance, -
Waterford Crystal (ex Limbani K)
Landgraf I x -, -
Zamora III
Landgraf I x -, -
Zola
Landgraf I x Nanzy, -
Landfrieden
Landgraf I x Radona,
Petra
Landgraf I x Zita,