Knight Haven Shires and Gypsy Horses, California - USA
| | | |
| --- | --- | --- |
| | | Night Have Shires and Gypsy Horses |
Continuing with our tradition of producing top quality, champion show and family shires, Knight Haven is proud to introduce the Gypsy Horse to our farm. We have carefully selected our foundation Gypsy Horses for their quality and known lineage. Our foundation Gypsy Horses carry some of the most sought after lines with the PO, Woolly Mammoth and The Rocking Horse, just to name a few, in their pedigrees. Join us in our excitement as our youngsters grow up and help to produce some of the best Gypsy Horses available today.

Email : knighthaven@juno.com, Tel: (209) 631-6525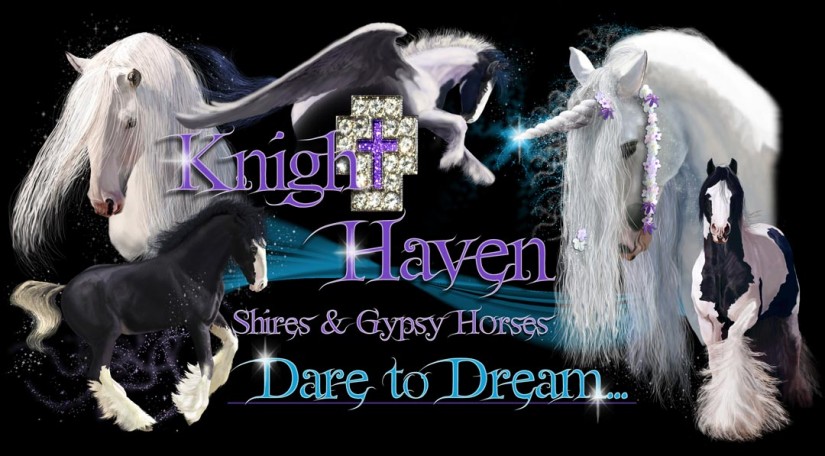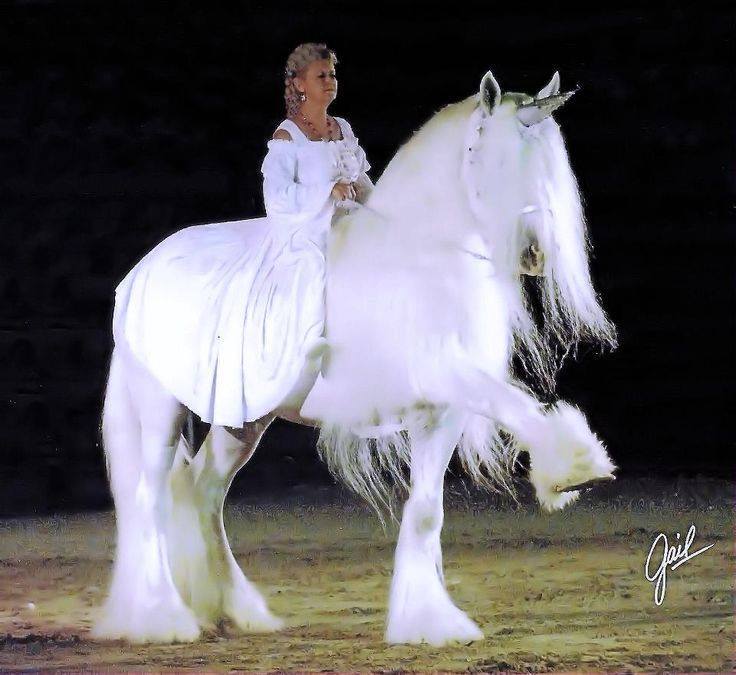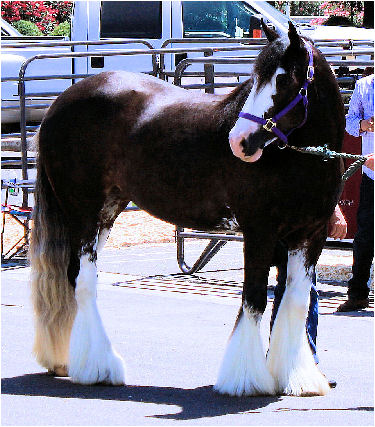 Our goal here at Knight Haven Shires & Gypsy Horses is to produce a few, top quality foals, rather than many, mediocre foals. We are a small, family run farm. Our foals are imprinted at birth and handled on a DAILY basis.

We try to expose each foal to as much as we can. (cars, tractors, clippers, etc.) We feel the more we can expose them to as youngsters, the easier their lives will be. (and yours!) Our stallion and mares have top quality pedigrees with excellent dispositions, manners and MINDS. They are quiet, hard working, happy, pleasure type horses. All of our horses have scheduled veterinary care and are in excellent health.

Feature Your Stud Farm On Stable Express

Illusion Crystal Clear of Ox Kill - "Crys" is the only known grey son of the late, great, Garreg William. "Crys" has many Champion & Grand Champion wins at halter in California and was undefeated in Halter for 2 years! "Crys" is now fully registered with the SHS and passed his 6 year old stallion inspection with flying colors....no flaws could be found....He Is Perfect !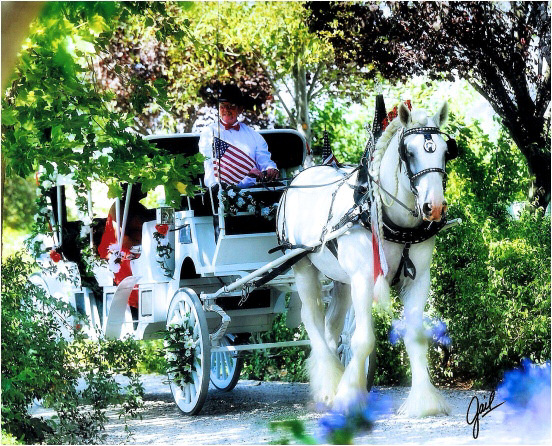 His awards include:
2003 First Place Stallions 3 & Over and Grand Champion Stallion at the Western States
Shire Show at the Draft Horse Classic in Grass Valley, CA. He also won Champion Stallion

Grand Champion at the Draft Horse Classic, Santa Clara Co. Fair, Stanislaus Co. Fair (against ALL BREEDS) and Res. Champion at the ASHA Western Regional Shire Show in Pomona. As a foal Crys won his class at the 1997 CNE Shire Show in Canada as well as his foal class at KILE the same year.

He has a number of blue and champion ribbons at driving and riding. We even ranch sort and team pen with him. He is also called upon to help work our fields and plant hay. His foals sell easily and are selling before they are weaned. (Typically in utero)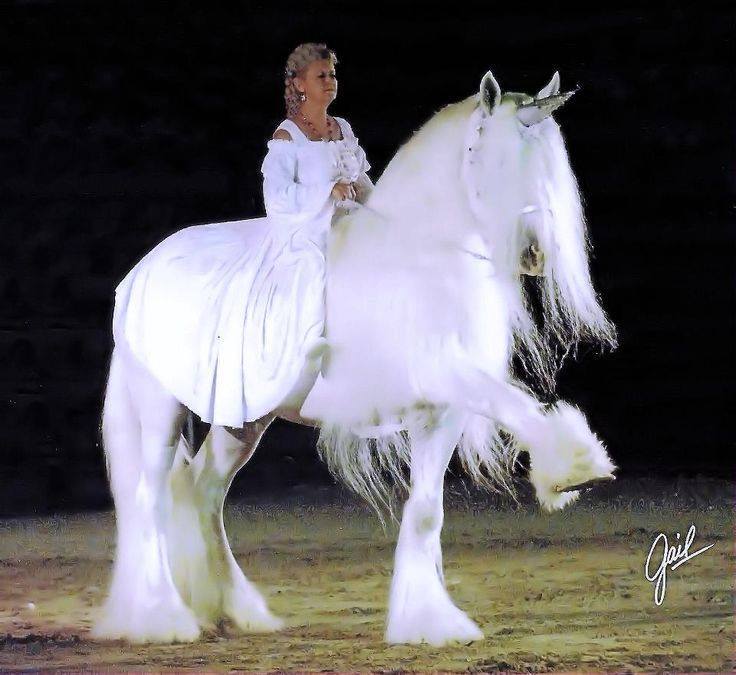 "Illusion Crystal Clear of Ox Kill" (as The Unicorn) and I at Celeste Huston`s 2012 Gala. "Crys" was, as always, a perfect gentleman. He tolerates Everything with Perfect Manners and a Disposition that is Un-Matched!

We have yet to meet a nicer stallion, for a 16 yr. old, his Disposition is Stellar. "Crys"has performed at many Expo`s and Fairs throughout California including the production of "A Knight to Remember", to promote the Draft Horse Classic in Grass Valley where "Crys" was the "Poster Horse". Needless to say he performed like the champion he is and never stepped off the pattern he was asked to do for the first time in his life. He is passing that disposition to his foals.


He has wonderful feet, bone, and feathering. He is 18.2 hh Barefoot and weighs 2040. If crossed on light mares, the foals will be eligible for registry in the AWS, AWR, and Shire Sport Horse reg.

"Crys is going to be quite a Sire...I`m very impressed by what I`ve seen so far...conforming to the highest standard."

St Clarins - This is "St Clarins" 15.1 hh Chocolate Silver Dapple (EE, Nz) Son of "The Boss" St. Clarins needs no introduction as he was 2010 Ft. Worth World Champion Stallion as well as 2012 Committee Elected Ambassador for the Gypsy Horse Breed! "Jess" will be bred to "St. Clarins" in the Spring.

St. Clarins is Owned and Loved by Celeste Huston ~ Cielo Celeste Farm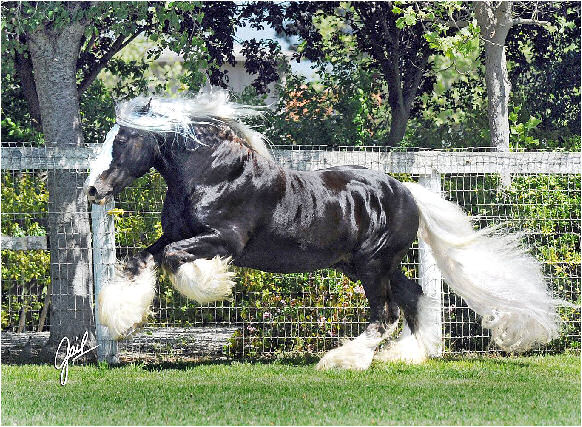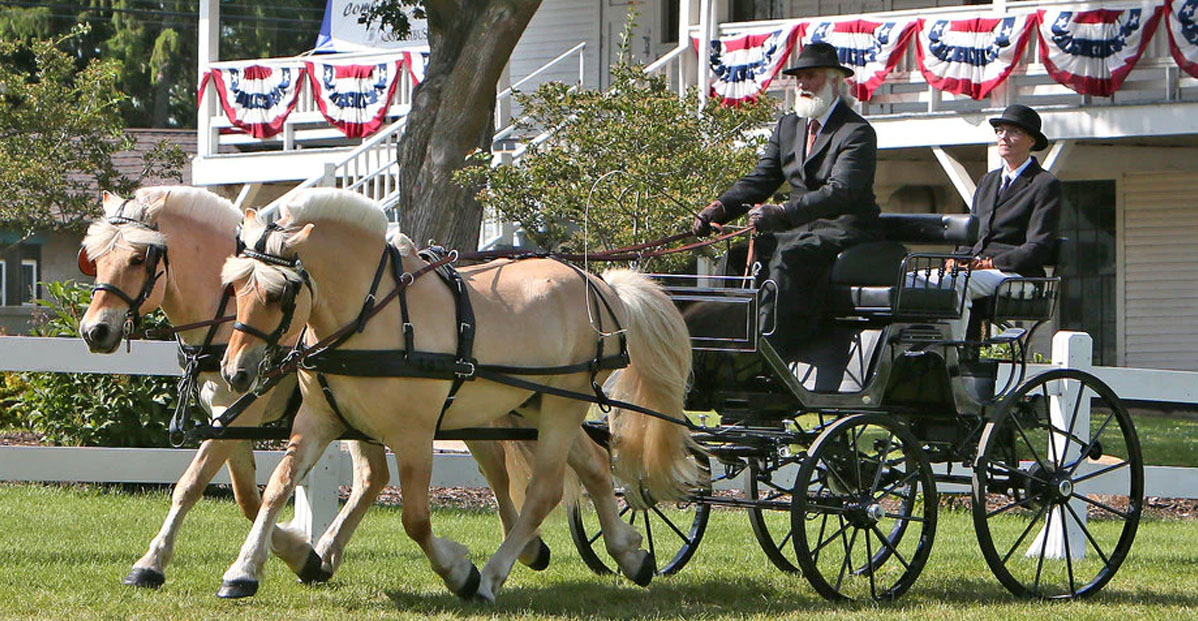 Watch video of Stunning Horses In Traditional Trade Vehicles At Basildon Show #Horse Carriage Driving #Horse Driving…
Read More