Horse Hay Feeder
Horse Hay Feeder - Size Does Matter Horse hay feeder styles and choices cover a broad spectrum. As Horse hay, or forage, will make up the majority of most equine diets, some type of horse hay feeder will likely be a part of the horse care equipment used.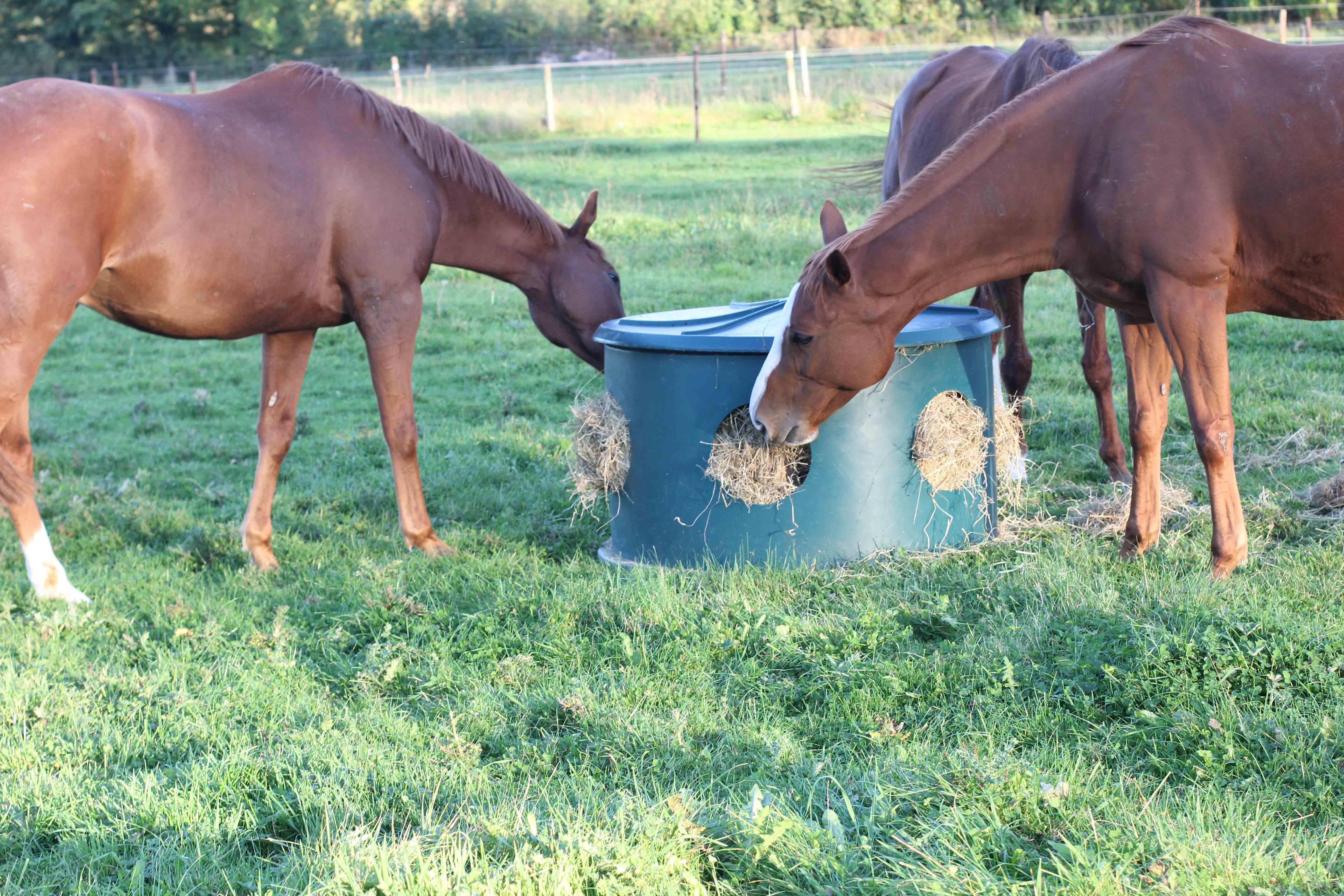 Horse Stalls will often have a wall mounted hay rack constructed of metal, wood, or heavy duty plastic. These can be solely for hay, or can be a combination unit providing a feed pan for horse grain as well.
There is also a swing out type combination horse hay rack with feed pan, allowing the feeding to be done from the outside of the horse stall.
Many of the older horse barns have/had a cutout in the ceiling of each stall above the hay manger or wall mounted hay rack, allowing the horse hay to be dropped down from the hay loft above, where it was stored. This arrangement is no longer the norm, as storing horse hay in the same barn with the horses is deemed unsafe due to fire hazard.
When feeding hay to pasture horses the size of the herd, and how often you want to feed hay, are your first considerations. If you do not wish to haul horse hay daily or have many equine you will need large or multiple hay feeders.
The size and shape of the hay bale dictates the style of horse hay feeder required.
Stand alone horse hay feeders, such as a covered hay bunk, is one option. Built with a roof, this gives some weather protection to the horse hay and horses. This type of hay feeder also allows horses to access it from all sides. Hay bunks of this style are often constructed on skids to allow for periodic relocation if surrounding surface ground becomes overly sloppy and/or difficult to navigate.
If feeding round bale hay, choosing to use a round bale hay feeder will prevent much waste. Consider that these hay feeders and the round bale hay that fills them require equipment able to handle and maneuver them.
Square hay bales will range from 60 pounds to as much as 2000 pounds. As with the large round bale hay, the largest square hay bales will require appropriate sized horse hay feeders and equipment to manage it properly.
A horse loafing shed will often be available for pasture horses. These run-in sheds may be equipped with a wall mounted hay rack that extends the whole length of the horse loafing shed. This provides protection against the elements, not only for the equine, but also for the horse hay they consume.
Often, whether in your own 5 horse trailer, or in commercial horse transport, the horse hay net will be used. Light weight and usually made of nylon or rope, the horse hay net is easily filled with hay and placed where the horse/horses can eat during their trailer ride.
Always be mindful that the hay net is securely attached as high as possible while still easily reached by the equine. You do not want your horse to pull down the hay net and then get his feet tangled up in it. Inexpensive and durable, when empty these horse hay nets become quite small in size and require little room for storage.
Usually found in 2 horse trailers, there is also a soft vinyl type hay feeder that is snapped into a corner where the horse can eat from it during the trip.
Another option when traveling is the horse hay bag. Most shows and events provide portable stalls that do not include a horse hay feeder. If you do not want to feed hay on the ground a portable horse hay bag made of nylon or canvas may be an option. Resembling a tote bag, these horse hay bags are easily filled and hung up in the stall. These hay bags prevent your horse from pulling whole flakes of hay out at once, therefore less hay on the ground. These also contain the hay if you are in a windy area.
Horse hay feeders must be size appropriate to the horses eating the hay. If you have ponies, miniature horses, draft horses, or even geriatric horses, accessibility and size will matter. If your horse cannot reach the hay, or can step into the hay feeder, you are certain to have problems.
Safety tips for your horse hay feeder:
Whatever type of hay feeder you employ, regular checking for repairs or maintenance is essential daily horse care. Removing and repairing any sharp or loose parts as soon as possible will help to avoid puncture wounds and/or ingestion of harmful objects.
Make regular checks to clean out old, and more importantly, moldy hay.
Do not tie your horse to the hay feeder. It is not meant for that purpose, and more often than not, this fact will be demonstrated.
Always remove and properly dispose of any hay baling twine, wire, or netting that is around the horse hay to which your horse has access. These items are not biodegradable and can cause serious horse injuries.
In conclusion, if you do not want to feed your horse hay on the ground, you must find the proper size and shape horse hay feeder, as it does matter! Hay feeders are a fantastic idea for feeding your horses, here at stableexpress we have a number of different hay feeders including big round horse hay feeders for in the field to feed multiple horses in a field or a small hay rack for an individual stable.