Horse Fencing
Horse fencing & fence builders - find a product or service provider online on Stable Express ...
Paddock Maintenance


Find companies in your area offering land maintenance and fencing, keep your horses fields in top condition

Plastic Gates


A durable weatherproof option for your horses fields gate ways, as well as automatic gates for your yards entrance`s | Plastic Gates

Looking for fencing contractors or fencing companies, or suppliers of fencing materials, browse our horse business directory
Are you a fencing company add yourself to our directory
Horse fencing and winter
Before winter arrives please check your fencing to make sure it is strong and will last throughout winter and the extreme weather conditions and anything horses can throw at it.
If a horse and his mates can escape they will and they usually do it at the most inconvenient times…..like when the school is being evacuated due to the surrounding roads flooding and you have to pick the kids up now, in the middle of a thunderstorm with gale force winds when all you want to do is be curled up in front of the heater with a good book….no you are wet, cold, cursing and chasing a horse half way across your village wondering why you didn't get cat instead of a horse.
Take the time to check trees and other fixtures as well that might break in a strong storm and crash through a rail, or if you have wire fencing check for any old wire that may get hidden under snow that can tangle around a horse's leg. Wire is not very visible to horses and in winter extremes can be nearly invisible and can cause all types of trouble from cuts to permanent injuries.
Snow and extreme weather can also effect plastic fences, in summer the UV rays can make it become brittle and then in winter can get so frigid it can splinter and severely cut a horse.
All fencing has some type of danger to a horse whether it is wood, wire, plastic or vinyl. It will always deteriorate through weather and what horses dish out to it so check it regularly and repair it early and you won't ever think to be trading your horse in on a cat.

Horse Fencing Options

Looking for fencing contractors or fencing companies, or suppliers of fencing materials, browse our horse business directory
Are you a fencing company add yourself to our directory.
Rural Fencing is a fencing company specialising in equestrian fences, fencing for fields, horse arena`s and around the yard. For a no obligation quote please phone 0800 0029120 free.
Field Fencing
There are two main types of field fencing, post and rail and electric. Both are used in many situations and the use would depend on whether it is a divisional fence or to retain animals or purely as a decorative item.
Electric fencing can be in the form of tape or rope, in each instance there are threads of wire wound into the fence to transmit an electrical pulse when touched. An electrical charge is passed through the fence either by a 9volt energiser a 12v leisure battery or directly from a main supply or even solar. A mains supply offers a continuous, reliable and cost effective way of electrifying the fence. When the fence is touched it creates an earth and a charge of electricity is passed to the person or animal that has touched the fence. The charge although not dangerous is enough to make the animal or person back up and not want to touch the fence again.
Animals seem to be aware when there is a current running through a fence and generally will not go near them. Electric fencing is used extensively in the equine market place. Electric fencing is the most cost effective way of fencing a large area It is important however to keep the fencing away from overhanging trees tall grass and undergrowth, if any of these are in permanent contact with the fence this may discharge the electric and have an adverse effect on the fencing.
Permanent electric fencing is supported by posts set equidistantly and the electric fence is attached to the post by the use of insulators. It is important that the correct type of insulator is used to hold the fence securely to prevent being blown and stretched in the wind. Electric fencing is a really good option for temporary and semi permanent fencing, it is quick and easy to install or dismantle and can be moved from paddock to paddock.
Post and Rail Fencing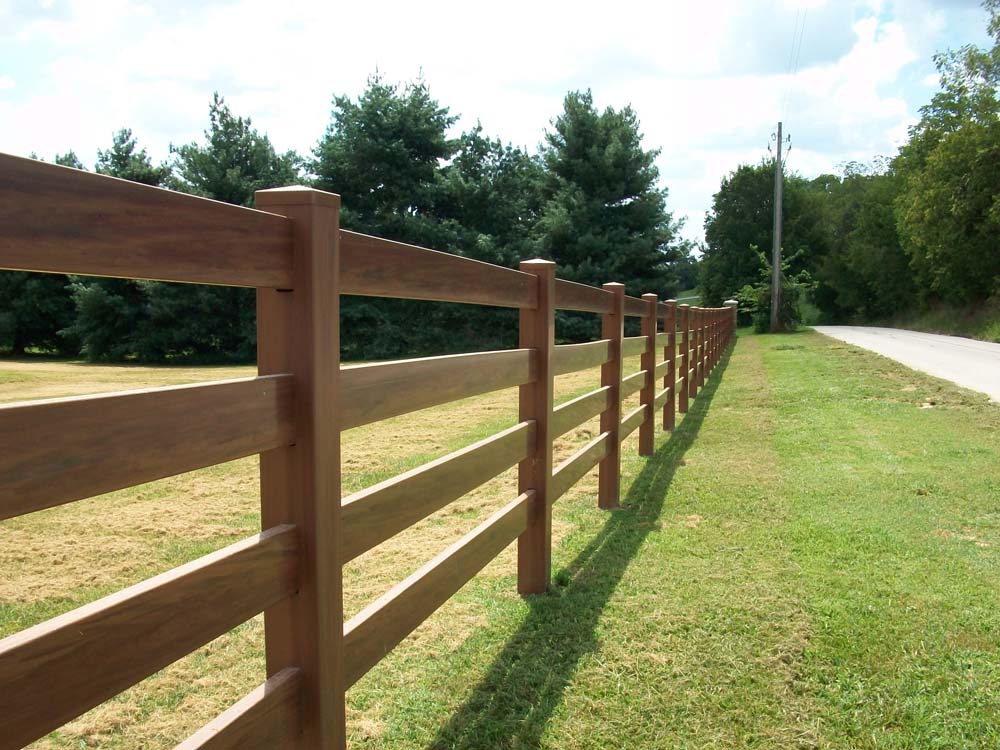 Post and rail fencing is the most traditional and commonly used method of field fencing. The timber post and rail fencing is available with half round rails or square rails and can be used in a tanadised form or painted to suit the application. The posts generally used are full round posts although half round posts can be used but the strength of the fencing may be compromised with the use of these. When erecting timber post and rail fencing it is quicker to utilise a mechanised post knocker, thereby saving a lot of time and money against boring a hole and filling with concrete and having to wait for it to set.
In recent times upvc post and rail fencing is becoming more popular. With its maintenance free properties upvc will always keep its original appearance and the upvc posts will not rot in the ground like timber posts. Although the initial cost of upvc post and rail fencing is greater, overtime the lasting appearance and the maintenance free properties may prove to be beneficial. A simple electric fence can be attached to post and rail fencing to prevent horses from chewing the rails, these are available for both timber and upvc fencing.
The post and rail fence is a more expensive option than other fence types and is a more permanent fixture. In the end it is purely down to preference and the suitability of the fencing to the requirements of the individual.
UPVC Fencing
Recent innovations in upvc technologies means that we now have a tough maintenance free alternative to traditional timber fencing. Modern timber fencing although often tantalised, does not last as the timber of yesteryear did, therefore the market has long been searching for alternative cost effective solutions to provide fencing that will last the test of time. Upvc fencing is available in various colours and guises and to all intents and purposes has the same look as timber fencing. You can choose from white , brown, black, green and all of these are available with a plain matt finish or a wood grain finish. Upvc fencing can be used as a fully panelled privacy fence for gardens or to screen private property, these can be installed with plastic or concrete posts with or without gravel boards. These can also be used in commercial situations. Plastic posts are very strong require no maintenance, do not rot in the ground, will not discolour and will last for many years.
Other types of upvc fencing are available including picket fencing. Picket fencing is a hit and miss type of fencing that is easy to install, this is available in white, brown or oak woodgrain finish and generally is between 600 mm – 1200 mm in height although they can be as high as 1800 mm. Like all upvc fencing picket fencing is virtually maintenance free with the exception of an occasional wipe over with soapy water.
Traditional post and rail fencing has for centuries been used to divide areas of land, used as stock fencing for horses and other farm animals and for decorative effect around farms and larger house or estates. Upvc post and rail has many advantages over traditional timber post and rail fencing. Upvc is Long lasting, maintenance free and retains the look of new fencing. Available as a square post and rail or rounded edges to suit whatever application it is required for. Whether a two, three or four rail option is chosen upvc post and rail offers a strong reliable solution to field division.
Upvc fencing is easily installed by a professional, a farmer or a DIY enthusiast. Whatever type of fencing you are looking for upvc fencing, although slightly more expensive initially, will in the long term prove a very good investment and will not need to be maintained and replaced as traditional timber fencing. To compliment the upvc range of fencing there is also available a wide range of farm gates, estate gates and house gates all available in a wide range of colours as a matt finish or a wood grain finish. If you are thinking of fencing then upvc fencing is worth a look.
Arena fencing
You know how it is with arenas, you have to make sure that you have the correct drainage, you purchase the surface and have it professionally laid by experts and it can prove to be an expensive but worthwhile investment. Your arena is built to last for years and then you put a wooden fence around it that will rot away in a few years, where is the sense in that.
For little additional cost at the build stage, that is a very small percentage of the cost of the arena, you can surround your arena with upvc fencing that will last for the lifetime of your arena. There are many advantages of a upvc fencing system, they are virtually maintenance free, just the occasional wipe over to keep them looking prestine, they are easy to install, either by a professional at the build stage or later by doing it yourself. Upvc fencing has the appearance of a traditional post and rail fence and is available in a wide range of colours both in a matt finish and a woodgrain effect. The upvc posts are reinforced, very strong and they will not rot in the ground. You can have 2, 3 or 4 rails whichever is your preference. So if you are wanting to have a fencing system that will retain its looks and is durable, long lasting and easy to maintain then a upvc fencing system could be the one for you.
Call our sales team on 0800 0029120 for your free quotation
Stud Rail Fencing