Horse Breeding Equipment - What Will You Need
Horse breeding equipment can range from the horse fence that contains the pasture breeding or mating horses, to the equitainer or liquid nitrogen tank used for equine semen shipping and/or equine frozen semen storing.
Though wild horse mating has been successful for generations, controlled equine reproduction has evolved into a highly scientific venture.
While some basic breeding equipment remains very useful, there have been many advancements that enable us to overcome numerous horse breeding challenges.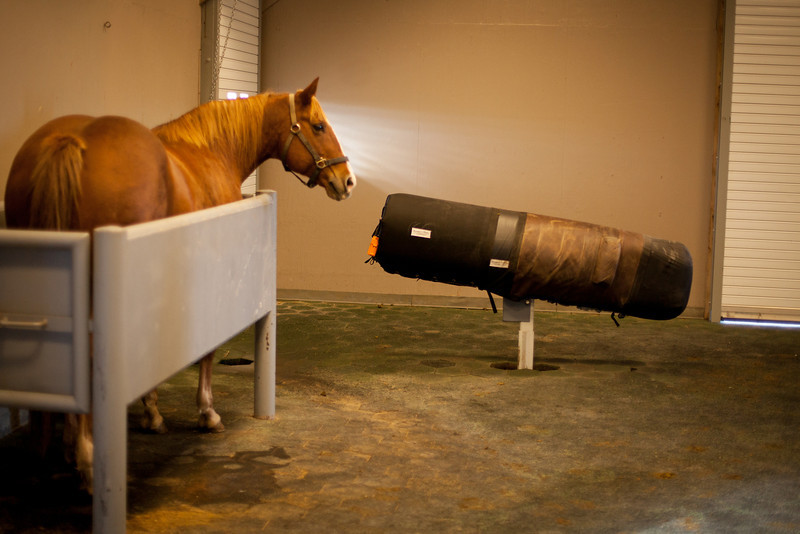 The ability to observe horse semen collection or live cover breeding first hand, will vastly improve your understanding of the necessary items and how they are used.
You will most likely need the presence of a "teaser mare" or "jump mare". This mare should be showing heat and responsive to the stallion in a manner that encourages him to perform the stud service.
Remember, every stallion and mare is unique. Therefore, learning what works best for each individual will develop over time.
A productive and safe horse breeding facility should have the proper breeding equipment and horse breeding supplies along with skilled personnel to utilize and maintain them.
The act of horse copulation can be rough, unpredictable, and dangerous.
It is highly recommended that all persons involved know exactly how to perform their specific job and use the breeding equipment correctly to avoid injury to human or horse.
In this section we will cover the equipment most often used in successful horse breeding:
Horse Breeding Mount
Horse Breeding Chute
Teaser/Jump Mare
Horse Breeding Hobbles
Missouri AV/Colorado AV
Equine Semen Extender
Equine Semen Shipping Containers
Some pieces of horse breeding equipment will be costly.
The good news is that most of these are one time purchases that will be used for many years and with little maintenance.
Use as many resources as possible to educate yourself about what is available to meet your specific needs for the breeding shed.
Start with your veterinarian. He or she will be your best local resource and most familiar with your horse stable and what you will be able to accommodate.
Your veterinarian may even be able to direct you to used horse breeding equipment.
Visit other accomplished breeding horse farms. Actually seeing the breeding facility really helps to get a perspective. Ask Questions and find out what has worked and not worked in their breeding programs.
Research and learn as much horse breeding information as possible, it will be time well spent!