Holly Brougham
Holly Brougham is a British showjumping rider born 17th October 1980, horses competed by Holly Brougham include HAVANNA DE CAVRON, Chacco Time and Untouchable. Below you can watch Holly Brougham in action riding Veni Vidi Vici at Addington Manor.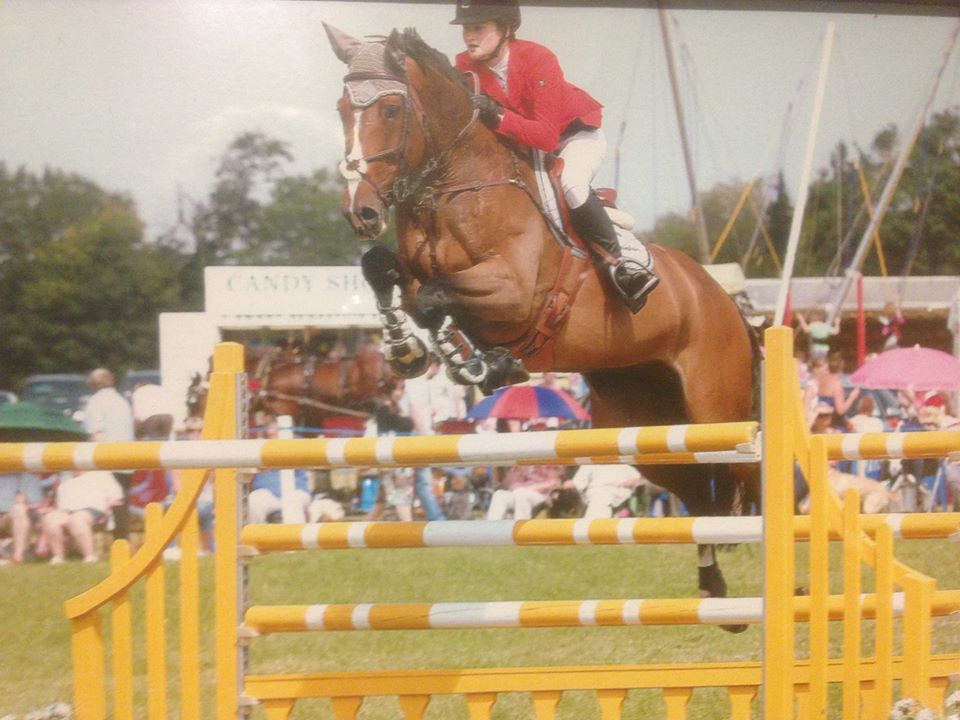 Cassie Brough
Cassie Brough - UK
BURROUGH Holly
BURROUGH Holly - UK
Andrej Holly
Andrej Holly - Slovakia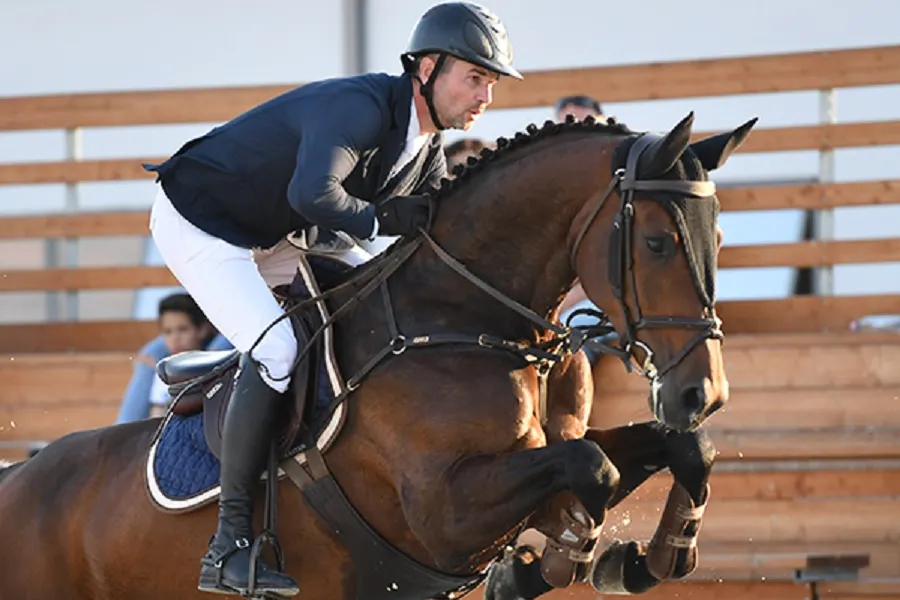 Russell Broussard
Russell Broussard - USA - Endurance Rider
Nicolas Brouardelle
Nicolas Brouardelle - France - Showjumping Rider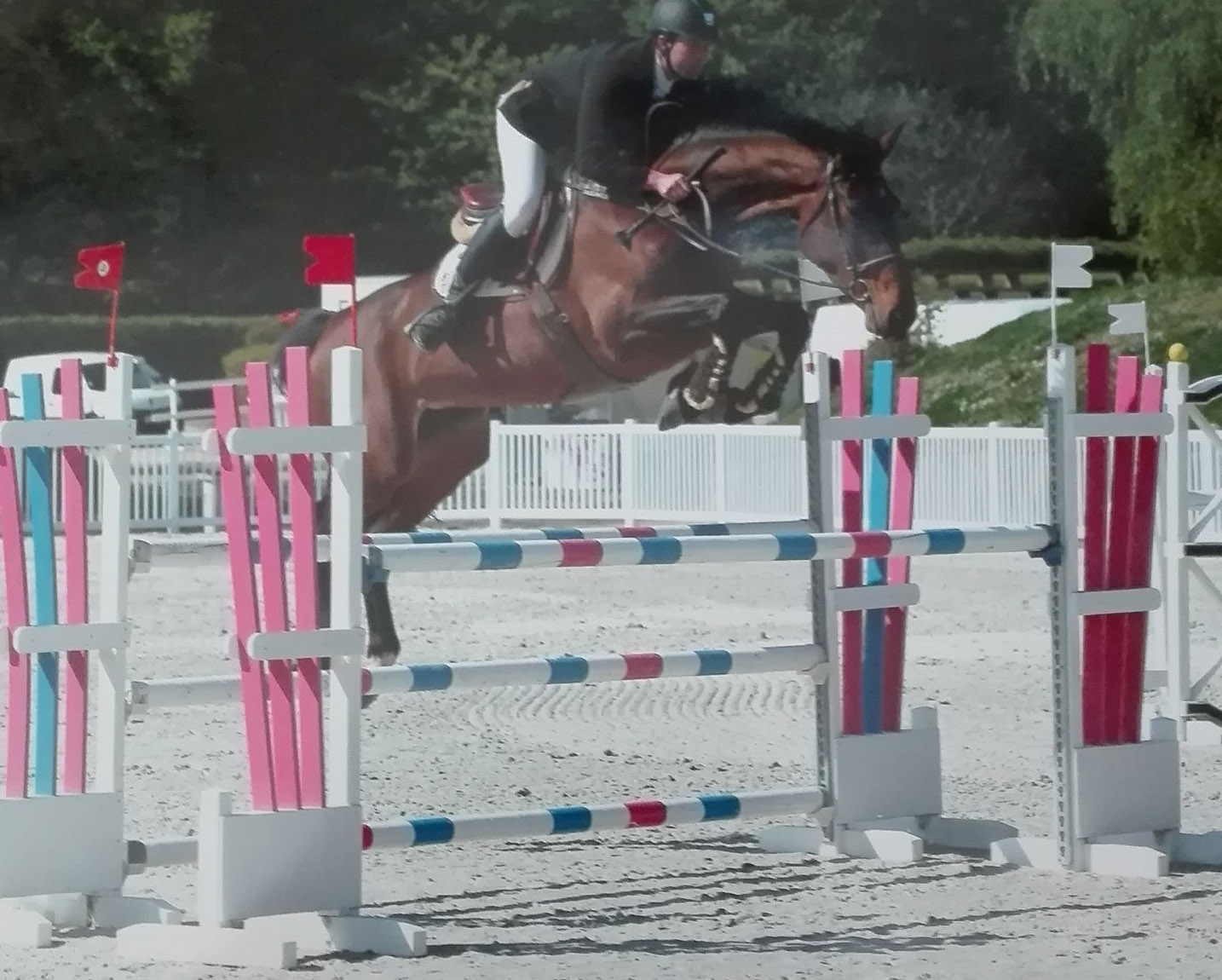 Mabrouk Abdulrasul Alkabkabi
Mabrouk Abdulrasul Alkabkabi - Saudi Arabia
MHR MUSCATEAL
(Muscat x MHR Princess Bask) is a 2 times U.S. national champion reining horse and won numerous other top-level reining chempionships. He also was reserve champion at the NRHA Rheno Spekatacular open where he left some very good Quarter Horses behind him. However, Muscateal is not only successfully himself, he has already set standards as producer, too: amongst his offspring one can also find an U.S. national champion reining, other offspring are found on top ranks at lots of reining competitions again and again.
Muscateal`s father MUSCAT belongs to the most famous Russian Arabian stallions which have ever lived. Muscat himself won the "Triple Crown" of the halter by becoming national champion stallion, Scottsdale and Canadian national champion within the same year. He had an immense influence on the american breeding program, he produced numerous champions both in halter and performance. Here he is known as sire of extreme talented reining and working cowhorse horses.
VENI VIDI VICI
Indoctro x -, -
Beccy Broughton-Booker
Beccy Broughton-Booker - UK
Here at Telford Saddlebreds, we take great pride in our breeding program. We carefully select our mares and stallions to carry on the best of bloodlines with the American Saddlebred. We are also cross-breeding our Saddlebred mares with outstanding Friesian stallions. Below, we have listed our Friesian / Saddlebred yearlings that are for sale. Please enjoy viewing our sale ads, and if you have any questions, please feel free to contact us.
We do offer in house financing. With a deposit of $500 or more, you can make either weekly, bi-weekly, or monthly payments. The horse will remain here with us until the balance of the contract is paid. The buyer, considered to be the new owner of the horse, will then be responsible for vet and ferrier fees, as well as half of the horses monthly boarding costs.
Yaaqoub Mabrouk Alkabkaby
Yaaqoub Mabrouk Alkabkaby - Saudi Arabia
Multimedia and Flash development Design rich media elements to enhance your web site, Internet advertising or sales tools
Micaela Yarbrough
Micaela Yarbrough - Canada - Showjumping Rider
Roxanne Brouwer
A female endurance rider from Holland, Roxanne Brouwer was born the 4th of February 1986. Roxanne Brouwer has won under FEI rules winning in Ermelo with her horse Chiruy. We would like more information and grow our endurance rider database, if you can help please email us at info@stableexpress.com
Lincolnshire Horseboxes For Sale
Leyland Daf 45/150 7.5 ton horsebox 3 stalls, full living and toilet This non HGV lorry is the highly sought after Leyland Daf 45/150. It has a tilt cab with a cut through to the living. The kitchen has a gas hob, sink with pump tap and a three-way fridge.
Yousef Mabrouk Alkabkaby
Yousef Mabrouk Alkabkaby - Saudi Arabia
Responsible opt-in email advertising is where the future of email marketing is headed. Bulk email traditionally comes in two different forms - blatant spam and responsible opt-in email marketing. These days ISPs are making it more and more difficult to send out unsolicited email advertising. This leaves opt-in email marketing as the only sensible alternative. However, starting your own opt-in email campaign can take years of collecting email addresses of individuals who are willing to receive offers via email. For example, if you had a website that received 1,000 hits a day and you were able to get 10% of these visitors (which would be a high percentage) to subscribe to your opt-in email offers, it would take you almost two years to get 50,000 subscribers! The other alternative would be to purchase email addresses from list brokers ranging in price from 11˘ to 30˘ each.
Guy Brousseau
Guy Brousseau - France - Endurance Rider
Julie Brougham
Julie Brougham - New Zealand - Dressage Rider
Roosje Brouwer
Roosje Brouwer is a showjumping rider from Holland, below you can watch Roosje and Charming Edition in action at Asten.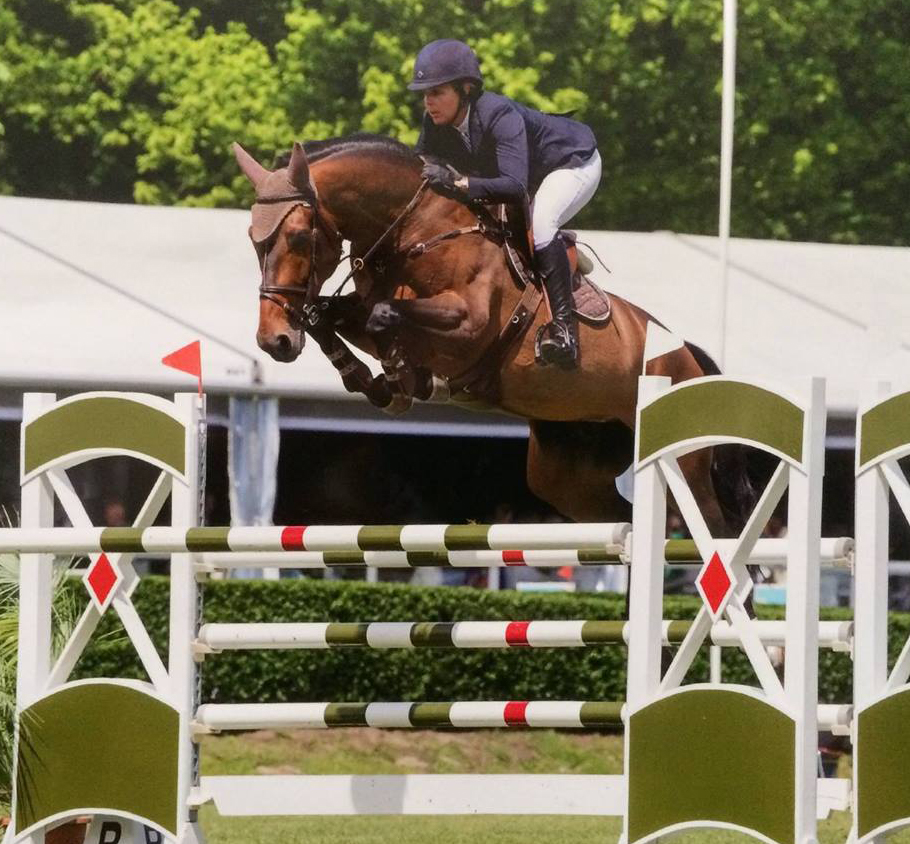 Roosje Brouwer
Roosje Brouwer Horses
Caribean
Nikon Caribean
Nikon Tiger Lilly         
Nikon`s Caribean
Cheenook (01/01/1996)
---
Roosje Brouwer Competition Results
3 - , Nations Cup - 14/05/2006 - Caribean
---
3 - , Nations Cup - 14/05/2006 - Caribean
---
36 - Hasselt, Grand Prix - 26/02/2006 - Nikon Caribean
---
10 - Hasselt, Prijs Studbook Zangersheide - 1.40 Mixed comp. - 25/02/2006 - Nikon Tiger Lilly
---
6 - Hasselt, Prijs Ethias Arena - 1.40 Mixed comp - 24/02/2006 - Nikon Caribean
---
6 - Hasselt, Prijs Bouwbedrijf Keulen - 1.40 Mixed comp - 23/02/2006 - Nikon Caribean
---
31 - Mechelen, World Cup Qualifier - 28/12/2004 - Nikon`s Caribean Charming Edition en Roosje Brouwer 6 jarige NCH ASTEN 2013
Bruno Broucqsault
Bruno Broucqsault - France - Showjumping Rider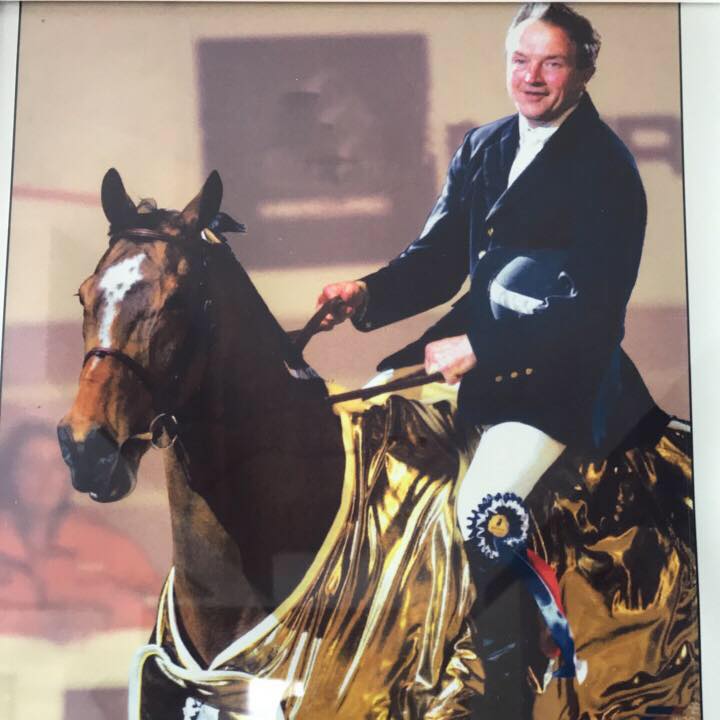 Bruno Broucqsault Horses
      Desiree de Here, Dileme De Cephe
          Slarky d`Anchin x - (1991 )
      Diltone du Montois
          - x - (01/01/1998)
      Espoir de Courcel (Quito De Baussy x Grand Veneur, 2002)
      Fairyland d`Epic (Starky D`Anchin), Figaro de Baugy (Qredo de Paulstra, 1993)
      Forever IV
          Iago C: AA x - (01/01/1993)
      Garden d`Epic
          - x - (01/01/1994)
      Grine de Quennelet
          - x - (01/01/1994)
      Hooligan De Rosyl
          In Chala A x - (21/06/1995)
      Ice Ti Jeanne
          - x - (01/01/1996)
      Ichem de Servole
          Le Tot de Semilly x - (01/01/1996)
      Jaguar d`Epic
          Galoubet A x - (01/01/1997)
      Joyau de Bloye
          Diamant de Semilly x Quidam De Revel (01/01/1997)
      Talk About Wonderland
          Papillon Rouge x - (- )
---
Dileme De Cephe is a horse who represented France at the highest levels including the 2004 Olympics, along with his rider Bruno Broucqsault, Dileme De Cephe won grand prix, wc qualifiers and other big events. Dileme De Cephe is by the stallion Slarky
---
---
Sired by stallion Chala A, Hooligan De Rosyl was born in 1995 and has become a succesful competition horse with leading rider Edwina Alexander Tops from Australia
---
Bruno Broucqsault Competition Results
07 - Palaiseau ** CSI, 1.40 Two phases - 01/01/2006 - Ichem de Servole
---
04 - Palaiseau ** CSI, 1.35 Two phases - 01/01/2006 - Joyau de Bloye
---
32 - Palaiseau ** CSI, Grand Prix Mixed comp. - 01/01/2006 - Talk About Wonderland
---
32 - Stuttgart, World Cup Qualifier - 20/11/2005 - Hooligan De Rosyl
---
09 - Bordeaux, G.P.W Two rounds - jo - 01/01/2005 - Hooligan De Rosyl
---
08 - Saint LĂ´ *** CSI, 1.35 Two phases - 01/01/2005 - Fairyland d`Epic
---
02 - Saint LĂ´ *** CSI, Grand Prix Mixed comp. - 01/01/2005 - Hooligan De Rosyl
---
07 - Saint LĂ´ *** CSI, 1.45 Two rounds - 01/01/2005 - Hooligan De Rosyl
---
06 - Saint LĂ´ *** CSI, 1.30 Against the clock - 01/01/2005 - Fairyland d`Epic
---
18 - Bordeaux, Grand Prix - 01/01/2005 - Hooligan De Rosyl
---
32 - Stuttgart, G.P.W Mixed comp. - 01/01/2005 - Hooligan De Rosyl
---
05 - Rotterdam, Nations Cup Team comp. - jo - 01/01/2005 - Hooligan De Rosyl
---
02 - Rotterdam, Grand Prix Mixed comp. - 01/01/2005 - Hooligan De Rosyl
---
06 - DĂĽsseldorf, Grand Prix Mixed comp. - 01/01/2005 - Hooligan De Rosyl
---
13 - Verona, G.P.W Mixed comp. - 01/01/2005 - Hooligan De Rosyl
---
07 - Dunkerque, 1.35 Two phases - 01/01/2005 - Fairyland d`Epic
---
02 - Dunkerque, 1.40 Two phases - 01/01/2005 - Hooligan De Rosyl
---
17 - Dunkerque, Grand Prix Mixed comp. - 01/01/2005 - Hooligan De Rosyl
---
08 - Nantes *** CSI, 7/8 Years Mixed comp. - 01/01/2005 - Jaguar d`Epic
---
07 - Nantes *** CSI, Grand Prix Two rounds - 01/01/2005 - Hooligan De Rosyl
---
02 - Chantilly *** CSI, Grand Prix Two rounds - 01/01/2005 - Hooligan De Rosyl
---
12 - Paris Bercy, World Cup Qualifier - 01/01/2005 - Hooligan De Rosyl
---
02 - , Grand Prix Mixed comp. - 01/01/2005 - Hooligan De Rosyl
---
01 - , King Cup Two rounds - 01/01/2005 - Hooligan De Rosyl
---
25 - Mechelen, World Cup Qualifier - 28/12/2004 - Hooligan De Rosyl
---
10 - Olympics, Team - 27/08/2004 - Dileme De Cephe
---
58 - Olympics, Individual - 29/07/2004 - Dileme De Cephe
---
01 - World Cup Final, World Cup Final - 24/04/2004 - Dileme De Cephe
---
19 - Mechelen, G.P.W Mixed comp. - 01/01/2004 - Hooligan De Rosyl
---
16 - Bordeaux, G.P.W Two rounds - jo - 01/01/2004 - Dileme De Cephe
---
03 - Aachen, 1.45 Winning round - 01/01/2004 - Hooligan De Rosyl
---
26 - Aachen, Grand Prix Two rounds - jo - 01/01/2004 - Dileme De Cephe
---
09 - Aachen, 1.45 Mixed comp. - 01/01/2004 - Hooligan De Rosyl
---
03 - Paris-Porte de Versailles, 1.45 Mixed comp. - 01/01/2004 - Hooligan De Rosyl
---
08 - Paris-Porte de Versailles, Grand Prix - 01/01/2004 - Hooligan De Rosyl
---
13 - Bordeaux, Grand Prix - 01/01/2004 - Hooligan De Rosyl
---
34 - Olympia International Horse Show, G.P.W Mixed comp. - 01/01/2004 - Hooligan De Rosyl
---
15 - Olympia International Horse Show, Grand Prix Mixed comp. - 01/01/2004 - Hooligan De Rosyl
---
31 - Lucerna CSIO, Grand Prix Two rounds - 01/01/2004 - Dileme De Cephe
---
02 - Lucerna CSIO, Nations Cup Team comp. - jo - 01/01/2004 - Dileme De Cephe
---
06 - Chantilly *** CSI, 7 Years Two phases - 01/01/2004 - Jaguar d`Epic
---
05 - `S-Hertogenbosch, 1.50 Against the clock - 01/01/2004 - Dileme De Cephe
---
02 - `S-Hertogenbosch, G.P.W Mixed comp. - 01/01/2004 - Dileme De Cephe
---
09 - `S-Hertogenbosch, Grand Prix Mixed comp. - 01/01/2004 - Hooligan De Rosyl
---
02 - Paris Bercy, 1.45 Against the clock - 01/01/2004 - Dileme De Cephe
---
11 - Belfast International, Grand Prix Two rounds - 01/01/2004 - Hooligan De Rosyl
---
10 - Belfast International, 1.50 Mixed comp. - 01/01/2004 - Hooligan De Rosyl
---
03 - Maubeuge, 1.45 Mixed comp. - 01/01/2004 - Hooligan De Rosyl
---
19 - Amsterdam, Grand Prix Mixed comp. - 01/01/2004 - Hooligan De Rosyl
---
10 - Amsterdam, 1.45 Winning round - 01/01/2004 - Dileme De Cephe
---
26 - Amsterdam, G.P.W Mixed comp. - 01/01/2004 - Dileme De Cephe
---
05 - Amsterdam, 1.45 Accumulator - 01/01/2004 - Desiree de Here
---
07 - Paris Bercy, World Cup Qualifier - 01/01/2004 - Dileme De Cephe
---
18 - Chantilly *** CSI, Grand Prix Two rounds - 01/01/2004 - Hooligan De Rosyl
---
09 - , 1.45 Two phases - 01/01/2004 - Hooligan De Rosyl
---
10 - , Stallions Against the clock - 01/01/2004 - Hooligan De Rosyl
---
21 - , Grand Prix Mixed comp. - 01/01/2004 - Hooligan De Rosyl
---
07 - Berlin, Championat Von Berlin - 15/11/2003 - Hooligan De Rosyl
---
04 - Berlin, Opening Competition - 14/11/2003 - Hooligan De Rosyl
---
01 - Rotterdam, Longines Trophy - 30/08/2003 - Hooligan De Rosyl
---
02 - Rotterdam, Nations Cup - 29/08/2003 - Dileme De Cephe
---
01 - Barcelona, Grand Prix - 15/06/2003 - Dileme De Cephe
---
3 - La Baule, La Baule Grand Prix - 11/05/2003 - Dileme De Cephe
---
01 - Oslo, Grand Prix Mixed comp. - 01/01/2003 - Hooligan De Rosyl
---
17 - Oslo, G.P.W Mixed comp. - 01/01/2003 - Dileme De Cephe
---
03 - Helsinki, G.P.W Mixed comp. - 01/01/2003 - Dileme De Cephe
---
02 - Helsinki, Grand Prix Two rounds - 01/01/2003 - Hooligan De Rosyl
---
04 - Berlin, 1.45 Against the clock - 01/01/2003 - Hooligan De Rosyl
---
07 - Berlin, 1.50 Mixed comp. - 01/01/2003 - Hooligan De Rosyl
---
08 - Berlin, G.P.W Mixed comp. - 01/01/2003 - Dileme De Cephe
---
28 - Rome, 1.45 Two ph. - tab. A/C - 01/01/2003 - Figaro de Baugy
---
01 - Rome, Grand Prix Two rounds - jo - 01/01/2003 - Dileme De Cephe
---
01 - Rome, Nations Cup Team comp. - jo - 01/01/2003 - Dileme De Cephe
---
46 - Rome, 1.45 Mixed comp. - 01/01/2003 - Dileme De Cephe
---
61 - Rome, 1.40 Against the clock - 01/01/2003 - Figaro de Baugy
---
02 - Barcelona, 1.45 Against the clock - 01/01/2003 - Hooligan De Rosyl
---
09 - Barcelona, Samsung NC Final Team comp. - jo - 01/01/2003 - Dileme De Cephe
---
01 - Barcelona, Grand Prix Two rounds - 01/01/2003 - Dileme De Cephe
---
06 - Barcelona, Queen Cup Mixed comp. - 01/01/2003 - Hooligan De Rosyl
---
09 - Barcelona, 1.40 Two phases - 01/01/2003 - Dileme De Cephe
---
26 - Paris-Porte de Versailles, Grand Prix - 01/01/2003 - Hooligan De Rosyl
---
07 - Paris-Porte de Versailles, 1.45 Against the clock - 01/01/2003 - Desiree de Here
---
07 - Paris-Porte de Versailles, 1.40 Two phases - 01/01/2003 - Desiree de Here
---
06 - Mechelen, G.P.W Mixed comp. - 01/01/2003 - Hooligan De Rosyl
---
06 - Vittel, 1.40 Mixed comp. - 01/01/2003 - Hooligan De Rosyl
---
07 - Vittel, 7 Years Against the clock - 01/01/2003 - Ice Ti Jeanne
---
04 - Vittel, Grand Prix Mixed comp. - 01/01/2003 - Dileme De Cephe
---
03 - Geneva, Accumulator - 01/01/2003 - Desiree de Here
---
08 - Geneva, 1.35 Against the clock - 01/01/2003 - Desiree de Here
---
01 - Geneva, 1.35 Baton relays - 01/01/2003 - Desiree de Here
---
12 - Geneva, G.P.W Mixed comp. - 01/01/2003 - Dileme De Cephe
---
01 - Rotterdam, 1.50 Two phases - 01/01/2003 - Hooligan De Rosyl
---
28 - Rotterdam, Grand Prix Mixed comp. - 01/01/2003 - Dileme De Cephe
---
02 - Rotterdam, Nations Cup Team comp. - jo - 01/01/2003 - Dileme De Cephe
---
08 - Rotterdam, 1.50 Mixed comp. - 01/01/2003 - Hooligan De Rosyl
---
06 - Maubeuge, 1.40 Against the clock - 01/01/2003 - Figaro de Baugy
---
10 - Maubeuge, 1.30 Against the clock - 01/01/2003 - Figaro de Baugy
---
08 - Maubeuge, 1.45 Against the clock - 01/01/2003 - Hooligan De Rosyl
---
40 - Maubeuge, Grand Prix Mixed comp. - 01/01/2003 - Hooligan De Rosyl
---
02 - Moorsele, Grand Prix Mixed comp. - 01/01/2003 - Dileme De Cephe
---
07 - Moorsele, 1.40 Two phases - 01/01/2003 - Dileme De Cephe
---
01 - Moorsele, 1.35 Two phases - 01/01/2003 - Hooligan De Rosyl
---
05 - Moorsele, 1.35 Two phases - 01/01/2003 - Hooligan De Rosyl
---
09 - , 7 Years Two phases - 01/01/2003 - Ice Ti Jeanne
---
03 - , Grand Prix Two rounds - 01/01/2003 - Dileme De Cephe
---
06 - , 1.35 Against the clock - 01/01/2003 - Figaro de Baugy
---
10 - , Stallions Against the clock - 01/01/2002 - Hooligan De Rosyl
---
04 - , 1.45 Mixed comp. - 01/01/2002 - Dileme De Cephe
---
07 - , 7 Years Mixed comp. - 01/01/2002 - Hooligan De Rosyl
---
03 - , 7 Years Two phases - 01/01/2002 - Hooligan De Rosyl
---
03 - , Grand Prix Two rounds - 01/01/2002 - Dileme De Cephe
---
01 - , Nations Cup Team comp. - 01/01/2002 - Dileme De Cephe
---
04 - , Grand Prix Two rounds - jo - 01/01/2002 - Dileme De Cephe
---
01 - Pontedera, 1.35 Speed and handiness - 01/01/2002 - Hooligan De Rosyl
---
03 - Pontedera, 1.40 Accumulator - 01/01/2002 - Figaro de Baugy
---
06 - Pontedera, 1.35 Mixed comp. - 01/01/2002 - Figaro de Baugy
---
02 - Pontedera, 1.40 Against the clock - 01/01/2002 - Hooligan De Rosyl
---
03 - Paris-Porte de Versailles, 1.50 Mixed comp. - 01/01/2002 - Dileme De Cephe
---
10 - Maubeuge, 1.35 Two phases - 01/01/2002 - Dileme De Cephe
---
28 - Maubeuge, Grand Prix Mixed comp. - 01/01/2002 - Dileme De Cephe
---
08 - Maubeuge, 1.35 Speed and handiness - 01/01/2002 - Figaro de Baugy
---
10 - Falsterbo, 1.45 Two phases - 01/01/2002 - Figaro de Baugy
---
01 - Falsterbo, 1.50 Accumulator - 01/01/2002 - Figaro de Baugy
---
04 - Falsterbo, Grand Prix Two rounds - 01/01/2002 - Dileme De Cephe
---
04 - Falsterbo, Nations Cup Team comp. - 01/01/2002 - Dileme De Cephe
---
14 - Paris-Porte de Versailles, Grand Prix - 01/01/2002 - Dileme De Cephe
---
10 - Royal International Horse Show - Hickstead, 1.40 Speed and handiness - 01/01/2002 - Figaro de Baugy
---
05 - Royal International Horse Show - Hickstead, Nations Cup Team comp. - 01/01/2002 - Dileme De Cephe
---
13 - Royal International Horse Show - Hickstead, Grand Prix Mixed comp. - 01/01/2002 - Dileme De Cephe
---
03 - Royal International Horse Show - Hickstead, 1.50 Against the clock - 01/01/2002 - Dileme De Cephe
---
07 - Jardy **** CSI, Grand Prix Mixed comp. - 01/01/2002 - Dileme De Cephe
---
3 - World Breeding Championship, 6 Year Old - 2nd Qualifier - 20/09/2001 - Hooligan De Rosyl
---
1 - Rotterdam, Nations Cup - 02/09/2001 - Dileme De Cephe
---
04 - Rotterdam, Bouw En Infraconcern Dura Vermeer Groep Prijs - 27/08/2001 - Dileme De Cephe
---
4 - Deauville, France, Grand Prix - 01/07/2001 - Dileme De Cephe
---
04 - Deauville, France, 1.30 Against the clock - 01/01/2001 - Forever IV
---
08 - Alençon, Stallions Mixed comp. - 01/01/2001 - Espoir de Courcel
---
03 - Alençon, Grand Prix Two rounds - 01/01/2001 - Dileme De Cephe
---
04 - Deauville, France, 1.45 Against the clock - 01/01/2001 - Espoir de Courcel
---
07 - Deauville, France, 1.30 Speed and handiness - 01/01/2001 - Forever IV
---
05 - Deauville, France, 1.35 Two phases - 01/01/2001 - Espoir de Courcel
---
04 - Deauville, France, Grand Prix Mixed comp. - 01/01/2001 - Dileme De Cephe
---
01 - Deauville, France, 1.40 Mixed comp. - 01/01/2001 - Dileme De Cephe
---
04 - Rotterdam, 1.50 Mixed comp. - 01/01/2001 - Dileme De Cephe
---
25 - Rotterdam, Grand Prix Mixed comp. - 01/01/2001 - Dileme De Cephe
---
01 - Rotterdam, Nations Cup Team comp. - 01/01/2001 - Dileme De Cephe
---
10 - Rotterdam, 1.40 Speed and handiness - 01/01/2001 - Espoir de Courcel
---
04 - Maubeuge, 7 Years Two phases - 01/01/2001 - Grine de Quennelet
---
06 - Maubeuge, 7 Years Two phases - 01/01/2001 - Garden d`Epic
---
06 - Maubeuge, 1.45 Mixed comp. - 01/01/2001 - Dileme De Cephe
---
04 - Maubeuge, Grand Prix Mixed comp. - 01/01/2001 - Dileme De Cephe
---
12 - Paris-Porte de Versailles, Grand Prix - 01/01/2001 - Dileme De Cephe
---
03 - Paris-Porte de Versailles, 1.50 Mixed comp. - 01/01/2001 - Dileme De Cephe
---
10 - Paris-Porte de Versailles, 1.40 Two phases - 01/01/2001 - Espoir de Courcel
---
17 - Jardy **** CSI, Grand Prix Mixed comp. - 01/01/2001 - Dileme De Cephe
---
08 - Saint LĂ´ *** CSI, Stallions Two phases - 01/01/2001 - Espoir de Courcel
---
03 - Saint LĂ´ *** CSI, 1.45 Two rounds - 01/01/2001 - Espoir de Courcel
---
02 - Saint LĂ´ *** CSI, Grand Prix Mixed comp. - 01/01/2001 - Dileme De Cephe
---
07 - Saint LĂ´ *** CSI, 1.40 Against the clock - 01/01/2001 - Forever IV
---
03 - Jardy **** CSI, 1.40 Speed and handiness - 01/01/2001 - Forever IV
---
08 - Jardy **** CSI, 1.50 Mixed comp. - 01/01/2001 - Dileme De Cephe
---
08 - CompiÄŤgne CSI-B, 1.40 Two phases - 01/01/2001 - Dileme De Cephe
---
06 - CompiÄŤgne CSI-B, 1.45 Mixed comp. - 01/01/2001 - Dileme De Cephe
---
05 - CompiÄŤgne CSI-B, Grand Prix Mixed comp. - 01/01/2001 - Dileme De Cephe
---
06 - CompiÄŤgne CSI-B, 1.30 Against the clock - 01/01/2001 - Forever IV
---
06 - , 1.50 Mixed comp. - 01/01/2001 - Dileme De Cephe
---
03 - , Grand Prix Mixed comp. - 01/01/2001 - Dileme De Cephe
---
03 - , 1.35 Two phases - 01/01/2001 - Forever IV
---
05 - , 1.40 Against the clock - 01/01/2001 - Forever IV
---
07 - , 1.45 Two rounds - 01/01/2001 - Espoir de Courcel
---
04 - La Courneuve *** CSI, 1.45 Against the clock - 01/01/2001 - Dileme De Cephe
---
07 - La Courneuve *** CSI, 1.35 Mixed comp. - 01/01/2001 - Espoir de Courcel
---
08 - La Courneuve *** CSI, 1.35 Two phases - 01/01/2001 - Forever IV
---
03 - La Courneuve *** CSI, 1.45 Mixed comp. - 01/01/2001 - Dileme De Cephe
---
23 - La Courneuve *** CSI, Grand Prix Mixed comp. - 01/01/2001 - Dileme De Cephe
---
04 - , 1.40 Against the clock - 01/01/2001 - Forever IV
---
02 - , 1.40 Against the clock - 01/01/2001 - Espoir de Courcel
---
09 - , Nations Cup Team comp. - 01/01/2001 - Dileme De Cephe
---
36 - , Grand Prix Mixed comp. - 01/01/2001 - Espoir de Courcel
---
04 - , 1.50 Mixed comp. - 01/01/2001 - Espoir de Courcel
---
07 - , 1.50 Against the clock - 01/01/2001 - Dileme De Cephe
---
10 - , 1.50 Against the clock - 01/01/2001 - Espoir de Courcel
---
09 - Leisele CSI-B, Grand Prix - 01/01/2000 - Diltone du Montois
---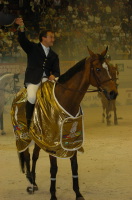 Sarah Broughton
Sarah Broughton - New Zealand - Eventing
Xavier Brout
Xavier Brout - France - Showjumping Rider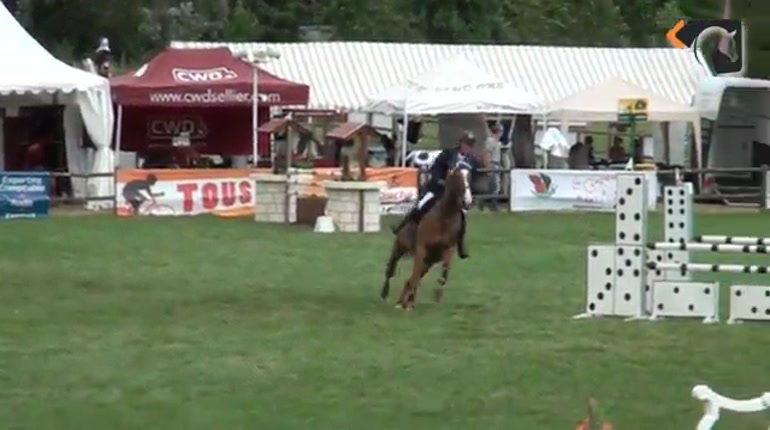 Sylvain Broussin
Sylvain Broussin - France - Showjumping Rider