Gypsy Vanner Horses / Gypsy Cobs
Browse through Stable Express, browse Gypsy Vanner Horses For Sale, find Gypsy cob stallions at stud.
| | | |
| --- | --- | --- |
| | | Gypsy Vanner Horses / Gypsy Cobs |
Stillwater Gypsy Farm
North Carolina, USA
- With a passion for Gypsy Vanner Cobs, Stillwater Gypsy Farm have a selection of homebred horses available for sale, and a selection of Gypsy Vanner stallions at stud. email
stillwatergypsies@gmail.com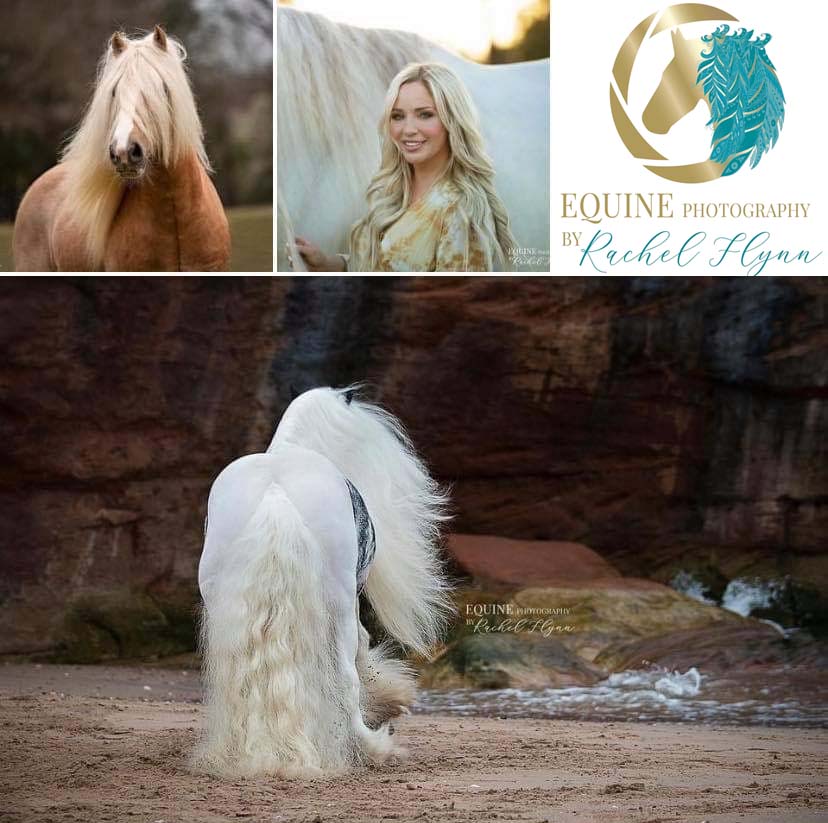 Gowaltys Balley and Avalon Shires are proud to announce their newest addition, stallion Clononeen Ard Ri! Clononeen Ard Ri was imported to the U.S. from the Clononeen Farm in Durrow, Ireland in the summer of 2003. Standing just under 15.3 hands, Ard Ri was the first registered Grand Gypsy Vanner, and is at present 1 of only 2 Grand Gypsy Vanner Stallions registered in the US. Prior to being approved and registered in the U.S. as a Gypsy Vanner Horse, Ard Ri was registered in Ireland with the Irish Cob Society, and was graded as a "First Premium" stallion - the highest level attainable by a stallion in Ireland! Also while in Ireland, he was shown and foxhunted as well as used as a breeding stallion. Here in the U.S. Ard Ri has begun training in the discipline of dressage, and is shown in halter classes and exhibited at breed expos!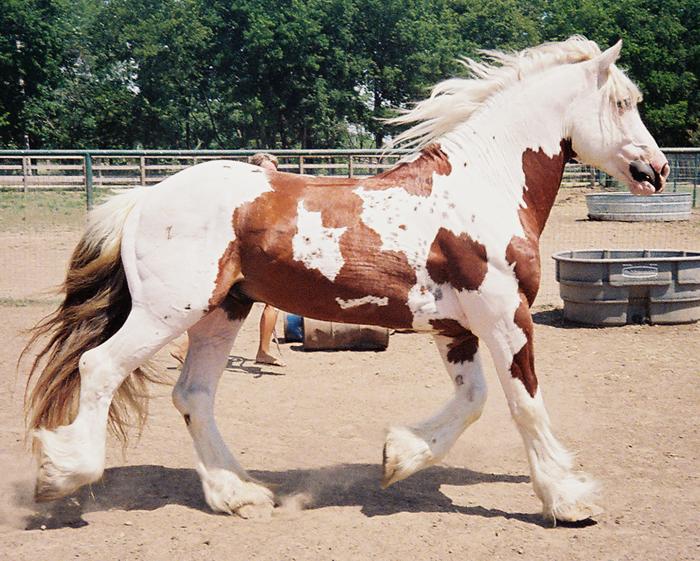 Ard Ri is a gorgeous Gypsy Vanner stallion who is homozygous for the Tobiano gene, meaning that every one of his foals has a spotted coat. His coloration is very unique-- Ard Ri`s chestnut and homozygous tobiano genes allow for a larger color palette on foals than the typical black-to-black breedings available from other stallions.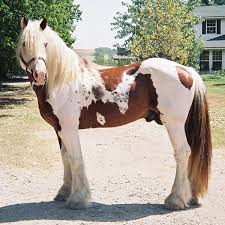 Ard Ri is a proven producer of both purebred Gypsy Vanner, and crossbred Drum Horse foals. His larger size, flawless conformation, fine and silky feather, charming disposition, and willing attitude leave nothing to be desired as a sire for both breeds. Ard Ri has also been used to sire select sporthorse foals, and is an excellent choice when looking for a stallion to contribute a solid disposition, loud coloration, and better bone.
Wild Creek Farm Gypsy Vanner Horses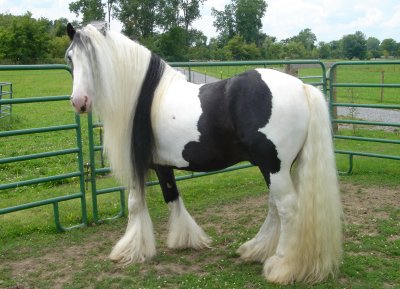 Romany King is now a "Gold Cup Stallion". He has been nominated to the Great Lakes Gypsy Vanner Horse Club Futurity program. This means all foals sired by him are eligible to be nominated for the GLGVHC Futurity events.
The magical horse of the gypsy is here in Ohio. The Gypsy Vanner Horse is full of history. Developed by the Romany Travellers in Europe that take great pride in their horses.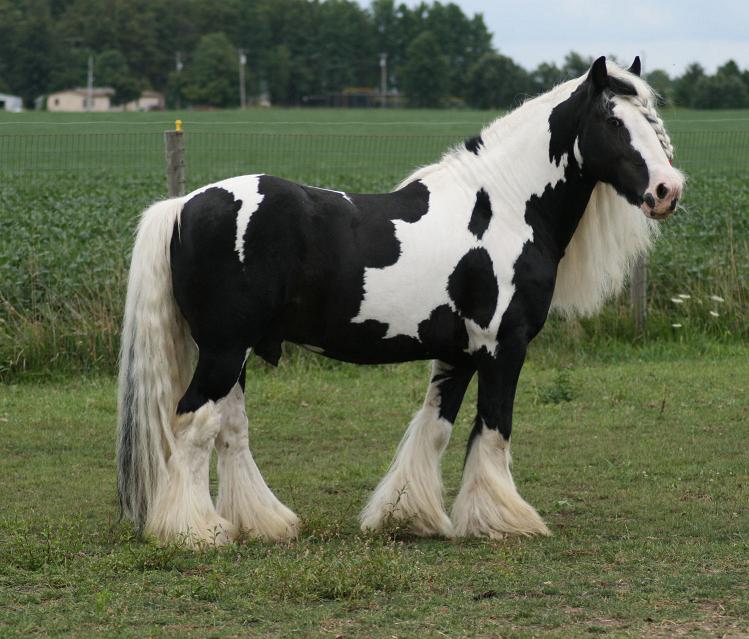 Our Gypsy Vanners are imported direct from the gypsy breeder. They are true examples of what a Gypsy Vanner Horse should be, heavy bone, abundant feather, beautiful expressive head. The mane and tails are extremely thick and long, and the feather is long and full starting from above the knee and hocks. But the real beauty of the Gypsy Vanner is something that cannot be seen.....it is the temperament.
For over 150 years the colorful horse of the Romanies have been seen around the country lanes of England, Wales and Ireland, pulling the carts and vardos. But these horses were also plentiful in towns and cities because they are the ideal horse to work among the noise and congestion. They are strong, sensible, docile and hard working.
The Gypsy Vanner is the horse the gypsy family uses to pull their Vardo (Living Wagon) or their colorful two wheeled carts. The Gypsy Vanner evolved over the last few decades of breeding to get superior quality, and are the most prized and protected of the horses within the gypsy herd. Most likely Shires, Clydesdales and Dales Ponies were originally used to create the horse you see today.
WildCreek Farm, 24580 State Rt 33, Wapakoneta, Ohio 45895, telephone 419-568-2083, email@gypsyvanners.com
Horseshoe Ranch Gypsy Cobs
We ride our gypsy horses every day, they are ridden extensively on the trail. They have proven themselves to be amazing trail horses, fabulous at a horse show, and they just love a parade!
Welcome to the Horseshoe Ranch Gypsy Cobs, owned and operated by Joe and Michelle Osgood, and their horse crazy daughter Emilie, and sons, Andrew and Travis. We are a small breeding and training farm located in beautiful Topsham, Vermont. We have been involved in the equine business for several years, Joe`s main occupation as a farrier, and together breeding and training various breeds of horses. After purchasing our first Gypsy Cob, Enchanted Kearney, Whom has captured our hearts, we were hooked! And decided that we would embark on this exciting journey of breeding and training quality registered Gypsy Cobs. We are truly Blessed to have these amazing horses in our lives!
We are a small horse farm dedicated to breeding for temperament and confirmation, in keeping with true Gypsy tradition. We handle all of our horses daily, and train with natural horsemanship methods. We trail ride our horses extensively and show them to ensure a very well-rounded family horse. All of our horses are proudly registered with the Gypsy Cob Society of America.
Contact us at: 802-439-5469 or by email hsranch@tops-tele.com
Enchanted Kearney
Enchanted Kearney, proudly owned and trained by Michelle Osgood, 2004, 2005 and 2006 Gypsy Cob Society of America MAP Champion!! Kearney has excelled in many disciplines, including Barrel Racing! Kearney is our very first Gypsy Cob, is the son of the Governor and Priscilla. Kearney has done it all, shows, trails, many parades, and proudly brought our daughter Emilie, to Championships!
Connors Malachi - Gypsy Cob Stallion
Our very handsome 2004 stallion who was imported from Ireland as a yearling. He`s already won many championships and has the best temperment you could ask for. He`s great in a show ring and even better on trail rides, our daughter Emilie (11 years old) rides him with great ease and as you can see our grandaughter, Lily, is already trying him out! Malachi`s babies are beautiful! Mali has tons of hair and feather. He is passing that along to his babies, along with his amazing temperment. He is standing at stud for $1,000 LFG. Live cover only at this time. Please email if you would like any more info on Malachi. hsranch@tops-tele.com
Gypsy Horse Sales
Enchanted Kearney is a 5 year old registered Gypsy Cob Gelding. He is 14.3hh. Kearney is a 3 time National Champion for GCSA Merit award program. He has done it all from Western Pleasure to Barrel Racing. We are asking $25,000, price is firm. If interested in Kearney email us at hsranch@tops-tele.com or you can call us at 802-439-5469. This is a picture of our daughter Emilie riding him at one of the Horse Shows.
We have an in utero foal we are offering for sale. Out of My Sweet Teagan and Conners Malachi. This foal will have TONS of HAIR and FEATHERS. And a very easy going temperament. Teagan is also a MAP Champion and is a granddaughter to Sids Good Stallion. The foal will be due around mid May. If interested, email us at hsranch@tops-tele.com or you can call us at 802-439-5469.
North Fork Faith`s Glory - "Faith"
Sire : Love Biscuit AKA Doc, Dam : Madison
From Gone Gypsy`s herd, we are pleased and excited to have been able to purchase Faith's Glory. Faith is an amazing chestnut and white pearl gypsy mare that was bred for a willing disposition, excellent conformation and tons of hair and feather. Out of Gone Gypsy Farm's mare Madison (out of an SD bloodlines mare) and sired by Bar None Gypsies amazing buckskin pearl stallion Love Biscuit aka Doc, Faith is the result of incredible, calculated breeding that has resulted in near perfection. Faith has completed a level 3 obstacle course and was shown as a yearling. She is a simply stunning mare with marvellous movement and is in foal for a 2015 foal to Gone Gypsy Farms stunning spotted dressage stallion Indigo's Royal Knight. This is certainly a mare you will want to keep your eyes on.
North Fork Beauty
Sire : Silky Boy, Dam : Violet
Beauty`s sire is Clononeen Silky Boy, who should need no introduction. Silky Boy is by Desert Jewel Lenny, one of the finest producers England has ever seen. Beauty suits her name in every way, possessing a gentle character and eager to please, much like her dam Violet and her grandsire Billy Boy. Beauty already has huge amounts of mane, tail and feather, so much so that we had to use her as our display horse in shows. Add to that her striking dark blue eye, traditional colouring and delicate head and she is sure to please. Beauty had her first foal in 2012.
North Fork Tumbleweed`s Shadowfax
Sire : North Fork Tumbleweed | Dam : Clononeen Priceless Description(colt) Shadowfax is very athletic and inquisitive. He has a presence about him that commands attention, just as his sire did. His small, sweet head is well balanced and his conformation and thick bone tick all the boxes for this wonderful breed. As usual, his dam keeps giving her best to her offspring and we look forward to seeing the result of this wonderful pairing mature. Shadowfax is the very last foal of Tumbleweed's offspring and we are proud to have such a fine example of all he was to us and the breed as a whole. He should mature to 14.2hh. n/P1. Colour Profile: nT, EE, Aa.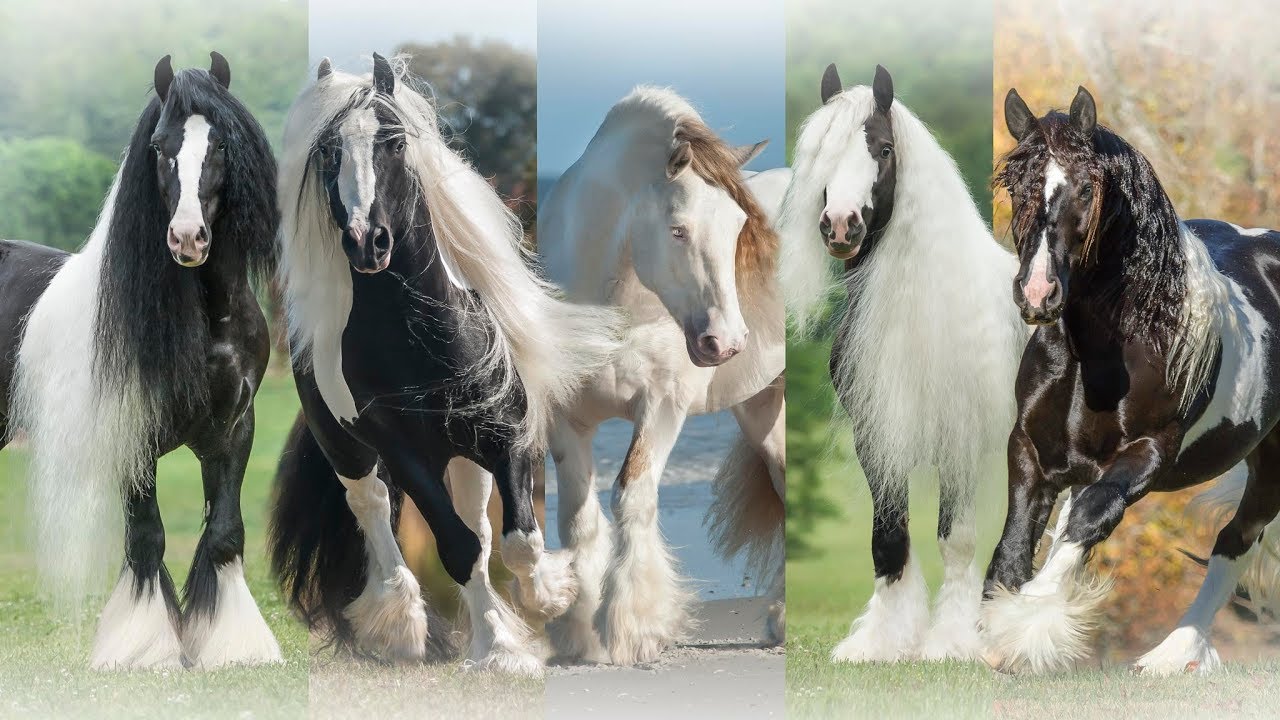 WF Commander
WF Commander. TGCA registered Homozygous tobiano (with a red gene) stallion standing 13.2h with offspring of great type and markings all over the world. Bloodlines include NatWest, Bob The Blagdon, Old Horse of Wales, Roadsweeper.
Commander has given us foals ranging from 12h with smaller mares to 15h with bigger mares. You are guaranteed a coloured foal with great dna proven bloodlines. Stallion based in Alton, Hampshire, live cover only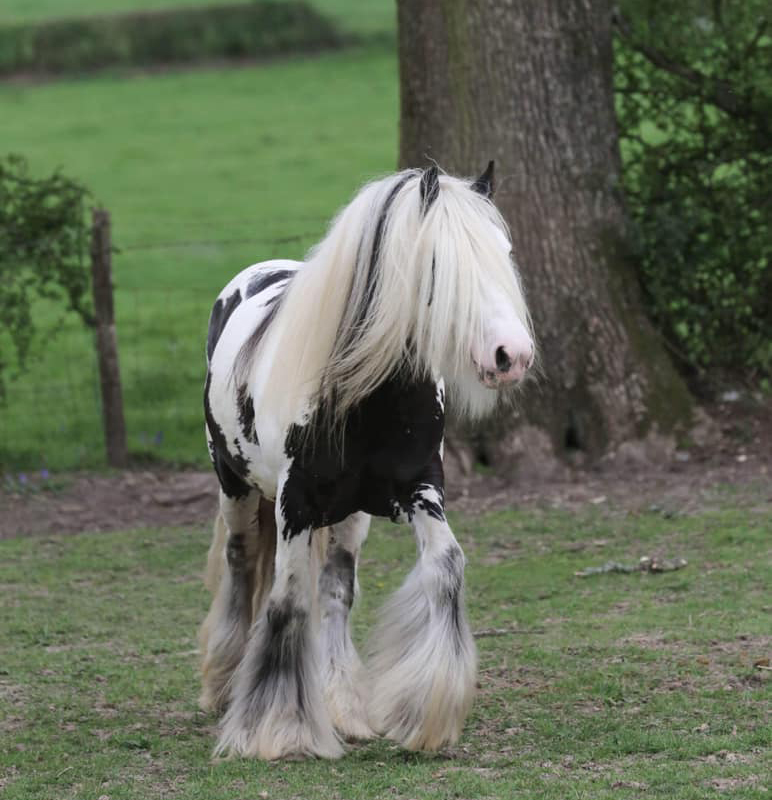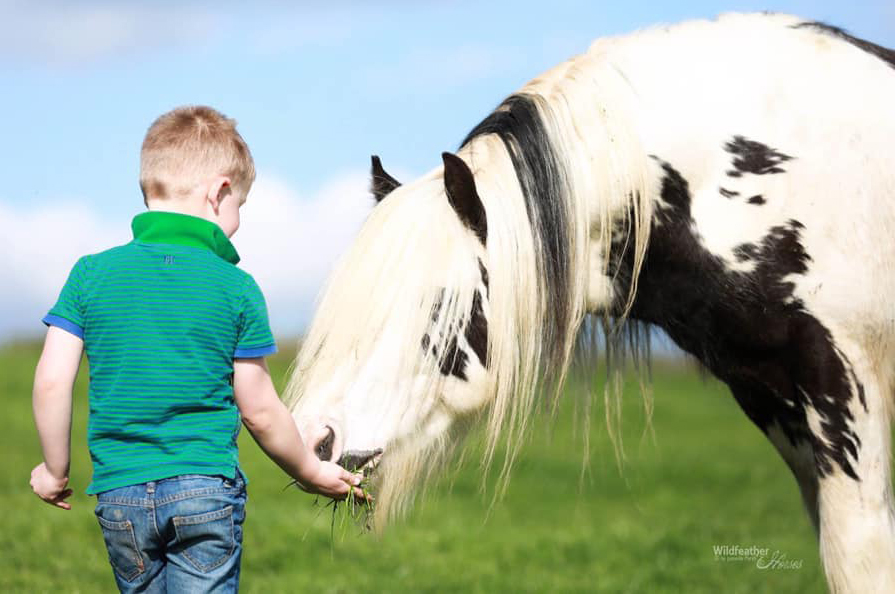 Gypsy Horses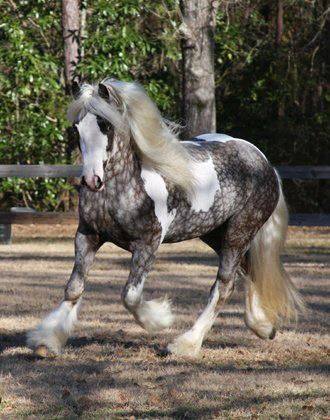 Gypsy Vanner Of Mystical Meadows, Ontario, Canada
Our first Gypsy vanner horses were imported into Ontario, Canada in November of 2006. Ever since then we have been devoted to promote this breed throughout Ontario!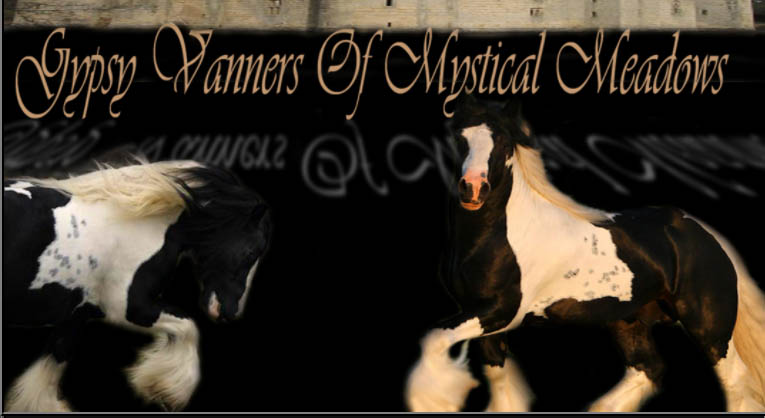 We would love to show you our Gypsy Vanners and speak to anyone who may be interested in owning one today or in the future. The Gypsy Vanner is one of the rarest horses in North America and we are pleased to be able to promote the Gypsy vanner horse in Canada! We have Gypsy Vanner foals for sale and we are proud to present our new arrival (Flicka)!
Sherry Rupke and Patricia Moor - 705 786-7552 or 705 426-1517, E-mail gypsyvanners@sympatico.ca