Gail Greenough
Gail E. Greenough, CM (born March 7, 1960) is a Canadian equestrian. She was the first woman, the first Canadian, the first North American, the first rider to have zero faults in the competition, and the youngest person ever to win the World Show Jumping Championships. Greenough was champion in 1986 at Aachen, riding a horse named Mr T (Hann). In 1990, she was made a Member of the Order of Canada.
Below you can watch Gail Greenough riding Mr T at the 1986 World Equestrian Games in Aachen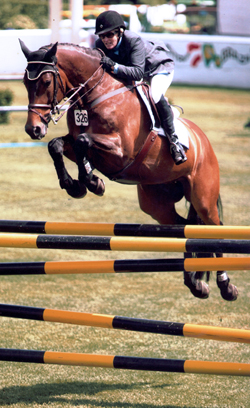 Gail Greenough Competition Results
1 - World Equestrian Games, Individual - 01/06/1986 - Mr T
---
†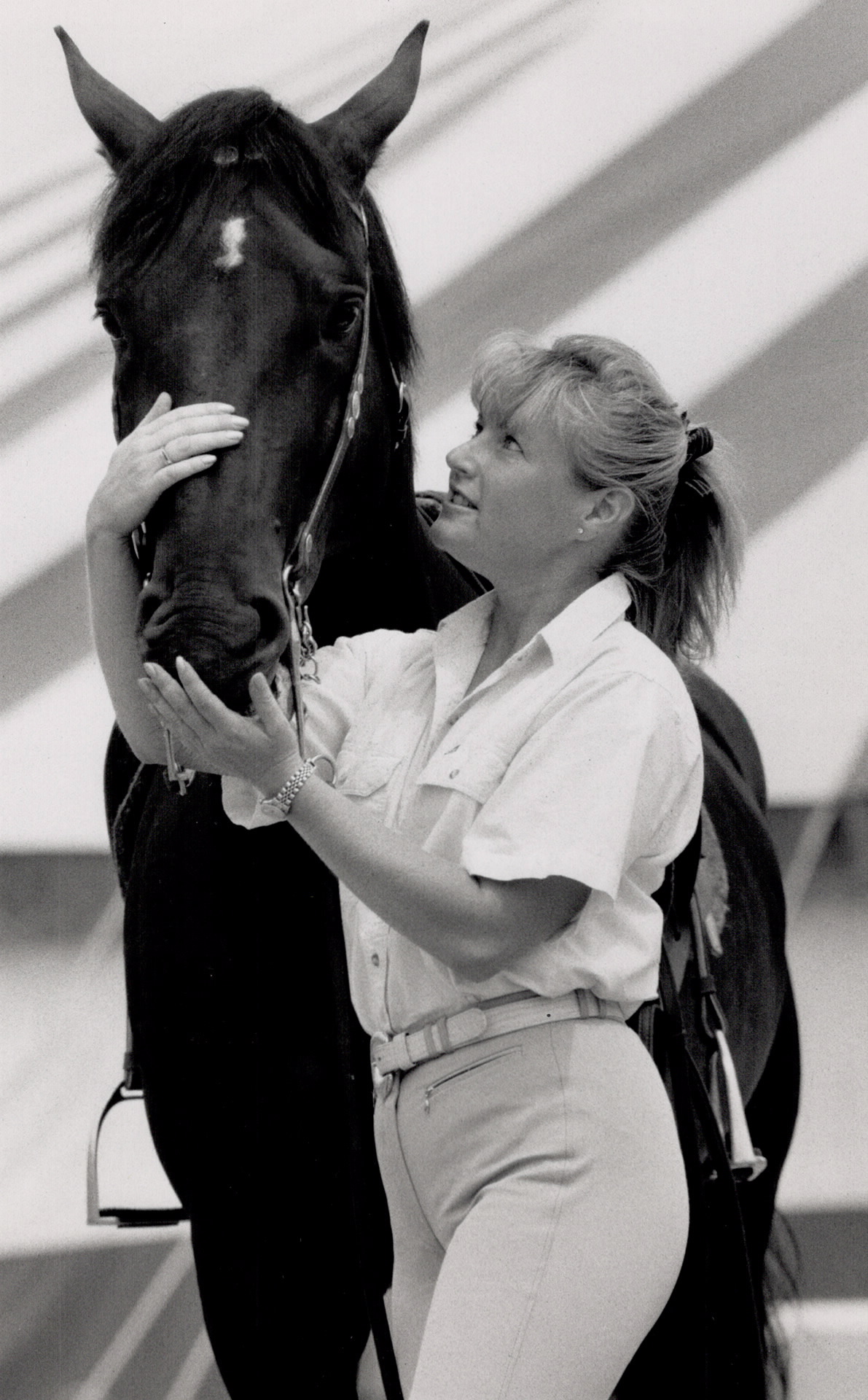 †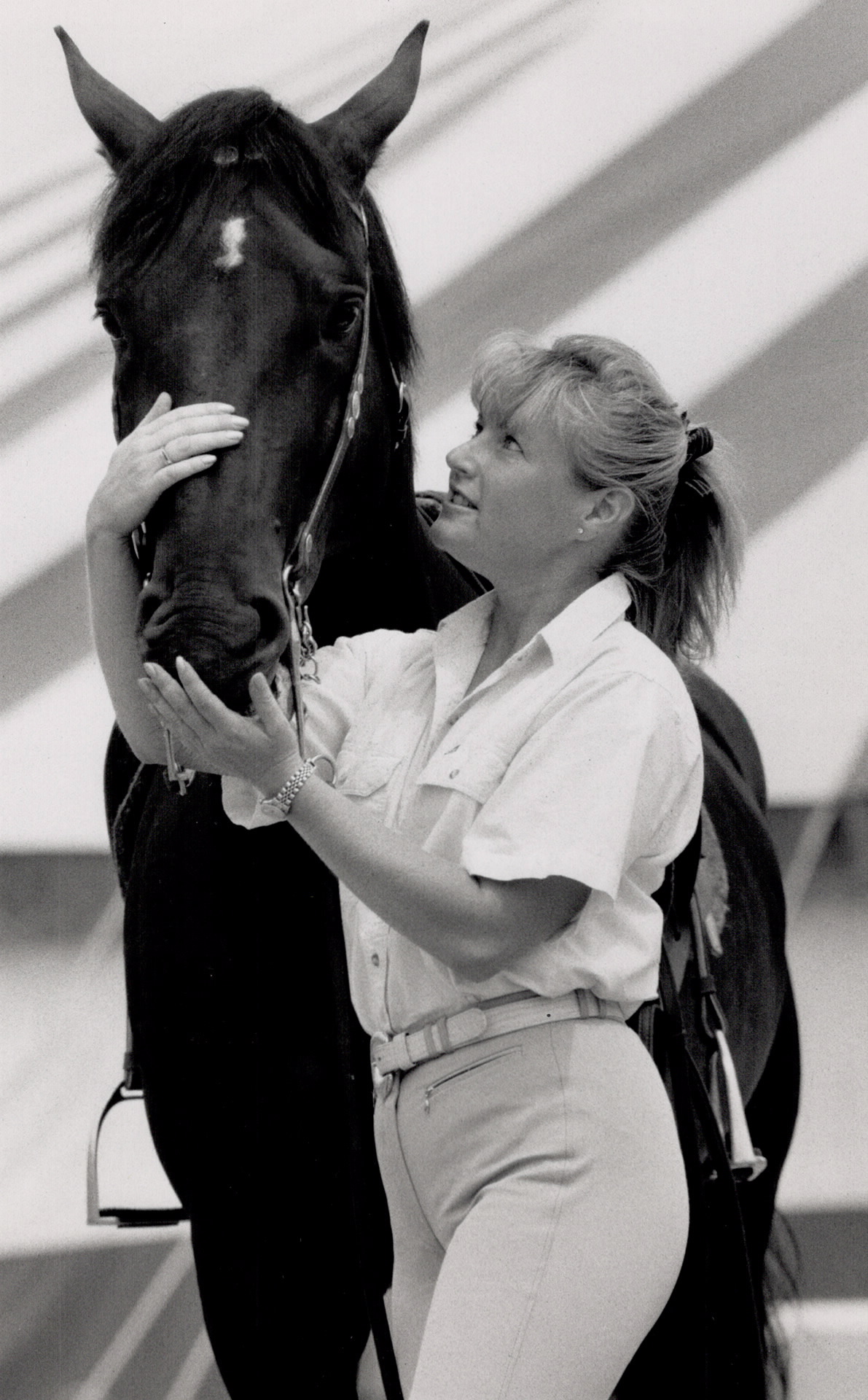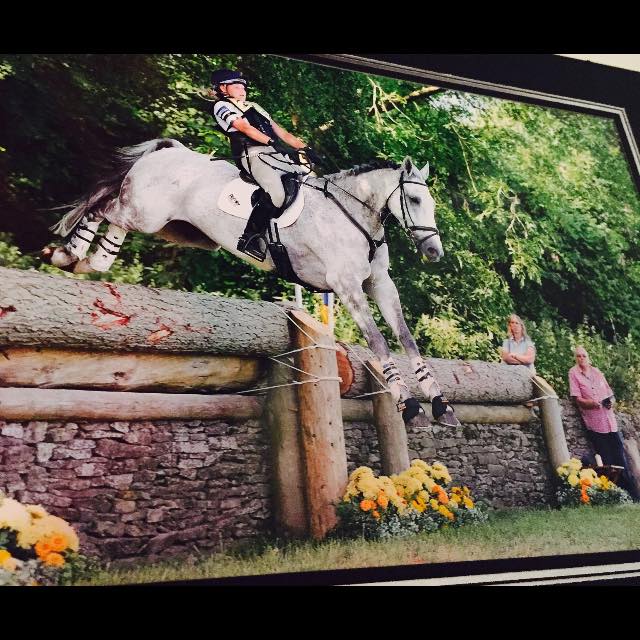 Rider Profile | Sastre Lawrence | British eventing horse riders, information news, results and information | Stableexpress.com | Sastre Lawrence - UK - Eventing…
Read More
Abigail Hamper
UK event rider Abigail Hamper, rider at BE events :- we need more information to complete this rider profile, please help by emailing us at info@stableexpress.com
AHADD
Our senior stallion, Ahadd (*Asadd++ x Fayette, by Ansata Abbas Pasha), is a champion and sire of champions. Ahadd has had class wins, State and Regional Top fives in Halter, Western Pleasure and Trail. Ahaddís Get have gone on to excel in every discipline a horse could compete in, with Class wins, State and Regional Top Fives, Scottsdale, US & Canadian Top Tens, State championships in Open Dressage and Show wins in Open Cutting horse.
Ahadd is a grey Straight Egyptian Stallion - Al Khamsa - Blue List - IAHA Sweepstakes Nominated. Ahadd was the beginning of a 25-year breeding program that was begun by Haddad Izba Arabians. His sire is *ASADD++ the multi National Champion and Champion sire. Fayette, Ahadd`s Dam, is an Ansata Abbas Pasha & Bint Fay Roufa mare.
Ahadd, at halter is a Multi Show Champion, and at Western and Trail is a Multi Regional Top 5 and Washington State Top 10. He has additional wins in Reno, NV.
Ahaddís Color is generally recessive and foals tend to attain the color of the Dam. He has sired many foals with versatility, athletic ability, refinement and type.
Ahadd currently is Standing at a breeding fee of $2,500. Ahadd does live breeding only. A standard $450 booking fee is requested. This fee is part of the total $2,500. Private Treaties are Welcomed.
Gail Tasch
Gail Tasch - USA - Dressage Rider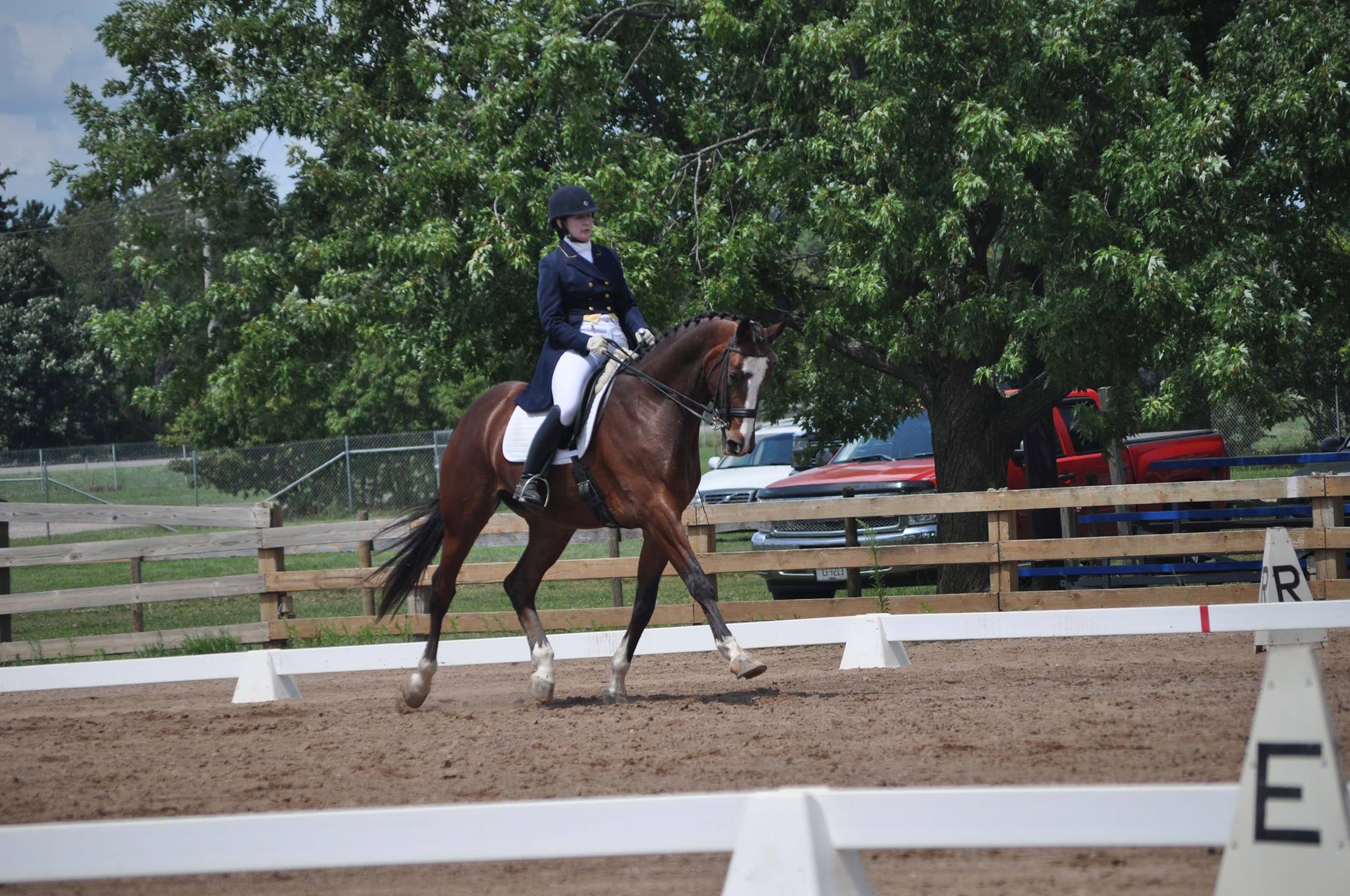 Gail Armstrong
Gail Armstrong - Uk - Endurance Rider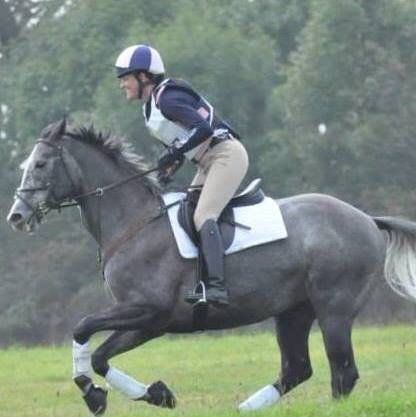 Abigail Tennant
Born 4th October 1989, Abigail Tennant is an Endurance rider from Hereford, Abigail competes internationally representing the UK at many FEI endurance competitions.
Copywriting is not an easy job, and copywriters must dedicate a lot of time to write the right headline and copy that will attract and lead your prospects to act. If writing well is an art, copywriting is almost a science. Copywriting results can be tested, tracked and measured. Among other things, professional copywriting can:
Increase your sales
Prevent sales from dropping
Help you conquer new clients
Establish the right image for your business
Capture or increase market share
Abigail Taylor
Endurance rider Abigail Taylor, Stableexpress is trying to increase our coverage of endurance riding, please help us grow our database of endurance riders by emailing us at info@stableexpress.com
Professional copywriters` mission is to turn readers into buyers
Everyone can hold a pencil and draw, but how many of us can really do a drawing that truly communicates feelings, impressions and emotions? The same is true for writing. A lot of people can write fairly well, but is every literate person a good copy writer? No. That`s why you should consider hiring a professional copywriter to write your next direct mail campaign, sales letter, or to review your web site content. Copywriters, freelance writers and technical writers are professional writers dedicated to writing copy that helps organizations reach their marketing, sales, customer services and human resources goals.
Abigail Goodrich
Abigail Goodrich Endurance rider from the UK, we would like more information of Abigail Goodrich, if you can help please email us at info@stableexpress.com and help stableexpress expand and grow.
Gail Foxcroft
Gail Foxcroft - South Africa
Gail Zeck
Gail Zeck is an endurance rider from the USA with an international competition record | HK IVANN competed by Gail Zeck
Gail Coplen-Toye
Gail Coplen-Toye is an event rider from Canada | Stable Express, equestrian classifieds - Eventing Horses For Sale
Gail Pedra
Gail Pedra - South Africa - Endurance Rider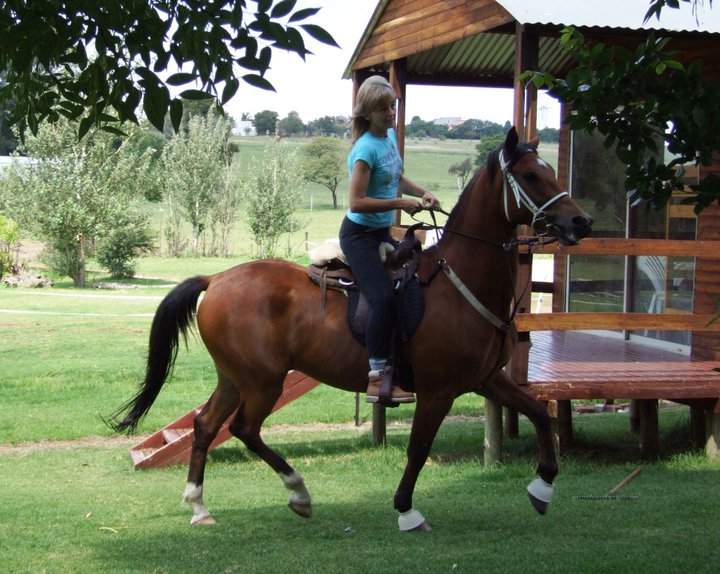 Quentin Gratpanche
Quentin Gratpanche - France - Showjumping | Help us expand our rider profile, if you have more information on Quentin%20Gratpanche please email us at showjumpers@stableexpress.com
Britney Coates
Britney Coates - Canada - Dressage Rider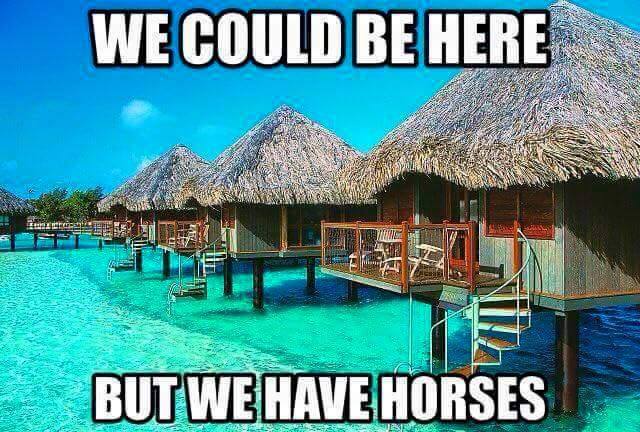 Gail Evans
Gail Evans - Showjumping
Gail Evans Horses
Awesome Spark, Retreats Go With The Flow
---
Gail Evans Competition Results
10 - Scope, 1.15m Members Cup Preliminary Round 2 - i - 31/08/2005 - Retreats Go With The Flow
---
11 - Scope, 1.15m Members Cup Preliminary Round 1 - i - 30/08/2005 - Awesome Spark
---
Gail Carpency
Gail Carpency - USA - Dressage Rider & Owner - Stableexpress Dressage Horses For Sale | Equestrian Classifieds
Gail Kapiloff
Gail Kapiloff is a dressage rider from the USA | Gail Kapiloff Horse Rider Profile
Gail Burchmore
Gail Burchmore - Showjumper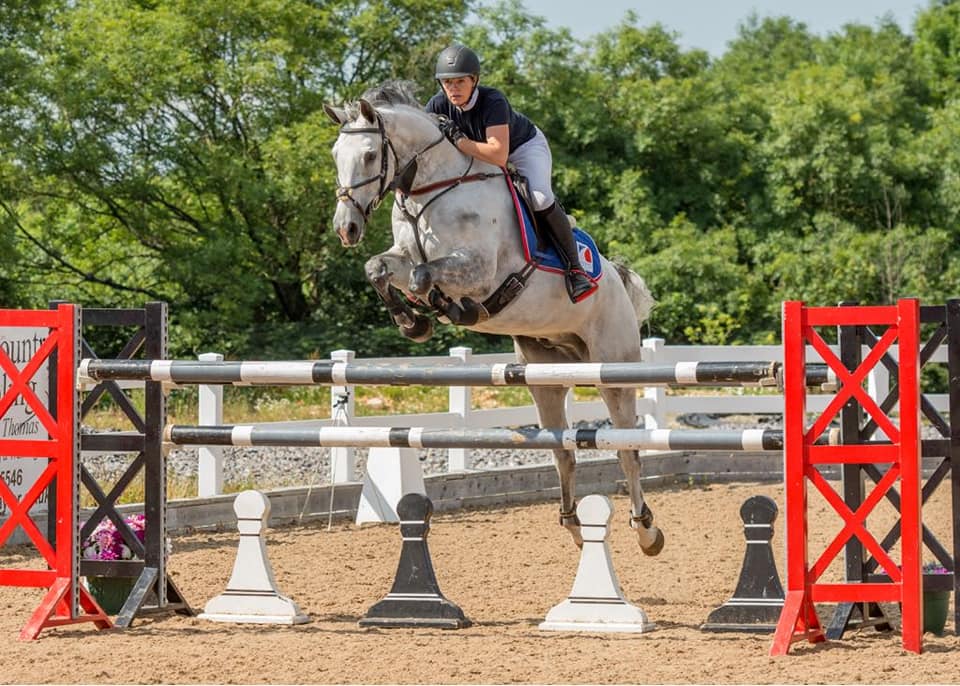 Gail Burchmore Horses
Killupan Lassie, King Murphy, Kings Murphy, Whisper Van Het Vijverbos, BEECH HILL LULU, CABRI LOUVO, HAMBERLINS CHARMER, WHAM
---
Gail Burchmore Competition Results
04 - Scope, Grades B & C Preliminary Round 2 - 01/09/2006 - Whisper Van Het Vijverbos
---
28 - Scope, 1.15m Members Cup Preliminary Round 1 - i - 29/08/2006 - Killupan Lassie
---
06 - Scope, 1.15m Members Cup Preliminary Round 2 - i - 31/08/2005 - King Murphy
---
09 - Scope, Blue Riband 1.20M Preliminary Round 1 incorporating Foxhunter & Newcomer WarmUp - 29/08/2005 - Killupan Lassie
---
13 - Scope, 1.30m Amateur Rider Preliminary Round 1 - 29/08/2005 - King Murphy
---
06 - Scope, 1.15m Members Cup Preliminary Round 2 - i - 27/08/2003 - Kings Murphy
---
Gail Bunce
Gail Bunce - UK - Gail Bunce with Morpheus - Eventing
Gail Osterlund
Gail Osterlund - Equestrian
Gail Brackett
Gail Brackett - USA - Eventing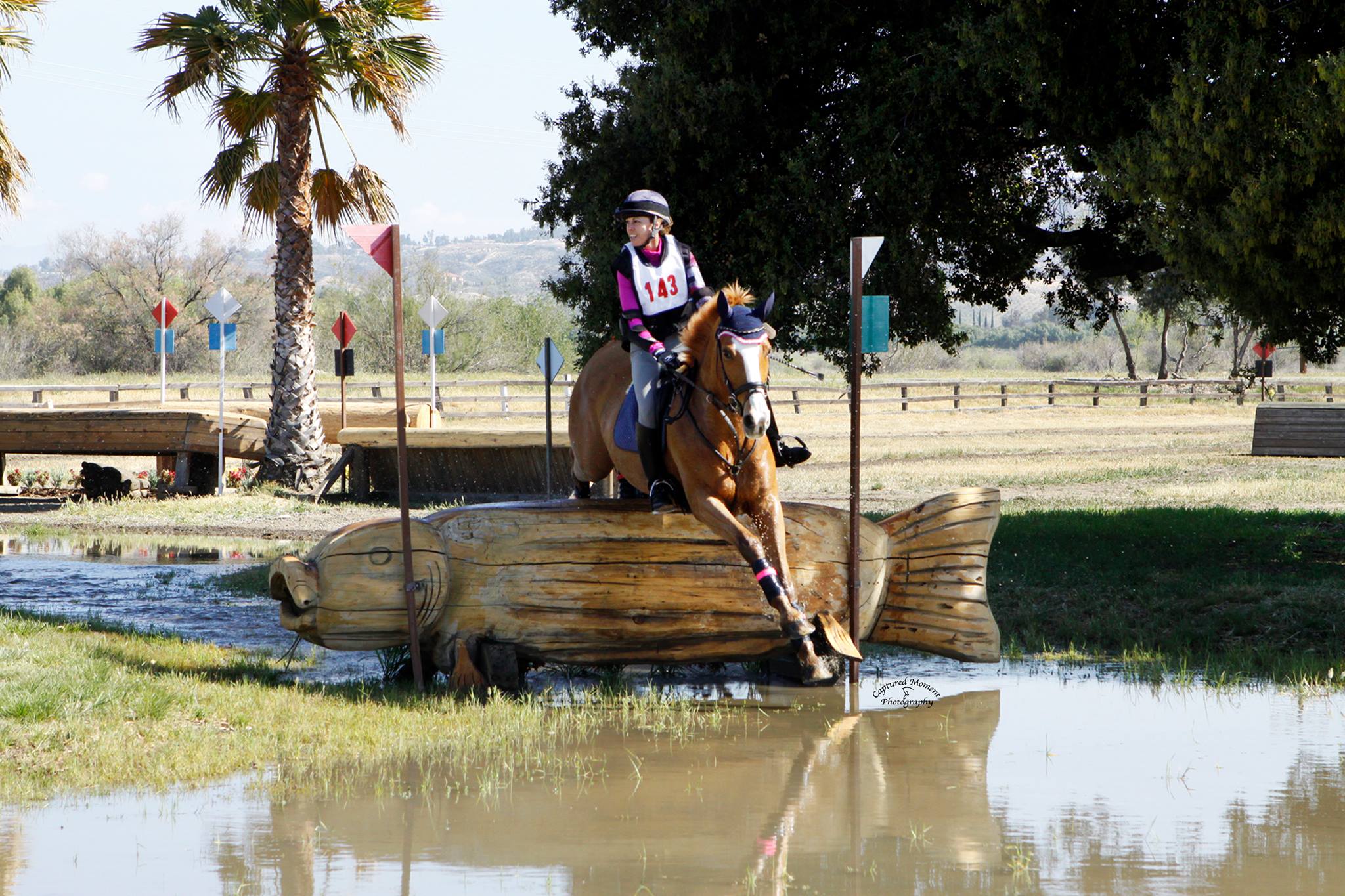 Gail Jewell
Gail Jewell is an endurance rider from Canada, horses competed by Gail Jewell include Nl Temptation, Diamond Reo and Jolly Holiday.
Dr. Gail Jewell graduated in 1986 from the Western College of Veterinary Medicine. She was awarded a post-doctoral internship in Equine Medicine and Surgery at Ontario Veterinary College. After completing the year at OVC, she returned to her native British Columbia, and opened her Equine and farm animal practice.
During her early years in practice she soon began to realize the limitations and "side effects" of conventional veterinary medicine which spawned an interest in learning about alternative and complementary modalities. Study and limited practice of homeopathy began in 1993 followed in 1996 by a formal education in veterinary homeopathy under the tutelage of Dr. Richard Pitcairn of Oregon State University. She continues to study at an advanced level with Dr. Pitcairn and other colleagues.
Dr. Jewell is a founding member of the Academy of Veterinary Homeopathy, and a member of the West Coast Homeopathic Society.
Chiropractic entered the picture when Gail found herself doing more telephone consultations and fewer farm and home visits. She searched for a modality that would complement homeopathy and get her hands back on the creatures she loves. Animal chiropractic was the natural choice. She studied at the Options for Animals veterinary chiropractic school in Illinois and was certified in 1999.
In addition to managing a busy practice that includes travelling regularly to the Vancouver Lower Mainland from her home near Kelowna BC, Gail teaches and lectures both colleagues and animal owners on various aspects of holistic care.
Today, her practice almost exclusively consists of homeopathic, chiropractic, and rehabilitative care for pets and horses (and the odd duck and lizard!).
For recreation Gail and her husband, Elroy, and their horses Colonel, Sassy, Apache and Doc compete in endurance events. Currently they are reigning Canadian champions in the 50 and 100 mile distances.