Farrington
Farrington is a KWPN stallion based with the famous VDL stud, sired by the Keur stallion Welington out of the ster mare Onetty who is a daughter of Doruto. Farrington showcases some of the finest Dutch bloodlines, unfortunately Farrington suffered an injury that stoped him progressing into the sport, but as a breeding Farrington has produced some very talented progent, including Michigan who won the gold medal at the North American young rider dressage championships. Below you can watch a video of Farrington in action.
Warette
- In dressage, numerous Farrington progeny perform at national and international level. Via the producers of movement Caretino and Flemmingh the dam line goes back to the 'elite' mare Dorette (Wellington). Dorette received the 'sport' prefix on the basis of her performances in dressage. Just as the KWPN stallion Goodtimes (Nimmerdor), Dorette is bred from the Holstein mare Zigeunerin (Caletto I x Wahnfried). In breeding, various products of Goodtimes do remarkably well, amongst which are Lucky Times, the five-year-olds dressage champion in 1998. Meanwhile, under Anne van Uytert it is performing extremely well internationally.
Ulfert
(Farrington x Candyboy) - Ulfert is a son of the dressage horse producer Farrington. This stallion, who comes from the same family as the well-known international dressage horses Moontan and Slow Fox V, carries Doruto`s valuable blood on his mother`s side. Ulfert`s mother Hitta goes back in the maternal line via Candyboy, Nimmerdor, Sabatini xx and Miro (Marco Polo x Sinaeda) to the famous Sinaeda daughter Ritta. This model-preferred mare is the mother of the stallion Zuidhorn (Le Val Blanc xx). The KWPN stallion Niagara (Libero H) and the international showjumper Dudley (Voltaire) also go straight back to Ritta.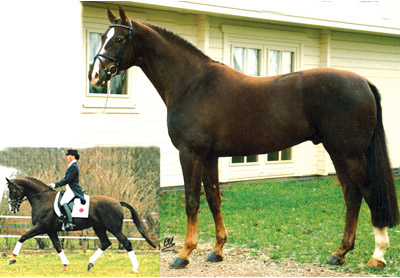 Lady W
Farrington x -, -
Anouk De Ruijter
Anouk De Ruijter - Holland
Anouk Elferink
Anouk Elferink - Holland
Henny Tadema
Henny Tadema - Holland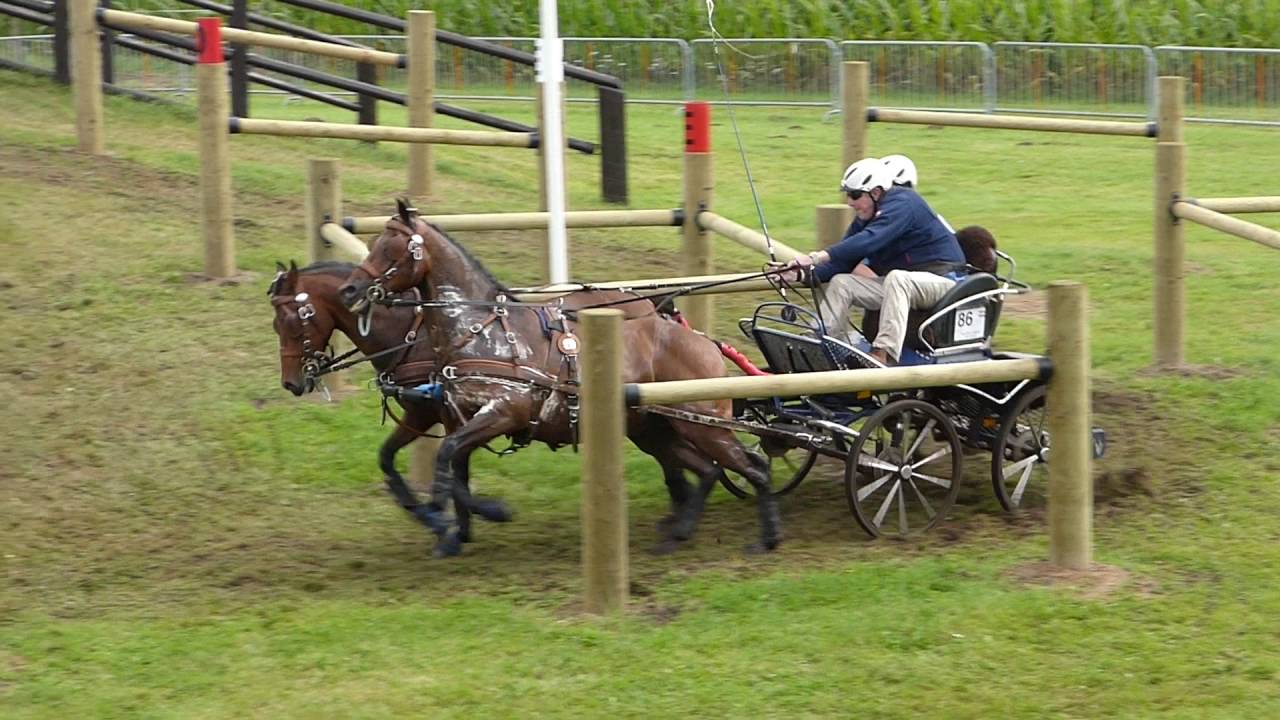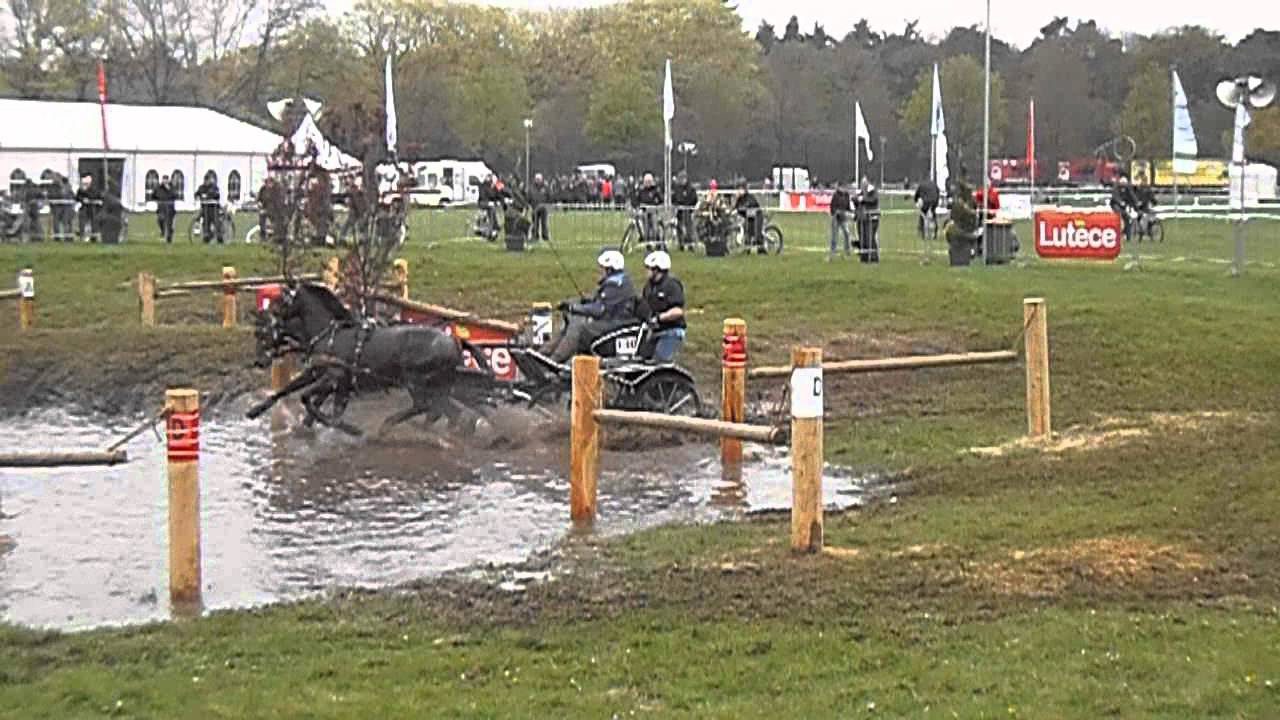 Hiske Geerts
Hiske Geerts - Holland
Jasper De Kruif
Jasper De Kruif - Holland
Robbin Robijn
Robbin Robijn - Holland
Seth Boschman
Seth Boschman - Holland
Siegmar Sckeide
Siegmar Sckeide - Holland
Siebe Kramer
Siebe Kramer - holland
Stephanie Kooijman
Stephanie Kooijman - Holland
Wouter Pen
Wouter Pen - Holland - Eventing
Yasmin Kalkhuis
Yasmin Kalkhuis - Holland - Dressage Rider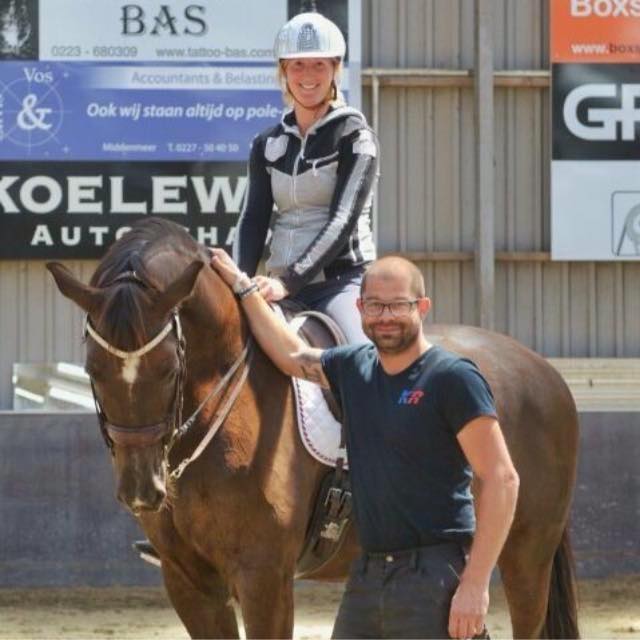 Aat Van Essen
Aat van Essen was born on July 23, 1966 in Vaassen, where he grew up. On his fifth, he got the Shetland Theobald, the first pony that he did not have to share with his sisters Andriene and Inez. With Theobald went to the pony club for jumping and dressage (where he had more attention for the environment than the directions of the instructor) and he also brought along with wedstrijden.Toen he still thought that "hand change" meant you had the reins in the other hand took.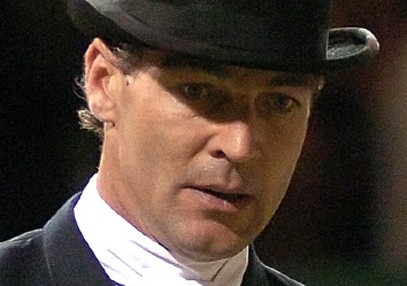 With the welsh Amico became more serious and was Ath-Z jump. At age 15, is seriously Ath carriage driving: first mainly with the horses from his father. His dream of becoming national champion will be fulfilled with Unitas (owner Gert Court) and later with his own horse Noble Star. Another dream was dressuurrijden.Toen he was 25 he cut the knot and to which he bought Eduard Light Tour has brought. With Edward, he has all phases of the instructor course successfully completed in Ermelo. The classes he attended at successively Annemiek Picavet, Herman Wientjes and Tineke Bartels. Then followed a period of 13 years in which he and Premier independent Eyeball trained to Grand Prix. In 2009 he was taught by Anky van Grunsven, now he is again independent workout. In 2010 Sebastian made ??his Grand Prix debut, making him the third horse that Aat has trained to Grand Prix level.
Aat van Essen fifth in Oslo
Aat van Essen traveled last weekend to Oslo where he was Friday, the 6th in the Grand Prix and Sunday climbed a place in the Freestyle. It was the `fifth with a score of 68.90%. Van Essen took part in the international contest in Oslo with Mac Premier Rider (Jazz).
In both sections, the victory for the Danish Sidsel Johansen with Schianto (v. Gribaldi). Her Freestyle was reviewed by the judges with 76.90%. The Swedish Eva Ulf followed in the Freestyle to two Caruso (v. Carbide) with 74.18%. Mikaela Lindh from Finland, was third. With Mas Guapo (v. Master) drove them to a score of 74.03%.
Aat Van Essen Horses
Aat Van Essen Competition Results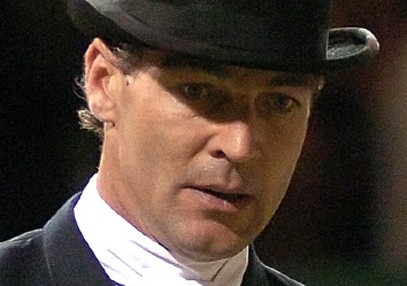 Aat Van Essen - Holland
Thijs Van Gaalen
Thijs Van Gaalen - Holland< - Showjumping Rider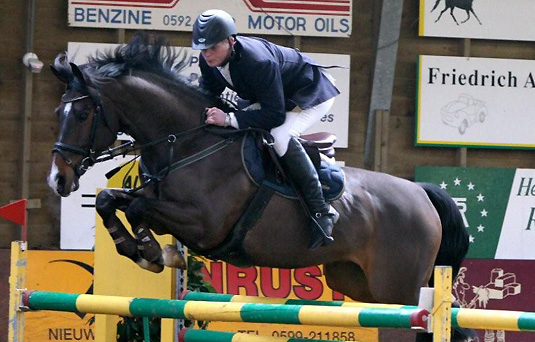 Daan Zijlmans
Daan Zijlmans - Holland - Eventing / Horses competed by Daan Zijlmans include DRUMNACONNELL SNIPER, DRUMNACONNELL QUALITY, SALLYMOUNT CONDIOS, DIESEL IV and many others
Rob Heyligers
Dutch showjumping rider Rob Heyligers, born 1974 has a impressive competition record in the showjumping record winning classes all over the world.
Barcelona
A KWPN dutch warmblood gelding, born in 2006 bred at Pegasus Stables. Barcelona is a son of the well known breeding stallion Mr Blue, out of the mare Pinot Rosso who is a daughter of Voltaire.
Queen Lady
Jumped internationally by Rob Heyligers and Maia Stange Rosholm Queen Lady was born in 2007 and registered with studbook Zangersheide, Queen Lady is sired by Quadrillo out of Lennon mare Maren Sofia
Transporteur`s Orkaan
Born in 1996 sired by Burgraaf out of the Nimmerdor daughter Liberty V. Registered with the KWPN studbook Transporteur`s Orkaan made his international debut with Rob Heligers before being jumped by Spanish riders, Jose Ignacio Ferrera Duro, Pablo Dominguez Pinon and Jose Fumero Hernandez.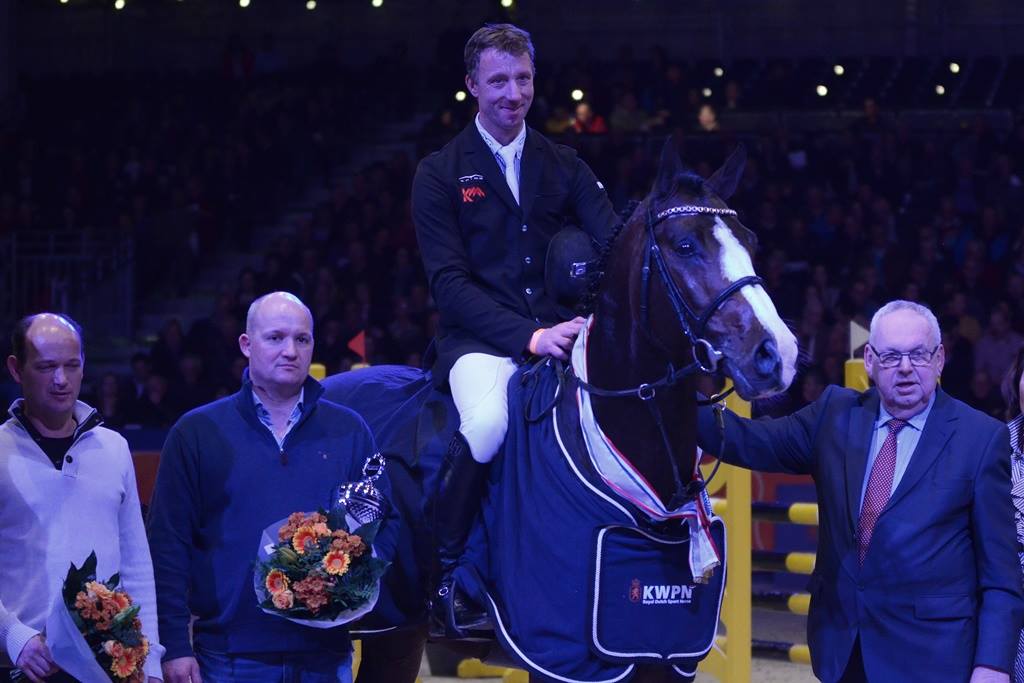 Rob Heyligers Horses
On Line, Orkaan
---
Rob Heyligers Competition Results
6 - Eindhoven, Eindhoven Dagblad Prijs - 1.35 Against the clock - 29/05/2006 - Orkaan
---
5 - Eindhoven, Plospan Prijs 1.35 Speed and handiness - 26/05/2006 - On Line
---
Stableexpress is a full-service, web development company that specializes in high quality Web site design, Web site development, Graphic designs, Flash animation, Search Engine Optimization services as well as Administrative support. Our talented team of web programmers work in latest versions of Php, Asp, MySql, MS Sql, HTML, XHTML, CSS, AJAX, Javascript etc. We are dedicated to quality and continuous process improvement for both customers and employees. We combine our experience as a web marketing agency with that of knowledge of the equestrian world.
Our responsibility is to ensure that the level of quality exceeds customer expectations. We have experienced designers, talented team of web programmers who are committed to deliver excellent services primarily focused to quality of work, cost control and time management. Customer satisfaction is the fundamental principle of our business. We discuss with clients and offer various suggestions. We will work closely with you to compose a web site that is consistent with your views and latest technology.
Suzanne Both
Suzanne Both - Holland - Dressage Rider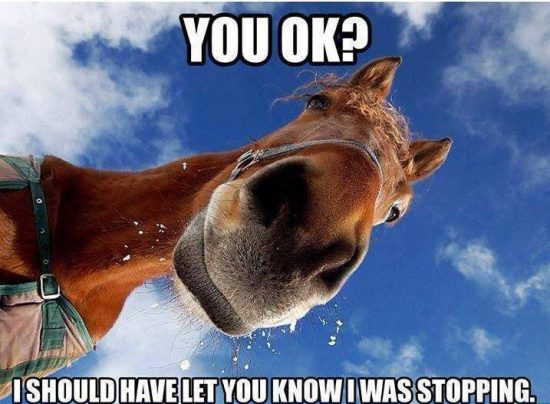 Danouta Van Maasakker
Danouta Van Maasakker - Holland - Showjumping Rider / Horses competed by Danouta Van Maasakker include Noble Lady and Melansa