Equestrian Estate Agents
Welcome to Stable Express equestrian real estate website, equestrian estate agents - Your premier resource for all real estate information and services for horse lovers. I hope you enjoy your visit and explore everything the equestrian real estate website has to offer, including equestrian show centers, ranches, horse properties with riding trails, land for sale , information for horse homebuyers and sellers.

Looking for a new home for you and your horse? Use Quick Search or Map Search to browse an up-to-date database list of all available properties in the area, or use our dream home finder form and we will conduct a personalised search for you. If you`re planning to sell your home in the next few months, nothing is more important than knowing a fair asking price. Find an estate agent who specialises in valuing an equestrian property who can help you with a market analysis, who will use comparable sold listings to help you determine the accurate market value of your home.
Farm Property For Sale, North Somercotes
£895,000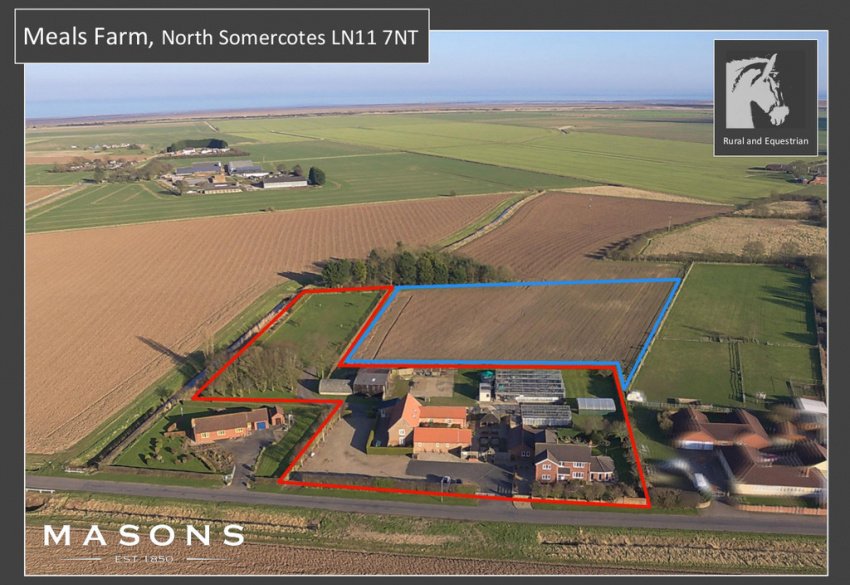 A rural property on the Lincolnshire coast, this 4 bedroom farmhouse faces open fields, set in grounds of 2.5 acres which also has four holiday cottages situated in the grounds., additional 2.5 acres available for sale by negotiation attached to the property grounds.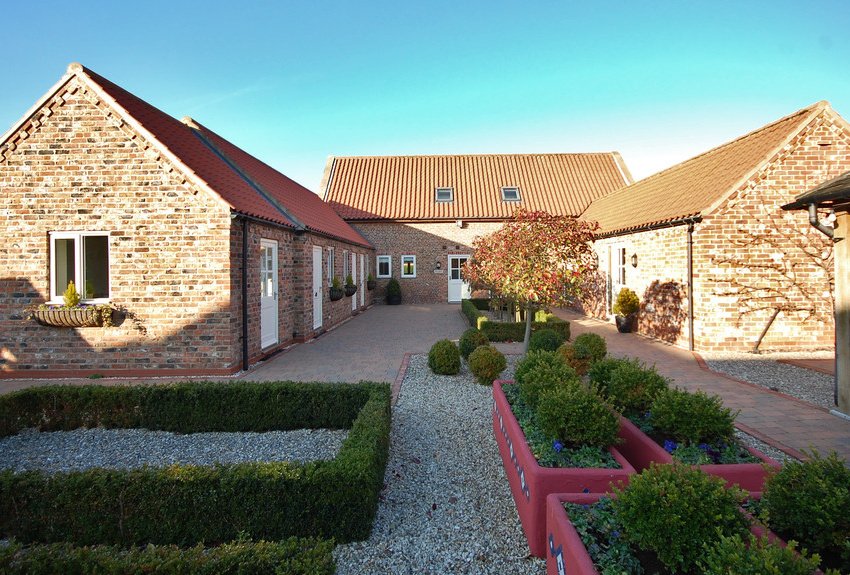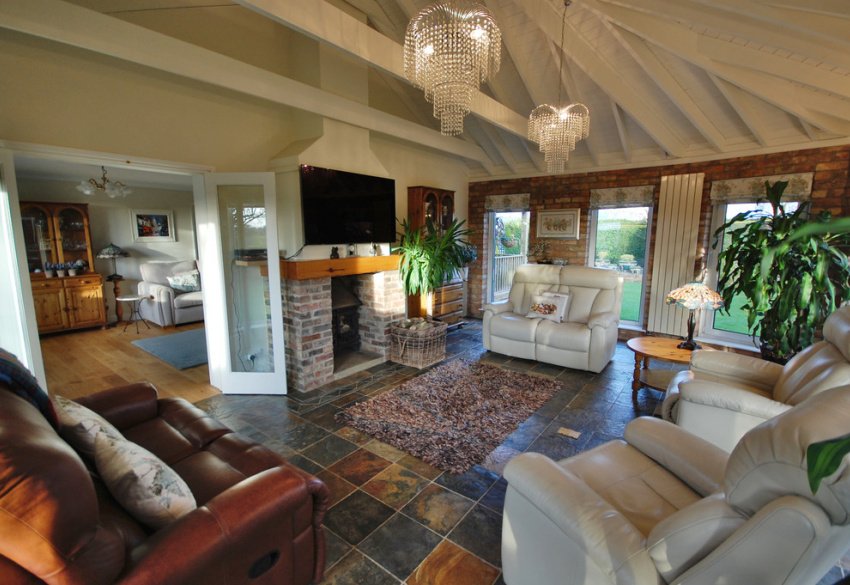 The property is listed for sale by Masons estate agent, for more information please call 01507 350500
Equestrian Property for Sale - Washington
Town and country living at its best! This sixty-seven acre horse farm feels way out and has a jaw-dropping view of Mt. Baker, but you can hit town and Starbucks in 10 minutes!

Property features include:
- Two tax parcels (subdividable, zoned one residence per 5 acres.) with an open, 20+ acre flat field for a track, new home or future expansion.
- Two gated entries.
- Beautifully constructed, state-of-the-art metal barn 267` x 45` with 28 stalls, each 12 x 12 with black rubber flooring installed (not loose mats) and 28 in-and-outs. Stalls framed with metal and easy sliding gates. Well ventilated with high ceilings and lots of light. Tack room with lockers (tongue-in-groove lined), feed room, space for bathroom, office. Upper loft for hay and an additional cavernous room which could be used for just about anything.
- Covered, lighted arena 193` x 70` with sides (a dressage arena would fit inside), shed for shavings.
- Numerous outbuildings including old dairy barn with milking parlor, greenhouse, two-car garage, tractor shelter.
- The updated farmhouse has five bedrooms, three baths and two kitchens. It overlooks the property and has lovely mature gardens and trees.
- There`s also a pond and a year-round creek with a bridge. About half the property is wooded and half of it is cleared so what ever style suits you, it`s there.
- Water: two wells and a share of Wahl Water Association. Water treatment on-site with two 3000 gallon holding tanks.

Bellingham, Washington is a waterfront community 85 miles north of Seattle, 54 miles south of Vancouver, B.C. The outdoor enthusiast can enjoy islands, mountains, rivers and still reach world-class metropolitan areas in less than two hours.

cellular: 360-920-4848
Blackbutt Horse Property for Sale
Our property, located in Blackbutt, two hours north-west of Brisbane, is an ideal family home for horse enthusiasts looking for affordable property in south-east Queensland. We are located in Greenhills Drive, the most sought-after street in Blackbutt (often referred to as Blackbutt Heights).

We ADORE our property! We fell in love with it the moment we saw it and it has served us beautifully for the past five years. It is perfect for us, our dogs and our horses, but now that we have a newborn baby we`d like to move closer to family and unfortunately we can`t transplant our property :( But we are pleased that all of the improvements we made (most, specifically for the horses!) will go on to be loved by someone else and that makes us :)

We have an elevated 6.3 acres in a peaceful, no-through road, with lovely neighbours in our street who are visible and within walking distance, but far enough away to be free from noise. Best yet, we have a 360-degree view across mountains, paddocks and the golf course. Our paddocks are pasture-improved, containing mostly kikuyu and setaria grasses, which are oxalate grasses, but which we`ve found to be easily managed with some thought about our horses` routine. Our grass has supported well above the typical horse-to-acre ratio and our horses have been fat the whole time we`ve been here! Our wonderful neighbours on both sides have also let our horses graze their properties free of charge. We`ve recently selectively cleared regrowth in our paddocks. We have a large dam that our horses love to play in every day. Our soil is ultra-rich red dirt that supports exceptional growth all year round. We have a mixture of lots of established native trees and fancy trees, including Jacaranda trees. Native wildlife roams across the property each day. Rows of lavender bushes greet you at the front entrance to the property and line the horse yards.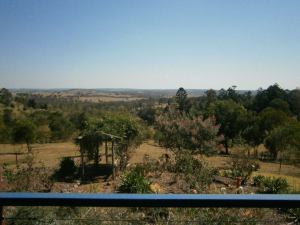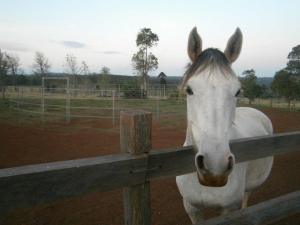 We have three secure horse yards next to the house. One is very large and can serve as a (grass-free) paddock and includes a levelled pad for the round yard. The round yard is a three-bar portable yard that can be moved as necessary but is included with this package. It also contains a new shelter suitable for three horses (or four if they cuddle!). It is sheltered on the Eastern side.
Another yard is a significant size and includes a shorter horse shed, suitable for ponies, but our Arabians happily stand in there as well. It is sheltered on the Western side. The third yard has two sides of quality new post-and-rail fencing and is a good size for recovery, or for a mare and foal.
We converted our extended car port into a stable, which is very close to the house and would serve as a great animal shelter or emergency stable. You could also use it as a large feed shed. It will store multiple round bales of Rhodes grass at once.
The long dirt driveway up to the house is fenced on all sides and the gate at the bottom of the driveway can be shut to create a separate paddock. There is a significant amount of grass in 'the driveway paddock` and serves perfectly as a winter paddock if the main paddock runs low on grass (which it never has while we`ve been here). A hose reaches easily from the house to that paddock for water.
Fencing
- New fencing put on the right to extend grazing areas. Our fencing is a mixture of different types. The large house yard is surrounded by dog-proof fencing. The horse yards at the house are a mixture of post-and-rail, chain wire, dog fencing, plain wire and new, tight, five-strand barbed wire through quality wooden posts to protect from the cattle that grazes the property next door. (We tried just plain wire but the cattle kept trampling it!)
The perimeter of the property has a mixture of dog fencing, plain wire, barbed wire, and rabbit wire.
There is a small amount of internal fencing on the lower part of the property (that was here when we arrived and we haven`t changed) that we don`t use but is repairable. Gates exist between both our nearest neighbours` properties.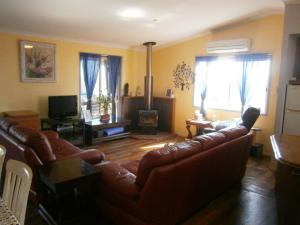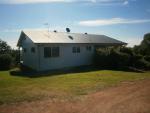 While it`s not perfect, it is very functional and our horses have not had a single injury in five years!
Maintenance
- We maintain the house yard and driveway area with a ride-on mower. We`ve recently selectively cleared regrowth trees and Lantana, the first time we`ve done that in five years. There are two round gardens leading down to the paddocks that have roses in them. We are very slack gardeners, so we cut them back once a year in August and very occasionally round-up the weeds in between. Because we are lazy gardeners, we have laid down breathable weed matting in those gardens and covered with bark to make keeping the weeds down easier. There are some bushes next to the house that we also cut back once a year. We never water anything. Our motto is that it`s survival of the fittest
The house
- Open plan lounge with fireplace and air con. Our house is a three-bedroom hardiplank home with a steel frame. The steel frame is very appropriate for this area as the type of soil we have encourages termites. We`ve had pest inspections done every year with no problems and they comment each year on the safety of the steel frame.
The kitchen and living space is open plan, with stained wood in the kitchen, a brand new dishwasher and gas cook top. The hot water is also gas. All bedrooms have built-in wardrobes and ceiling fans. We have air conditioning in the living areas and in the master bedroom. We have a pot bellied fireplace. The house is fitted with a satellite and connections for satellite television (though we`ve never used it because it`s not really our thing) and two of the bedrooms have television points too.
We have a tin roof and insulation in the ceiling.
We have verandahs extending the full length of the back of the house to make the most of the expansive view, and a smaller verandah on the front of the house to make the most of the view of the horse yards and the morning sun.
The floor is wood, covered with linoleum with a wood grain finish.
The bathroom has a bathtub and a shower. The laundry and toilet are included tastefully in one room. There is a linen and broom cupboard. The house is fully screened, mostly with pet mesh to withstand our cats climbing the screens. The three doorways into the house have security screens as well.
We have three large steel water tanks.
We have an authentic Biocycle that is serviced four times a year. It is below ground and surrounded by vegetation so you never see or smell it.
Extras
- We`re throwing in our mobile infrared sauna!!
We have a large shed (two-car spaces), plus an extra car port that we converted into a stable/animal shelter. There is also a greenhouse behind the shed.
We`re also including the round yard and the fridge.
Owners: Ph 0401 681 908 for more info or to arrange an inspection. Agent, Neil Woodford Ph: 0400 324 407 or Ph: 1800 764 407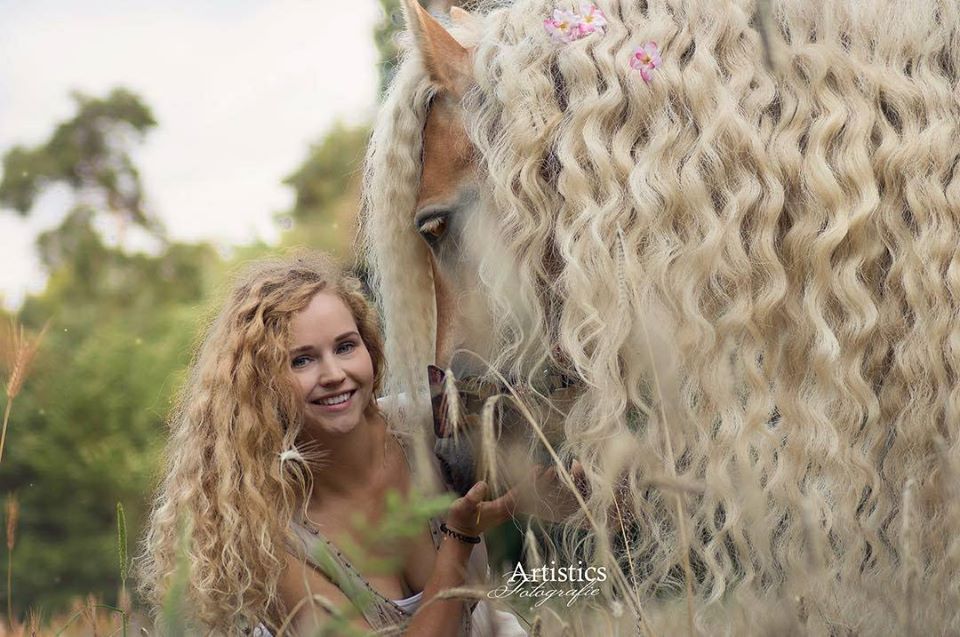 Any fans of Rapunzel meet Storm and other horses with fantastic (although high maintenance) manes and tails…
Read More