Coloured Arabians - RBA Phantom (7/8 Arabian Bay Tovero Stallion)
| | | |
| --- | --- | --- |
| | | Coloured Arabians - RBA Phantom (7/8 Arabian Bay Tovero Stallion) |
Phantom has been the cornerstone of Tracks End Arabian & Pintos program for over 10 years. RBA Phantom has proved to be a trusted companion, an exceptional individual and a wonderful sire. No words can truly express this exceptional horse, all those that meet him fall in love with him. Phantom produces pintos 75% of the time on Arabian mares. His son TE Pharenheit was exported to Germany winter of 2009. His nephew TE El Shamir is also residing with TE Pharenheit with Claudia Kaul at Most Colorful. Read more about him on our success page.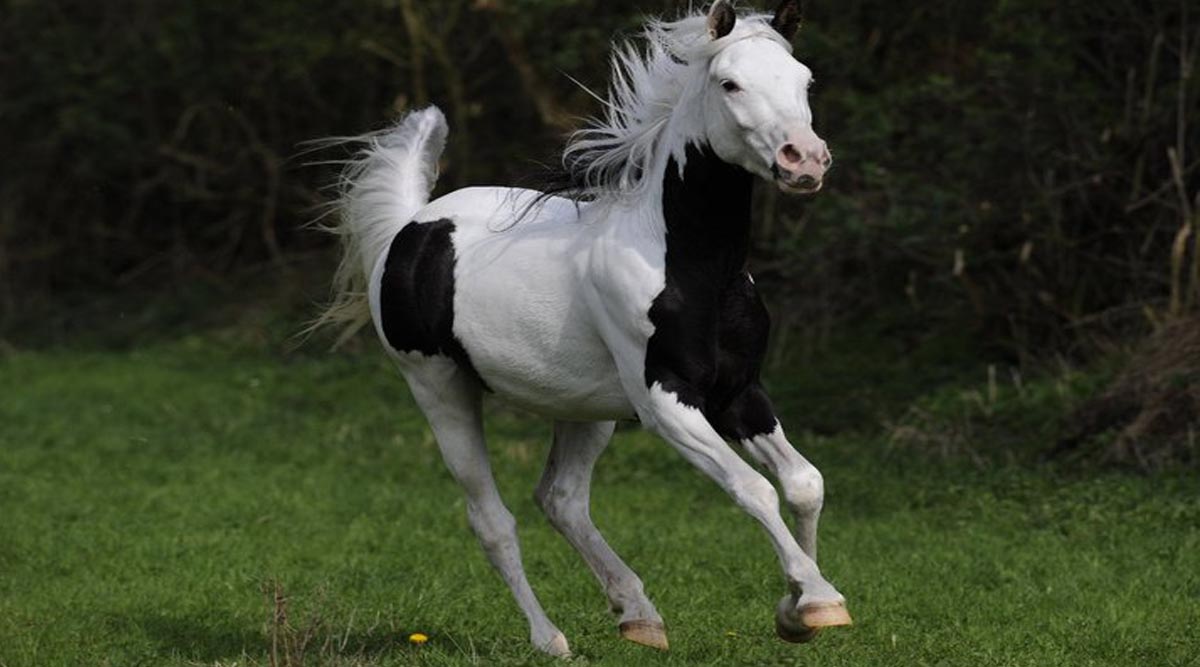 Nahbay Ibn Tishyno - Coloured Arabian Stallion
Nahbay Ibn Tishyno is a large-framed (stm. 1.55) Quarab stallion with a 75% AV share, absolutely in the Arab type. What is striking is his absolute nerve strength. He is stallion performance tested and registered in the ZSAA. His descendants from VA mares are HStB. as well as HB1 entitled! Licensed in the following associations: HB 1 ECHA-ESV, recognized ZfDP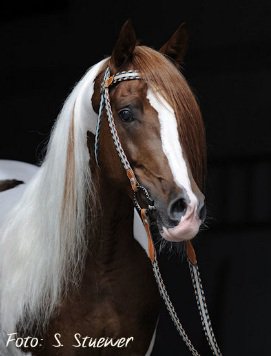 Aly Be Dazzled - Buckskin Coloured Arabian Stallion
Aly Be Dazzled (My Alybi x Sierras Dazzlin Pearl) or Bucky is a 2007 buckskin half-Aabian stallion. He is just absolutely awesome. He is big and is just a dream to work with. Bucky was show as a three year old and went Pinto World Champion in Pleasure Type Halter and Color. He has blue ribbons in Sport Horse In Hand, Hunter Pleasure, Sport Horse Under Saddle, and in his first Dressage show. We will be breeding him for the first time this year and will be soooooooooo anxious to see his babies. He is really one to consider if you are looking to add some "colour" to your barn. Stop by our site to read more about him at https://www.whisperinghillfarm.com/

Coloured Arabian Foal - chestnut pinto Arabian filly, born 2011, more than 90% Arabian blood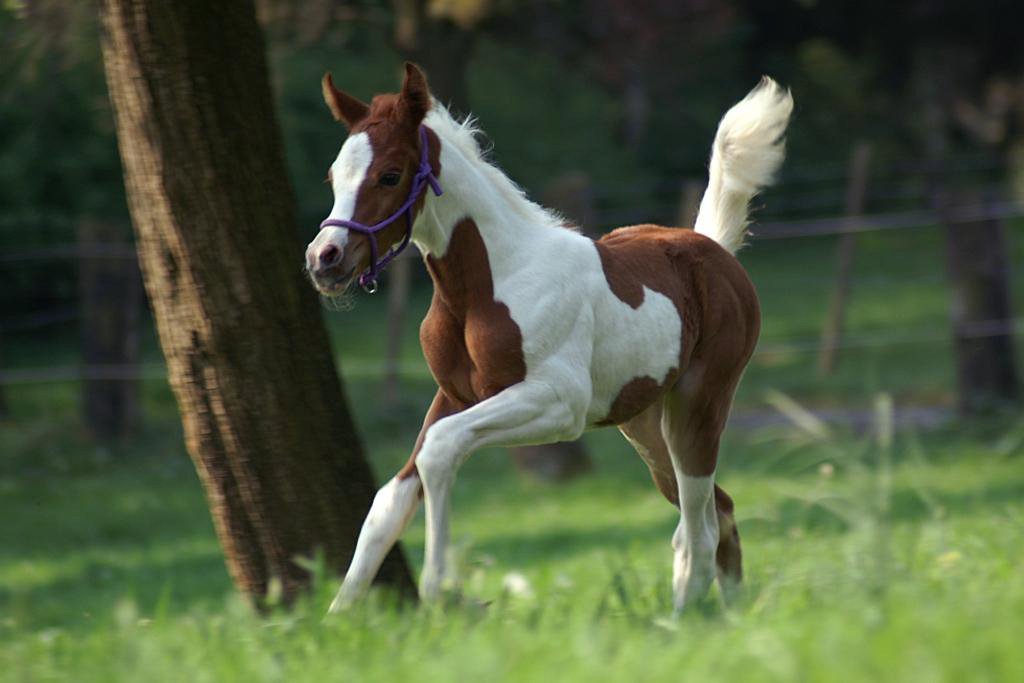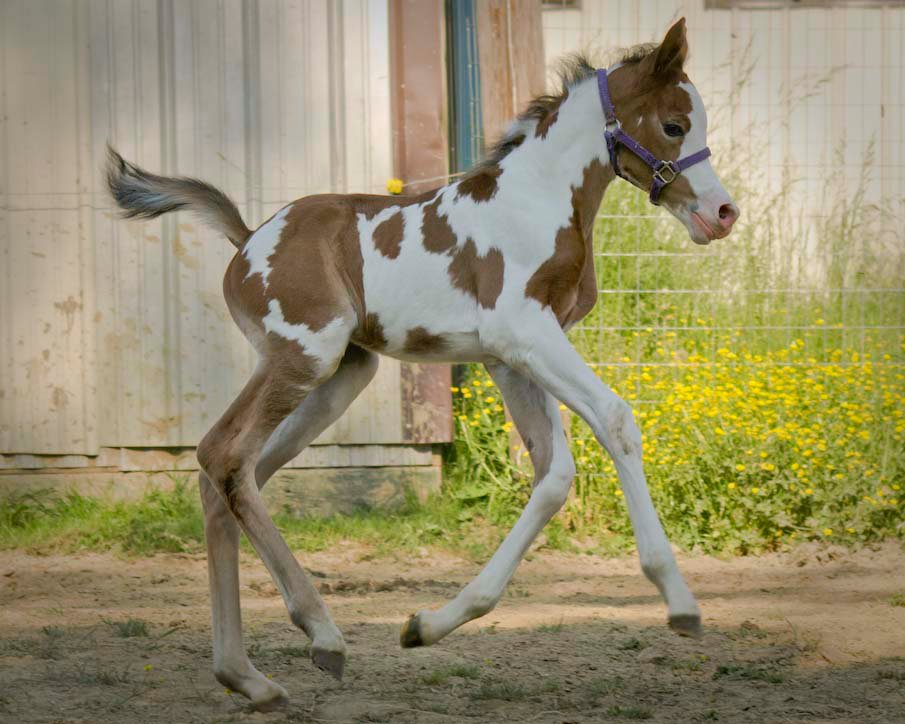 NP Auriel (Arabian Palomino Tobiano Stallion)
It`s not just his looks that make him special. He has big, poppy eyes, a forward well set, long neck and a wonderful topline and it`s only a yearling! His sire, NP Taimmen is a lovely Straight Egyptian sire by the Tammen son, EAI Dhark Tamaar. EAI Dhark Tamaar has quite a show record in Canada. His record includes: Eastern Canadian Breeders Championship - 2005 Top 4 Hunter Pleasure, Western Pleasure & Western Pleasure Amateur. 2004 Top 3 Hunter Pleasure. 2002 Top 6 Western Pleasure & Hunter Pleasure Amateur. He also has wins in Region 18 - 2004 Top 5 Western Pleasure Amateur & 2002 Top 5 Western Pleasure. EAI Dhark Tamaar is by the amazing stallion, Tammen. Tammen widely known for being owned by the late Patrick Swazye. Tammen also had a pretty impressive show record that includes: 1992 Scottsdale Champion Breeding Amateur, 1990 Region 9 Top 5 Stallion and Mounted Native Costume; 1989 Region 9 Top 5 Country Englaish Pleasure Champion and Mounted Native Costume. He has MANY numerous wins in Class A halter.

NP Taimmen`s dam is a granddaughter of Imperial Imadal+, another great! Imperial Imadal+`s show record is quite impressive. 1990 U.S. National Top 10 Stallion; 1988 U.S. National Reserve Champion Stallion; 1987 U.S. National Top 10 Stallion; 1987 Region 15 Champion Stallion & 1986 Region 16 Champion Stallion. Jaizara, is also a granddaughter of Prince Ibn Shaikh. Who was 1984 Egyptian Event Supreme Champion Stallion, 1984 Canadian National Champion Futurity Stallion.

In X Ces (1999 Bay Straight Egyptian Stallion)
Xces is a tall stallion will just enough refinement and substance. He is powerful with huge, expressive eyes. Xces is kind and well manners as well. He decents from a listing of many greats with no holes in his pedigree. Xces is sired by Thee Infidel. Thee Infidel, a fairly tall animal standing 15.2 hh, has many wins both mainstream Arabians shows as well as the Egyptian Event. Some of his wins include: 2000 U.S. National Top 10 Stallion; 2000 Region 9 Top 5 Stallion; 1998 Ul.S. National Top 10 Futurity Colt; 1996 Egyptian Event Breeders Challange Champion and 1996 Egytpian Event Reserve Champion Colt. Thee Infidel is sired by the famous, Thee Desperado out of the mare Bint Magidaa, who was also dam of Ruminaja Ali and Alidaar. Xces` dam is just as note worthy as his exceptional sire. RA Anisa, Xces` dam, a daughter of the infamous stallion Nabiel+/. Nabiel was noted for his beautiful head, long neck and correctness. He one Top 10 honors in stallion clesses in both the 1975 and 1976 U.S. Nationals. RA Anisa`s dam, AK Amheir was herself a daughter of Amaal. Amaal, though not shown due to injury, was a sweepstakes nominated sire. He was a full brother to Shaikh Al Badi, sire of Ruminaja Ali. Amaal sired over 25 champions including U.S. National Champion Futurity Stallion, Al Saad.
ContentAdvert
Black Arabian Stallion - Spades LRA