Choice Barns - Texas / Barns and Buildings - Designed and Built For Your Equestrian Needs
Barns and Buildings - Designed and Built for your every need. Constructed on your land and ready for use
Superior product, experience and exceptional customer service at an affordable price.
Choice Barns makes it easy for you to make the right choice. Our mission is to provide you with the security of knowing that Choice Barns` goal is to ensure the best quality and most cost-effective barn or building to satisfy your needs.
Choice Barns structures are designed and engineered to meet or exceed the latest edition of local building codes. Choice Barns offers generous warranties including our Lifetime Kick-Thru Warranty. Our materials are fire-resistant, chew-proof and low-maintenance. At Choice Barns, above all else, we strive to provide safety and comfort for both you and your horses.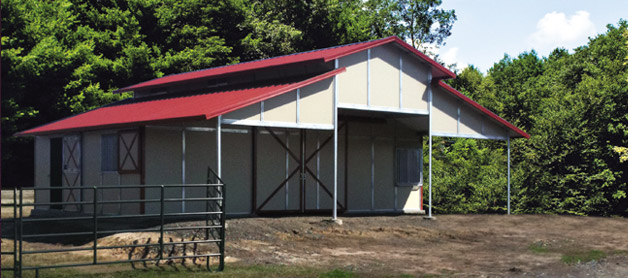 Our dedicated team of dealers offer decades of experience and expertise in the modular barn and building industry making building your project effortless from start to finish. Choice Barns` countless design options, exterior and interior wall and color options, a broad selection of features and accessories give you the choices to design the barn of your dreams. With dealers located throughout the United States, we can guarantee you individualized service, on-time delivery and after-sale follow up. Most importantly, we give you the peace of mind that comes from knowing that you made the right "Choice".
For a free brochure or the name of a Choice Barns Dealer in your area, please contact the office at (866) 994-BARN (2276) or send us an email to info@choicebarns.com.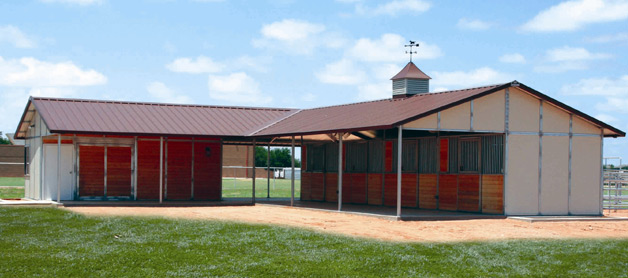 Dealerships Available! For more information please contact us at info@choicebarns.com or call (866) 994-BARN
Equestrian Barns
Choice Breezeway Barns come in three attractive architectual lines; the most popular - Raised Center Aisle, the functional and economical - Gable, and the traditional - Gambrel. Our versatile breezeway barns can be designed using either a 12` or 16` aisleway.
RAISED CENTER AISLE
The Raised Center Aisle features attractive architectural lines making it the most popular. This design allows maximum ventilation and lighting through its aesthetically pleasing roof lines. Sliding windows with screens can be added between the roof lines allowing ventilation control.
GABLE
- The Gable design features an attractive and functional yet cost effective roofline. It is a great choice for both warm and cold weather climates.
GAMBREL
- The Gambrel design blends the timeless and classic style of barns from the past with today`s technology. It is effective in providing protection from all the elements.
SHEDROW / IN - LINE
- Shedrow Barns are an excellent choice for warm weather climates. This design guarantees maximum ventilation while still offering protection from the weather. The Shedrow Barn can be designed to best fit your property with overhangs ranging from 2` to 14` and floor plan configurations such as an in-line, "L" or "U" shaped. They can also be constructed as a back-to-back utilizing a common rear wall.
All Choice Barns feature generous 12` x 12` stalls with grilled stall fronts, solid feed doors and grilled sliding doors. The interior of the stalls feature 26 gauge zincalume steel allowing easy cleaning and low-maintenance. The exterior can be finished in a baked enamel, T&G; wood or Hardi cement board. The 26 gauge steel roofs come in a variety of colors and include a 25 year manufacturer`s warranty. All Choice barns can be custom designed to meet your needs and to provide your horse with a safe, easily maintained and well-ventilated home using the many options and accessories available.
Choice Barns takes pride in the quality and workmanship of our barns and buildings and the unwillingness to compromise on quality. We offer years of experience not only in the ownership and management of Choice Barns but also through our network of knowledgeable dealers.
For a Choice Barns Dealer in your area, please contact us at (866) 994-BARN (2276) or send us an email to info@choicebarns.com.
BUILDING & ROOF STRUCTURES
Choice Barns versatile Buildings can be designed to meet your diverse needs. Our complete line of buildings can be used as garages, storage buildings, RV or boat storage, workshop or hay/feed storage. We can design and construct a building suited for your specific need using the many options available in width, length, height, style and exterior wall options. Choice Barns uses the same high quality materials and construction used on our barns. We design and construct all our buildings to meet and surpass all local building codes and requirements. Choice Barns wall components can be added inside your building to create individual rooms inside.
Standard Features Available:
Eave Height - 8`, 10`, 12` and 14`
Clear Span Width - 20`, 24`, 28`, 32`, 36`, 40` and 48`
Galvalume Interior
Laminated Wall Construction
26 gauge Painted Steel Roof and Facia Trim
3/12 Roof Pitch
Wide Variety of Finishes and Colors
Many Available Options
ROOF STRUCTURES
Choice Barns "Roof Only" structures can be built to any size to suit your needs (up to 20` high and 48` wide). All our roofs are designed to meet and surpass all local building codes and requirements. You can customize your roof structure by adding 26 gauge steel siding or laminated wall components to create a structure specific to your needs.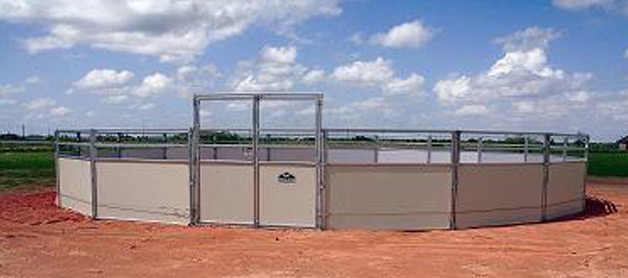 Choice Barns offer a full selection of Breaking Pens, Longeing Pens, Round Pens and Accessories to choose from to enhance the functionality, comfort and style of your barn and/or building.
Choice Barns Breaking Pens and Longeing Pens standard sizes range from 30` to 60` in diameter and include an 8` wide opening with (2) 4` gates and a lifetime kick-thru guarantee on the wall panels. Our corral panels feature 16 gauge, 1 7/8" galvanized rust-resistant tubing and come with bolt-thru clamps for safety and easy assembly. The gate panels feature a standard 6` wide gate with a spring loaded latch. The standard available sections are:
4` high x 3 rail
4` high x 4 rail (with or without bottom rail)
5` high x 3 rail
5` high x 4 rail
5` high x 5 rail (with or without bottom rail)
5` high x 6 rail (with bottom rail)
6` high x 5 rail
6` high x 6 rail (with or without bottom rail)
6` high x 7 rail (with bottom rail)
Choice Barns strives to offer a variety of accessories and options to enhance the beauty of our products. We focus our attention on detail to ensure our clients a quality product that will stand the test of time. Please contact your local Choice Barns Dealer for a complete list of options and accessories.