Asab Arabians
Asab Arabians is situated near the townships of Fernvale and Lowood (60 kms west of Brisbane, Queensland) in the picturesque Brisbane Valley. Asab Arabians, owned by Mark, Kathy and Jessica Saggers, consists of approximately 50 acres of undulating country scattered with large Moreton Bay Figs and a variety of gum trees.
Our stud was conceptualised in 1980 and formed in 1982. The prefix Asab (pronounced A-Sarb) is Arabic for mare and foal. Our motto is "form follows function". We hope you enjoy your wander through our web site and please sign our guest book, we would love to know who has visited us.
Email : kathy@asabarabians.com, Telephone : 0413 054182

Lindall Centurion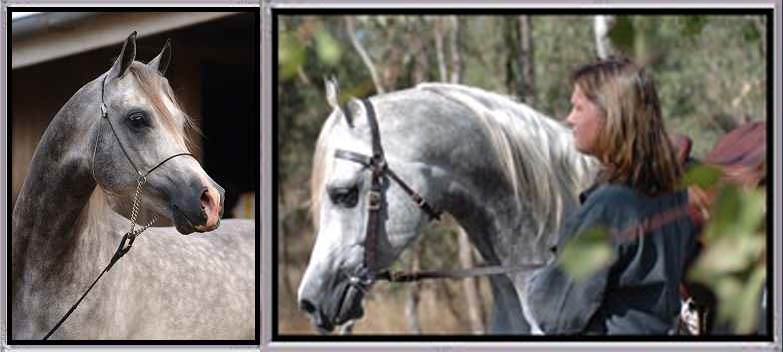 Centurion has just begun his show career. We are extremely pleased his results with include Supreme Exhibit Purebred Exhibits at the AVHC Spring Show 2002 and Rosewood Agriculture Show 2003 and believe he will only get better with time. True to his heritage he will be a saddle horse par excellence and we look forward to the day he can be ridden.
A pedigree rich in the treasurer of the Polish State Studs. The who's who's appears in Centurion's pedigree. The likes of Negatiw, Bandos, Pepton, Bask and Comet. Although they only account for a small portion (less than 30%) of his pedigree, let's not forget the other side of the family, they too are household names such as Count Manilla, Grand Royal and Oxford Decimus. Centurion offers the pedigree but he also offers correct conformation, type, presence, movement and temperament.
Colour: Grey Stallion (Born Bay) Born: 20th September 2000, Strain: Kehailan Dajani Height: 15hh
KUBINEX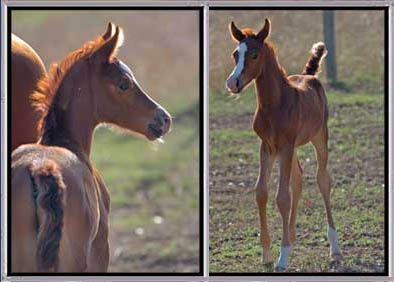 Kubinex is our future. He embodies all that we are looking for and he will be an excellent cross over our Centurion daughters. Kubinex`s sire Kubinec has been described as a "dramatically charismatic horse with a superb head, neck and movement... Kubinec has both the Muscat stretch and the Balaton beauty" Kubinec has taken the European show season by storm by winning German National Champion, All-Nations Cup Reserve Champion, European World Champion and 1995 Horse of the Year.
Kubinex is everything that we expected of this mating and we look forward to seeing what awaits in the showring and the breeding barn.
Moondarra Limelight Now owned by Katrina Phillips and her family of Kalody Park Arabians of Tasamania

`A` Halter Champion and Reserve Champion under Australian and International Judges

Limelight has achieved his Supreme Status in AAROM. Proving his versatility by gaining points with wins in Official Dressage, Side saddle, Australian Pleasure and Native Costume. His career highlights included Australian champion Top 10 under saddle, Champion QLD Horse of the Year and representing his country at the 2001 WAHO conference in Native Costume.

All of Limelight's progeny have his gentle disposition, love of work and athleticism. Progeny that have been shown have received many accolades both in and out of the show ring. More importantly they and their owners are having fun learning and growing together. Moondarra Royal Wish (Istana Khamaji x Oxford Stardust), 1982 Bay Mare - The Matriarch of our stud, she has produced "A" Class Halter winners and is a much-cherished member of our family.

Lindall Abanda (Picadilly Bandaleer x Lindall Alexa), 1987 Bay mare

Recommencing her career as a Brood mare after a stint in the show ring as a multi award-winning hack. Abanda has produced the adeptly name Asab Sensation (Lindall Centurion) and has been reserved by Lindall Centurion for a 2005 foal. Lindall La Bamba (Picadilly Bandaleer x Lindall Zara), 1988 Bay Mare. A champion in her younger day. Now producing current halter, saddle and endurance champions. We eagerly await her Lindall Centurion foal in 2005 Lindall Abandalexa (Picadilly Bandaleer x Lindall Alexa), 1992 Chestnut Mare
A promising endurance career cut short due to injury, now a promising member of our brood mare band. Lexie is the dam of our Champion Anglo gelding The Baron of Glamorgan. She has a 2003 Chestnut/Grey Filly by Moondarra Limelight +s now owned by Geoffrey Hill. Lexie has produced a stunning colt by the 1994 World Champion Kubinec (Balaton x Kosmetika). Lindall Abandalena (Picadilly Bandaleer x Lindall Alena), 1992 Bay Mare
Champion at halter, a charismatic mare who turns heads. We have bred Abandalena to the Pure Polish Stallion Empres (Monogramm x Empressa) owned by the Tromp family of Klarenbeek Arabians in the Netherlands

Asab Alixia (Moondarra Limelight x Lindall Abandalexa), Alixia is going to mature into a big roomy mare. She will be a breeding phenomenon like her mother Lindall Abandalexa. Now owned by Geoffrey Hill and we look forward to her first endurance ride. Asab Kokomo (Taylia Lodge Kadesh deceased x Asab Limekoola), 2002 Grey (born Bay/Brown Filly). An impressive filly, which we are proud to say, is our second generation. The Baron Of Glamorgan (Arabesque Baron Bold x Lindall Abandalexa)
Baron is a 75% Arabian and 25%Thoroughbred Anglo Colt. Through his veins run a unique blend of bloodlines including Bask through his sons Baskhan (imp USA) and the General (imp/exp USA), Asefa (imp UK0, Sindh, Banderol and the straight Egyptian mare El Sherif Kasmina (imp USA). His Thoroughbred lines indulge Skymaster, Double Remove and His Grace.

Baron's sire Arabesque Baron Bold was the 1995 Australian Champion Anglo Stallion. Baron has recently commenced his show career and has been unbeaten in his age group and shows promise of greater things to come.

Baron's dam, Lindall Abandalexa has only been show once for a second at a "A" class show to her full sister in blood Lindall Abandalena. Lexie's promising endurance career came to a halt due to injuries. Asab Thunder Struck (Moondarra Limelight x Lindall La Bamba)
Thunder Struck will commence his halter career in 2005. He is a full brother to Lightning Jack and he will follow in Jack`s hoof prints. He will mature at 15.1hh Asab Lighting Jack (Moondarra Limelight x Lindall La Bamba), 2001 Grey Gelding
In a word "WOW" Jack has it all looks, presence and a fun loving attitude to life.


Absolutely STUNNING Appaloosa Foal! We thought horses like this were just in movies ❤️ Appaloosa Foal - Smoking Sixcess (sired by Colonels Smoking Gun) @Shining C Grulla Horses …

Read More