Andalusian Horses For Sale - Villeneuve Andalusians - Breeders of the Pure Race Espagnole Horses
| | | |
| --- | --- | --- |
| | | Andalusian Horses For Sale - Villeneuve Andalusians - Breeders of the Pure Race Espagnole Horses |
Villeneuve Andalusians are breeders of purebred Spanish horses (Pura Raza Espanola/Andalusian), located in Nouvelle Aquitane (Poitou Charentes) region in France have a selection of foals and ridden Andalusian horses for sale, with a tradition of breeding Andalusian horses that are true to type. The Andalusian horses bred at Villeneuve Andalusians have excelled at top levels of many equestrian sports, but especially the discipline of classical dressage. Below you can see a foal bred by Villeneuve Andalusians.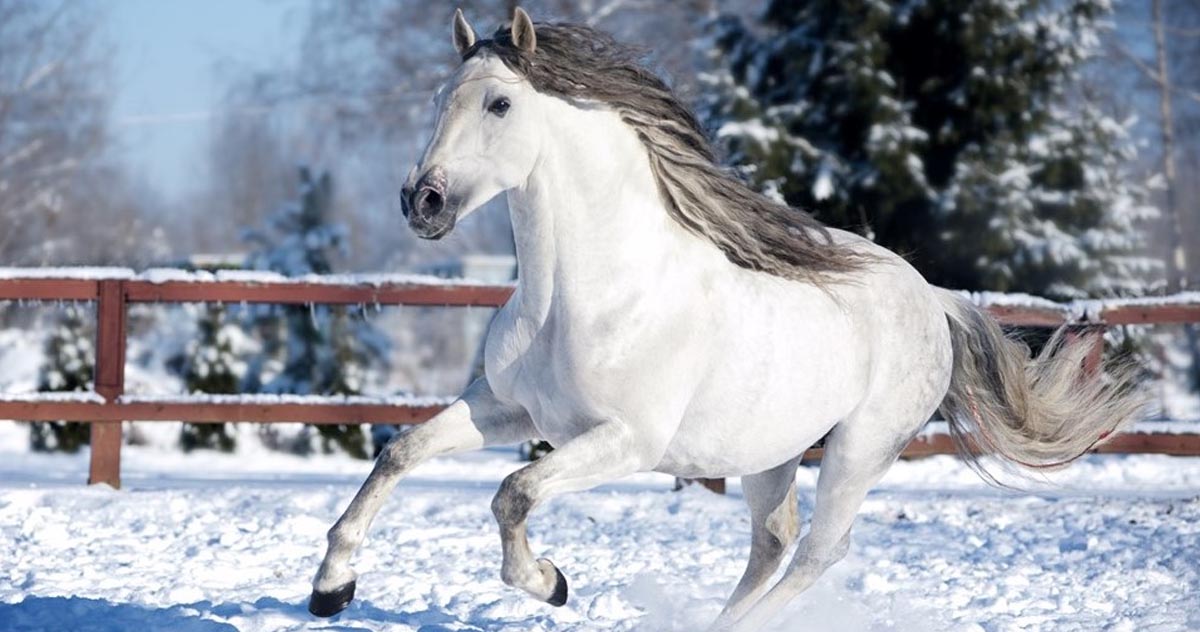 For more information on the selection of Andalusian horses for sale please email info@villeneuveandalusians.com, call : +33 6 33 27 69 32 or visit their website https://www.villeneuveandalusians.com/.
What Is The Difference Between A Pure Spanish Horse And A Lusitano?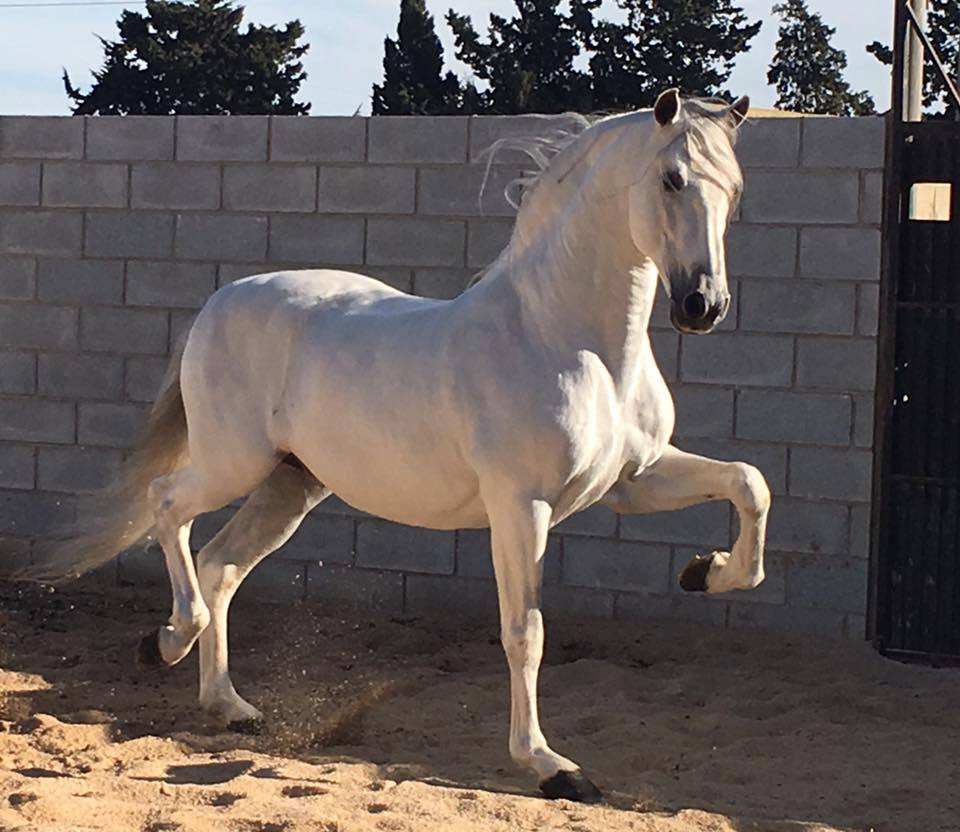 This web page shows a list of Andalusian horse for sale in Spain & the rest of the world with a lot of information, photographs and videos. Stable express also brings you closer to the andalusian horse breeder by organizing tours to the horse farms, purchase vet and judge exams and arranging export papers. Compare from your confortable chair the good apportunities on sale every week, if you are looking for a certain type of horse, please write us and we`ll start looking for it right away we are someone you can trust.
Tintagel Andalusians
Tintagel Andalusians breed exquisite Andalusian sport horses, offer dressage lessons, breaking and training the young horse, holistic rehabilitation and trick trained horses for media promotions. We stand two Andalusian stallions at stud, a black and a chestnut, and offer complete breeding services.
Our breeding program focuses on temperament, type, and athletic ability in all our horses. The movement we strive for is elevation with extension, rhythm, balance, Costosaharmony and cadence. We do not want warmblood movement nor do we want the extreme lateral swinging and lack of foreword propulsion that was popular in past. The ideal Andalusian movement lays between these two: elevation with extension from the shoulder, rhythm, balance, harmony and cadence. The ideal Andalusian should easily lower the haunches and push from behind in such a way that the front end "pops" in the air and barely touches the ground. We also try to breed our horses in a height range of 15-16 hands as this leaves the horse with ideal proportions for best balance.

We have two distinct bloodlines that we breed from. Our first line traces back to Military and Jose Escalera blood. These lines are renown for their extraordinary easy to handle temperaments and the breeders have always stuck to true Spanish type and correct movement regardless of any show ring trends in Spain. Most of our horses trace back to the legendary Maluso father of Agente who is considered the ideal prototype in Spain. This is also the source of our color line, providing us with black and bays. "Born Broke" is the best phrase that describes the temperament of these horses, very
Agente
- commonsense and easy to handle. Truly a king`s horse, they will pep up and be showy and fancy for a professional yet put a child or novice on them and they are quiet as a backyard pet. They are compact and have a real balance and harmony in their movements and conformation.
The second lines of Andalusians we breed are certain Terry bloodlines crossed with Military lines. This gives hybrid vigor within a purebred horse. With our dressage mare Caprichosa N and our Aureolo VII offspring, we are very excited about the extreme athleticism of these horses. The neurological systems of these horses are wired for extreme suppleness and amazing proprioception. This makes them agile and quick with a power that has to be felt.
Aureolo VII
- It also makes them very sensitive and light to the riders` aids. These horses are kind yet have an arrogance and drive that makes them suitable for competing at the highest international levels. They are true warhorses possessing strong characters and immense fire and power. These are the Andalusians that are changing the face of open competition dressage.
ANDALUSIAN FOALS: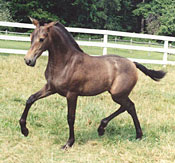 When you buy a Tintagel foal you are buying a lot more than the horse, you are buying training, nutrition and a foundation unlike any other farm provides. This foundation starts in utero where each mare has a custom analyzed feeding program based on her nutritional needs. Free choice minerals and special attention to amino acid balance is given so each mare has the best possible chance to have strong healthy foals. Once born, all of our foals are imprinted and handled extensively so that by two days old they all lead, tie, clip, load, etc.. At approximately three days old our foals get seen by our chiropractic trained veterinarian. Birth is very strenuous process for the foal, not to mention it has been curled up tightly for months, and slight subluxations of the vertebrae are common, yet easily fixed. The foals are then checked periodically to ensure that they continue to be, and grow, straight and even. Tintagel FoalsThis investment is well worth it. Foals that receive this much health care and handling grow up with advantages that last a lifetime. They are calm when exposed to new activities and experiences and trust their human counterparts since a horse comfortable in their body will be comfortable in their mind.
Training then continues extensively at three months to start asking for more obedience to the handler so they develop a confidence that prepares them for when they are weaned. All the while receive constant hoof care every few weeks to ensure even bone growth and benefit from our comprehensive nutritional program.
This program doesn`t over feed protein or sugar, the most common mistake with foals; instead we focus on balance of nutrients. This balance is the most important part of a growing foals diet, not how much they eat but how much they absorb. Most of our foals eat far fewer concentrates than is usual because the diet is so well balanced they absorb more nutrients from less feed. They hold condition and grow evenly instead of in sporadic spurts. We try to use only the minimal amount of chemical wormers or vaccines in all our horses to insure their immune systems are not overly taxed which can be a cause of autoimmune disorders later in life. Fecals and blood antibody titer levels are checked constantly to ensure the foals have all the defenses they need against worms and sickness without overdoing it.
This complete and comprehensive program is possible because we don`t mass produce foals and we have the time and knowledge to raise them in this manner. When you buy a Tintagel born and bred foal you are getting far more than the horse. You are getting everything from our carefully researched bloodline matches through the most complete, holistic based health care and handling. Why all this time and effort? We love our horses so much and this breed is so giving in nature they deserve nothing less. A happy healthy, confident horse means their human will be, thus honoring the spirit of each other and providing the best opportunity to grow and learn together.
Regaliz - Andalusian Stallion
Tintagel is so proud and happy to have the beautiful black stallion Regaliz by Axis/Ingrato out of Samba 3. Axis is listed in the LIMPRE Book of Merits and is line bred to the famous Maluso. Regaliz`s easygoing temperament makes him such a joy to have in the barn. He gets along with all the other horses and babysits the young colts.

Regaliz is as kind and gentle as he is beautiful. A superb example of correct, compact type possessing balance and harmony. Regaliz has the bone, substance, movement, nature and noble bearing that have made the Andalusian "The Horse of Kings".
Regaliz`s family tree has many proven performance competitors in all circles from dressage to Best Movement.
Regaliz`s first crop of foals are all stunning movers and lookers with the quiet temperament and charming character we expected. Regaliz is available at stud to Andalusian and other breed mares. He is a Foundation Sire for the Spanish Norman Horse Registry and is registered with the International Registry of Colored Horses. See pedigree page for breeding details.
DIEGO MC

by Venidero MC out of Jabera TG - This flashy colt is our future addition to our color program. He already stands 15.2 at three years old and is going to be a big strapping boy. Diego`s hook neck, long powerful shoulder and massive hip make him a real athlete. This combined with his teddy bear nature make him a tremendously exciting colt! We look forward to the coming years to watch Diego fulfill his promise in performance and breeding.
Andalusian Horses For Sale
Manrico
: Costosa x Regaliz: Born 3/4/03 grey colt, A grandson of Olympic dressage horse Aureolo VII! Manrico is the perfect blend of both his parents talents. The cadence, suspension, extension and drive from his dam and the collection, agility, roundness and temperament from his sire. You have to see him to believe just how amazing he can move. His proud head carriage and bearing make this colt a real stunner. Serious upper level potential.
$15,000
Rosina:
Encina x Regaliz: PRE Born 3/15/02 grey filly. The friendliest filly you`ll ever see. Just as soon hang out with the humans than the horses. Tall, broad with the gorgeous conformation we knew she`d have. Stunning head with broad forehead and wide set ears. Carries the same pinto genes from Encina that her half sister Augusta does. Could throw color.
You`ll never find a sweeter, gentler, easygoing filly to raise for riding /breeding, whatever. Need something to hug? You need Rosy.
$12,000
Kenia TG
1995 PRE bay mare (minimal sabino) Tribuno - Damieta. Encina Kenia TG is 1995 Pure Spanish mare bay incomplete sabino (no body spots but all other characteristics: extensive white roaning, white thru tail, chin spot, etc.) This mare is 15 hands (barefoot with short feet) and broke to ride. She was Top Five at Nationals in Junior Western Pleasure.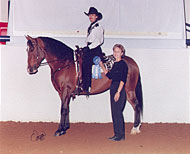 Kenia just had a beautiful bay filly, Dorabella,(b. 5/21/03) by Venidero MC and sells with foal at side. This is a great opportunity to add two lovely girls and plenty of color to your breeding program. Super conformation and old world build. Very broad and powerful, long hip and shoulder, built to carry weight! She is very quiet around the barn and easy to handle. Foal is friendly and gentle and looks to be a high stepper with extreme hook neck. Venidero is also the sire of my two chestnuts Diego and Esmeralda. Kenia is also a full sister to Esmeralda`s dam so this filly should look just like our Emme!
Kenia $15,000
/
Dorabella $11,500
Senta
Augusta - Regaliz: 2003 PRE bay filly, Senta loves people and lives to be scratched and hugged. She has the same supermodel aura of her dam Augusta and should excel as a performance horse, broodmare, and best friend.
$12,000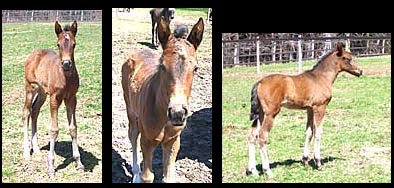 SHOW RECORD - 2003 - Northeast Classical Breed Horse Show
1st place Fillies two and under
Reserve Champion Open Mare Championship (all breeds)
All at three months old! Senta got so much attention at the show with her super quiet attitude and gorgeous ring presence. The judge couldn`t get enough of her, and everyone wanted to take her home. To see this little sweet filly pin Reserve in a class of eight Friesians and her own dam was really something. That`s our little super model!
Esmeralda MC
By Venidero MC out of Historia TG. 2001 chestnut Pure Spanish sabino filly eligible for inscription/revision.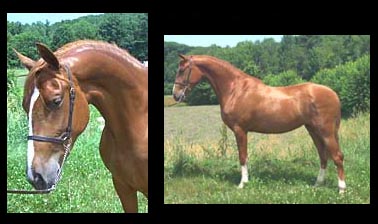 Emme is a stunning filly with four white stockings, blaze, chin spot and extensive roaning all of which make her an incomplete sabino. This filly demands attention and loves to work hard. She has been shown successfully and has no vices. She is strong and powerfully built and should mature in the 15.2 range. Her legs and movements are perfectly straight.
This is a real show top show horse as well as future broodmare. Serious offers being considered.
Half Andalusians For Sale
Escorial:
1997 Andalusian/Saddlebred cross gelding 14.3 hands.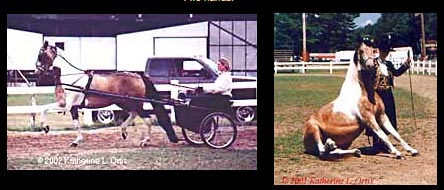 Trick Trained Driving Pony!
Escorial is a buckskin pinto with a mane past his shoulders and a tail that drags almost three feet on the ground. He is fully trick trained and has performed all over the country.
His tricks include: bow on each knee, kneel, camel stretch, circus bow, lay down, sit, rear, hind leg walk, jambette, turns on the forehand and then hind end while on the pedestal, says "yes" and "no, blows kisses, does the corkscrew, etc, etc! He is also liberty trained and does all the usual ring moves such as changes, come to center, he also waltzes BOTH directions, Spanish walks along the rail, halt and back on command, etc.
Escorial also drives beautifully and loves it. He just started learning all his moves in harness and currently can Spanish walk and bow in harness using an open bridle. He is very quiet in public and is a show ring trooper. He has been doing performances since he was two. He goes in parades and will hind leg walk all along route! He has also shown quite a bit and has wins/ Top Fives in halter, Best Movement, and driving. He is a Steady Eddy at shows: loads, clips, all the good stuff, no fuss. Not spooky or flighty at all. He is saddle broke but not finished, good on trails, likes water.
$20,000Wolfram
May Dawn Bandit x Regaliz - American Saddlebred/Andalusian cross
A black colt with a stunningly beautiful head and regal looks. With Bandit`s height and grace and Regaliz`s power and thrust this foal will be quite the mover! With the combined temperaments from both parents this foal will be as smart and gentle as well as handsome! Sport horse or show ring, this is a black dream horse for sure! Futurity nominated.
Zoelynette:
1999 Friesian mare by Pyt out of Oberta Fan 'E Timplereed
Zoe is a four year old FHANA registered mare by the late great Pyt. This mare has been in professional training for a year and is broke to drive and ride. She is trained dressage but will hack out western too. Her walk and canter are as good as her trot making her a rare find for dressage. Zoe still needs finishing under saddle as she has been started slowly and carefully without pushing her. She does several tricks including, bow on each knee, started Spanish walk, smiles, mounts a pedestal, etc.
A good all-around horse for pleasure riding, dressage or breeding. She loves foals and can`t wait to have one! Zoe was Champion Junior mare and Reserve Grand Champion mare at Northeast Classical breed Show 2002 her first time out.
$18,000
Hagen:
May Dawn Bandit x Ulrik, Smokey black gelding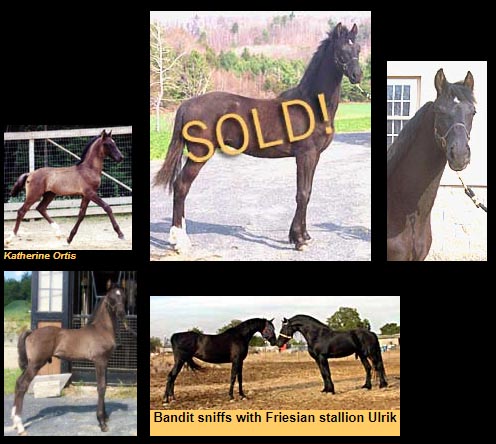 This American Saddlebred/Friesian cross gelding is such a looker! A very rare smokey black with blue eyes, Hagen just exudes pride and charisma. Really show stopping with his dramatic looks and poise. A top-notch sport horse prospect, and flashy to boot!
Marguerite
Operista - Regaliz: 2003 PRE grey filly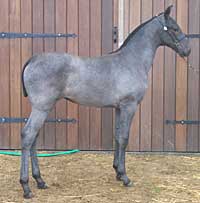 This full sibling to Musetta has all the extreme hind end moves of Regaliz plus a sweetie friendly temperament. What a combination, these foals sell quickly, don`t miss this one! This filly is 3/4 black so she will definitely throw color. To ride and breed, come visit her to see how special she is.
Rodolfo:
Shalem x Regaliz: PRE Born black colt
This colt is the spitting image of his Dad! Same good looks and HUGE movement and same silly/sweet character. What a ham. This is a top quality colt for breeding and showing. Won`t find a better-tempered, better moving black colt anywhere!
Want a serious dressage prospect? You need to see Rodolfo move, you won`t believe the suspension and extension.......
Polo:
Drop dead gorgeous! Born 3/98 PRE colt by Apollo III out of Calesera VIII. This tall stunning colt is 16.1 hands now and should mature 16.2-3. His sire holds several National Titles and his mother was a performance champion as well. Polo was the 1999 Region Seven Halter Champion for 2 and under colts. He is slowly graying and is a beautiful mahogany color! Big action, a superb sweet disposition and unbelievable hair, make this guy truly a special find. Polo has Polostarted trick training and does three different bows, kneels, smiles, etc. really a fast learner, what an exhibition horse! We think of Polo as a big Golden Retriever, he is so playful and exuberant and makes everyone laugh with his antics. If you want to have a horse that will make you smile all the time. Polo is it!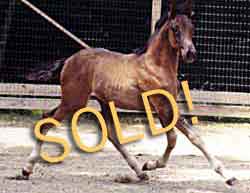 Luciano: - Mr. Personality! (PRE), out of Operista MC (gray) and by Fariseo (bay). This extremely friendly colt is really a character, full of personality. He nickers and comes running whenever he sees people and is super calm and steady in temperament. He was imprinted with everything from clippers to plastic and already leads and ties. Black/bay but graying Super build already evident, huge powerful hind end, short back, great neck set, this is a BIG strapping boy. Straight legs and movement.
Heredera:
by Serranito (PSP) out of Serpentina III (PRE) making her half sister to Fariseo, sire of Diva and Luciano. She stands just over 15.2 but is one of those huge mares with such a high set neck, everyone thinks she`s 16 hands at least. Big and broad and correct this is a powerfully built mare.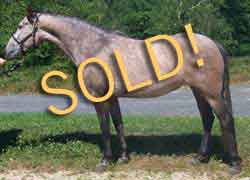 Top Five at Nationals Junior Mare class. Bred to Regaliz for a 2002 foal. This foal has a fifty percent chance of being black! This foal comes with a LFG.
La Mirada:
Client owned By Del More`s Silverado out of BW Melosa - 1998 grey PRE mare
This petite 14.2 hand mare is beautifully built with very correct conformation. She has a nice length of stride and makes for a pretty picture in motion. This mare has been minimally handled and needs a quiet confident owner to educate her about life and her role in it. She wants to be a sweet partner for someone but will need guidance to do so.
Merri is bred to Regaliz for a 2003 foal. This foal will be a powerhouse of a mover and super dressage mount for a junior rider! A super price for a two-in-one package!
Musetta:
Operista MC x Regaliz, PRE Born black or black/bay filly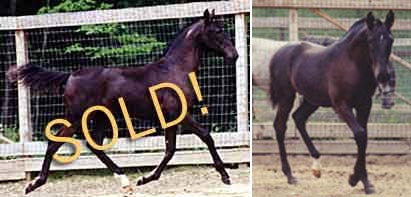 Real big girl who moves like a bullfighting horse should. Bold, quick and all off her hocks, this filly is extremely athletic and agile. Will be a great riding horse as well as broodmare. Will have tons of hair! Her last siblings have been sold as dressage prospects, don`t miss this one.
Paloma Fogosa:
Bay PSP filly By Postinero VIII out of Heredera "Dovie" is quite the big girl now. If you love her dam your going to love this filly! She is the spitting image of her mother. She has the same lovely typey conformation and has a high stepping trot. This is a very quiet, calm girl and if you scratch her rump she`ll follow you anywhere. She`s very friendly and will hang out with people instead of horses quite gladly. This is a fun, sweet filly for someone who wants to raise their own little Princess!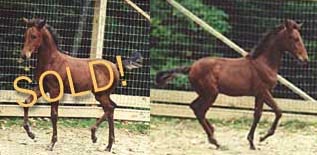 Diva:
Classic baroque: The best words to describe this bay filly. She`s everything the classic Andalusian should be. She is smart and friendly and is a very quick learner. She has great proportions and is very round and substantial with a beautiful head. From great bloodlines this filly is a great show prospect as well as future brood mare. Rounded, balanced movement with great collection and harmony. By Fariseo out of Operista MC, both are revised. Should mature 15.2 hands.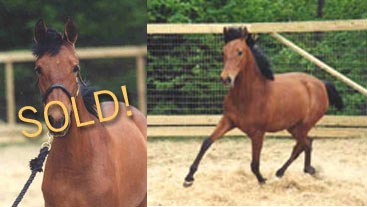 Captive Commander:
Get noticed! 1998 (15H, not done growing) black and white pinto colt by Commander`s Midnight Aire out of The Pleasant Princess. Stunning conformation, perfect head and neck combined with flashy markings make this guy a real show stopper! Real attitude and presence, this guy is ready to start showing in anything from sport horse divisions to Five Gaited! Good bone and strong movement. Trick trained, bows, kneels, mounts a pedestal and has an incredible Spanish walk! Really smart and enjoys working. Fantastic bloodlines from Wing Commander to Jamestown. Mother was a show champion before becoming a broodmare. This one`s a winner! Just backed and ready to go.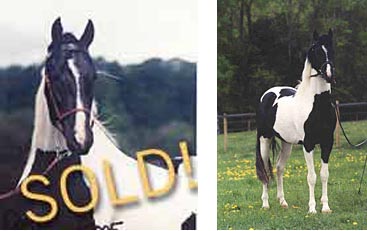 Maestoso Melora
by Maestoso XXIX out of Melora (Maestoso II Sabrina) 1997 Lipizzan gelding, 15.1 hands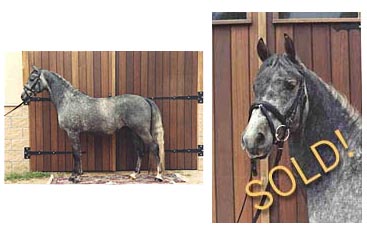 Einstein with hooves: "Spider" is now four and going well under saddle. He has been started very slowly and classically, works in hand, does shoulder in, walk piourettes, started piaffe. He goes over little obstacles and through water, trail rides and has been broke to death. Walks by, over and through tarps and plastic without blinking. Has lots of endurance, likes to go exploring, could even be great competitive trail horse. Clips, ties, loads, etc. all the good stuff. No vices.
Trick trained, bows, kneels, mounts a pedestal, Spanish walk started both on the ground and under saddle. Very light and responsive to the aids, extremely smart, learns fast. Perfect for someone wanting to do a little bit of everything.
Melora:
Nice big Lipizzan mare! 1985 proven broodmare by Maestoso II Sabrina and out of Melanie (Tempel bred). Received very high marks at the Dr. Oulehla inspections. 15.1, big round bodied, incredible high set neck and beautiful sculpted head. Short back and good set withers make this mare a real breeders asset! All her foals have had dressage careers and have her big sweeping gaits with lots of suspension. Would make good broodmare or companion horse. Melora is bred to Regaliz for a 2002 foal. This foal will be registerable as Half-Andalusian.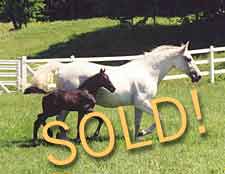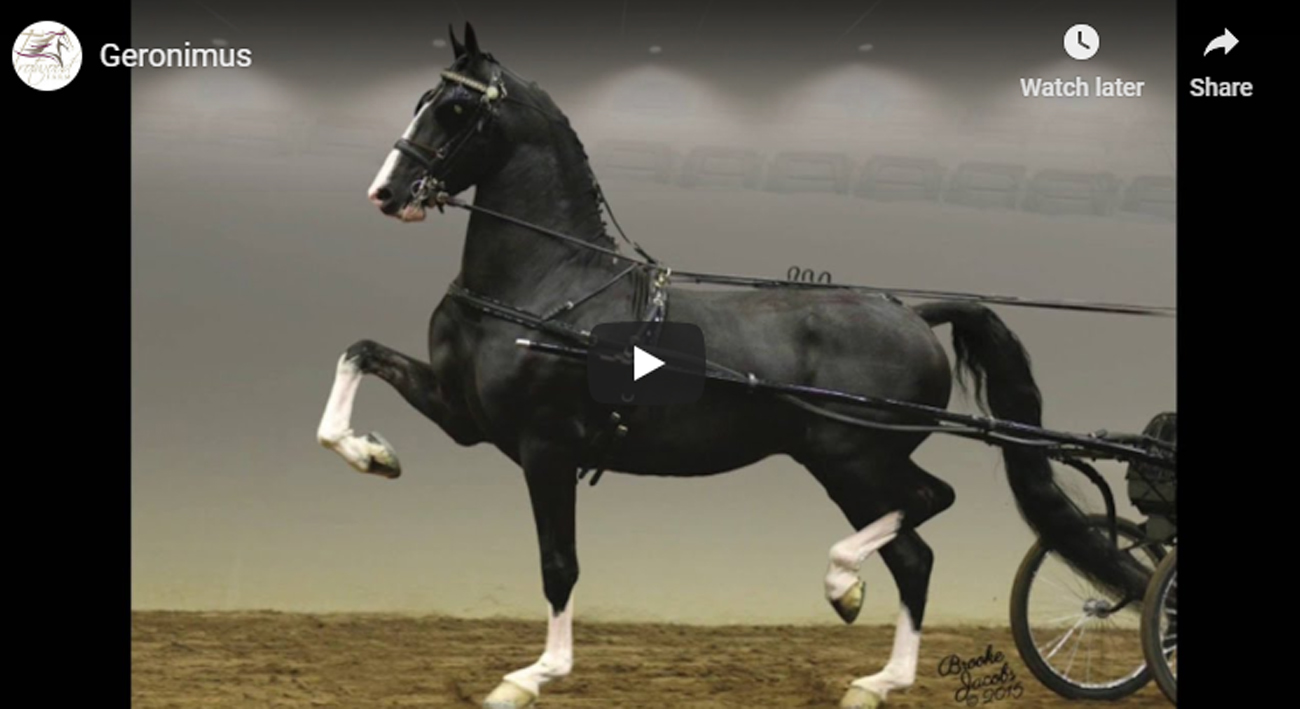 Have a look at some excellent examples of Dutch Harness Horse, views images and videos of Dutch Harness Horses in action…
Read More