Alabaster
Alabaster was a Hanoverian dressage sired by Akzent II, born in 1989 was first competed by Rudolf Rehkamp, before being ridden by Johannes Westendarp and Rudolf Zellinger. Alabaster competed up to Prix St George and was retired from competition in 1996.
Alabaster was a popular stallion and sire 12 approved stallions and 32 state premium mares, his most famous progeny is Apache competed by Iasabell Werth. Alabaster was put to sleep at the age of 26 in 2015.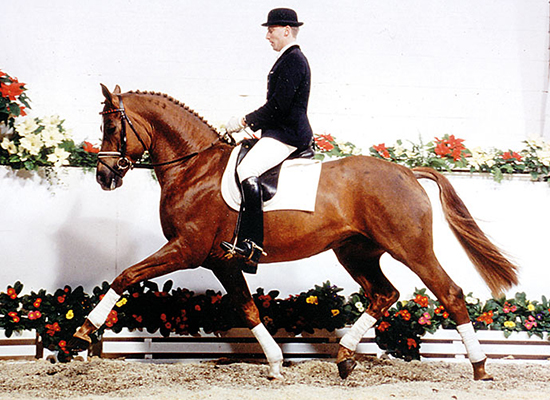 "Let our Pleasure Horses` GLIDE RIDE Spoil You" We are the source for Top Quality naturally Gaited Pleasure Horses. If you want to buy a Pleasure Horse, then get your pleasure horses from us. Call or come see us. We`re located right here in Plantersville, Alabama. We can transport your pleasure horse purchase for an additional fee based on loaded miles.
A-Capella2
Alabaster x -, HANOVERIAN -
Ad Hoc
Alabaster x -, -
Adonna2
Alabaster x -, HANOVERIAN -
Adriano S
Alabaster x -, HANOVERIAN -
Adrienne25
Alabaster x -, OLDENBURG -
African Queen9
Alabaster x -, WARMBLOOD -
A-Hengst2
Alabaster x -, HANOVERIAN -
Alabama32
Alabaster x -, OLDENBURG -
Al-Bury
Alabaster x -, HANOVERIAN -
Al Fayed
Alabaster x -, HANOVERIAN -
Alamama 30
Alabaster x -, OLDENBURG -
Alinghis Antagonist
Alabaster x -, HANOVERIAN -
Allerbest
Alabaster x -, HANOVERIAN -
Allerkoenigin
Alabaster x -, HANOVERIAN -
Alma181
Alabaster x -, HANOVERIAN -
Amelie Bund
Alabaster x -, HANOVERIAN -
Ambiente2
Alabaster x -, HANOVERIAN -
Apche Old
Alabaster x -, OLDENBURG -
Andors Achat
Alabaster x -, OLDENBURG -
Avel Vor Rocio
Alabaster x -, HESSEN -
Jula12
Alabaster x -, OLDENBURG -
Rubinia Weissena Filly
Alabaster x -, -